May 2019 New Vehicle Sales – Big Gains For Honda and Toyota
Auto News The new vehicle market in May has recovered from the slight slump in April, with a total of 60,780 new vehicles registered, up 21.6%. The improvement in sales is driven by deliveries of new vehicles for the Raya holidays.
Year-on-year, the market witnessed a 39.3% improvement, moving up from 182,157 units to 253,808 units.
As we predicted last month, Honda's performance improved significantly in May following resumption in deliveries of the Civic. The company registered 10,509 new vehicles last month, an increase of 4,334 units or 70.2% compared to April. To date, Honda has sold 38,874 new vehicles, an increase of 6,984 units compared to the same period last year. As such, Honda remains as the country's number one non-national car manufacturer.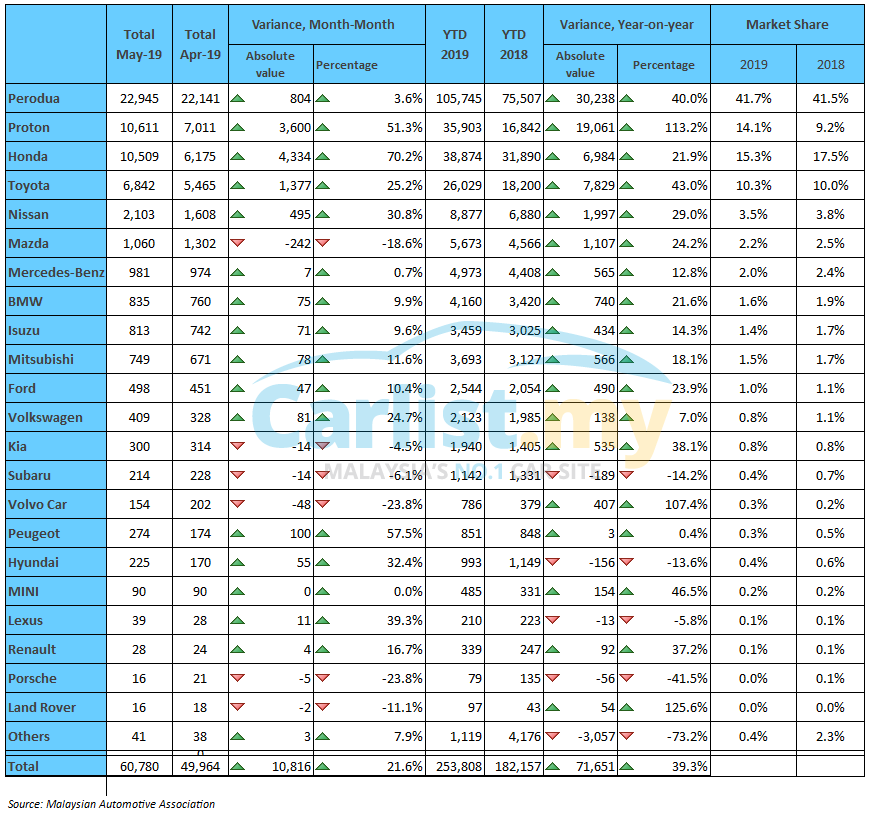 It is also worth noting that submission of vehicle sales data to the Malaysian Automotive Association (MAA) is voluntary. Typically, wholesale numbers (deliveries to dealers) are submitted but we understand that Honda's numbers are based actual registrations - vehicles delivered to customers (a process which takes about one or two weeks longer) instead of dealers. In other words, Honda's (wholesale) numbers should be a lot higher.
Apart from Honda, Toyota also did well in May. Toyota reported that they sold 6,779 vehicles last month, up 24% or 1,314 units from April. Toyota's strong performance is achieved on the back of strong market reception to the all-new Yaris, which is now among its top-three best selling models after the Vios and Hilux.
Mazda saw a 18.6% drop month-on-month, from 1,302 units to 1,060 units, mostly due to discontinuation of the outgoing Mazda 3. An all-new model will join the line-up in the next quarter but it will be imported from Japan rather than locally-assembled. As such, it will be priced much higher and volume contribution will be a lot less.
Shortfall in contribution from the Mazda 3 will be compensated by the locally-assembled CX-8, also due to be launched in the next quarter. Being an SUV, the seven-seater CX-8 will likely find greater traction in the market place compared to a less popular C-segment hatchback/sedan Mazda 3, despite the CX-8's higher price (estimated to be close to RM 200,000).
Year-on-year however, Mazda's sales increased by 24.2% or 1,107 units, raising cumulative sales to 5,673 units.
In the premium segment, Mercedes-Benz continued to lead the segment with 981 units sold, marking a 0.7% increase from the month prior. Year-to-date, Mercedes-Benz has sold 4,973 units, a 12.8% increase compared to the same period last year. Despite that, Mercedes-Benz's market share slipped from 2.1% in April to 2.0% in May.
---
---
---
---
Comments