Nevermind About F1 – Here's Why Le Mans Matters
Insights Once dominated by Audi, Le Mans is now attracting Toyota, Nissan, Porsche, Ford, Renault, Chevrolet, and Aston Martin. That's more manufacturer participation than F1. We follow Audi to the 2015 Le Mans to find out why.
In the old days, Formula One was considered to be the pinnacle of motor racing. Many of the world's leading manufacturers participate in F1 not just for its marketing potential, but also because they genuinely believed that participation in F1 will lead to better engineering expertise.
The spinoffs were obvious – who could forget the iconic Renault Clio Williams, Aryton Senna-tuned Honda NSX, Gordon Murray's masterpiece McLaren F1, and the Ferrari F355 F1 that uses a similar transmission as Michael Schumacher's F1 race car, and of course, the swansong of the McLaren-Mercedes-Benz partnership – the Mercedes-Benz SLR McLaren.
Today, Formula One has lost 175 million TV viewers over the past six years, down to 425 million. In the UK, long considered to be the capital of F1, the BBC saw no point to continue bowing to Bernie Ecclestone's demands and gave up its exclusive rights to broadcast F1 in the UK. Not even having Lewis Hamilton as world champion could stem the decline.
Back in 2004, an F1 starting grid saw participation from nine manufacturers - Ferrari, BMW, McLaren, Mercedes-Benz, Renault, Honda, Jaguar, Ford, and Toyota – all of them factory supported teams.
Today, there are only six manufacturers on the grid – Ferrari, Lotus, Mercedes-Benz, McLaren, Renault and Honda.
Then there's Infiniti, which proudly markets its association with F1 but does little other than lend its logo to be pasted on a Renault-powered Reb Bull liveried F1 car. Such is the shallow standard of association between car manufacturers and F1 these days.
Which is why for brands like Audi, Porsche, Toyota and Nissan - none of which have been particularly fond of the F1 circus - devote themselves to the World Endurance Championship (WEC), where the Le Mans 24 Hours is parked under.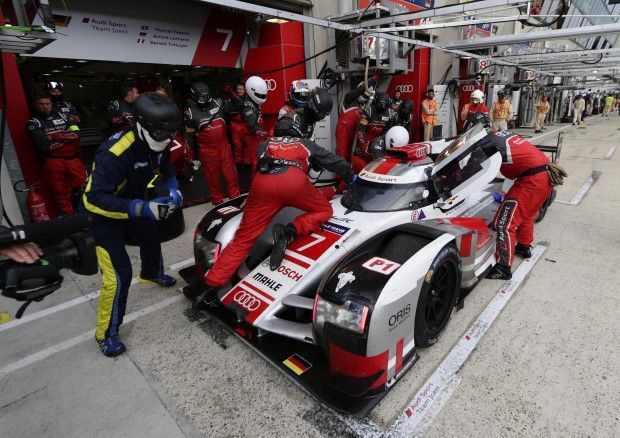 The closed cockpit design of WEC's LMP1-class racers, overnight racing on partially lit semi-street circuit also provide for a wider scope of innovation and potential technology transfer to road cars.
LMP1 racers necessitate solutions for energy efficient cabin cooling, durable wiper arm that can work even when the car is travelling at 340 km/h, bright and energy efficient headlamps, ergonomically sound video camera feeds to replace the rear and side mirrors.
The 24 hour racing format also puts fuel efficiency on the same level of importance as maximum power output. Try using F1 to develop all these tech.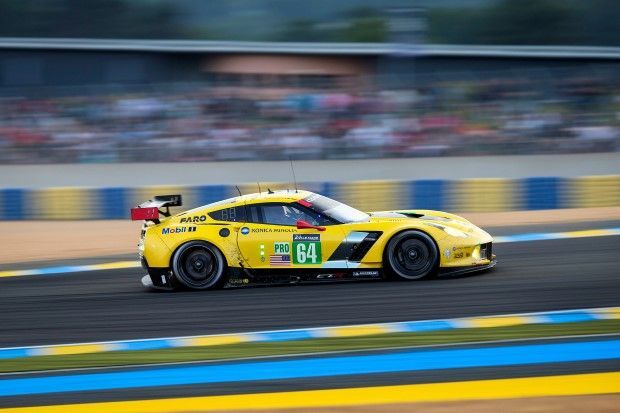 Chevrolet too, is racing in the WEC. Rather than spending a mega budget on a full-on LMP1 program like Audi, Porsche, Nissan or Toyota, Chevrolet decided that it would be better to send its Nurburgring-honed Corvette C7.R to compete in the LM GTE Pro Class - which is dominated by racing specifications Ferrari 458 Italia GT2, Porsche 911 RSR, Aston Martin Vantage GTE – cars which cynical Europeans always perceive to be superior to the American Corvette.
Victory must have been sweet when Team Corvette Racing humiliated Ferrari's and Porsche's factory supported teams in Europe's most historic racing circuit to win this year's LM GTE Pro Le Mans title.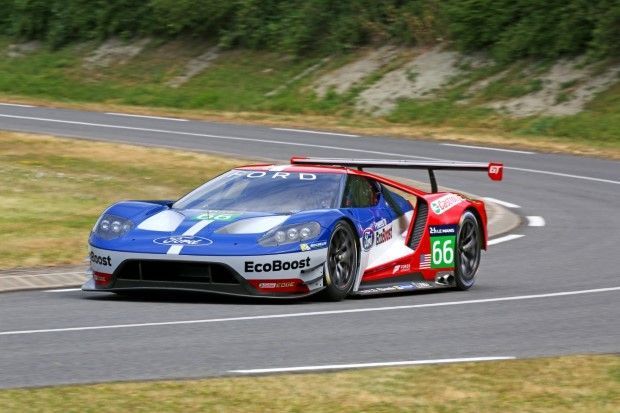 Not wanting to be left behind, Chevrolet's fellow American compatriot Ford too has announced that it will be joining the 2016 WEC with a new Ford GT, competing in the same LM GTE Pro Class.
Renault too is using Le Mans to ramp up awareness for its Alpine brand, as it prepares for the eventual launch of Renault's Porsche Cayman-rivalling Alpine A110-50 sports car.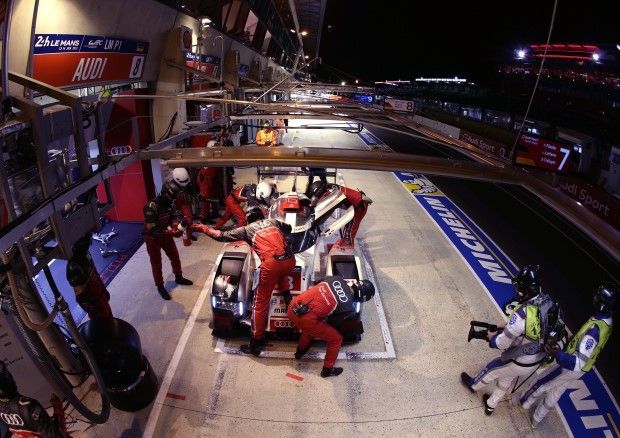 It's not just the car manufacturers that are increasing their presence in Le Mans and WEC. Michelin, which got crucified for upholding its integrity during the 2005 US Grand Prix debacle - the only race won by Bridgestone in the Michelin-dominated 2005 season – actively participates in the WEC and has made it very clear to it will not return to F1 unless Bernie Ecclestone backs down on his demands for 13-inch tyres that are artificially accelerated to degrade under race conditions, which Michelin sees as of little relevance to road cars and goes against principles of innovation.
Where the car manufacturers go, so will the fans. TV viewership of Le Mans grown from 580 million in 2012 to 802 million in 2015, plus another 3.3 million more WebTV viewers.
One Race – Four Solutions
The best thing about WEC regulations is that it offers a lot of freedom to engineers. Viewed from a macro perspective, WEC is almost like an engineer's sandbox – the rules are strict on the size of your sandbox (vehicle's dimensions), and how much sand (fuel) you have to play with. Everything else is pretty much up to your imaginations.
Cars competing in the highest LMP1 category are split into two sub-groups – LMP1-H for hybrids and LMP1 non-hybrids, but both compete in the same LMP1 category. In reality, all LMP1 racers in WEC are LMP1-H hybrids because of their obvious benefits in performance and efficiency.
WEC regulations only limits the amount of energy a car can use and recover (through hybrid regenerative braking) per lap, and the size of the fuel tank.
Participating teams with LMP1-H cars are given four options that balances between less restrictive limits on fuel consumption per lap and more powerful hybrid system.
The specific amount of fuel allocated per lap differs from team to team, calculated based on an equalizing formula that considers whether the car is running on petrol or diesel – thus ensuring that the sport is not dominated by one single engine type, which would then make the race boring.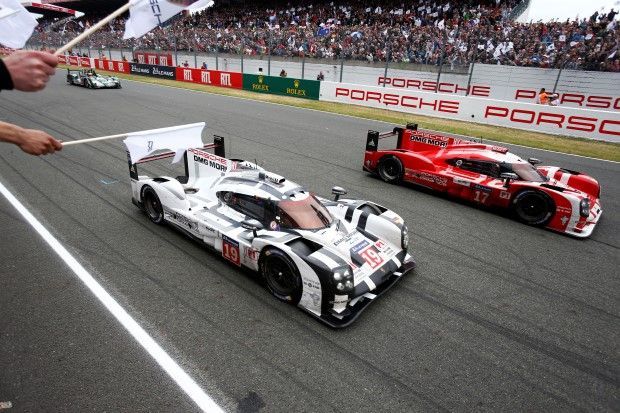 Cars opting for the highest 8 MegaJoule (MJ) per lap option are allowed to use 138 MJ of petrol energy per lap, which translates to a fuel consumption of around 4.76 litre of petrol per lap – this is the option taken by Porsche.
In contrast, Toyota, which opted for the mid-level 6MJ category, is allowed to use more petrol - 4.81 litres of petrol per lap.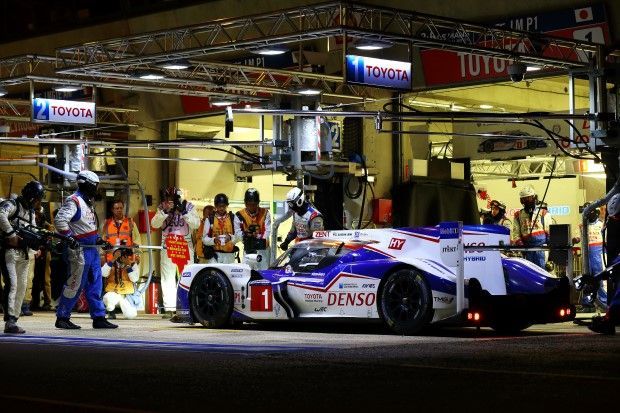 Another example of how WEC's innovate-as-you-wish sandbox approach is yielding results is the different solutions presented by Porsche and Toyota.
Although both are petrol-electric hybrids, the Porsche 919 uses a lithium-ion traction battery while the Toyota uses super-capacitors. Both have their pros and cons and the jury is still out as to which system will likely power the next generation of hybrid hypercars.
Toyota's super-capacitor solution have proven to be extremely reliable, with no breakdowns to the hybrid system in 2014 and 2015. Although a Le Mans victory remained elusive, its reliability helped it win the 2014 WEC title.
Porsche's battery solution in contrast, had good pace but suffered numerous technical problems in last year's Le Mans, but the brilliant brains at Stuttgart have made great strides in 2015 as the 919 Hybrids ran like clockwork to win the 2015 race.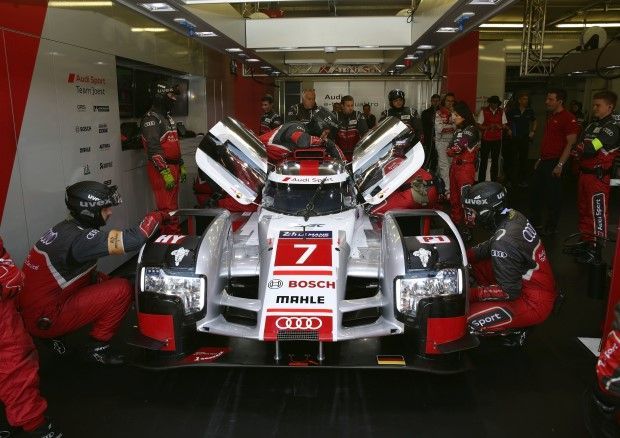 At the opposite end of the scale is Audi, which unlike Toyota and Porsche, chooses to race with the diesel-electric hybrid R18 e-tron quattro.
This year, Audi have decided to upgrade itself from the lowest 2 MJ category to 4 MJ. However because it runs on diesel fuel, the fuel consumption limit imposed on Audi is much stricter, about 3.8 litre per lap only, or 134.8 MJ of energy per lap, thus reinforcing the prowess of Audi's TDI e-tron diesel-electric hybrid system.
In place of Toyota's super-capacitors and Porsche's lithium-ion batteries, the Audi uses a mechanical flywheel located next to the driver, which spins at around 40,000 rpm within a vacuum housing to store energy recovered during braking.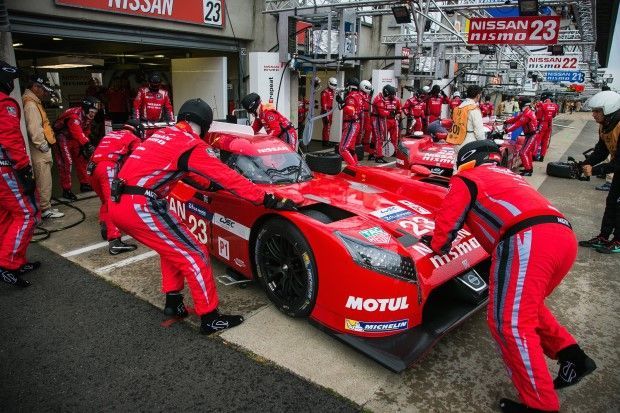 The most left-field car has to be the Nissan GT-R LM Nismo. It is such an oddball of a race car that few know what to make of it.
While all other LMP1 racer uses the tried and tested for many decades mid-engine, all-wheel drive layout, the GT-R LM Nismo is a front-engine front-wheel drive car, like an err...Nissan Almera. Sounds daft but there's actually some very sound engineering behind this radically new concept – WEC regulations are less restrictive on the aerodynamics working on the front axle, thus allowing for more effective use of downforce.
It is also possible to have the 2MJ flywheel-based hybrid system to drive the rear axle, turning it into an all-wheel drive like its other LMP1 peers but the system was not engaged in Le Mans because of reliability issues. Thus explains the Nissan trio's slow pace.
At their Le Mans debut, the GT-R LM Nismos were so slow in qualifying that all three Nissans were slapped with a penalty that relegated them to behind lower ranked LMP2 cars.
At the end of the race day, none of the Nissans were classified – two cars broke down, one crossed the finished line but did not complete the minimum 70 percent of the race distance. Clearly the Nissans are still work in progress.
LM GTE Pro – Where The Excitement Lies
Everyone loves to see an underdog trouncing the established big names. This is Europe, where the motoring press is very fond of perpetuating the stereotype that American cars can't handle corners.
Evo magazine (issue 114) was one of the few that bucked the convention, when its objective test on the Milbrook Handling Circuit showed that the Corvette Stingray Z51 was faster than a 911 Carrera S by more than a second, leading Dan Prosser to conclude "When it really matters, the Corvette is faster than the 911."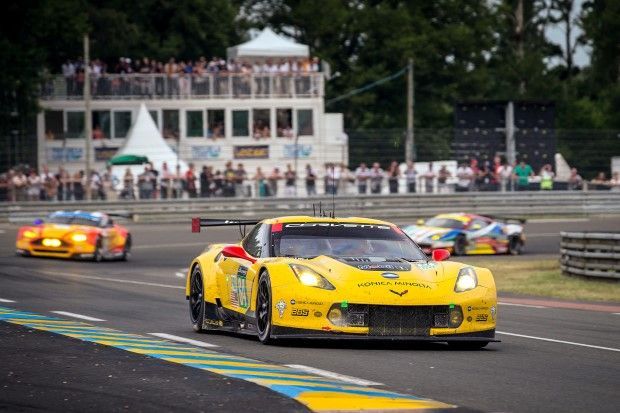 At Le Mans 2015, it is this 'crude Yankee's' Corvette C7.R that had thoroughly spanked all of the factory supported favourites - Ferrari 458 Italia GT2, Aston Martin Vantage GTE, and Porsche 911 RSR.
What's more, the Corvette, which also happens to be best sounding car on the track, had a five lap lead over second-placed Team AF Corse's Ferrari, seven lap over third-placed Team Aston Martin Racing, and a massive ten laps over endurance racing favourite, Porsche Team Manthey.
Next year, Team Corvette will also have to contend with a new Ford GT, campaigned by Chip Ganassi Racing. Ford's return to Le Mans is timely as 2016 will be the 50th anniversary of Ford's 1-2-3 finish at the 1966 Le Mans, beating Europe's poster brand, Ferrari.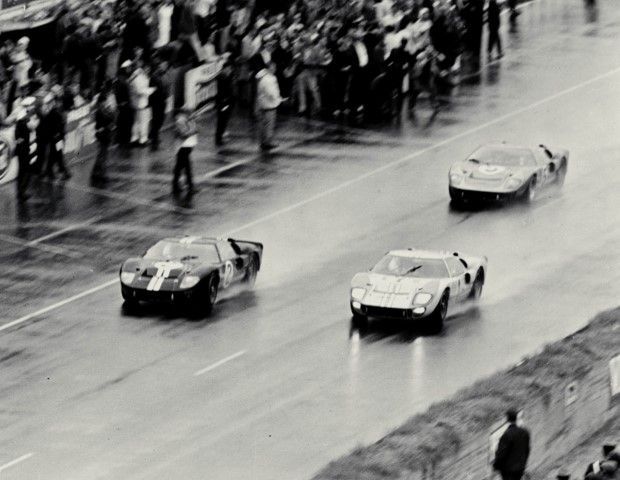 Although slower than LMP1 cars, LM GTE Pro class offer greater excitement for fans because their non-hybrid engines are much louder than LMP1 cars. It's quite an experience to hear the visceral rapid thumping noise of a Viper GTS-R chasing a Corvette C7.R down the Dunlop curve, only to be followed up by a wailing Ferrari V8 and the Porsche's signature boxer engine note.
LM GTE Pro drivers also face greater challenge than LMP1 drivers because they not only have to deal with slow traffic like everyone else, but they also have to be constantly on the lookout for fast approaching LMP1 cars.
Audi's Road To Le Mans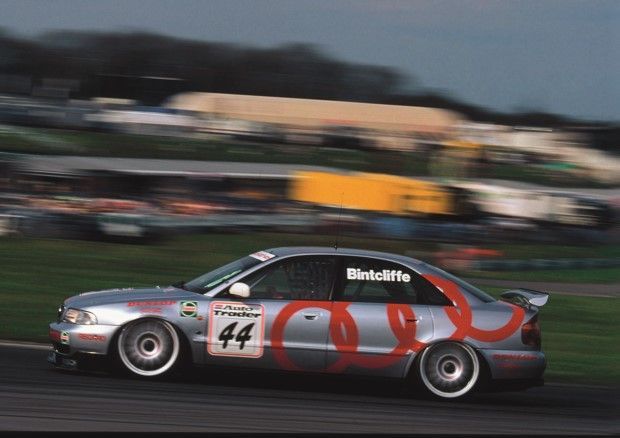 The year was 1998. Audi's quattro all-wheel drive technology was so dominant in the British, German and Italian touring car championships that it was banned from racing.
Naturally, Audi went looking for a new challenge. Le Mans looks promising as it's both a sprint and a marathon, running continuously over a distance equalling to 15 F1 races.
Audi's maiden 1999 Le Mans entrant featured a four car line-up – two each for two different concepts, a closed cockpit LMGTP ran by Audi Sport UK, and an open cockpit LMP ran by Audi Team Joest.
Both closed cockpit Audi R8Cs broke down while the two open cockpit Audi R8Rs went on to finish third and fourth, behind BMW and Toyota.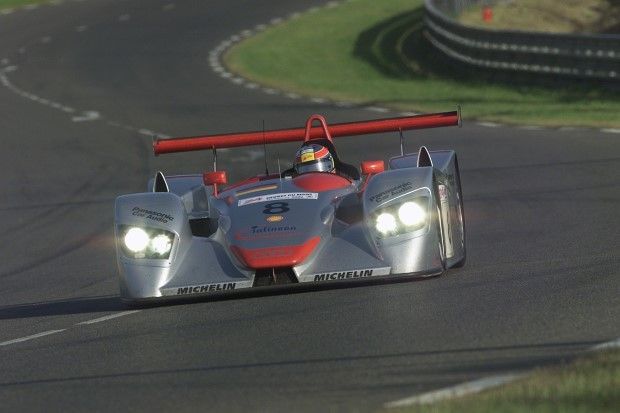 Lessons learned and for year 2000, Audi focused its Le Mans campaign on three open cockpit 3.6-litre V8 turbo petrol Audi R8s, which later lend its name for Audi's supercar. The R8s finished 1-2-3, dominating the podium. Audi has found its next challenge to dominate.
Since then, Audi has successfully used endurance racing as a platform to test and develop pioneering technologies in powertrain, on-board electronics, cabin cooling, aerodynamics and lighting, many of which were later transferred into Audi road cars.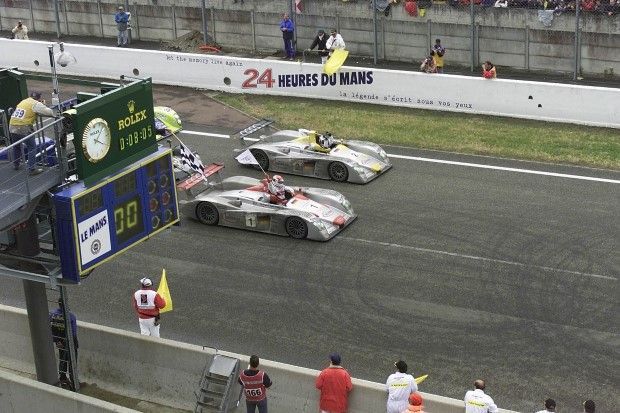 In 2001, the Audi R8's turbocharged V8 was upgraded to include TFSI direct petrol injection technology, allowing the Audis to lap one extra lap with each full tank of fuel, a crucial advantage in securing the team's overall 2001 Le Mans win.
Four years later, the world's first turbocharged direct petrol injection engine - 2.0-litre TFSI – was introduced to the A3 and A4 range.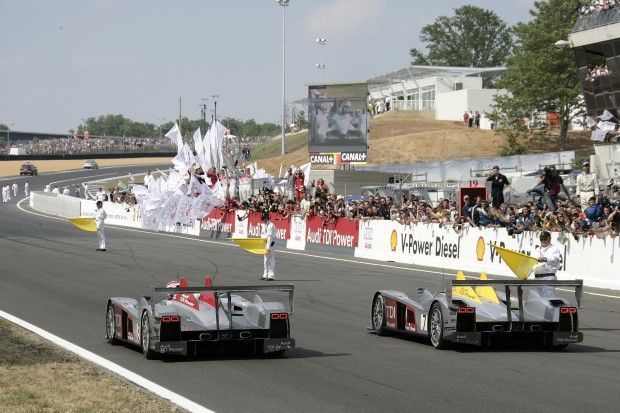 In 2006, several changes to the racing regulations putting greater emphasis on fuel economy prompted Audi to introduce its road cars' signature TDI diesel engine technology to the race track. It was a one of a kind reversal of technology transfer, from the road to the race track, and won the 2006 Le Mans title. Prior to this, no diesel-powered car had won an endurance racing event - the Audi R10 TDI was the first.
Two years later, Audi introduced the 500 PS Q7 V12 TDI, one of the most powerful production diesel car.
Audi followed up its act by setting a new record in 2012 – the first manufacturer to win in Le Mans with hybrid technology, in the diesel-electric hybrid R18 e-tron quattro – just as Audi was preparing to introduce its plug-in hybrid e-tron model line to the world.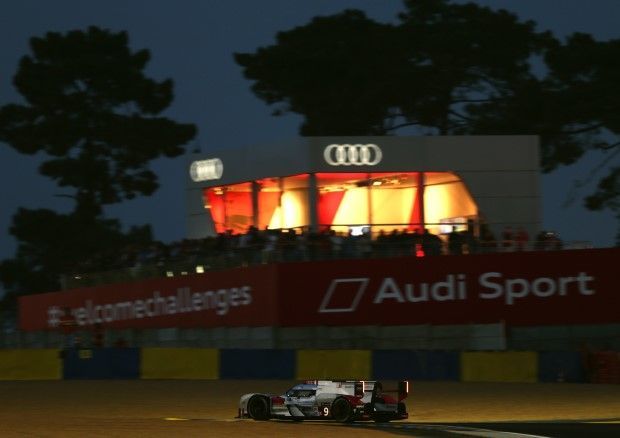 The night racing demands of Le Mans also facilitated advancements in exterior lighting technology. The 2006 R10 TDI debuted Audi's LED daytime running light, which would later become synonymous with Audi road cars.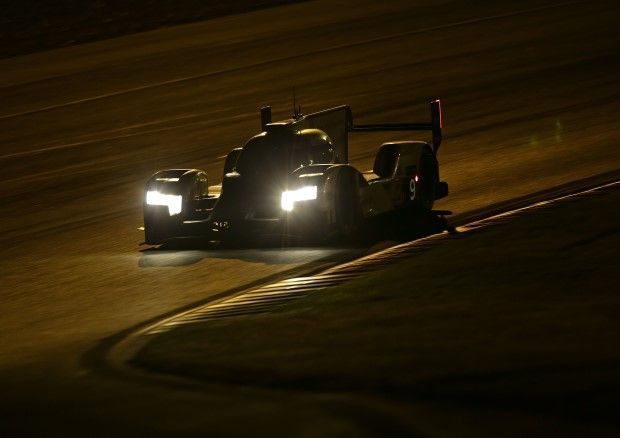 In 2013, Matrix LED headlamp technology debuted in the 2013 R18 e-tron quattro, before making its way to the A8 road car.
Later, the 2014 season Audi R18 e-tron quattro combined Matrix LED technology with laser light, which is able to provide a much more homogenous and precise light throw. The technology has since been perfected for the Audi R8 LMX supercar.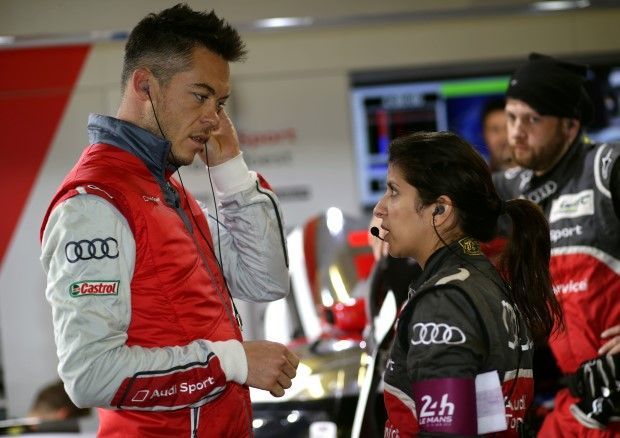 2014 was also the year when race engineer Leena Gade became the first female race engineer to win at Le Mans, when her #2 R18 e-tron quattro driven by Marcel Fassler, Andre Lotterer and Benoit Treluyer won the 2014 race.
Then there's cabin cooling. WEC regulations states that the cabin temperature inside closed cockpit LMP1 car must not exceed 32 degrees Celsius when the ambient temperature is not more than 25 degrees Celsius. If ambient temperature increases, the cabin temperature is allowed to increase by up to seven degrees Celsius.
The rules don't specify any particular solutions, only the final objective, which is a great way to promote innovative solutions.
Obviously fitting a heavy, power-sapping air-conditioning system inside a race car is a big no, so the engineers at Audi had to develop various alternatives in managing air flow and keeping solar radiation out.
One solution adopted by Audi is reflective silver solar film installed on the roof of the R18 e-tron.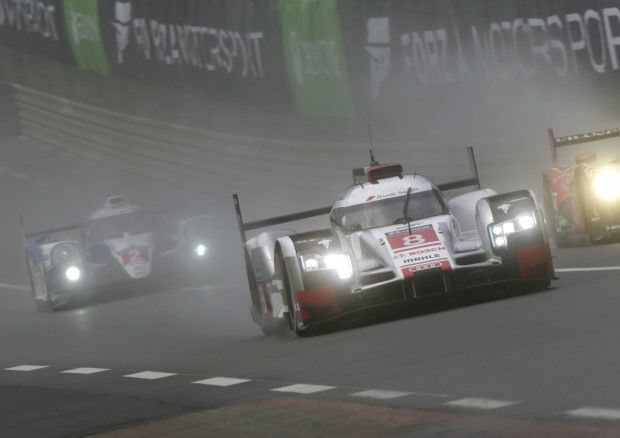 Then there is the single wiper arm, which is not as simple as it appears to be. The wiper needs to be able to effectively clean the R18 e-tron's polycarbonate complex curvature windscreen, even at speeds of up to 330 km/h.
The Future of Audi and Le Mans
Despite widespread rumours of Audi vacating its dominant position in Le Mans, allegedly in favour of F1 and to avoid unnecessary rivalry with sister-company Porsche, Audi's head of motorsports Dr. Wolfgang Ullrich is adamant that Audi will continue to race in Le Mans.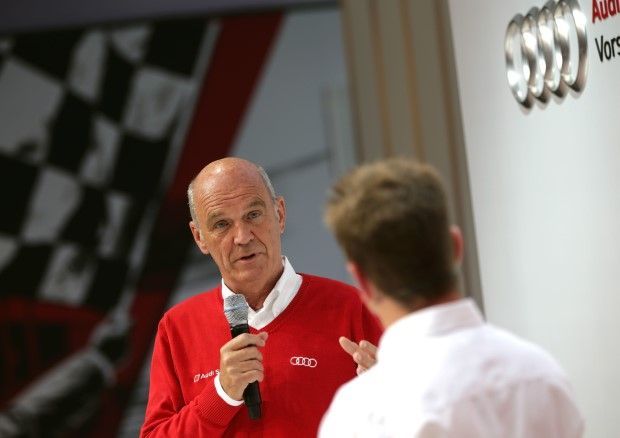 Speaking to Carlist.my during a pre-race press conference at Circuit de la Sarthe, Dr. Ullrich said "There was a decision of the Volkswagen Group to let us race against each other. It was not that Porsche decided to do it, and Audi decided to do it, and the Board didn't know it."
He elaborated further by saying that although Audi and Porsche are sister-companies, they compete with totally different powertrain concepts and such competition is important to promote innovation.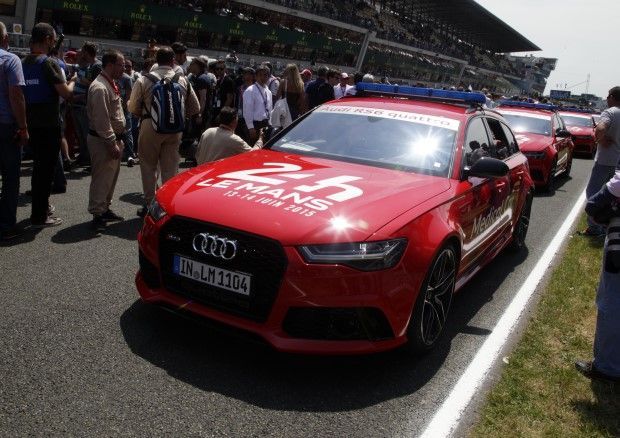 "We race with completely different concepts, and those (powertrain) concepts you can find in the cars of those brands. For sure Porsche is a brand with more emphasis on petrol and Audi is selling so many diesel engines on our road cars. So it makes sense – two companies, two technical concepts, one competition, and competition between those concepts. When both rivals are strong it lifts the level of the technology and that's good for our customers in the future," said Dr. Ullrich.
Despite their dominance of the sport, 2015 turned out to be a disappointing year for Audi, as the Audis were clearly outclassed by Porsche's 919 Hybrid. The excitement at Circuit de la Sarthe might have ebbed away as the teams move onto the next WEC race in the calendar, but for the brains at Ingolstadt, the countdown to Le Mans 2016 has already begun.
---
---
---
---
Comments