Counting Down To Le Mans 2015 - Audi Aims For 14th Victory
Auto News With less than 30 days left to the prestigious Le Mans 24 Hours, defending Le Mans champion Audi is entering the race - which also happens to be the third out of the eight rounds of the 2015 FIA World Endurance Championship - with a 27 point lead over archrival Porsche and 33 points over defending WEC champion Toyota.
Like last year's Le Mans, Audi Sport Team Joest will once again field three Audi R18 e-tron quattros: Audi's 4.0-litre V6 TDI diesel-hybrid, all-wheel drive LMP1 racer.
The driver line-up is as follows:
Car No.7: Marcel Fassler (Switzerland), Andre Lotterer (Germany), Benoit Treluyer (France)
Car No.8: Lucas Di Grassi (Brazil), Loic Duval (France), Oliver Jarvis (Great Britain)
Car No.9: Filipe Albuquerque (Portugal), Marco Bonanomi (Italy), Rene Rast (Germany)

The Fassler/Lotterer/Treluyer pairing has been unbeatable so far, winning the first two rounds of the WEC at the 6 Hours of Silverstone and 6 Hours of Spa.
Since 2000, Audi has won 13 Le Mans 24 Hours races. Aside from 2003, which was won by Team Bentley in an essentially rebadged Audi race car, the only year Audi did not win was in 2009, when Peugeot Sport broke Audi's stranglehold on Le Mans, and in 2003, when it was won by Bentley (but it's essentially a rebodied Audi R8C).
Between 2000 and 2005, Audi won Le Mans with the petrol-powered FSI engine Audi R8 (no relation to the Audi road car of the same name). The R8 racer featured a unique modular design that allowed for fast repairs.
The transmission in Le Mans racers are highly stressed and can sometimes require repairs mid-race. Audi's solution is a modular rear section - consisting of the transmission and the rear axle – that could be exchanged within a matter of minutes by means of quick-release fasteners.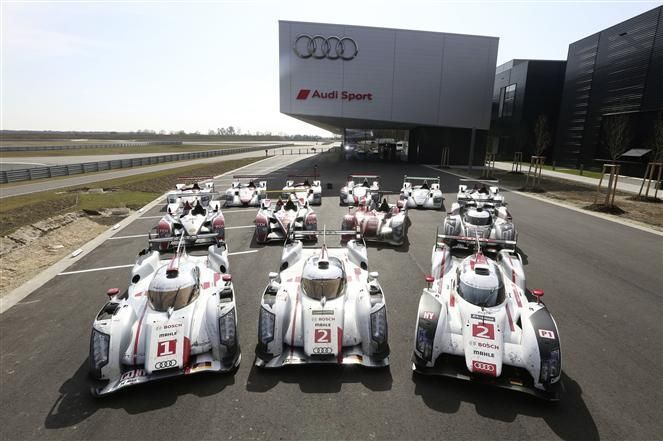 In 2006, Audi shocked the world by winning Le Mans with a diesel-powered car, the 5.5-litre twin-turbo V12 engine R10 TDI. It became the first diesel-powered car to win at Le Mans.
In 2010, the R15 TDI introduced new levels of innovation by introducing a smaller 3.7-litre V10 TDI engine, and began using a lithium-ion battery to power the on-board electrical system, thus improving fuel economy and breaking the 39-year old distance record at Le Mans.
"This closed-wheel race car marked the beginning of a new era at Le Mans for Audi," says Dr. Wolfgang Ullrich, Head of Audi Motorsport.
"The regulations required us to reduce the cubic capacity of the engine from 5.5 to 3.7 liters. Therefore, the aerodynamic efficiency of the closed race car, considering all the factors combined, became even more important. The optimized aerodynamics helped improve lap times although the race car had less power output than its predecessor and consumed clearly less fuel."
In 2012, Audi introduced the R18 e-tron quattro: a diesel-electric hybrid race car that uses a 3.7-litre V6 TDI engine to drive the rear axle, while the front axle is driven by a pair of electric motors.
Since then, the R18 e-tron quattro has undergone several revisions to comply with the latest regulations at Le Mans, but Audi has elected to maintain the R18 e-tron quattro name.
Here's a recap of Audi's race last year, which if you remember, featured quite a bit of drama between Audi, Porsche and Toyota.
Toyota was leading the race from the start, for more than half the duration of the race until one car broke down while another was involved in an accident. Unlike Porsche and Audi, Toyota only fielded two cars and that effectively ended Toyota's otherwise brilliant race.
Porsche too earned the respect from everyone else when the mechanics worked hard to get their sole remaining 919 Hybrid out onto the track again just as the race was about to end. The Porsche team decided that although they have no chance of winning, it is right to send their last car out again to join the final lap, a spirit which earned a standing ovation from the Audi pits, where everyone stood up and cheered as the Porsche drove out.
Porsche acknowledged Audi's superiority in this post-race video.
In response, Audi, produced this Youtube video recognising the challenging spirit of Porsche and Toyota. That's a very unusual display of sportsmanship these days.
---
---
---
---
Comments