No Truth In Audi Leaving Le Mans To Make Way For Porsche
Auto News Both Audi and Porsche will continue to compete in the Le Mans 24 Hours race for the foreseeable future, said Audi's Head of Motorsport Dr. Wolfgang Ullrich.
When asked to comment about rumours saying that Audi will leave Le Mans in favour of Formula One to avoid direct competition with its sister-company Porsche in Le Mans, Dr. Ullrich rubbished such rumours by saying that it was a unanimous decision by the Board of the Volkswagen Group to have both Audi and Porsche competing against each other in Le Mans.
Speaking to Carlist.my during a pre-race press conference at Circuit de La Sarthe, Dr. Ullrich said "There was a decision of the Volkswagen Group to let us race against each other. It was not that Porsche decided to do it, and Audi decided to do it, and the Board didn't know it."
He elaborated further by saying that although Audi and Porsche are sister-companies, they compete with totally different powertrain concepts and such competition is important to promote innovation.
"We race with completely different concepts, and those (powertrain) concepts you can find in the cars of those brands. For sure Porsche is a brand with more emphasis on petrol and Audi is selling so many diesel engines on our road cars. So it makes sense – two companies, two technical concepts, one competition, and competition between those concepts. When both rivals are strong it lifts the level of the technology and that's good for our customers in the future," said Dr. Ullrich.
"I haven't heard it," laughed Dr. Ullrich when asked to comment about rumours of plans within the Volkswagen Group to have Audi compete in Formula One, leaving Le Mans to Porsche.

The Audi R18 e-tron quattro is a diesel-electric hybrid race car that competes in the top LMP1 of the World Endurance Championship, whose third race this year is tomorrow's Le Mans.
Despite the hybrid moniker, the R18 does not use traction batteries like a regular hybrid road car, but uses a carbon-fibre flywheel encased in a vacuum housing, located next to the driver, to recover kinetic energy during braking.
During acceleration, the energy stored in the flywheel can be discharged to drive front axle. This, when combined with a 4.0-litre V6 558 hp turbo diesel TDI engine behind, allows the R18 to deliver Audi's signature quattro all-wheel drive traction.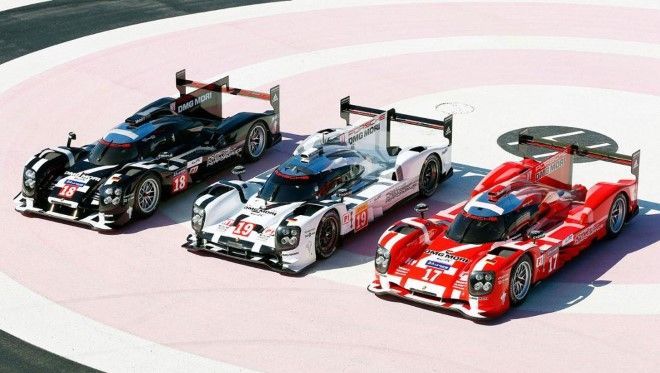 Meanwhile, the Porsche 919 Hybrid is a petrol-electric hybrid LMP1-class race car. The rear axle is powered by a 2.0-litre V4 turbocharged petrol engine that produces over 500 hp.
While the Audi uses a carbon-fibre flywheel, the Porsche uses more passenger car-like lithium-batteries to store recovered kinetic energy from the front wheels during braking. This energy can then be discharged to drive the front wheels, giving it all-wheel drive traction.
The 919 Hybrid's notable achievement for this year's Le Mans is its 8 MegaJoule hybrid system, the highest on the grid. Compared to the Audi R18's 4 MegaJoule system, the Porsche is able to deliver record-setting pace (3 seconds faster than Audi in qualifying) which even Dr. Ullrich himself admits cannot be matched by Audi.
"But Le Mans is a very unique place. Qualifying doesn't mean much. You still have another nearly 379 more laps to go (the total laps completed in Le Mans 2014)," said Dr. Ullrich, adding that while the Porsches are faster, he believes Audi has a better aerodynamic package which will allow it to catch up in the corners.
Le Mans 2015 will start at 3PM on Saturday at the Circuit de La Sarthe in France (9PM Malaysian time). Fans can catch the race live here.
More about Le Mans 2015 here.
---
---
---
---
Comments