New 2016 Proton Perdana "Previewed" To The Media
Auto News During a media walkabout of the Alami Proton Carnival 2015, which happens this weekend (3-4 October), we were brought on a tour of Proton's Research and Development Centre where the new 2016 Proton Perdana (codenamed P4-28B) was displayed, albeit under wraps for the moment.
We were told specifically that no photos taken during the tour were allowed to be published until a later date but were granted permission to disclose a few things about Proton's most upmarket offering.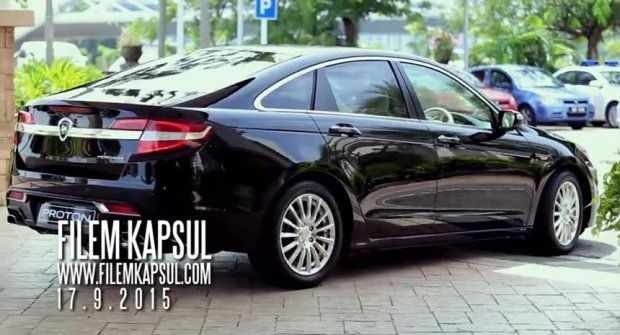 Firstly, the car seen in the movie Kapsul is certainly not the final design of the car. Although we were only shown the profile of the car (under heavy wraps and tight security, mind you), there are a few noticeable differences clearly seen through the cloth wrap draped over the car. A display board also gave us a look at the new car's silhouette which is shrouded in darkness save for a glimpse of the car's side and headlights.
This includes a more pronounced boot lip spoiler and new wing mirrors as well. The headlights themselves are significantly different from that found first phase model (known to many as the Accordana), as they appear to look sleeker in design. It's hard to tell if they adopt LEDs, xenons, or halogens as the lighting element. Other details include a shark fin roof-mounted antenna, and door handles which aren't flush with the bodywork. There also a slight haunch seen on the hood, something not found on the previous model as well. We have been told that the car measures 4.99 meters in length.
It is already known that the eight generation Honda Accord's platform will serve as the car's underpinnings, as it was on the first phase of the second generation Perdana. Meanwhile, Azlan Othman, Proton's Head of Design, also said "it is known" that Honda's 2.0-litre R20A3 in-line four-cylinder and 2.4-litre K24Z2 in-line four cylinder petrol engines will serve as the powerplant for the new Perdana as well. He added that 80% of the car's design will be significantly different from the car it is based on as well.
On the safety side of things, Proton hinted to a five-star ANCAP rating, but this would imply that the Perdana would be exported to Australia, something which Proton has yet to confirm. Also, starting 2014, all cars must come equipped with autonomous emergency braking, lane keeping assist and other advanced driving assistance systems (ADAS) to qualify for a five-star rating. Again, Proton is not confirming the availability of these features yet.
We did spot something of interest on a display board located at the R&D centre which pointed features such as an Active Blind Spot Assist System and Lane Departure Warning System. However, these aren't confirmed to be in the new Perdana.
Other features seen on said display board include an electronic parking brake and a rotary gear shift, which again, aren't confirmed to be in the new car.
As for its availability, 2016 is the targeted launch date for the new Proton Perdana and unlike its first phase/second gen model, which was sold exclusively to Malaysian civil servants and government officials, the general public will be able to purchase this one as well.
With Proton Holdings Bhd Chairman, Tun Dr Mahathir Mohamad, scheduled to make an appearance at the Carnival tomorrow, here's to hoping he unveils the car himself for all to see. Stay tuned to this space.
---
---
---
---
Comments