SPOTTED: New 2016 Proton Perdana Seen In Filem Kapsul Promo Video
Auto News Now, we know that Proton is on a mission to rejuvenate its vehicle lineup and that a new Proton Perdana will be the first of the new models to be introduced. A recently uploaded promotional video for a local film Filem Kapsul may just give us our first look at the new executive sedan.
The video only provides a view of the vehicle's rear three quarter and full rear-end. From what we can see, the design certainly has an upmarket look to it with a roofline akin to a fastback. The clearly seen 'Perdana' emblem is evidence that the nameplate of Proton's executive sedan will soldier on for the new model.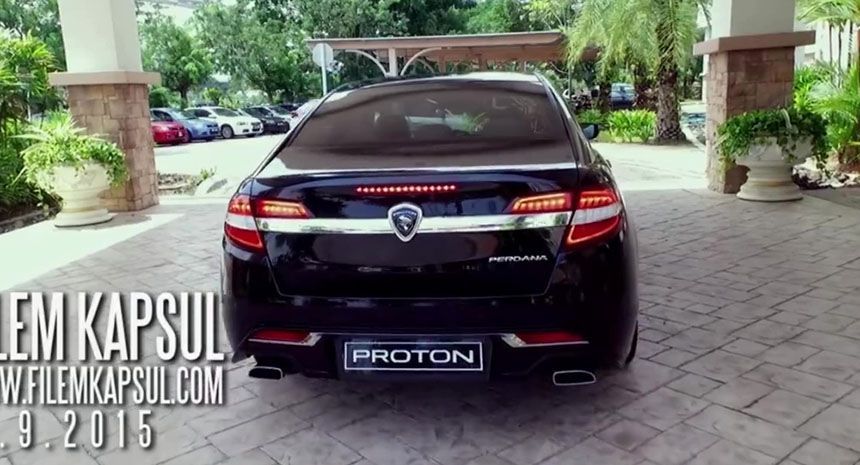 Elsewhere on the car, we see LEDs being employed on the taillights and even for the tailgate-mounted third brake light. The Proton logo is prominently displayed on the boot lid as well, nestled in the middle of a thick chrome strip that links the taillights. Twin exhaust tips are also spotted below what appears to be rear fog lamps as well, which flank the number plate holder.
Serving as the new Perdana's underpinnings will be the previous generation Honda Accord's platform, but with the sedan's design as such, you might not know that just from looking at it. However, we'll reserve judgement until the car's final design (it may change) is revealed in full.
If you're curious about our local production Filem Kapsul, which opens in cinemas on September 17, the movie blends sci-fi and history. The plot revolves around a time capsule that was buried by Proton Chairman and former Prime Minister of Malaysia, Tun Dr Mahathir Mohamad in 1995 at the administrative capital of Putrajaya, scheduled to be opened in 2020.
A conniving businessman named Zohri (played by Malaysian actor Faizal Hussein) steals and attempts to open said time capsule, after which he is transported back in time through the decades circa pre-independence, starting from the Japanese Occupation in 1942. Zohri meets with several of the country's prime ministers along his journey to get back to his current time period, including Tun Dr Mahathir Mohamad, who plays himself.
---
---
---
---
Comments