The New Koenigsegg Regera Will Get To 400 KM/H With Only One Gear
Auto News Koenigsegg, the Swedish company that defies convention has released its latest car at the 2015 Geneva Motor Show that aims to be a more practical and comfortable 'megacar' as compared to their current models, the One:1 and the newly-launched Agera RS. Welcome everyone to the wacky and ingenious Koenigsegg Regera. With only 80 examples to be built, the Regera will mark Koenigsegg's first time having two parallel models in production.
In Swedish, the name means "to reign" and the Regera is certainly looking to do just that in the highly contested world of ultra-performance cars. However, company founder, Christian von Koenigsegg has always had a unique vision and approach to the way he wants his cars to be built. From the organic but super slippery car body shape to the dihedral synchro-helix actuation doors found on other models, the company challenges itself to invent marvels of engineering.
The Regera is no exception. The design is recognisably a Koenigsegg with various side scoops, an active chassis with active suspension, and active aerodynamics beneath the car along with an adjustable rear wing. Various parts of the car's body can be tucked away to create a perfectly streamlined shaped as and when required. Curb weight is at 1,628 kg with all fluids added and 1,420 kg without them.
A highlight on the exterior is the Regera's 'constellation' daytime-running lights (DRLs) where the LEDs that make up the DRL, are scattered around the lamp cluster to produce a star constellations effect on a polished carbon fibre "night sky."
The interior is also not as sparse as you might think. With added insulation, eight-way electrically adjustable seats, nine-inch infotainment system with 3G and Wi-Fi connectivity, front, inner and rear camera system with recording capability, Apple CarPlay, sound system, and ambient lighting, the Regera is the company's most luxurious.
ICE & Direct Drive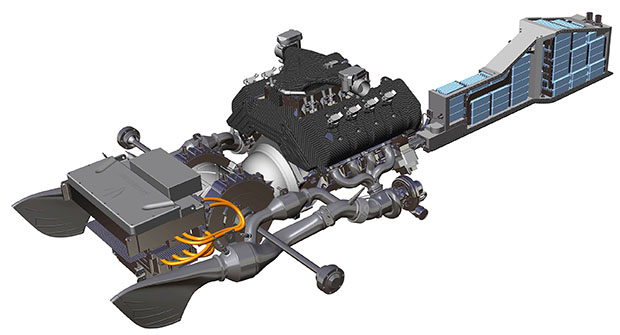 The powertrain of the Koenigsegg Regera is a truly unique and we're not just saying that because it's an exotic car.
ICE here refers to the internal combustion engine, a drysumped twin-turbo DOHC 5.0-litre V8 engine that pushes out 1,100 hp and 1,250 Nm torque. That sounds pretty normal until we move on to the second portion of the powertrain, the Direct Drive transmission.
The Koenigsegg Direct Drive (KDD) transmission see the introduction of three electric motors with two on each rear wheel, making 241 hp each. The third makes 215 hp and sits on the crankshaft that provides torque-fill, electrical generation, starter motor functionality, and also allows for torque vectoring
That's almost 700 hp from the electric motors alone and when combined with the ICE, over 1,500 hp and 2,000 Nm torque is available. The electric motors draw their power from a 9 kWh 620 volt, flooded liquid cooled battery pack which is charged via regenerative braking or using 200 hp from the engine acting as a generator.
The KDD isn't a gearbox in the traditional sense. Instead of transmitting power through a transmission like a dual-clutch or CVT gearbox, it only has one final drive ratio of 2.85:1. The reason? Normal drivetrain losses associated with sending power through a transmission with multiple ratios are reduced by 50% and makes it lighter as well.
When travelling below 48 km/h, the Regera will run on pure electric power alone. Going beyond, the internal combustion engine comes to life and a hydraulic coupling that acts like a clutch that is locked in place. In theory, the gearbox have been replaced by the electric motors.
As you accelerate, the engine continues to drive the rear end in the locked gear ratio of 2.85:1, working in tandem with the electric motors up to the redline at 8,250 rpm. By then, you would be travelling at 400 km/h. When you get up to speed, the system really comes into its own.
0 – 100 km/h in 2.8 seconds. 150 km/h to 250 km/h in 3.2 seconds. If that isn't enough to warp your mind, this will: 0 – 400 km/h in under 20 seconds. A diagram of the system is shown here:
Company founder Christian believes hybrids are compromised by weight, complexity, cost, packaging, and efficiency. With his KDD system, it is not only lighter but more efficient than parallel or series hybrids according to the Koenigsegg founder.
---
---
Comments