Next Generation Toyota Supra Caught On Video
Auto News Let's review what we know so far. The Toyota Supra (or whatever Toyota decides to call it), is going to be their new halo sports car that's developed in conjunction with BMW. This means that we'll likely see a BMW variant as well, which some are beginning to call the "Z5"- and given what little styling we can see peeking out from underneath the camouflage it wouldn't be all too unlikely. While the Z5 is said to be a soft top roadster, the Supra will more likely be the hard-top counterpart to this and is slated to come out in 2018.
There's strong indication that the new Supra will be an all-wheel drive hybrid vehicle. Part of this is driven by speculation based on the Yaris Hybrid-R concept- an all-wheel drive monster with a conventional engine up front and a motor powering each rear wheel- and other strong reasoning is simply the fact that performance hybrids are becoming de rigeur for halo models. On the conventional side of things will likely be a turbocharged straight-6, perhaps something out of BMW's wide portfolio of TwinPowerTurbo powertrains. From the video, it certainly sounds like a straight-6 providing the majority of the kick.
The fact that Toyota also has a strong background in hybrid technology and energy storage systems means we will see something along the lines being applied. The TS-030 Le Mans Prototype vehicle showed how effective Toyota's supercapacitor system is, and to see that kind of technology being applied in a road car will be something to behold. Of course it will also mean that the new Supra will be more of an all-wheel drive traction monster than a rear-wheel drive hooligan machine, but we can't really complain either way.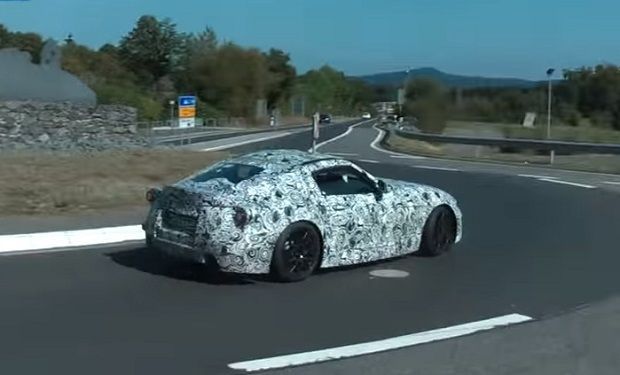 There are some elements that are visibly Toyota on this prototype vehicle. The roof, for example, sports a 'pagoda' esque form- which we last saw on the GT86. The hardtop lines in general seem more Supra than Z4M Coupe as well, and the larger bumper on the front is definitely against BMW's principles of minimizing the overhangs at either end. The wheelbase doesn't look all too long- common to both the BMW and the Toyota variants of the model, but perhaps it could be a visual result of the large wheels and odd ride height.
---
---
---
---
Comments