Perodua On Track For Yet Another Record Breaking Year – Aims For 235,000 Units/Year
Auto News Buoyed by strong demand for all its models, Perodua is bullish about its prospects for 2019 and has announced today that it will be revising its annual sales target from the 231,000 units announced in January to 235,000 units.
The target is 3 percent higher than last year's 227,243 units sold, which was a new record for the company. It should be noted that much of last year's sales was boosted by the two-month tax holiday period post-General Election.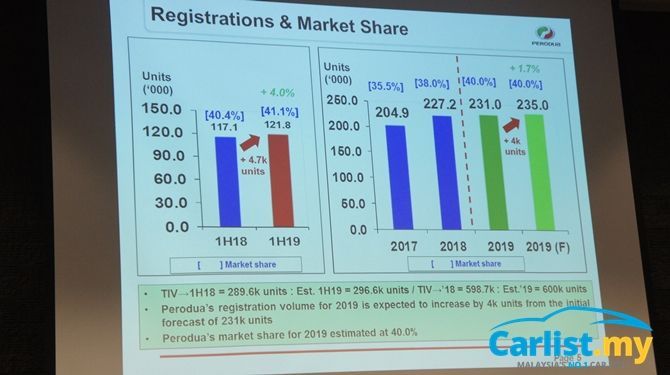 Although the tax holiday period is over, Perodua is not seeing any slowdown in its order bank. In fact, demand is outstripping supply and the company's plant is now working at 97 percent utilization rate to keep customer waiting period as short as possible.
Even the Perodua Alza, which is the oldest model in its line-up, is still seeing a two-month waiting period (depending on variant).
Total bookings collected in the first six months of 2019 stood at 190,765, three percent higher than the same period last year. Total deliveries stood at 121,800 units or 4 percent higher than the same period last year, details are as below (approximate figures only, Competion Act prohibits publishing of detailed sales break down by model):
Myvi: 43,000 units
Axia: 32,000 units
Bezza: 22,000 units
Aruz: 15,000 units
Alza: 8,000 units
Loan rejection is also significantly lower than before, as the Myvi and Aruz are now attracting a newer group of customers with better financial standing.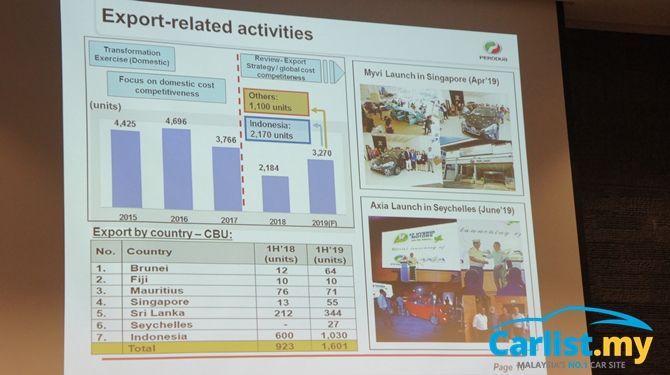 Total exports also grew by 73 percent to 1,601 units, but of course, this was calculated from a very low base of just 923 units last year. Last year's figures were also hampered by a temporary supply disruption of the Myvi.
Indonesia remains Perodua's largest export market, contributing over 60 percent. Smaller South Pacific nations make up the rest of Perodua's export destinations, which CEO Dato' Zainal Abidin Ahmad explained it was because these are the most viable export destinations given Perodua's current cost competitiveness. He explained that Perodua's cost structure is now almost as competitive as that of Indonesia, which is Perodua's technical partner Daihatsu's largest market outside of Japan.
"We have reached a stage in our history where we are earnestly seeking to build our brand abroad in a sustainable manner. However, this is on a long-term scale as brands do need time to build. Our hope is to make Malaysia proud," said Dato' Zainal.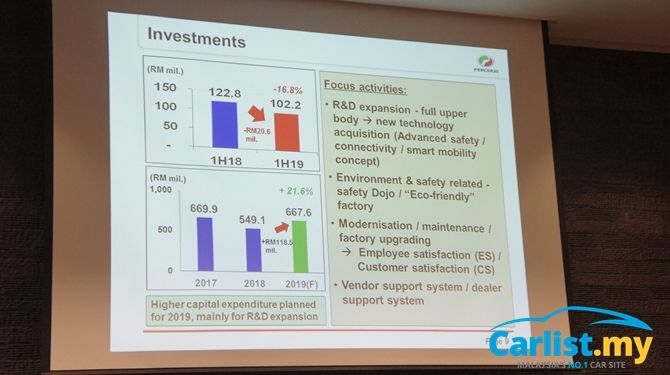 He also went to explain that Perodua currently employs over 600 engineers, about 30 of which are currently being seconded to Daihatsu to develop Daihatsu products in Japan. Several Perodua suppliers have been selected by Daihatsu to supply automotive parts to Daihatsu vehicles in Japan. Details will be announced by the respective suppliers later this year.
He added that Perodua has now acquired sufficient technical ability to produce one full model change (all-new) model and one minor change (colloquially referred to as 'facelift') model every year.
Having acquired the necessary know-how to independently design a vehicle's upper-body, Perodua's next goal is to acquire the necessary skills to develop advanced driving assistance functions, in-car Internet connectivity and smart mobility solutions (car sharing, short-range commuting vehicles).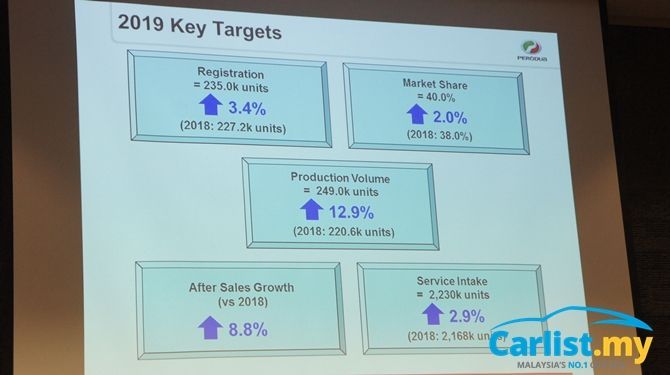 As for this year's total industry volume forecast, Perodua projects that Malaysia's total new car sales will remain at 600,000 units, keeping in mind that last year's numbers were boosted by the afore-mentioned tax break period. The forecast also means that Perodua expects to boost its market share by 2 percent, to 40 percent.
---
---
---
Comments