Post-GST: Prices Of CKD Honda Models Slashed By Up To RM2,500
Buying Guides In a surprising move which will definitely create a lot of disruption within the local automotive industry, Honda Malaysia Sdn. Bhd. has announced that it will be cutting prices of locally assembled Honda models by between RM500 to RM2,500.
The reduction is due to savings generated from Malaysia's move to replace the previous 10 percent Sales and Services Tax (SST) with a new 6 percent Goods and Services Tax (GST), which came into effect today 1-April 2015.
At this point, it is important to stress that due to the complexity of the mechanics behind GST, the impact of GST on car prices varies from one brand to another, depending on the nature of their cost structure. Some brands like Honda will be able to reduce their prices while others may see an increase in prices.
In the case of Honda, popular models which sells in greater volume like the City, Accord and CR-V saw the highest savings - at least RM1,345 for the City, RM1,662 for the CR-V and RM1,447 for the Accord. Fully-imported models like the Odyssey for example, will see a slight increase of up to RM1,007.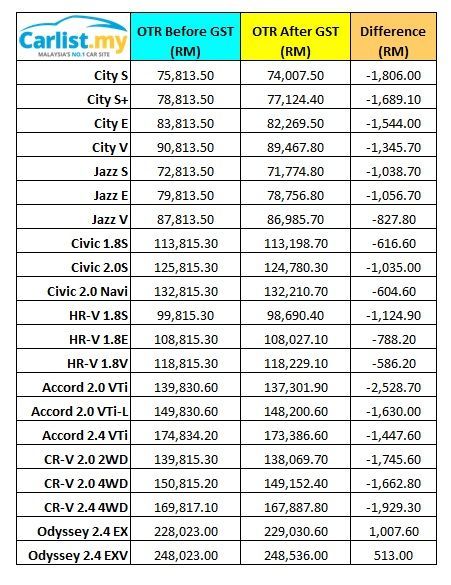 CEO and Managing Director Mr. Yoichiro Ueno was also keen to stress that customers who have recently bought their Honda models earlier were not given a poorer deal, as Honda Malaysia have anticipated the change in prices and customers who have purchased their cars earlier this year have already been by discounts and other promotions of similar value.
"In order to minimise the impact of car prices because of GST, we have recently conducted a Chinese New Year campaign, and we have considered the impact [of GST] on our campaign prices," said Ueno.
He also explained that while the difference between the previous 10 percent SST and the newly introduced 6 percent GST is a 4 percent, consumers cannot expect prices of cars to drop by 4 percent across the range.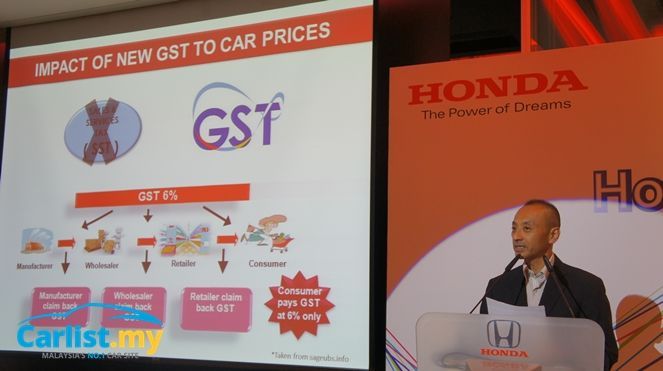 "The current SST is only applied once at the manufacturer's level. Meanwhile, GST will be imposed at each level of a supply chain, from a manufacturer up to a consumer. Each level in the supply chain will add 6% GST, but the contributed tax in the former level will be deducted by the entity at the next level.
"The main difference in the tax calculation is the taxable base between GST and SST. The Sales tax of 10% tax rate is based on the ex-distributor value of the car which does not include dealer margins, transportation cost and handling fees, accessories and other miscellaneous distribution costs, while GST will be charged on the final selling price of the car on the road. Although there is a difference of 4% in the tax rate, the impact to the car price varies due to this difference of the taxable base," said Ueno.
In answering questions as to whether Honda is embarking on an aggressive price war to win more market share, Ueno said: "This price reduction is purely the gap between SST and GST, not even 1 sen or 10 sen difference is made to our profitability," adding that Honda Malaysia is strictly complying to Malaysia's Anti-Profiteering Act.
Cheaper Servicing Cost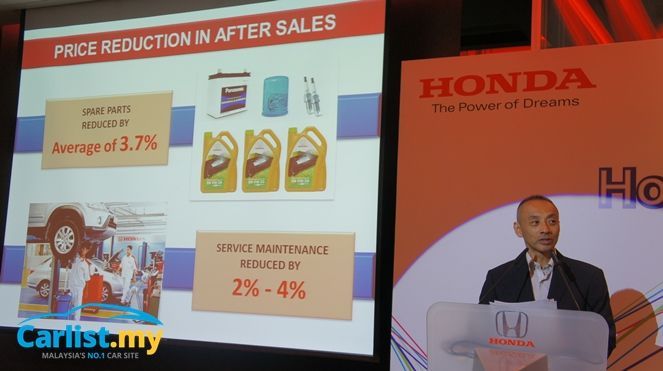 Although GST will be added to labour charges, Honda has offset this by reducing the prices of its spare parts by an average of 3.7 percent.
"We estimate that the total maintenance cost will be reduced by 2 percent - 4 percent depending on the model," he added.
GST To Hit Dealer's Cash Flow
While Honda customers will be getting a better deal post-GST, car dealers will be having a tough time managing cash flow.
For dealers which still have unsold stocks that were purchased before GST was implemented, these cars have already been charged a 10 percent SST during their wholesale purchase but it will be difficult for dealers to pass this cost to their customers, who will also have to pay the 6 percent GST.
Dealers however, can claim back the SST paid, but only 20 percent of the total SST value paid to the government, and the claims process can take up to two years.
Honda Malaysia is urging the government to expedite the claims process as it will affect the cash flow of many dealers.
---
---
---
Comments