Review: 2017 Honda BR-V – The One Car That Middle-Class Malaysia Needs
Reviews So you have a baby on the way and everyone's congratulating you. You need to replace your Myvi with a bigger car that has enough space for a child seat and still be able to sit your in-laws or your other kids.
The larger, almost minibus-like Nissan Serena would be ideal but you don't have RM133k to spend, because diapers and daycare fees will tear you a new hole.
The latest entrant in the sub-RM100k seven-seater market is this all-new Honda BR-V. Considering that the BR-V has broken past its five-month sales target within just three weeks, clearly the BR-V that resonates very well with middle-class Malaysia. In fact, internal data from Honda Malaysia suggests that the BR-V had outsold the Perodua Alza in February!
Specifications for 2017 Honda BR-V 1.5L V
Engine: 1.5-litre SOHC i-VTEC, 16-valve, transverse
Transmission: Automatic (Continously Variable Transmission), front-wheel drive
Power: 120 PS at 6,600 rpm
Torque: 145 Nm at 4,600 rpm
Safety: Dual airbags, ABS with EBD, VSA, HAS, ISOFIX (2x, second-row seats)
Price: RM92,800 (on the road with insurance)
Origin: Locally assembled in Pegoh, Melaka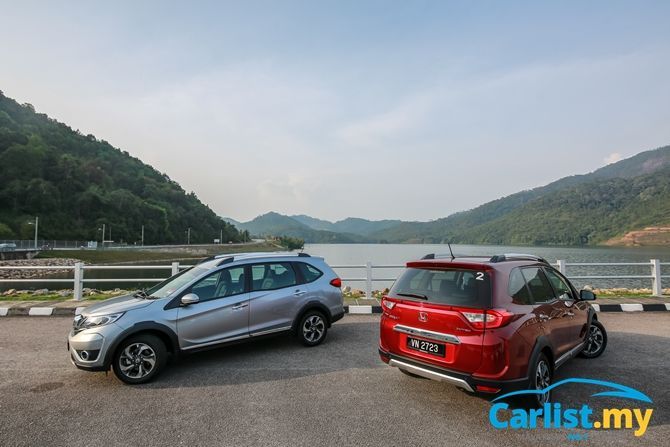 Overview
The Honda BR-V is a budget friendly seven-seater primarily aimed at those who are upgrading from a Perodua Alza/Myvi-class of vehicles. For many, the BR-V is their first seven-seater vehicle.
The model tested here is the highest specifications V-grade model. There's also a cheaper E-grade model but what's important is that both models are equipped with the same level of safety features. The RM7,000 cheaper E-grade model loses minor exterior garnishes, front fog lights, electric tailgate release (but has a mechanical latch), leather upholstery, Smart Entry and engine push start button, steering wheel control-mounted control buttons, automatic air-conditioning, and touchscreen infotainment system with reverse camera.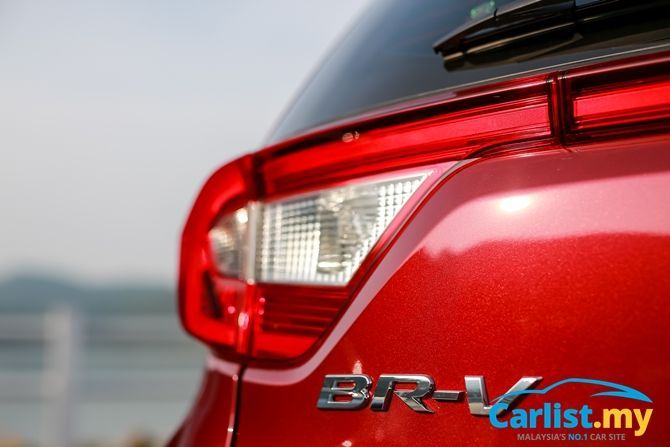 Within the segment, there are many alternatives to the BR-V but only a handful of them are worth your consideration – namely the Perodua Alza, Proton Exora, and Toyota Sienta.
The cheapest among them is the 1.5-litre Perodua Alza (cheapest automatic variant from RM55,000). However the Alza is more of a 5+2 seater rather than a proper seven-seater. It's also showing its age, having been on the market almost unchanged since 2009. It is however the most economical to buy and to run.
The 1.6-litre turbocharged Proton Exora (from RM67,220) is equally old. It might boast of more power (138 hp and 205 Nm) but it's also very heavy and lacks direct injection that many modern turbocharged engines have, and as such, it's very thirsty on fuel. It however comes decently equipped - with electronic stability control, lots of space, individual air-conditioning vents in the rear and a spacious third row.
There's also the 1.4-litre Proton Ertiga (cheapest automatic model at RM61,880), but it's only a six-seater and as far as space and practicality of the third row seats are concerned it is best that you look elsewhere. Access to the third row is difficult as the second-row seats can only be titled forward but it doesn't fold or tumble.
The 1.6-litre Nissan Grand Livina (cheapest automatic from RM91,100) is living well past its prime and isn't worth your time. The second generation Toyota Avanza (cheapest automatic from RM78,200) have improved much in terms of refinement but the RM92,900 Toyota Sienta, with its very practical sliding doors is a better buy.
Exterior
Let's be honest here. Nothing in this segment looks good. This is a place where all your youthful aspirations and childhood ambitions wither away. That coupe/roadster that you always wanted will have to wait. For the next two decades or so, you will exist solely for your children.
Rational, adult-type considerations are the main purchase drivers, because sleep deprived parents of toddlers/screaming kids have no time and money to think about aesthetics.
This is a segment where you choose least bad looking choice, rather than the best looking choice.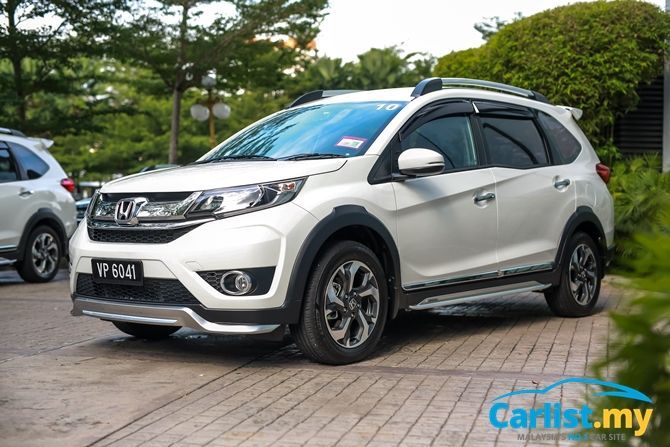 Having said that, BR-V isn't too bad looking. For one, it fits in our local landscape better than the Sienta, which looks really awesome in Japanese surroundings but stands out very oddly here.
The BR-V also has a hint of SUV-like styling. By the way the roof rails are not for show. It can take up to 30 kg of load.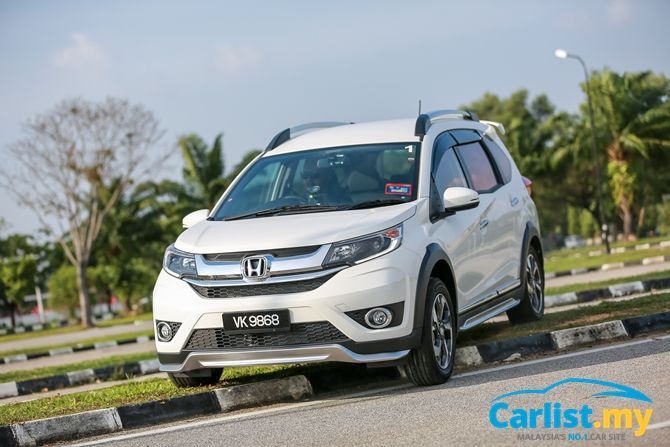 The BR-V also rides surprisingly high – 200 mm from the ground. That's 30 mm more than either the CR-V (which comes 4WD option) or the HR-V. While the BR-V only has front-wheel drive, its taller ride height means that it is quite capable of dealing with flash floods and potholes that JKR/DBKL forgot to fix.
If you must know, yes it is quite capable of climbing up kerbs, but please don't do that.
All these are reasons why Honda describes the BR-V as an SUV-like crossover rather than an MPV.
The full-size spare wheel is stored under the car and for many, this is a new experience so do read the owner's manual on how to remove it.
Interior
As mentioned in our launch story, the front-quarter of the BR-V is borrowed from the City/Jazz, sharing the same engine bay and bulkhead. The dashboard and instrument panel looks almost identical to the B-segment City/Jazz, but misses out on the soft padding material used on highest V-grade City.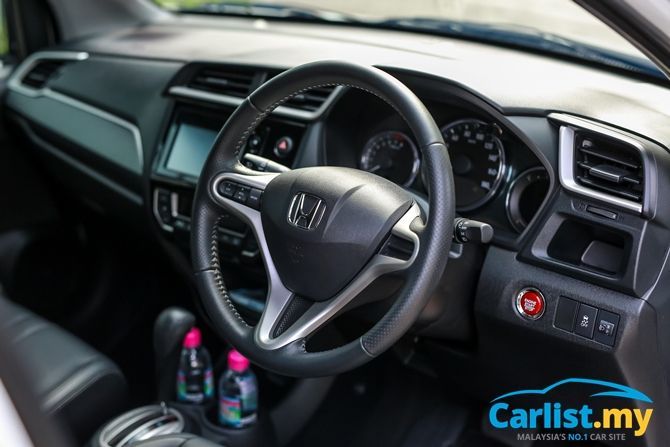 All seven seats are adult-size seats, capable of sitting full-size individuals. Of course, like all seven-seaters in this class, once both third row seats are up there isn't a lot cargo room left – just 233 litres to be exact, still big enough for a medium size stroller though.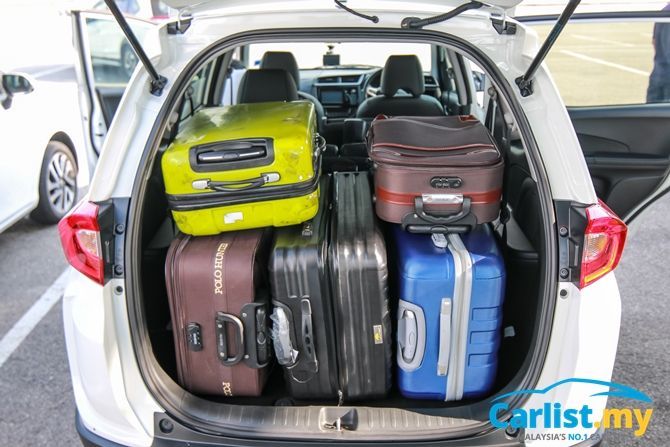 Unlike the Sienta, the BR-V's third row seats don't 'dive in' and hide under the floor. It merely split folds and tumbles forward but it's enough to expand cargo capacity to 539 litres. There's also none of the Magic/Ultra seats that the Honda City/Jazz has. This is because unlike the centre fuel tank City/Jazz, the BR-V's fuel tank is installed in a more conventional rear position, allowing the third row seats to be placed higher than the second row, thus improving outward visibility, giving occupants in the third row a very 'airy' feeling.
The second-row seats slide fore/aft by up to 90 mm to create more legroom for occupants in either the second or third row. The middle occupant in the second row seat is belted via a roof-mounted seatbelt.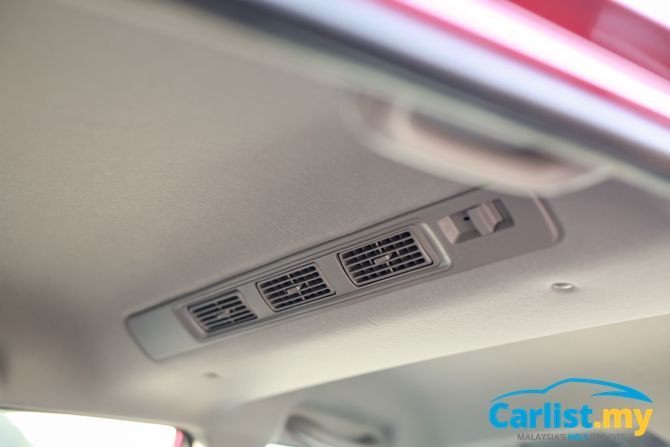 Rear occupants are kept cool by a roof-mounted air-conditioning blower, which comes with its own evaporator unit for optimal cooling performance. It's powerful enough to cool occupants in the third row but be warned that when set at max fan speed, the noise can be quite loud for the driver in front.
Our major gripe with the BR-V's interior, at least as far as this V-grade model is concerned, is volume control 'soft key' on infotainment system's touchscreen. There is no physical volume control, which is fine, but the problem with the BR-V is that you have to go back to the home screen every time you want to adjust the volume.
The area above the rear view mirror, between the sun visors, also lacks blackout coating so in certain driving conditions, there is no way for you to block out the sun's glare.
Driving Experience
When the BR-V was launched, many were doubtful if the BR-V is able to drive up Genting Highlands with a full load, but curiously the same group of people never doubted the Toyota Avanza (9.1 PS/ton), Toyota Sienta (7.9 PS/ton), Perodua Alza (9 PS/ton), or even Proton Exora (9.4 PS/ton) – all of which outputs less power (PS) per ton than the BR-V's 9.7 PS/ton, so it's difficult to understand why was the BR-V's power output is a concern in the first place.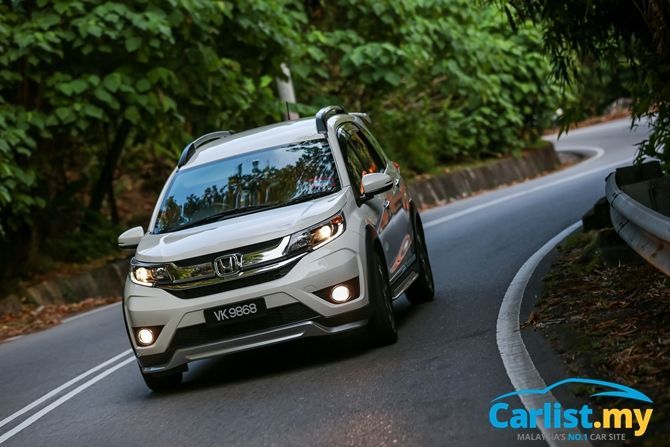 The BR-V's 120 PS only had to move 1,240 kg. That's 240 kg less than the Exora and 110 kg less than the Sienta. Rest assured that compared to its peers, pace is not a concern for the BR-V.
Don't for a moment think that the BR-V's lightweight comes at the expense of strength, as this is not one of those a developing-market, de-contented ASEAN-only car. As reported earlier, the BR-V meets all the necessary safety regulations in Europe and the only reason it's not sold there is because there is no demand for such cars in those regions.
So it's powerful enough for what it is but don't expect it to match the pace of say an all-wheel drive Audi Q7 on full bore climbing uphill so stick to the left lane.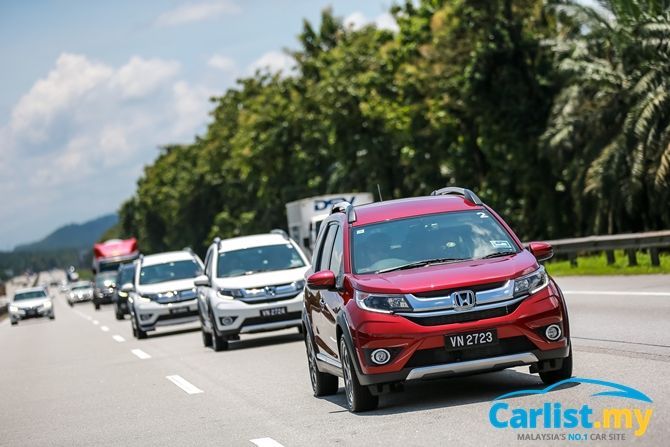 With the CVT in S mode we made very quick progress along the uphill stretches of Gua Tempurung and Menora Tunnel in our drive up north. Its acceleration won't pin you to your seat but it's certainly better than what we had expected from a vehicle in this category.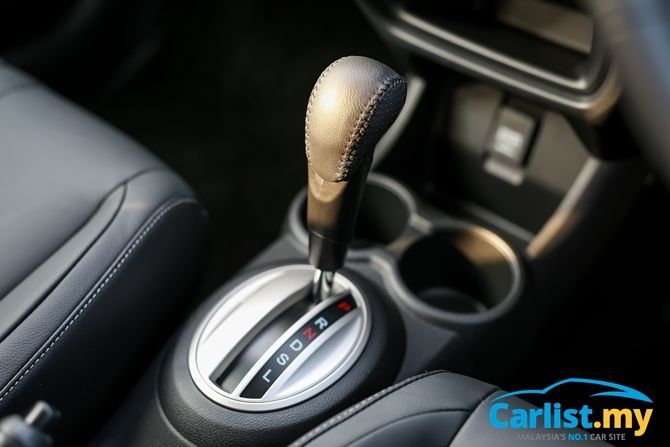 Like all other CVT-equipped Honda models, the BR-V's transmission was responsive enough and there was none of the droning noise at high speeds although owners who are new to CVTs might find the step-less nature of the shifts odd, or even slow, but a quick look at the speedometer will assure you the pace the car is actually building. Being a CVT, it doesn't have the usual D3 or D2 engine braking modes for steep downhill driving, so remember to shift into L to avoid overcooking your brakes when coasting downhill.
In city, the BR-V does not fear tight streets. Turning circle is a tight 5.6 metres, which isn't too far off from the much smaller Jazz's 5.1 metres.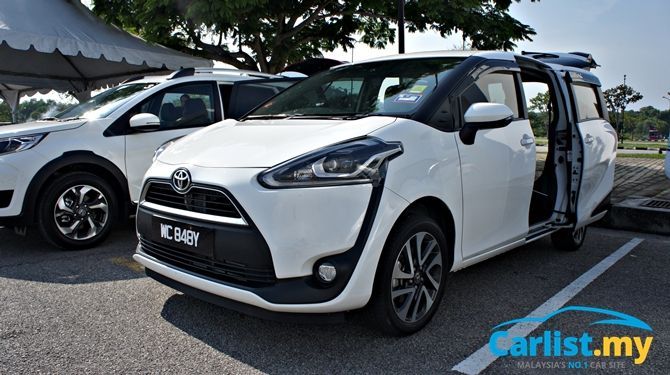 We also had the chance to briefly sample the Toyota Sienta, Avanza and Nissan Grand Livina alongside the Honda BR-V. Of course, the selection of competitor models and driving route was chosen by Honda Malaysia and as you would've guessed it, none of the competitior models could match the pace and composure of the BR-V.
The Sienta struggled the most because of its weight and was quite a handful when pushed hard, but it is noticeably quieter than the BR-V. The Livina and Avanza were very twitchy around tight and twisty stretches. None could keep up with the BR-V. Once again, questions like "Can the BR-V drive up Genting Highlands with a full load?" is moot.
If you have to know, there is a speed limiter in the BR-V. Power is cut once speed exceeds 160 km/h (actual speed, speedometer might over-read).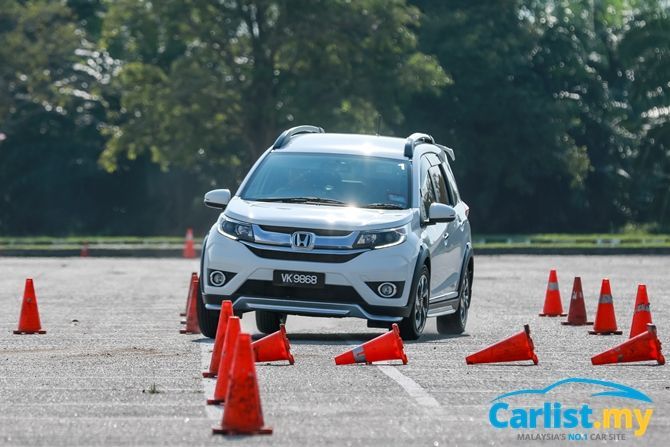 In a simulated emergency lane change, the BR-V's mechanical grip is so good that it didn't require intervention from the electronic stability control (VSA). Flicking the steering wheel right-left-right at 70 km/h before braking hard, the BR-V's rear remained planted and avoided the obstacles with so little drama that VSA never had stepped in to rein the car, as shown in the video below.
Comfort
At high speeds, the BR-V is a tad noisier than a Toyota Sienta, not by much, but it's noticeable. Keep it at no more than 130 km/h, it's a very relaxed cruiser, with minimal wind and road noise. It's a pity that the car doesn't come with a centre arm rest in front.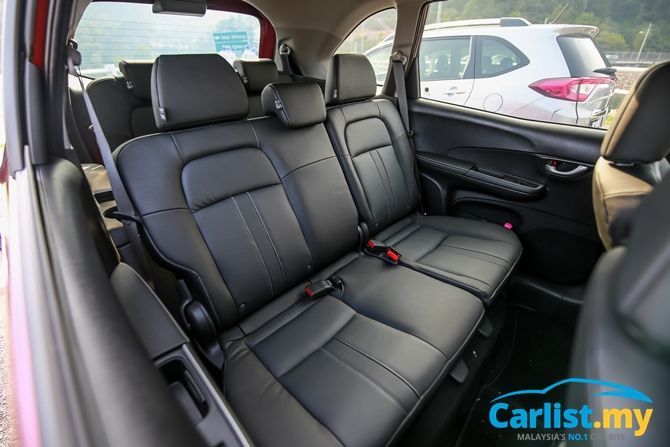 As for ride comfort, we were very surprised to experience that the BR-V is more comfortable than the City. Odd but true.
We explained our odd finding to Atsushi Arisaka, the Large Project Leader (Honda's equivalent for executive chief engineer) for the BR-V, who confirmed our butt-feel to be correct. He explained that the BR-V's suspension is tuned to cope with both Malaysian highways and Indonesia's rough roads – the latter explains why. The ride is very pliant, with sufficient wheel travel and controlled damping even at higher speeds.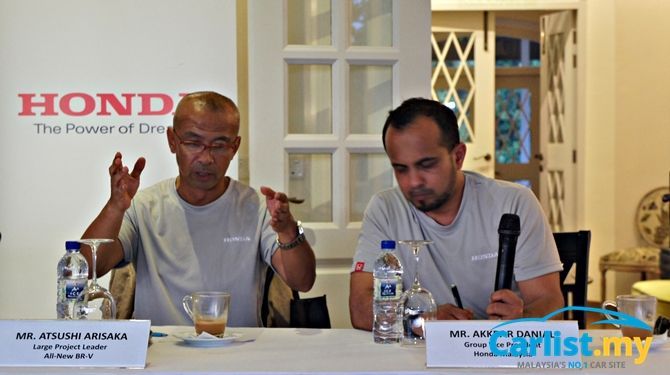 Of course, the BR-V's wider track and longer wheelbase over the City also allows Arisaka greater flexibility in fine-tuning the car's ride and handling.
The seats are more or less what you would expect from this category of vehicles – lower thigh support is lacking but back and shoulder support is firm enough.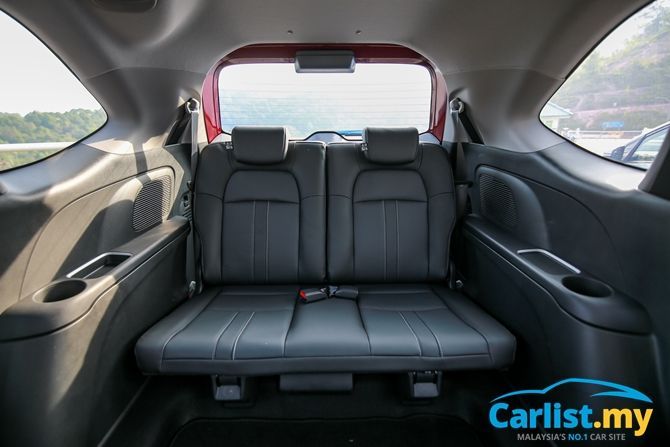 Yours truly even sat in the third row during the journey from Ipoh to Penang, with sufficient knee and head room, and even provisions for cup holders and cubby holes.
Usually, the third row is the least comfortable, not just because it usually has the thinnest and smallest seats, but also because you are sitting above the suspension, feeling every motion of the car. In the BR-V, the ride is comfortable enough that I have no problem reading random social media nonsense on my phone, while my driving partner from Roda Pusing, Albakry Salehuddin drove.
Of course I didn't arrived in Penang feeling as if I rode in a 7 Series, but neither did I feel any discomfort throughout the journey.
Fuel consumption
Like most of our group test drives, we had a tight schedule to keep to, and we even took several detours off the highway to drive the car on different types of roads.
After driving over 400 km, not just on highways but also old trunk roads in Tapah and stopping over at Ipoh city, the trip computer showed an average fuel consumption of around 12 km/litre, despite a lot of hard driving.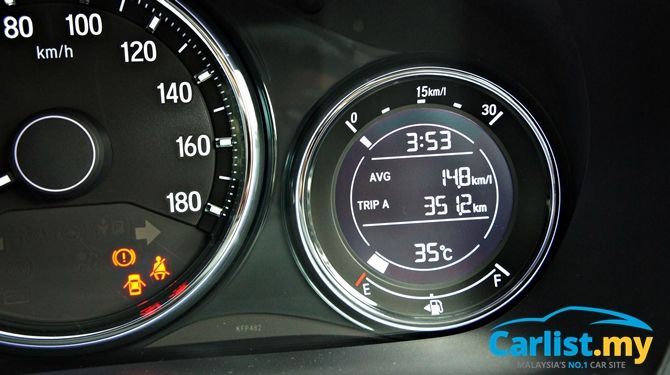 On the return leg from Penang to Kuala Lumpur via the more direct PLUS highway route, we recorded a very frugal 14.8 km/litre, including time spent in Penang rush hour traffic and us being rather liberal in keeping to the speed limit. That's a real-world figure that the BR-V's competitiors will have difficulty matching.
Conclusion
If you are shopping for a seven-seater priced below RM100,000, the choices are very clear, assuming you are clear with your priorities.
If price and running cost are what you care the most, then go for the Perodua Alza.
For practicality, the Sienta's power sliding doors are particularly useful for parents with toddlers. It makes a whole lot of difference in easing access into the car. But the function comes at a higher price premium, not to mention the weight penalty. It's also comparatively smaller inside and the exterior design is a bit too anime-like for our local taste.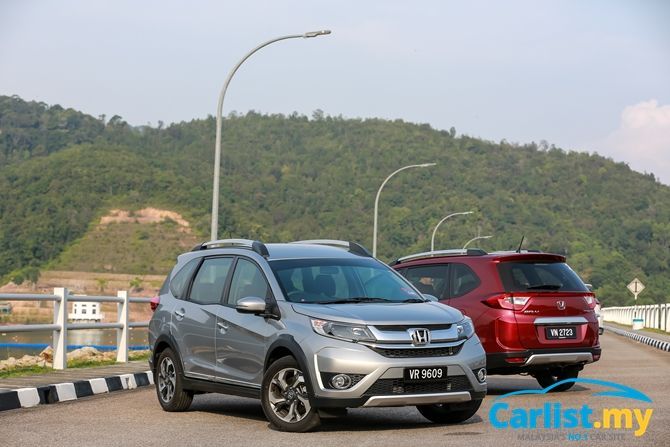 As an overall package, the BR-V ticks all the right boxes. If you were to chart the BR-V's attributes on a four quadrant price vs functions/features chart, it's hard to find another product that meets the needs of middle-class Malaysia any better.
The next question to ask is whether do you really need a seven-seater, or will a cheaper, more fuel efficient Jazz be good enough, because many forget what a big car inside the Ultra Seats-equipped and very space-efficient Jazz (from RM73,800) is inside.
---
---
---
Comments