Review: Jaguar F-Type – Loud, Brash, but Talented
Reviews One of Jaguar's most loved and most sought-after models of all time was the classic E-Type. It is a vehicle often featured in shortlists of all-time greats and highly revered by collectors.
The E-Type endured a production run of fourteen years from 1961 to 1975, and although Jaguar has since come out with a succession of two-seater sports cars, none have quite managed to recapture the essence or indeed the appeal of the E-Type.
Initially previewed to the world as the C-X16 concept as the 2011 Frankfurt motor show, the F-Type was eventually launched in 2013 as a replacement of the XK although more importantly, as if as its name did not make clear, it is touted by Jaguar as the spiritual successor to perhaps its greatest ever product.
Available only as a two-seater convertible at first, the F-Type eventually received a permanently-fixed roof a year later with the launch of the F-Type Coupe that we are featuring here in this review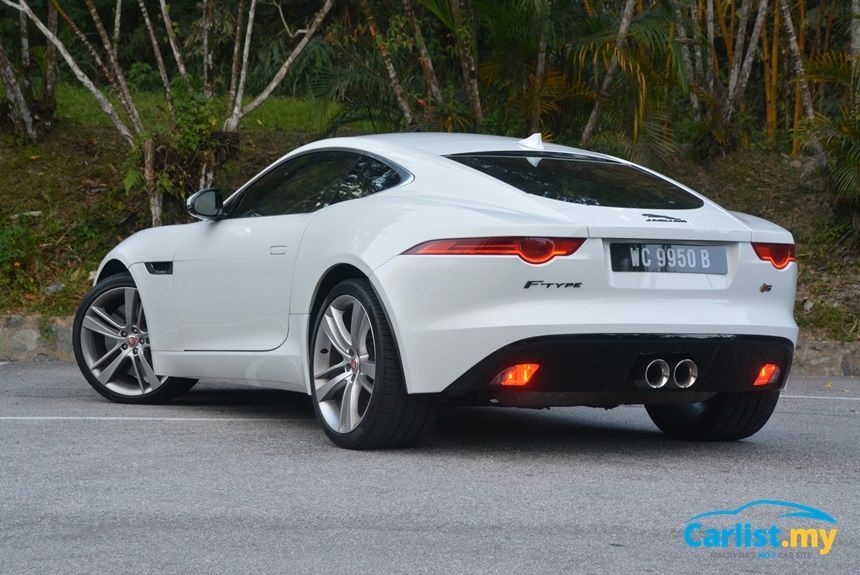 Specifications:
Variant Tested: F-Type S Coupe
Price: RM914,888 (Nett selling price, GST inclusive)
Engine: 3.0-litre Supercharged Petrol V6
Power: 380PS
Torque: 460Nm
Transmission: 8-speed torque converter automatic with paddle shifters, RWD
Safety: 2 frontal + 2 side airbags, Rollover protection, Pedestrian impact sensing, ABS, Emergency Brake Assist, Front & Rear Parking Sensors, Reverse Camera.
Origin: Fully imported from the United Kingdom.
Overview?
The F-Type is offered with a choice between convertible and coupe body styles, each in turn can be fitted with either a 3.0-litre V6 or 5.0-litre V8, both supercharged. In the convertible, the V6 can be configured to push out out either 340PS or 380PS; the Coupe gets the 380PS V6 S setup by default. The V8-powered F-Type R, meanwhile, raises the bar to 550PS and 680Nm.
Identifying a direct rival for the F-Type is tricky, although the Porsche Cayman S (385PS, RM840k) and Mercedes-AMG GT S (375PS, RM1.15 million) are perhaps the most relevant comparisons. Also in the vicinity of the F-Type's performance-price equation are the various variations of the Porsche 911, recently updated with a facelift and a catalogue of new engines.
Like all Jaguar models, a major technical highlight of the F-Type is its all-aluminium construction. Here, Jaguar put its decades of expertise with the material to full use, marrying lightweight construction with exceptional toughness. Requiring 33,000Nm of torque just to induce one degree of twist in its chassis, the F-Type is one tough cookie.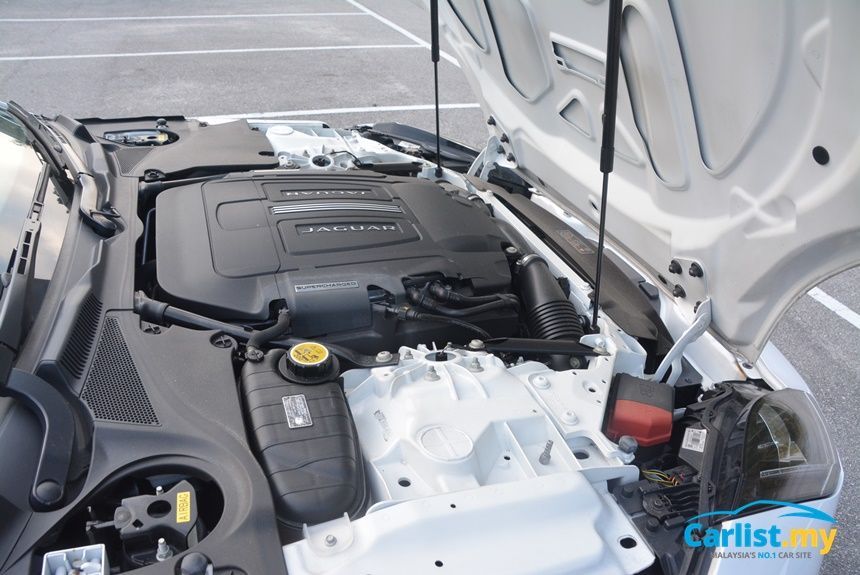 Exterior
Jaguar is not shy to play the heritage card in call-backs and tributes to the E-Type. Body proportions are notably reminiscent of the classic, following the legendary model's iconic long-bonnet silhouette and cabin set far back from the front.
Even without the E-Type throwbacks, however, the F-Type is a properly handsome vehicle on its own. Whilst the overall stance communicates aggression, there is also admirable restraint in Jaguar's part from over-indulging in fussy details. The result is a vehicle that looks taut, purposeful, and positively uncluttered.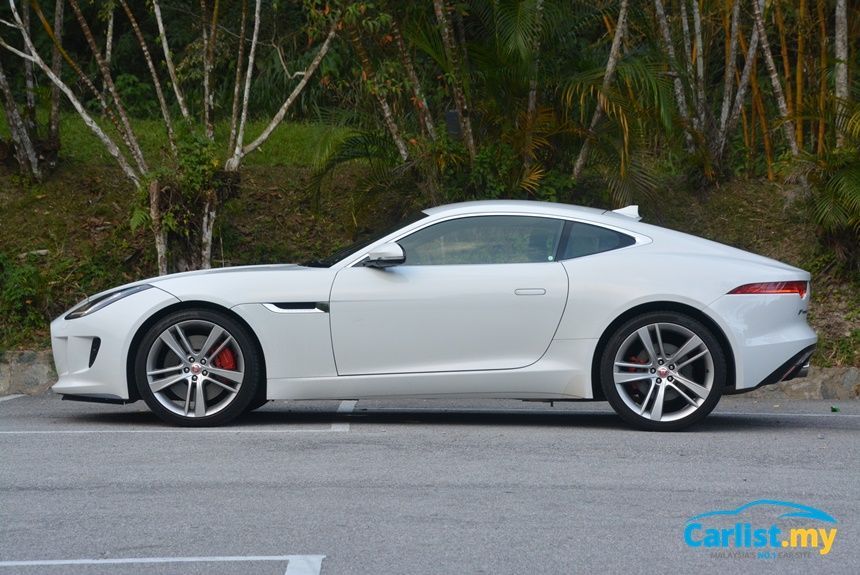 Access to the interior is via keyless entry and not without some degree of showmanship on Jaguar's part. When locked, the door handles retract flushed to its metal panel. Unlocking is performed by touching the little square panel embedded to the handle, which then pops out for you to pull in order to open the door. To lock, just push the door handle back inside.
Very nifty and neat, although we can't help but notice that the sounds and tactile feedback emitted by the mechanism lack the gravitas and quality expected of this price range. We are also not impressed with the fading Jaguar typeface on the driver side door handle of our test car.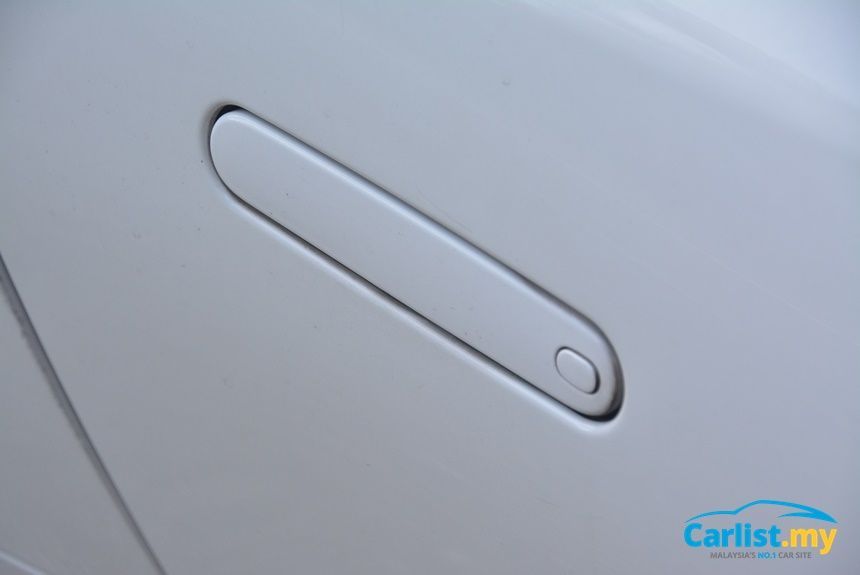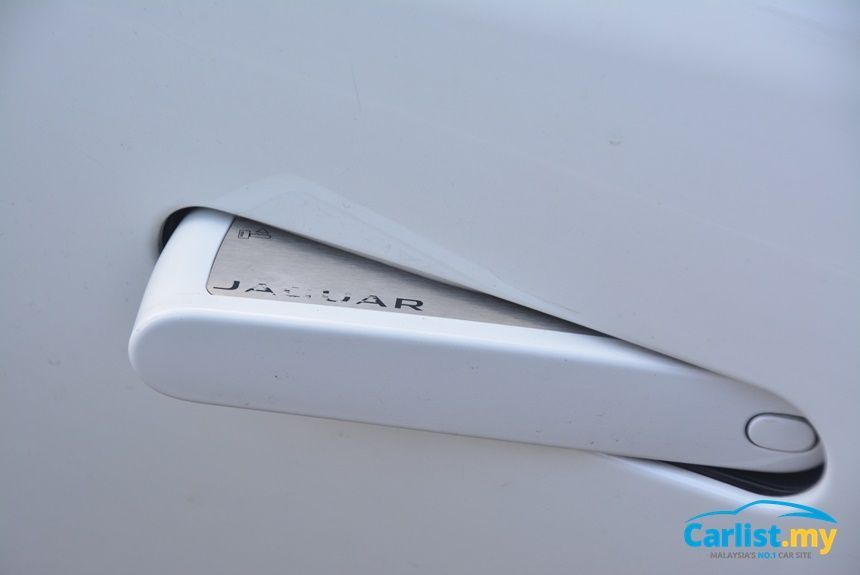 Interior
You don't climb into a Jaguar sports car and expect your needs to empty the contents of your pockets into cubby holes to be prioritized. In cars of such performance focus, if you have no place else to put your handphone other than keep it within your pocket, you've got to learn to live with it.
That being said, the Jaguar designers did a fair job to provide some usable storage locations – there is a pair of lidded cup holders big enough to double up as phone and Smart Tag storage, and further aft is a lidded centre console box in which the USB port is also placed. There's also an open bin at the top of the rear panel for you to dump bigger objects, plus there's a decently-sized glovebox. In general, okay for a car of this type.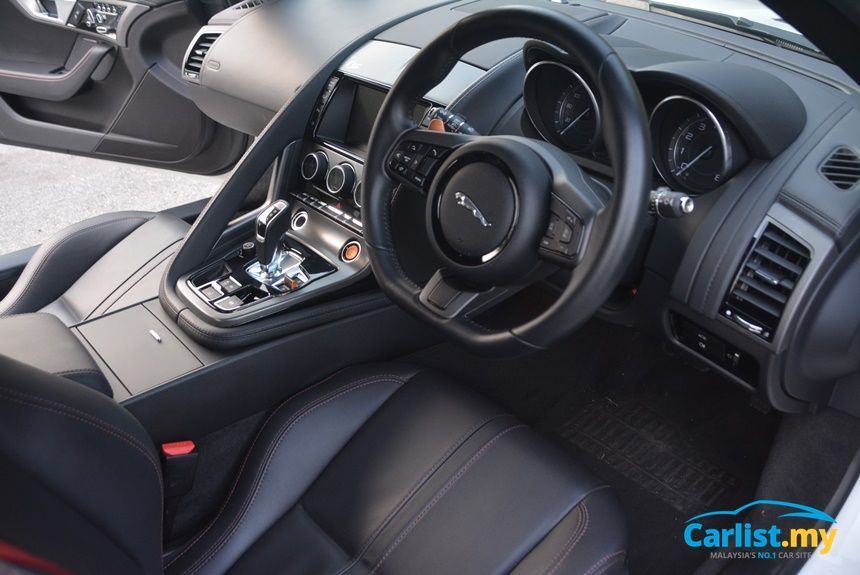 Ergonomics of the cabin are decent. There is useful clarity in the instruments and switch gear are arranged in a logical, easy to use fashion. Familiarization with this vehicle is certainly not as intimidating a process as one would expect. Overall aesthetic quality is decent too, with tasteful application of shiny bits to give an impression of classy sportiness that is right on the money as far as the segment is concerned.
Less impressive, however, are the materials used to assemble the cabin. The plastics used to mould the indicator stalk and paddle shifters feel particularly nasty and unbefitting of a car that costs the better part of a million ringgit. That Jaguar went for such obvious cost-cutting at such a prominent touch point is nothing less than shocking.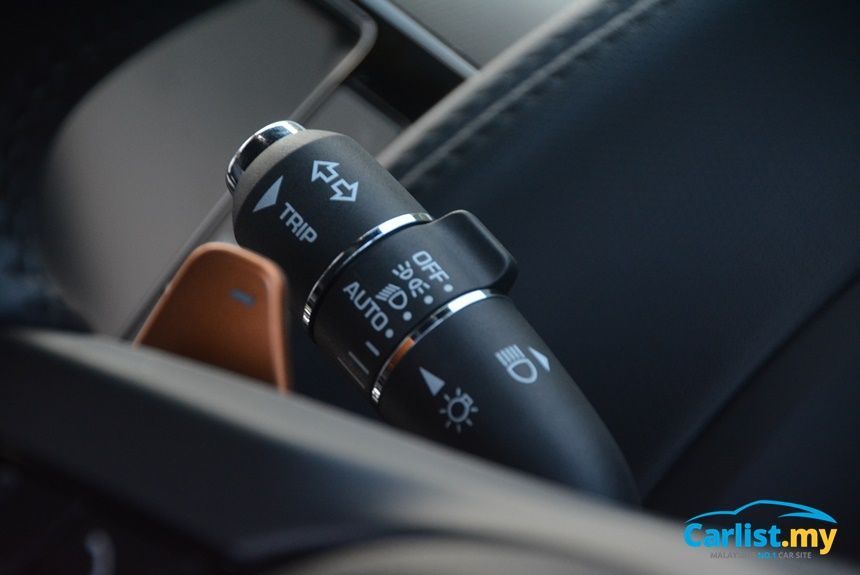 How does it drive?
Thumbing the starter button of the V6 S fires up the supercharged mill with a fierce roar which subsequently settles into a softer-sounding but still purring burble. Step off the line with anything more than gentle feathering of the accelerator accordingly ramps up the volume of that burble. This, then, is clearly not a car to facilitate a quiet getaway in. Yet conversely, if you want to draw attention to yourself, few cars are as effective.
There is a little button on the centre console which you can press to summon an even louder roar from the exhaust, although we are not quite sure if its use would appeal to any individual with decent sense – the car is loud enough in its default setting, thank you very much. Yet, despite the considerable aural drama that accompanies the engine's climb up the rev range, there isn't much in the way of physical sensations of acceleration.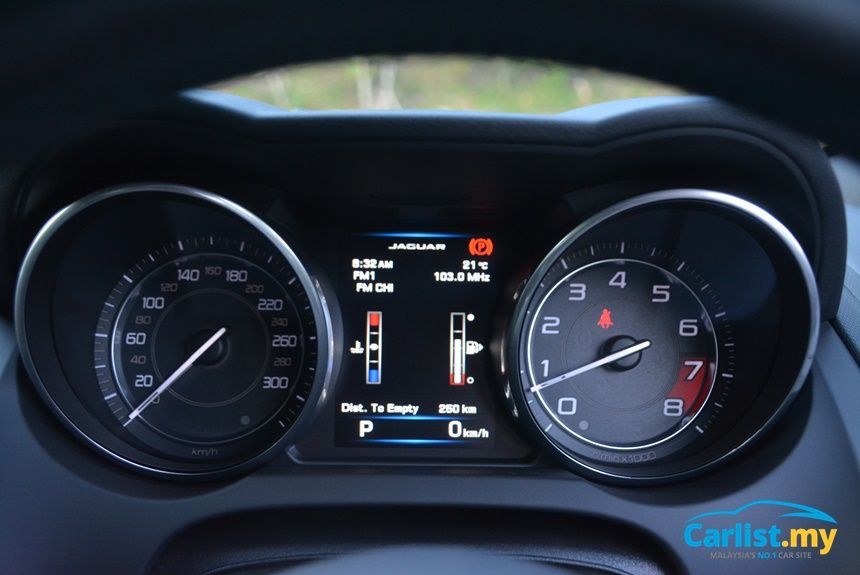 You don't get the punch-in-the-gut kind of feel that accompanies a turbocharged engine, and it's easy to jump to conclusions that this car packs more sound than go; the truth is that the F-Type gathers pace with deceptive rapidness. You don't feel the acceleration, but the wrong side of the speed limit arrives faster than you think. The ZF-supplied 8-speed auto which we are familiar with from its widespread application in BMW vehicles is its usual self here – crisp, intelligent, and imperceptible at work.
The linear nature which power is delivered by the supercharged V6 is reminiscent of a naturally-aspirated engine, and the advantage it offers is easier throttle modulation; this characteristic ties nicely with the competence of the chassis in negating body roll, greatly helping the driver to power smoothly and confidently out of bends.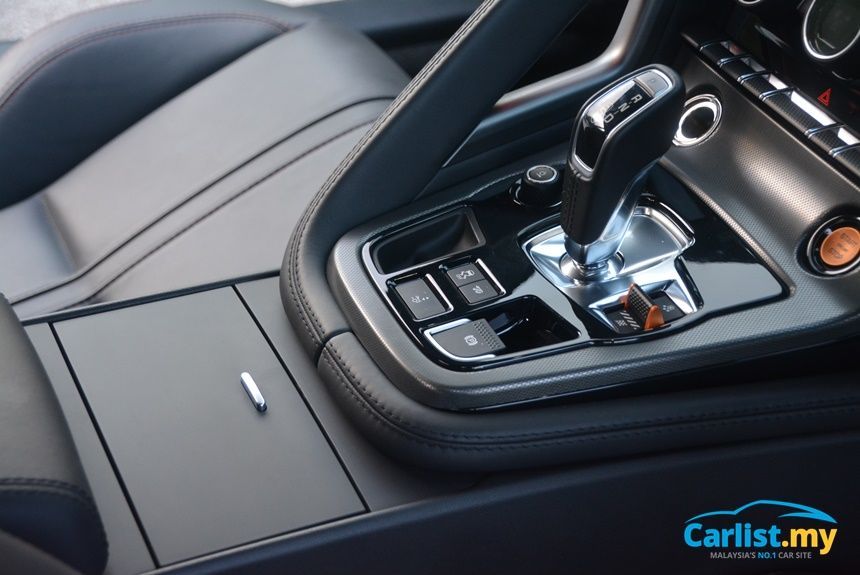 How comfortable is it?
We don't typically expect a car like the F-Type to provide for a cosseting ride and Jaguar didn't bother to give us one here. It's not a bone-breaking setup, mind, but you will feel more of the road's imperfections than most would care for in a day-to-day commute.
It's also not a particularly quiet place to be in on the move; once again, an understandable concession on Jaguar's part to keep the kilos down and at the same time give the F-Type an added dose of rawness and intensity to the driving experience. Just be mindful of one thing – the aluminium roof gets quite noisy when bombarded by rain drops.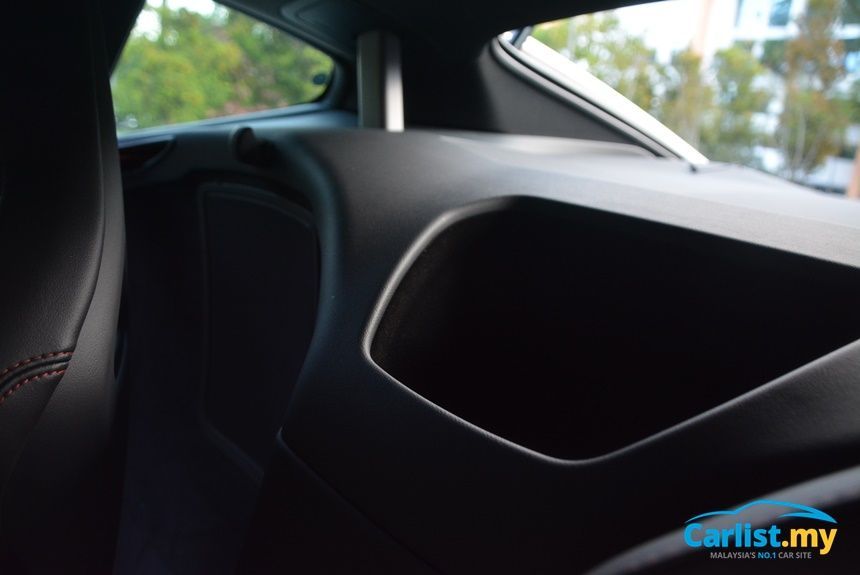 How economical is it?
You probably wouldn't believe it, but fuel economy is a surprisingly strong point of the F-Type S. Over a 200-plus kilometre test route covering mixed highway, urban, and hilly conditions, our test car returned an indicated 12.6 litres/100km – making it more economical than the Ford S-Max we tested recently.
The high cost of purchase is also offset by a comprehensive maintenance programme that takes care of your servicing costs (which occur at 10,000km intervals) in the first five years of ownership. Whilst a typical Jaguar owner isn't likely to be bothered by fuel or maintenance cost, such benefits are always nice to have.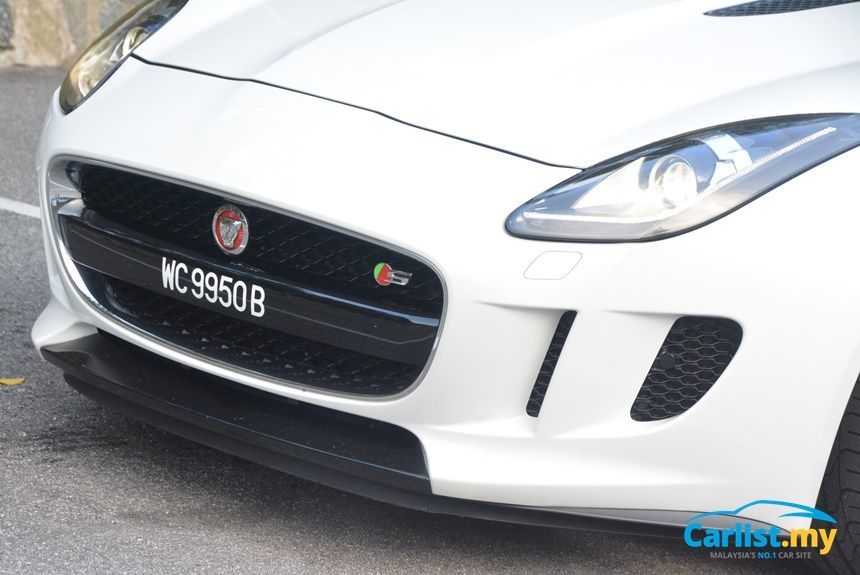 Conclusion
As far as making statements go, few cars will send messages that are as potent, or indeed as loud, as the F-Type. Even in its mid-range F-Type S Coupe spec as tested here, Jaguar's stylish two-seater sports car packs no shortage of drama and noise. Expect the V8-powered F-Type R to be an even bigger monster.
There is a raw and visceral quality to the F-Type's driving experience that at once makes it a car that is eminently capable of tingling your senses at an emotional level, but at the same time not entirely easy to live with on a day-to-day basis. This is a car catered for buyers who can afford it as a second or third car in the house.
Much of the compromises this vehicle requires its owners to live with are acceptable in the context of its sports car brief, but for the money, we really cannot justify Jaguar's shocking selection of materials at some really prominent touch points.
Still, the F-Type has much going for it. It is a handsome-looking car with a wide dynamic repertoire – in other words, it has the go to match its show. It also has the allure of the Jaguar marque that separates you from the mainstream of German buyers.
---
---
---
---
Comments