Review: JDM Honda HR-V Hybrid – The Better HR-V That We Can't Have, Yet
Reviews By now, you would've been aware that Toyota will be launching the C-HR early next year. Powered by a 1.8-litre naturally aspirated Dual VVT-i petrol engine, the front-wheel drive only Toyota C-HR is mechanically similar to the segment leading Honda HR-V.
However their similarity stops there. Beyond the oily bits, the two crossovers diverge significantly in their product concept.
The HR-V is an exercise of function over form, prioritizing interior space and practicality over exterior styling. The C-HR however, represents a total opposite. All about style and little else, the C-HR has less space inside than a Toyota Vios, but this is unlikely to matter to buyers looking for something stylish and unique. Whichever way you look at it, the C-HR is certainly shaping up to be a strong contender.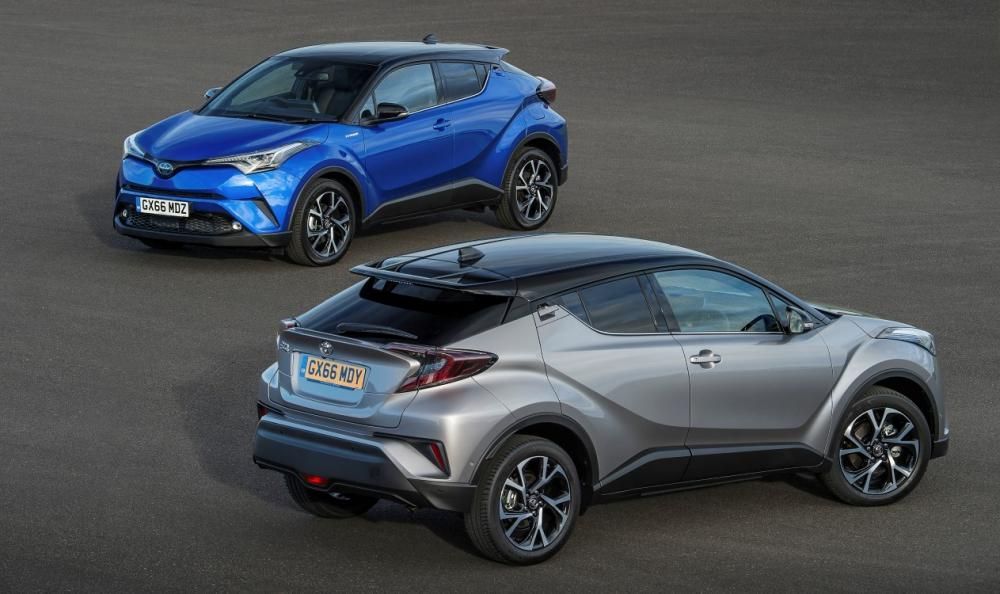 As the leading non-national brand in Malaysia, surely Honda won't be sitting idle.
We have reasons to believe that Honda Malaysia will soon expand the HR-V's model range to include a hybrid variant.
The HR-V is already assembled locally at Honda Malaysia's plant in Melaka and shares many components with the Jazz and City, including hybrid components and the centre fuel tank layout (a patented design by Honda) Global Small Car platform.
As such, the HR-V Hybrid is a realistic candidate to take advantage of Malaysia's tax incentives for locally-produced energy efficient vehicles.
The Toyota C-HR is also available as a hybrid, but reliable sources have indicated to us that this variant will only be available in Thailand, which also supplies to regular petrol powered C-HR to Malaysia. That's a loss for Toyota and a strategic gain for Honda.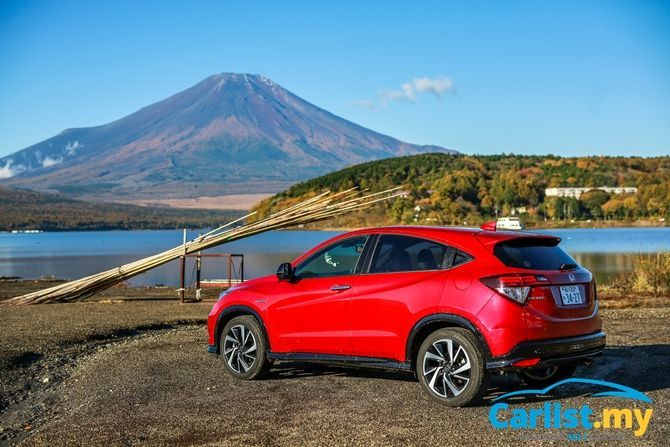 To date, the HR-V Hybrid exists only in Japan under the Vezel Hybrid nameplate.
Understandably, Honda Malaysia declined to deny or confirm if the HR-V Hybrid is in the plans for Malaysia, but at the sidelines of the recently concluded 2017 Tokyo Motor Show, they did pass us the keys to the Honda HR-V (Vezel) Hybrid. So we leave it to you to make your own conclusions.
How Different Is It From A Regular HR-V?
Instead of a naturally aspirated 1.8-litre i-VTEC and CVT-type automatic transmission, the HR-V Hybrid shares the same drivetrain as the Jazz Hybrid and City Hybrid – the 1.5-litre Sport Hybrid i-DCD (Intelligent Dual Clutch Drive) engine paired to a 7-speed dual-clutch automatic transmission.
To briefly recap, i-DCD is significantly better in every way than earlier generations of Honda hybrid models. Unlike the previous IMA (Intelligent Motor Assist) mild-hybrid system, i-DCD is a full-hybrid.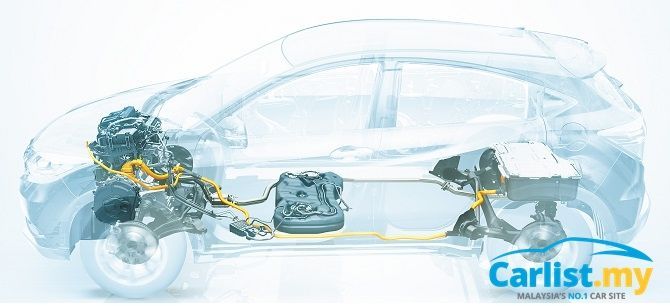 For the average consumer, you can ignore all the confusing acronyms and terminologies. All you need to know is all Honda hybrids now driver smoother in stop-go traffic, as it can drive off in electric power alone. Plus, the air-conditioning works even when the engine has been shut off while idling, a luxury that drivers of the Honda Insight and CR-Z don't have.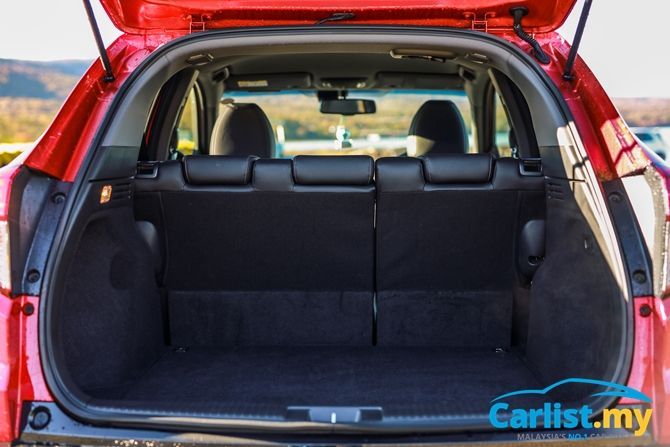 The high voltage battery is located under the boot floor. Compared to a regular HR-V's 437-litre boot space, the hybrid model's boot is slightly smaller as the boot floor has been raised, but you would only notice the difference when you compare them side by side.
As with the Jazz Hybrid and City Hybrid, there's no space for a spare wheel, not even a space-saver type. You will have to make do with a tyre repair kit.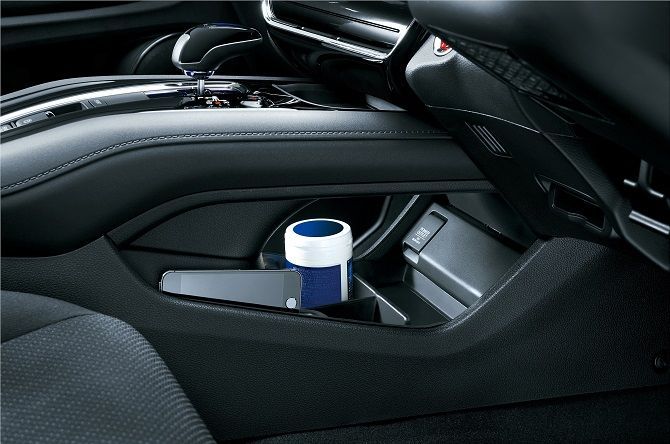 Inside, the mechanical gear shifter has been replaced with a shift-by-wire joystick-like control. With no mechanical linkages underneath the panel, the HR-V signature two-tier centre console now has more utility space underneath than before. In the regular HR-V, most of the space in the lower-tier section is dominated by a housing for the gear shifter's linkage, severely limiting the two-tier layout's utility potential. In the HR-V hybrid, users can now rearch HDMI and USB ports beneath with greater ease.
And of course, the instrument panel is also different - with additional displays for the hybrid drivetrain's status.
Since this is a Japanese market model, it looks a little different from our local HR-V - front fog lamps are LEDs instead of regular halogen bulb units and the LED tail lights are also different (but similar to Thailand market models). Our test car is the sportier RS variant, so it adds black painted exterior trims.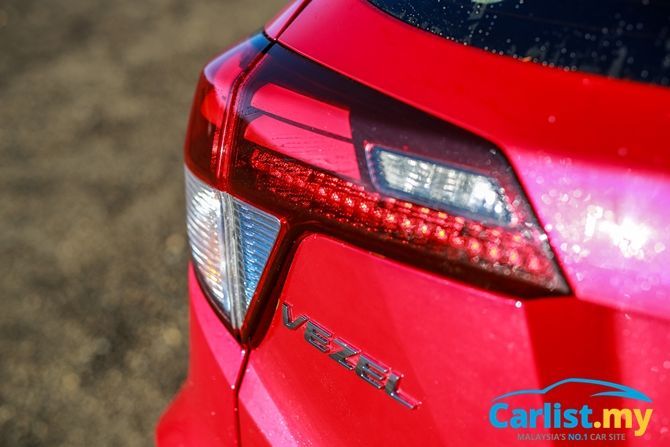 Does It Drive Better Than The Regular HR-V?
Yes it does. Like all Honda hybrids, the HR-V hybrid benefits from a tighter, better resolved chassis tuning. Overall ride and handling is just better.
While the Jazz Hybrid and City Hybrid are noticeably more powerful than the regular petrol-powered variants thanks to additional torque from the electric motor, the difference is less so in the HR-V.
In simple terms, the combined output of petrol and electric power is 152 hp and 190 Nm, far more than a regular 1.8-litre variant's 142 hp and 172 Nm.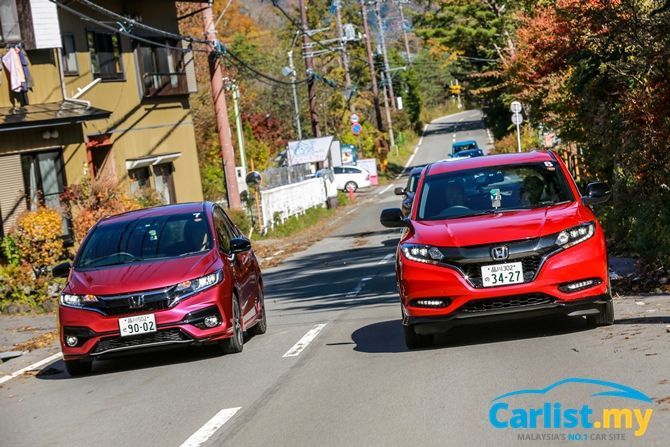 In a small car like the Jazz and City, that makes a lot of difference. In the bigger and heavier HR-V, which already had a 1.8-litre to begin with, the difference is less so, on paper at least.
In real world driving, the combination of a faster shifting and direct power delivery dual-clutch transmission, instantaneous torque delivery from the electric motor, a more balanced weight distribution (the high voltage battery is behind) and a revised suspension makes the hybrid variant a lot better to drive.
While we love the regular HR-V for its practicality, we didn't like the standard car's ride and handling. Its suspension was soft but oddly this didn't resulted in a comfortable ride. It lacks sufficient travel and crashes into its bump stops even at low speeds, and doesn't isolate rough patches of tarmac very well.
In this hybrid variant however, we didn't experience any of those shortcomings. Of course, we are also aware that Japanese roads are a lot smoother than ours so we will reserve our verdict on overall comfort.
We had the chance to drive the HR-V Hybrid up Japan's famous Mazda Hakone Turnpike and the Ashinoko Skyline route. It's a challenging enough 'touge' (Japanese for mountain pass) route to but the presence of tourist vans and Sunday drivers also mean that we need to drive within six- or seven-tenths of the car's limits rather than going full ten-tenths maximum attack on Japan's most famous touge roads. Besides, the many tyre marks on the road that went straight into a stone wall serve as regular reminders that this route demands respect and talent.
The roads here are tight and experiencing it first-hand makes you understand why spotters on walkie-talkies are included in the Initial D manga/anime. Driving on roads like these makes us understand why 'kei' sports cars like the S660 makes perfect sense here.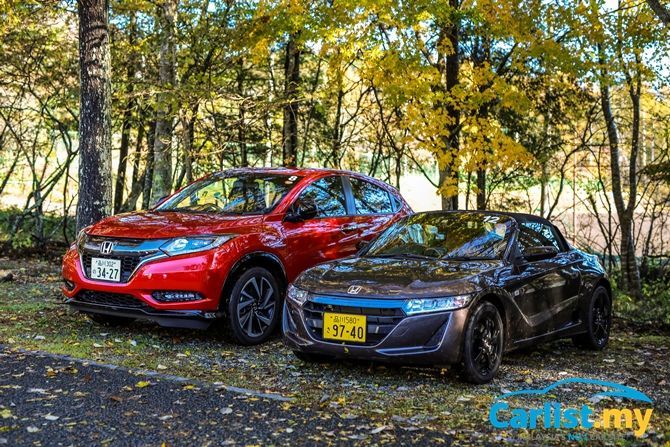 Climbing uphill at full throttle, the HR-V Hybrid doesn't struggle as much as the regular model did, and the presence of paddle shifters added another level of control that's certainly appreciated on such challenging roads.
Steering response is also more precise than the regular HR-V and overall, the car's dynamics do a better job at tracing your intended driving line.
We were also running behind schedule as we had to return the cars to Tokyo by evening, which was a pity as it meant that we just didn't have time to savour the beautiful scenery or stop for the obligatory photo shoot.
Carving our way past the mountainous roads, snaking through the turnpike's famous consecutive hairpin turns, the HR-V never felt nervous at all.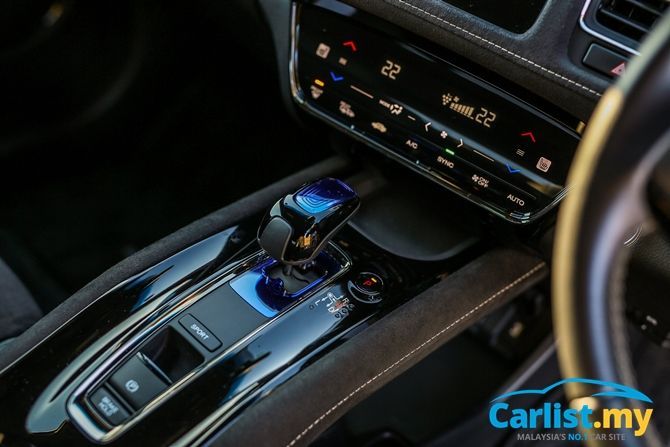 With the transmission in Sport mode, we flicked the paddles to knock down a couple of ratios to power past slower tourist vehicles whenever the road widens up, with the Sport Hybrid i-DCD engine proving itself to be up to the task, at least as far as short bursts of acceleration is needed. Power delivery from the dual-clutch automatic was smooth, fast and felt direct enough, with none of the uncertainty of the regular CVT-equipped HR-V.
Downhill, it also provided stronger engine braking. Coming downhill fast, understeer is typically exaggerated in such conditions but in the HR-V Hybrid, there was little drama so long as you know what you are doing and continue feeding the car with clean, smooth and measured steering and braking inputs.
The car pitches, dives, and rolls in a much more controlled manner than we remember the regular HR-V did in similar conditions in Genting Highlands.
Rejoining the highway, we soon got stuck right in the middle of Tokyo's notorious traffic jam but it did provided us with a good environment to evaluate the smoothness of the hybrid drivetrain in stop-go traffic, which to most buyers, is far more important than how it handled the touge roads.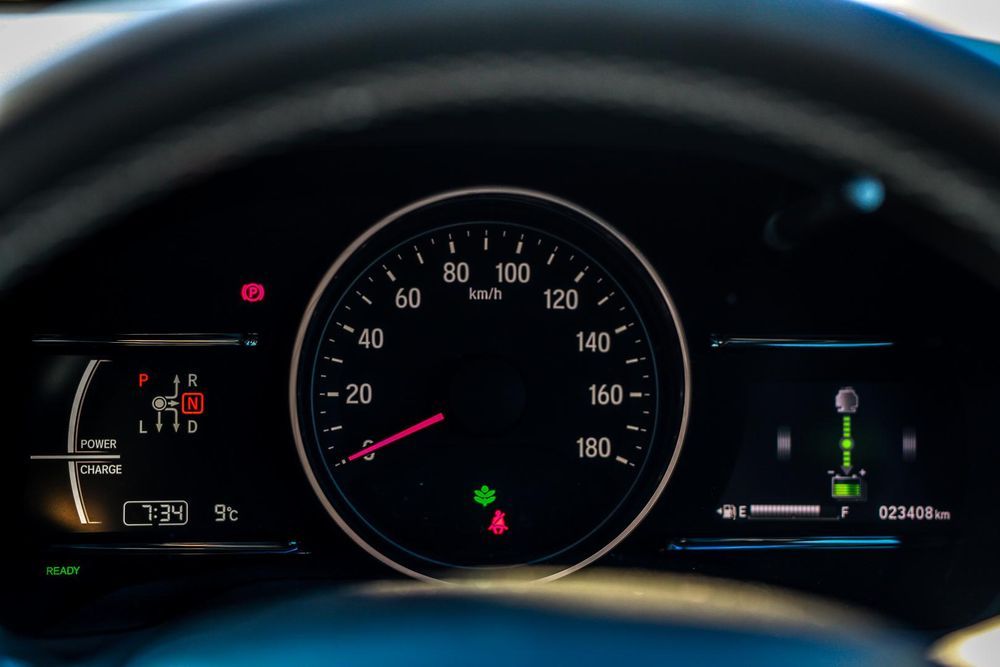 With the high voltage battery above 50 percent, the HR-V Hybrid inches forward in electric power alone most of the time. When the engine does kick in, it's smooth enough that you will barely notice it.
However as the charge levels drop, the engine kicks in earlier more frequently and there is a noticeable reduction in its smoothness. It is from this moment onwards that stop-go drive becomes less smooth. You will notice the clutches engaging and disengaging every time you pull away from idle.
In these heavy urban traffic driving scenarios, a Toyota hybrid with its E-CVT – which is actually a planetary gear set rather than a CVT since it doesn't use any belts – is much smoother. However the comparison is purely academic as Toyota's sole remaining hybrid model in Malaysia is the Camry Hybrid (from RM160,200) , which is a lot more expensive than any Honda hybrids.
Our test car is equipped with Honda Sensing, a feature that's currently already available in the CR-V and Accord. This allows the HR-V's Auto Brake Hold function, already available in the standard HR-V, to be paired to Sensing's radar and camera for added functionalities.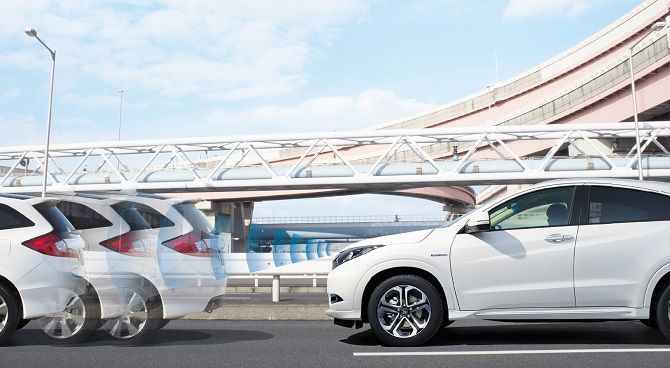 With Auto Brake Hold active, you are free to take your foot off the brake pedal when the vehicle is stopped in traffic while the system maintains brake pressure, releasing smoothly only when you accelerate.
Paired with Honda Sensing, the hybrid variant's Auto Brake Hold now alerts a distracted driver (yes, we know that you look at your phones when stuck in traffic) with a gentle buzz once the vehicle in front has driven off.
Overall, despite hard driving on touge roads plus the heavy traffic in Tokyo, we recorded an average fuel consumption of 15 km/litre, which is remarkably good considering nature of our driving routes and pace.
When is it coming to Malaysia?
At the moment, this remains a forbidden fruit for those of us living outside of Japan. Publically, Honda Malaysia has not committed itself to any timeline to introduce the HR-V Hybrid. However we have strong reasons to suspect that the model will be introduced sometime late next year to strengthen the HR-V range's defense against the upcoming Toyota C-HR, due sometime between early-Q1 and late-Q2.
The model might not be available outside of Japan yet but remember that Honda Malaysia was also the first and only overseas Honda distributor to introduce the FD generation Civic Type-R, Jazz Hybrid and City Hybrid.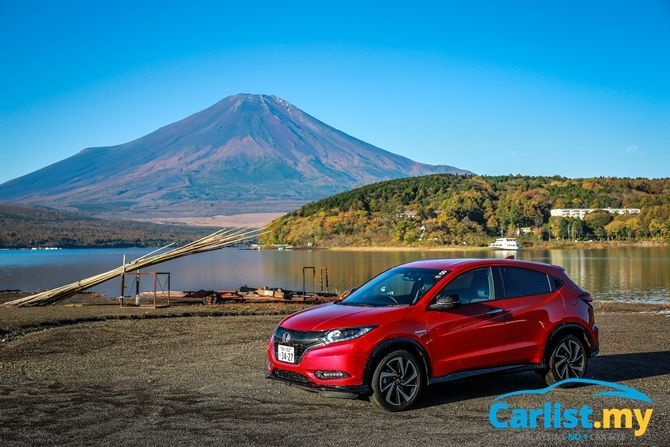 What will be the estimated price, if it is to be launched in Malaysia?
Assuming that Honda Malaysia will maintain its current objective of promoting hybrid models as an affordable alternative rather than as a range topping variant, we speculate that the HR-V Hybrid is likely to be priced below the most expensive HR-V 1.8V (RM 117,430).
However, it will also mean that the HR-V hybrid will lose a bit of features from the V-grade variant, mirroring the features/specifications hierarchy of the Jazz and City model range.
Should I wait for this?
With no estimated timeline, you could be in for a very long wait. Besides, if the Jazz Hybrid and City Hybrid is a reliable indication, the list of features in the HR-V Hybrid is very likely to be lower than the petrol-only HR-V 1.8V model.
However if you appreciate the lower fuel cost of hybrids but are not willing to settle for a smaller Jazz or a City, and you want a crossover that handle and drive better, this could be something worth waiting (a year?) for. If money is less of a concern for you and you like your car with all the fancy features thrown in, just go ahead with the top specs HR-V 1.8V model.
---
---
---
---
Comments