Review: MINI Amplified Edition – Character Modification
Reviews Any petrol head worth his salt would have at some point in his life watched the movie Christine. The 1983 flick based on Stephen King's book of the same name which tells the story of a haunted 1958 Plymouth Fury and its socially awkward owner Arnie Cunningham.
What started out as a story of a teenage boy and his first car, slowly developed into a dark obsession filled with rage and anger. And anyone who would come between Arnie and prized ride inevitably would face fatal retribution. Regardless of all the damage it sustained during various brutal attacks, Christine would "repair" herself back into ship-shape for her next attack. The movie comes to an end with Christine causing Arnie's death, and meeting its own demise battling an excavator piloted by Arnie's best friend, who failed to save him in time.
Despite Christine's malevolent intentions, the movie effectively characterises the profound relationship between car and driver, and how some cars, for better or worse can influence the way we drive and act behind the wheel.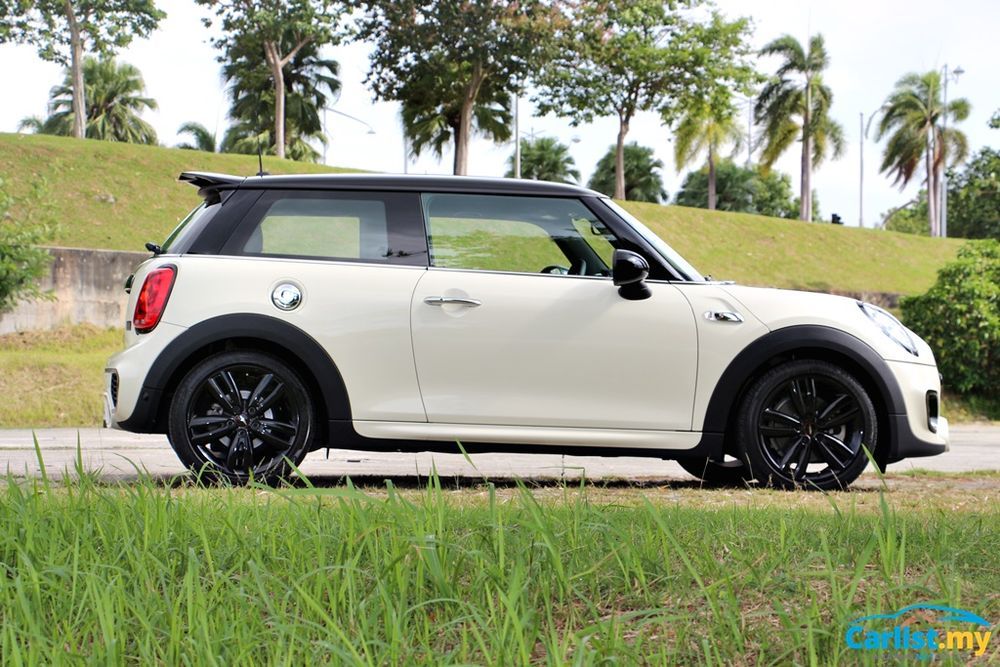 Just like one doesn't get behind the wheel of a Rolls-Royce Ghost and decide to tear up a mountain pass, one doesn't drive a MINI Amplified and decide to head out for a serene cruise. As the name suggests, if there's one thing the MINI Amplified does better than anything else is intensify every corner, every route, and every minute behind the wheel.
Overview
Launched earlier this year, alongside the MINI Urbanite Edition (based on the MINI 5-door), the Amplified Edition is based on the MINI Cooper S 3-door and boasts upgraded visual highlights, both on the outside and inside, and a considerable boost in power.
Visually, the MINI Amplified includes the John Cooper Works Aerodynamic Kit, a rear spoiler, new Piano Black grille, and matching headlight and taillight trims, racing stripes, as well as 17-inch JCW alloy wheels.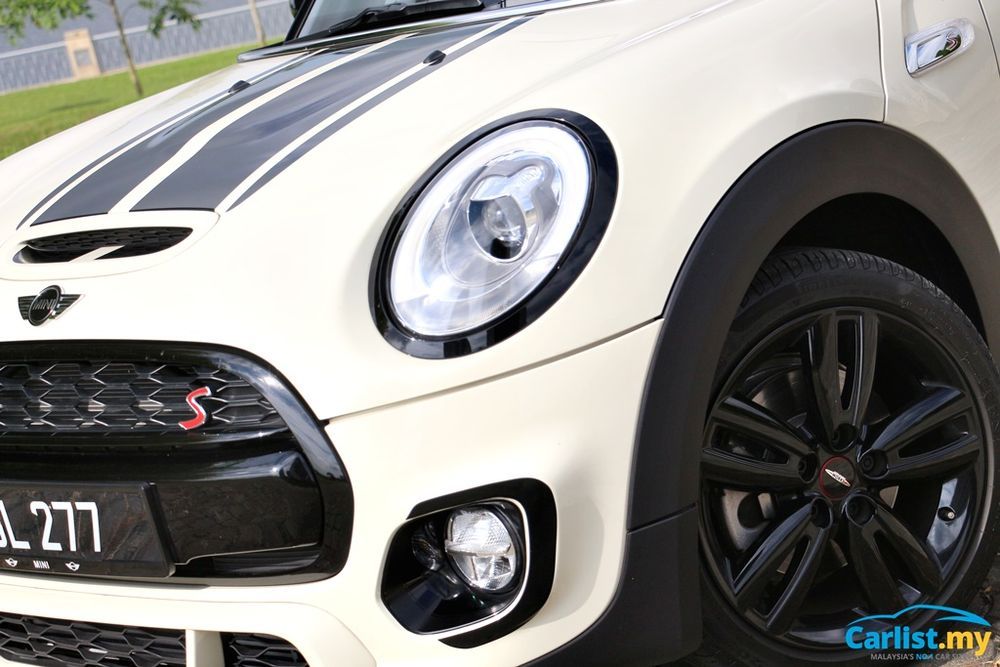 On the inside, the MINI Amplified is fitted with John Cooper Works Racing Seats with integrated headrests designed in Alcantara Leather with contrasting Red Dinamica leather. Besides the Anthracite headliner, the MINI Amplified features accents in Glowing Red, which was only available on the John Cooper Works Hatch previously. The MINI Amplified Edition also comes with Comfort Access, Black Chequered interior trim, and an updated rear view camera which provides parking guidance lines and obstacle marking that detect and mark stationary objects.
Under the hood lies a 2.0-litre turbocharged four-cylinder engine which produces 211 hp and 300 Nm of torque, up from 192 hp and 280 Nm (in the standard Cooper S model) courtesy of a John Cooper Works Tuning Kit.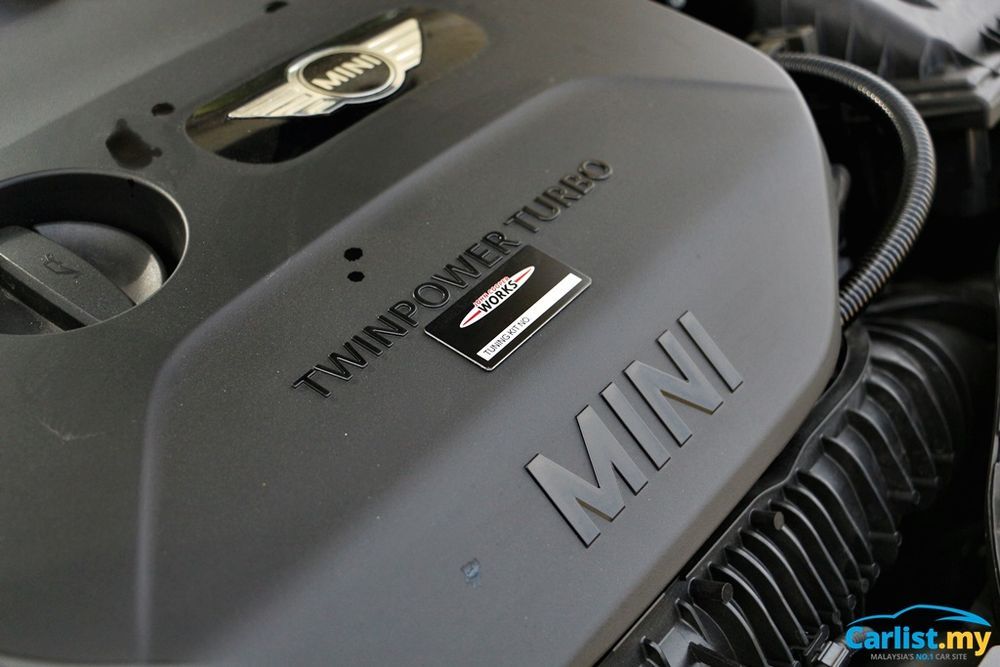 The Amplified in its name most likely comes from the addition of the John Cooper Works active exhaust valve system, which features a new "Track mode" that can be activated via the John Cooper Works Bluetooth controller.
Specifications for MINI 3-Door Amplified Edition
Engine: 2.0-litre, four-cylinder transverse, turbocharged, petrol
Power: 211 hp at 4,700 - 6,000 rpm
Torque: 300 Nm at 1,250 - 4,750 rpm
Transmission: 6-speed torque converter automatic, front wheel drive
Performance: 0-100 km/h in 6.7 seconds, top speed: 233 km/h
Safety: Six airbags, electronic stability and traction control, reverse camera, ISOFIX, ABS with BA and EBD
Price: RM 248,888 excluding insurance
Assembly: Fully imported from Plant Oxford, UK
Exterior
The design (of this current F56-generation) has slowly evolved from the first-generation R50 "neo-MINI", but the iconic shape and compact proportions ensure there is no shortage of style and presence. It still turns heads – and if you're a guy, trust that females, both young and old are truly smitten by it.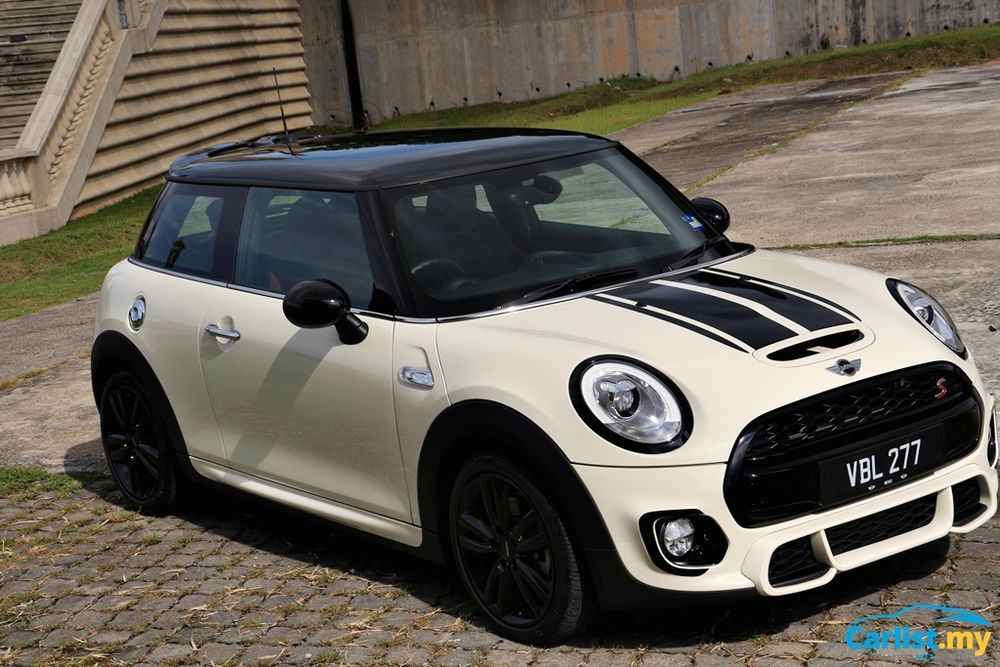 The Amplified version adds a JCW bodykit, rear spoiler, and piano black grille which adds a touch of aggression and ultimately bodes well with the overall character and performance of the car.
The high gloss black wheels are a must in my opinion, as it beautifully contrasts the Pepper White exterior colour which is spiced up with racing stripes on the bonnet and rear hatch – I suspect it's much the same with the other two colour options, Chilli Red and Midnight Black (the black exterior colour gets red stripes).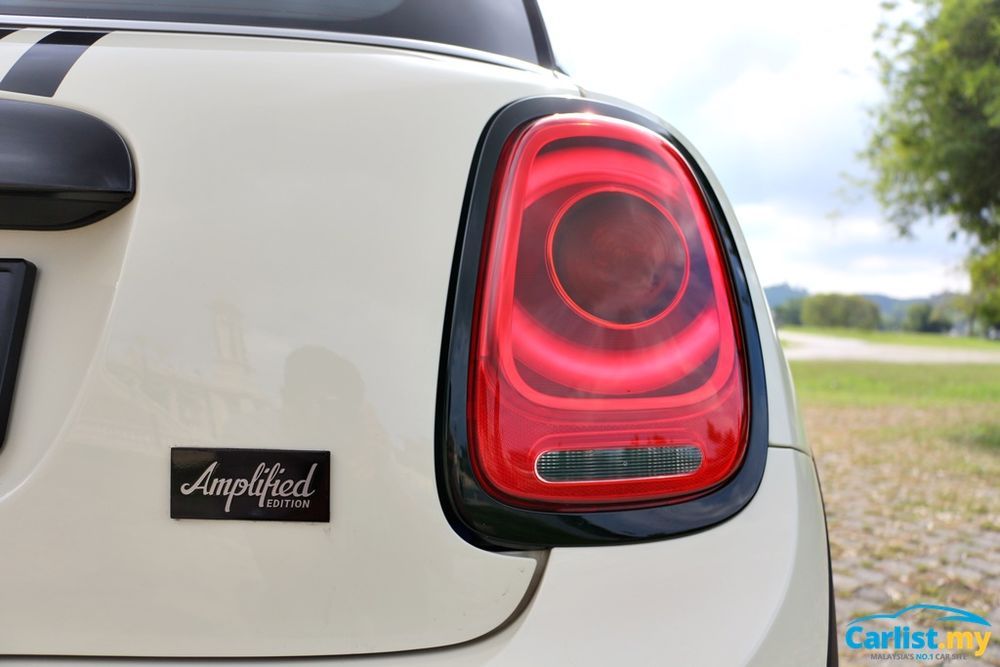 The standard fit LED headlights and taillights and LED daytime driving lights, are perhaps nothing to shout about in this day and age, but they do lend a nice technical look, which gets even nicer to look at when it gets dark.
Interior
For those who have not experienced a MINI interior before, it's snug – to say the least. The seats, the proximity of the dashboard, and the thick door cards create a focussed cabin that cocoons you tightly, without feeling too claustrophobic.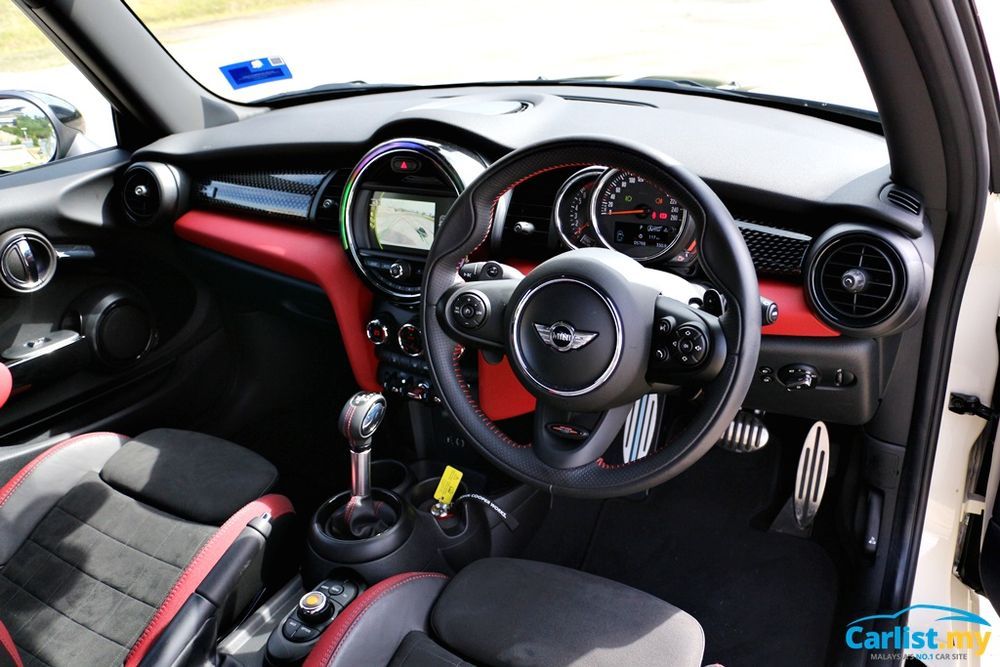 Once you get your seating position spot on, you feel integrated with the car, which makes the driving experience all the more involving and enjoyable. The steering wheel is superb to hold, as is the tactility the paddle shifters and various other switchgear within the cabin.
The Amplfied's gloss black "Chequered" interior trim oozes style and gives the cockpit an overall racy feel. Another badge on the passenger side marked "Amplified" adds a further touch of exclusivity.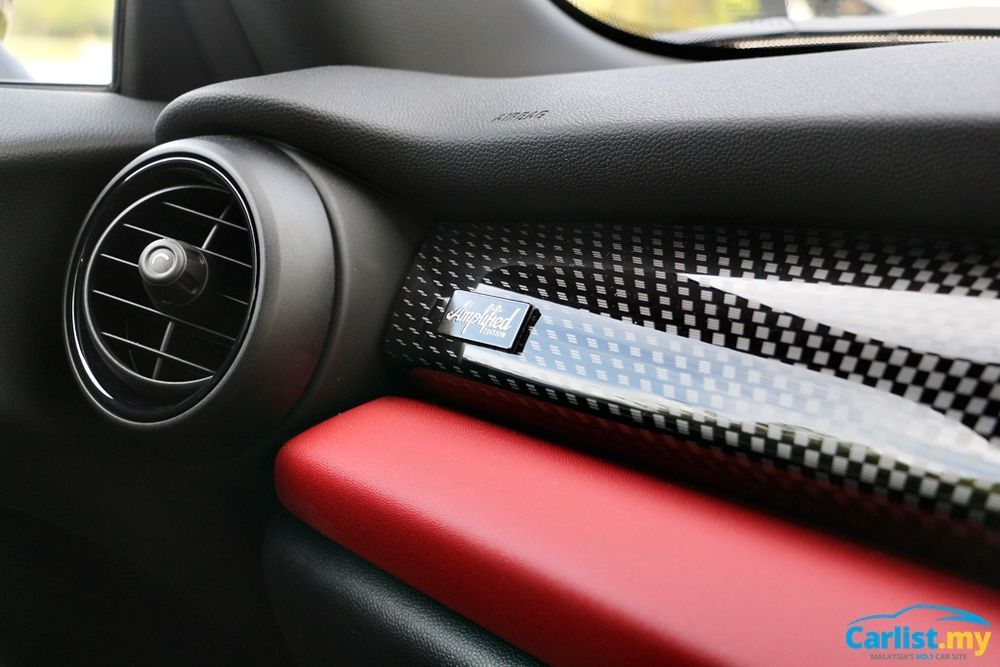 The seats, clad in Alcantara leather grip you in place even in tight corners and offer adequate thigh and lumbar support. For the most part, while the MINI Amplified will accommodate four people if needed, I wouldn't recommend journeys that are longer than an hour, as it can get pretty tight for rear occupants.
Also, the rearview camera is a boon for any driver regardless of competency levels. Because this is a MINI, which also means limited rear view visibility, not to mention those egg-shaped wing mirrors that are styled for looks rather than function. The updated rearview camera with guidance lines is a welcome addition.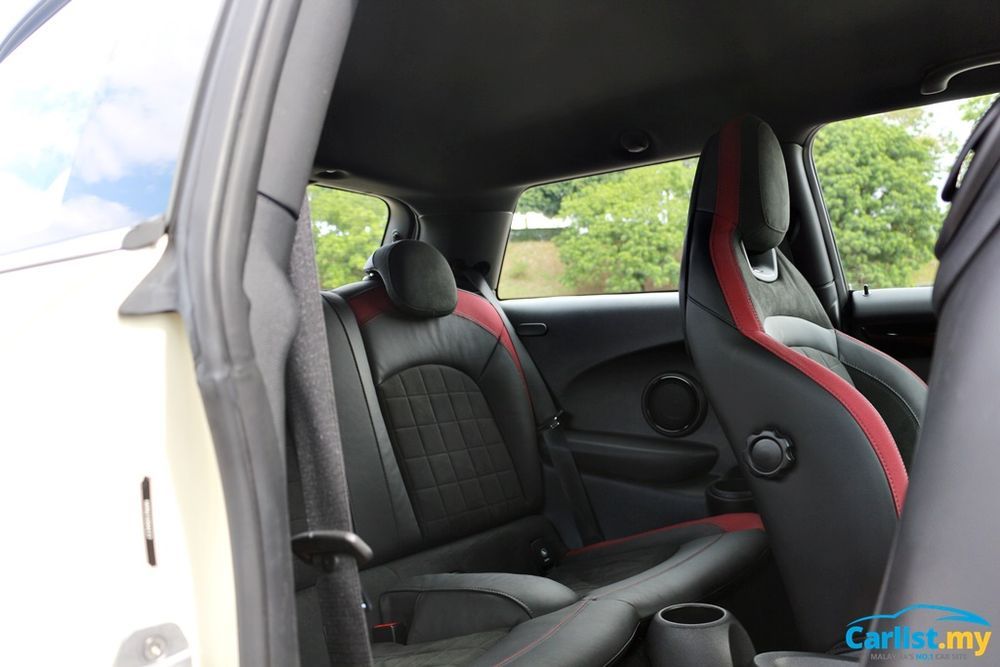 Driving Experience
In a nutshell, it's glorious. Two hundred and eleven horsepower has never been used so effectively, and rarely inspires so much intensity and fun on almost any road. The JCW Tuning program which increases both power and torque helps create a solid middle ground offering between the regular Cooper S and manic JCW Cooper. Yes the JCW is more powerful and track focussed, but the Amplified is probably all you'll ever need on normal roads.
It rarely runs out of steam, pulling hard and linear from 2,200 rpm all the way to its 6,500 rpm redline, and flies through it's closely stacked gears. Given the quick shifting and responsive six-speed automatic and the assurance of torque almost anytime you put your right foot down, its easy to exploit every straight and dart from corner to corner rapidly, where proceedings get even more exciting.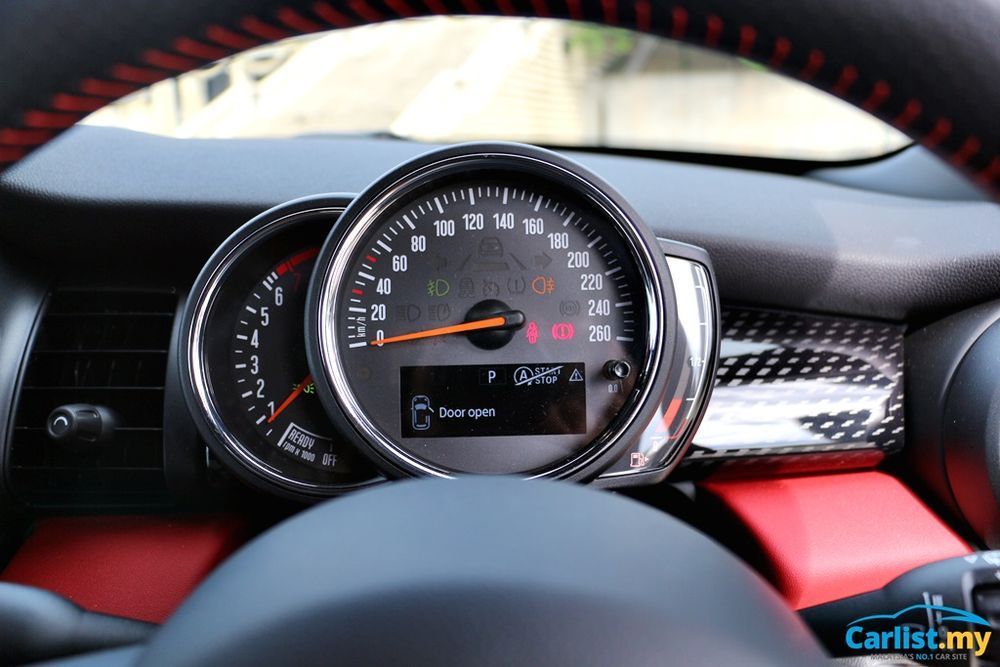 In the corners, superb body rigidity and a stiff but surefooted suspension setup ensure the MINI Amplified attacks every corner like a Pitbull Terrier on a fresh steak. The steering is quick and extremely precise – almost instantaneously helping the driver build confidence with the car. After which it's just a matter of picking your driving line and hugging the virtual apex of every corner. Mid-corner balance and traction getting out of corners are about as good as it gets for a car with such a short wheelbase.
The immense grip afforded by the tyres also meant that regardless of the corner, I always ran out of guts before I ran out of grip – even with rather small-ish Pirelli Cinturato P7s, it's not hard to imagine what it could do with a sticky set of Michelin Pilot Sport 4 rubbers.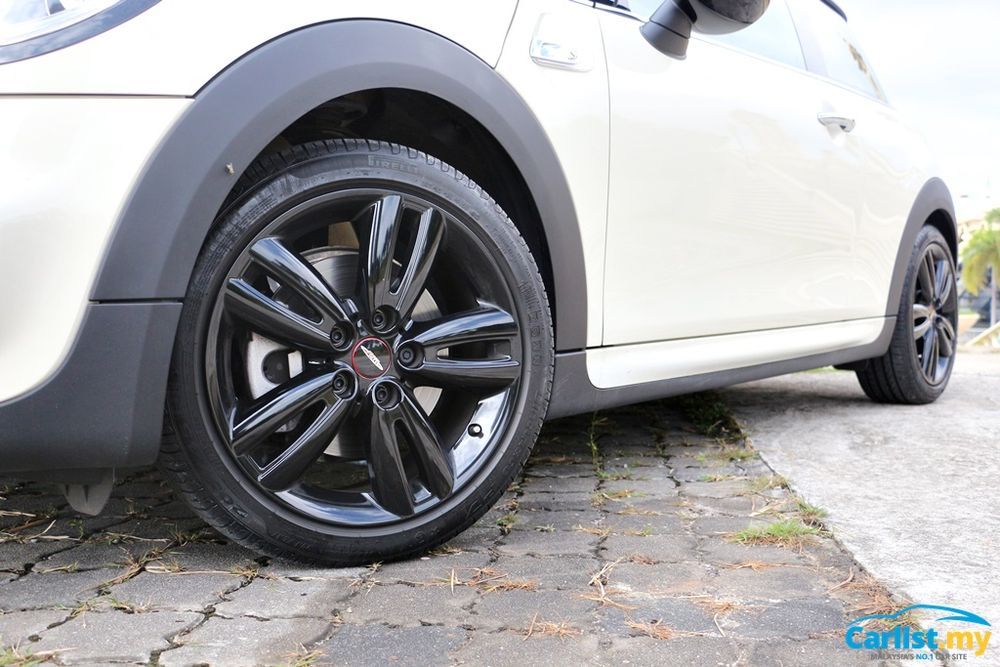 The downside though is that the MINI Amplified is best enjoyed on short blasts, which you can and should don on a regular basis. Driving it on long distances however, is a bit like using garden rake to sweep your living room; you could, but perhaps shouldn't. Ride comfort is a MINI's forte, but the driving experience is something that few can match.
The brakes are also powerful and respond predictably every time – which normally means very late braking points and an adequate window for threshold braking into corners.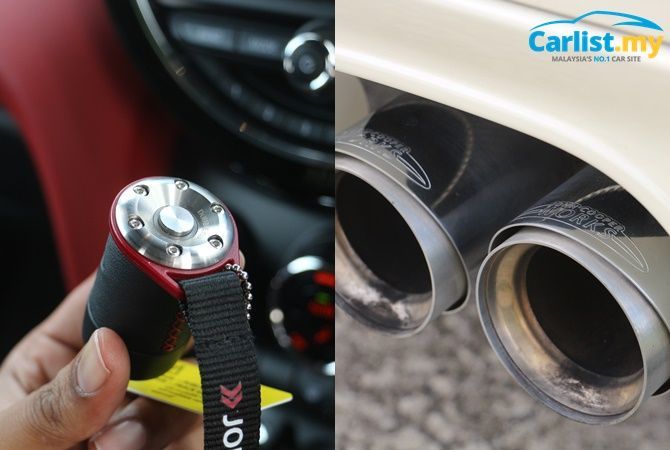 And quite possibly, the best thing about the MINI Amplified is its active exhaust system: just a click on the Bluetooth controller and the engine note morphs from a humble rumble to a naughty bark. MINI will tell you that the "loud" mode is for use on a track, but trust me, I could not do without it. It sounds even better when under heavy engine load and also spits out nice raspy notes on trailing throttle – which is what I found to be most addictive about the whole setup.
Conclusion
Just for the way it makes you feel, the MINI Amplified will justify its price tag every day of the week. Unlike the Volkswagen Golf GTi which has gotten too refined, too grown up, and in some cases, a little boring – the MINI still exudes a funky effervescence which has such an effect on our character whenever we get behind the wheel. And aren't all hot hatches supposed to do just that?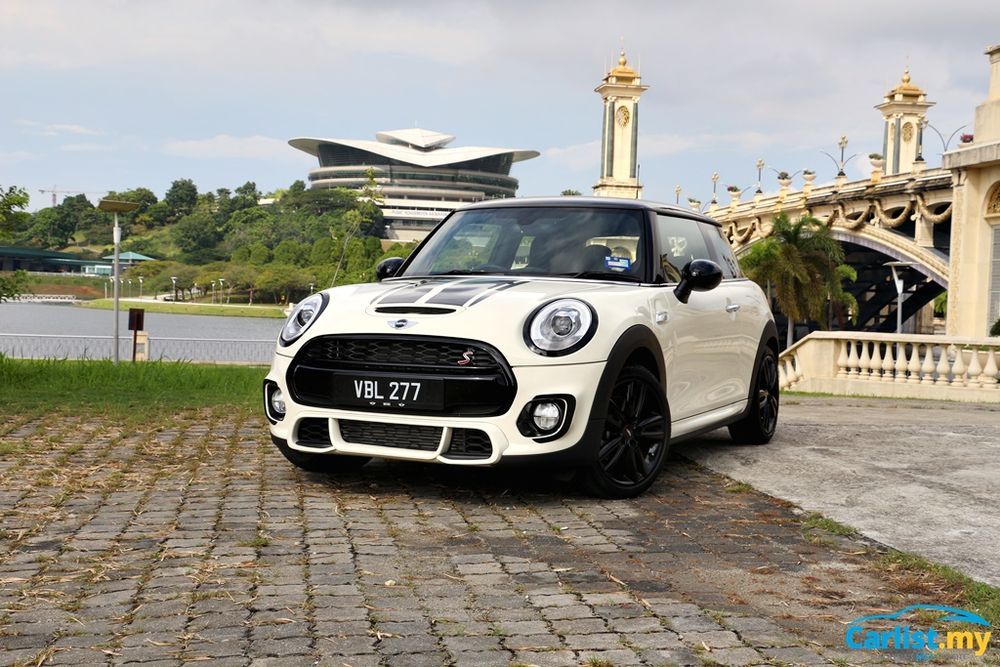 In terms of its performance, noise, and handling – and I know I'm saying a lot here – it captures some of that raw precision and character of the (FK8) Honda Civic Type R, albeit with much less power. And being a MINI, there is that bonus of looking snazzy and stylish in a way that it gets attention from the ladies. It's not an apple to apple comparison but let's face it, a Honda Civic Type R is only going to attract boys.
If a car could indeed influence the person behind the wheel, like the infamous red Plymouth Fury in Christine – after an hour in the MINI Amplified, one would get out laughing incessantly while doing cartwheels in a three-piece suit. Just don't expect this to be your weapon of choice for a long distance drive.
---
---
---
Comments