Rolls-Royce's All-New Ghost Is Now As Bespoke As It Should Be
Auto News The first Rolls-Royce Ghost can trace its production history all the way back to 2009, but it's a car that still carries that certain high prestige just as well as it did 11 years ago. For 2020, however, we're treated to an all-new version of the British luxury machine, pipped as the most advanced car the marque has built to date.
---
Without question, the Phantom remains at the top of the Rolls-Royce food chain, but that only meant the Ghost could fill roles that did not particularly fit the brand's flagship, and in the process became their most popular model - a success story they plan to carry forward into this second-generation version.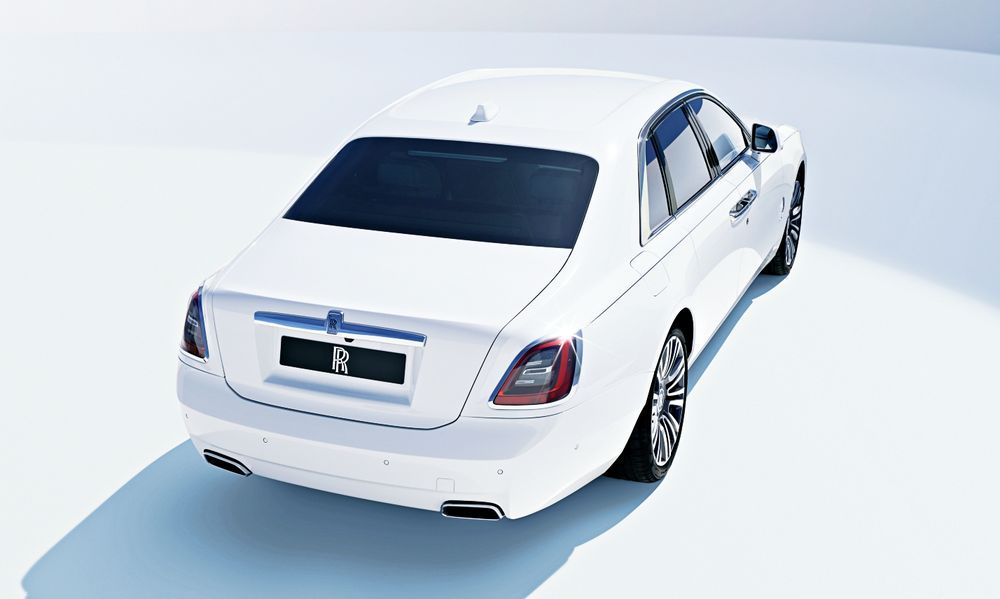 Unlike its predecessor's BMW underpinnings, this all-new Ghost is built on the 'Architecture of Luxury', an all-aluminium space frame bespoke to Rolls-Royce and which is shared across the Phantom VIII and Cullinan. Weight is cut down, while structural rigidity is improved alongside the numerous enhancements to ride and refinement made possible by the new platform.
It also happens to be larger than the outgoing model, growing 90mm longer and 30mm wider, not that its size was lacking in the first place. Another new piece of hardware coming to the all-new Ghost is its engine. Rather than a repurposed version of BMW's 6.6-litre twin-turbo V12 from the 7 Series, we have the same 6.75-litre bi-turbo V12 from the Cullinan and the Phantom VIII, bringing yet more uniformity across the entire Rolls-Royce lineup.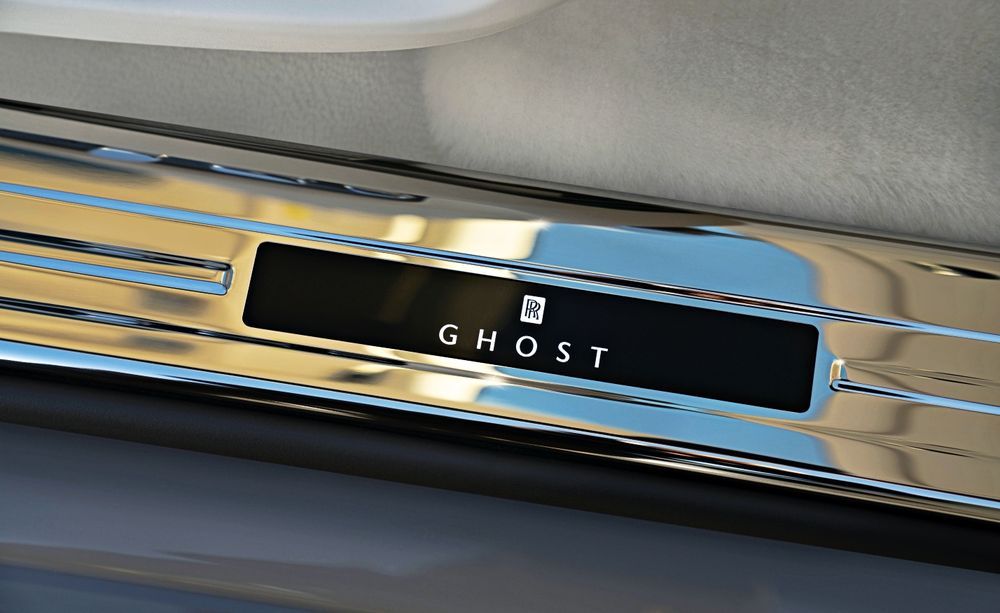 Interestingly, however, that power plant swap hasn't yielded any difference to the car's power output, which is unchanged from the 2009 Ghost at 570PS or 563hp. Peak torque, meanwhile, has seen a 10 percent increase to a colossal 850Nm, resulting in a 0-100km/h sprint of 4.8 seconds (the mind boggles). Drive is sent through a ZF-sourced 8-speed automatic transmission to all four wheels with rear-axle steering for better low speed manoeuvrability and high speed stability.
In terms of its design, the all-new Ghost doesn't fall far from the branches already grown in by the other new members of Goodwood stable and actually does deftly carry over some visual DNA from the first-generation predecessor while looking fresh and minimal, which is exactly what Rolls-Royce seeks to embody through their concept of 'Post-Opulence'.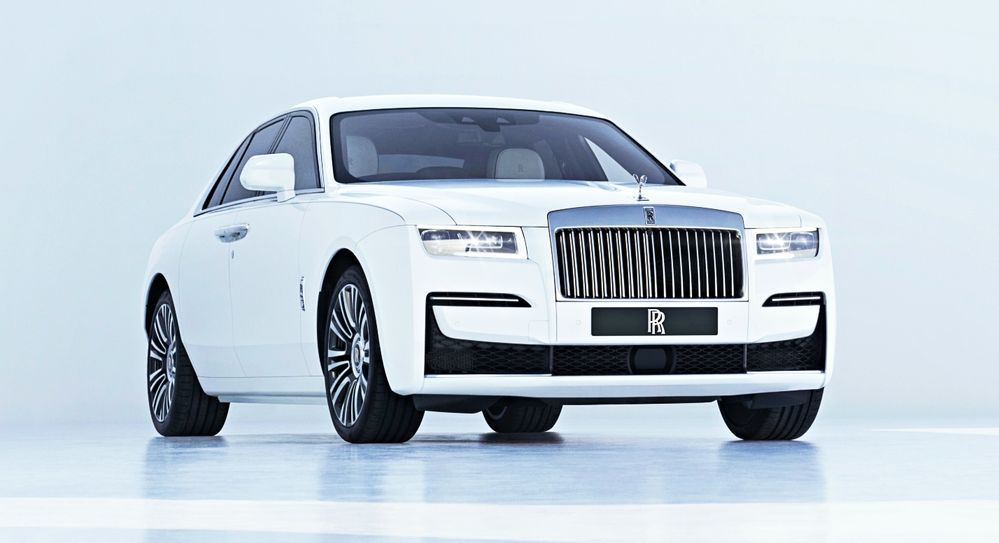 Its front end is an amalgamation, blending a softer version of the Phantom's chiseled jawline, slimmer headlights, and pronounced single-piece Pantheon grille which meets flush with the bonnet, leading to the brand's (retractable) Flying Lady emerging from dedicated central slit.
Inside, the Ghost has been put through an extremely rigorous acoustic engineering program to eliminate any and all hindrances to supreme comfort and refinement, an undertaking that would have been impossible without the new aluminium architecture. Apart from the 100kg of sound insulation materials, Rolls-Royce even went so far as to tune every component to a specific resonant frequency, a tone which they term 'the whisper', that's barely audible to the human ear but enough to not leave the cabin disorientingly void of all noise.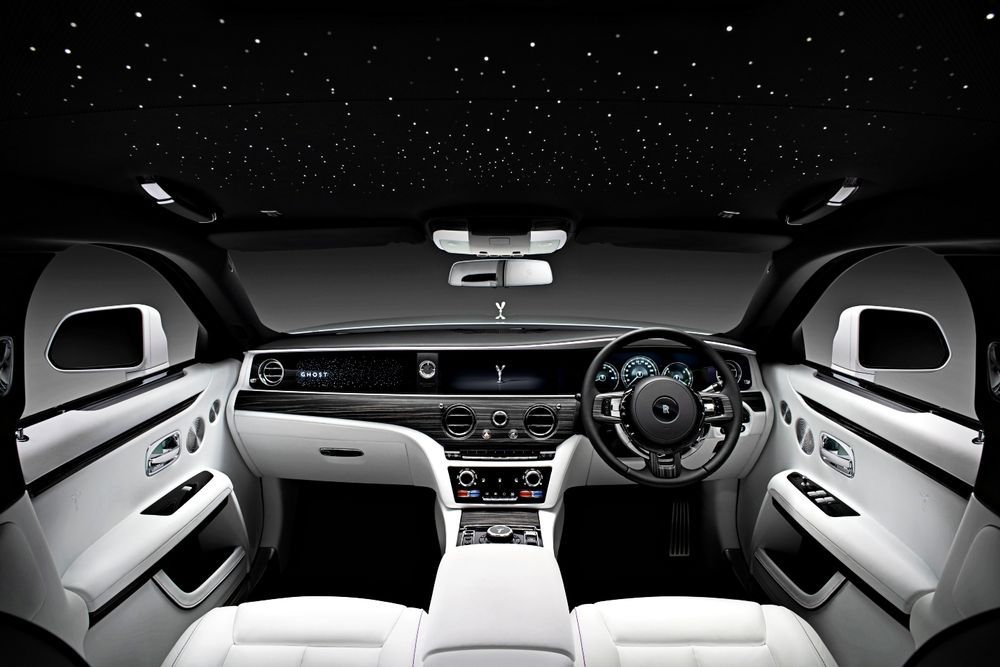 We won't comment too much about the interior flourishes given how extensively each car can and will be customised by an owner, but the overall base design is quite simple and free from unnecessary visual noise. Everything seems as integrated as it could possibly be with just enough contrasting elements to not fall into monotony.
There are a whopping 338 trim panels in total which need to be finished to perfection to match each other - while factoring in those owner customisations - 20 leather half-hides have been used in each Ghost cabin, on average. Naturally, there's also Rolls-Royce's signature 'starlight' headliner.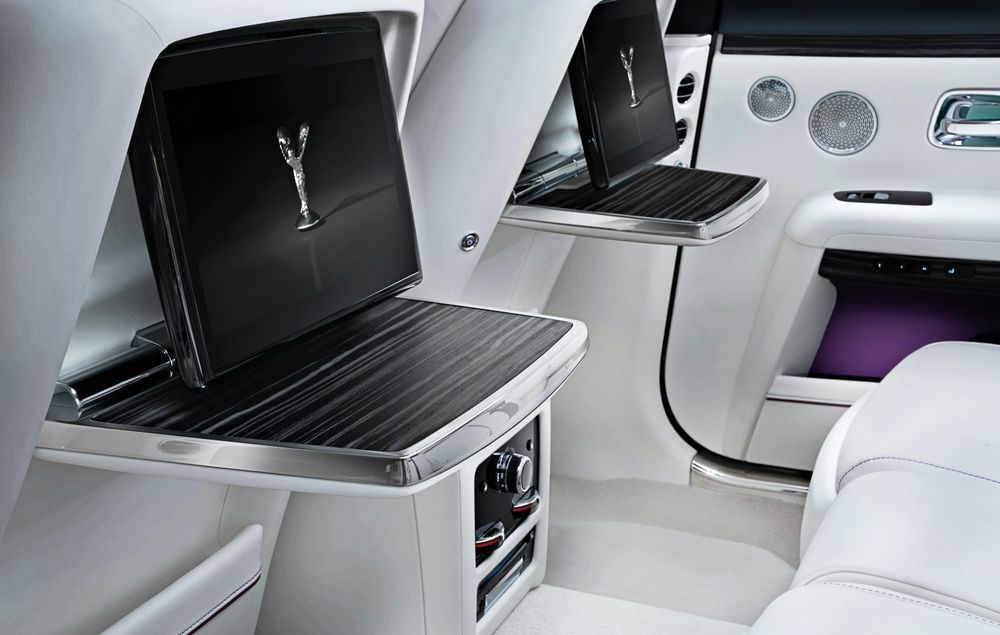 Despite this, the all-new Ghost features numerous advanced functions across infotainment, communication, safety, and active assist that are controllable by either the driver or the rear passengers, requiring complicated actions be relayed through simple and intuitive controls. The 18-channel premium stereo system can pump out audio at up to 1300W but more impressively can separate certain portions of the car through use of microphones for spatial audio cancellation and isolation.
In addition to all the luxury-oriented advancements made, the second-generation Ghost has been designed and crafted to boast nimble handling - or as much as humanly possible without major sacrifices. The front overhang has been drastically reduced to improve direction changes, handy for navigating narrow city streets, leading to a more rearward engine placement and a 50:50 weight distribution, or so they say.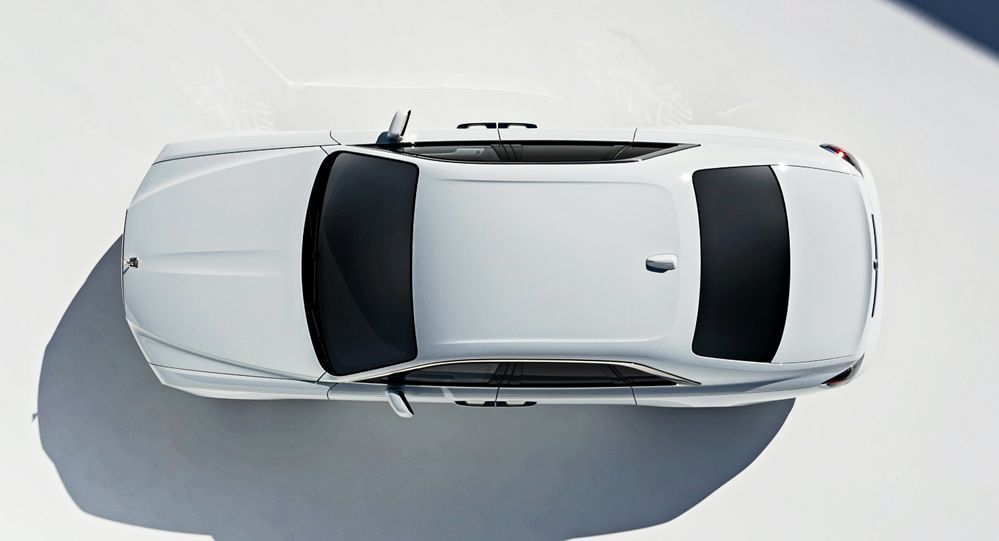 The suspension system, the self-levelling air-sprung set up you'd typically expect from Rolls-Royce but which has been calibrated for quicker response, as has the steering. Fewer interruptions through the chassis also inspires additional driver confidence, which is why a stereoscopic front camera called Flagbearer is constantly scanning the road ahead for surface inconsistencies and imperfections at up to 96km/h to constantly adjust spring and damper rates to suit.
Even prior to its official launch, production on the all-new second-generation Ghost has already been ramping up in preparation for an expedited delivery schedule to customers worldwide. Apparently demand has already been quite lively since the car's official announcement.
---
---
---
---
Comments