Suzuki Jimny Bakal Kembali Ke Pasaran Malaysia?
Auto News Terdapat kemungkinan bahawa Suzuki Jimny bakal membuat kemunculan semula dalam pasaran Malaysia di bawah pengedar sah Suzuki yang terbaru.
---
Semenjak Suzuki angkat kaki dari pasaran negara ini, tiada lagi model Suzuki dilancarkan di negara ini. Kali terakhir pun kita dapat merasa Ertiga je. Itu pun Proton yang bawa masuk. Tapi bila kita lihat pada generasi keempat Suzuki Jimny yang telah dilancarkan di Indonesia, Thailand dan Singapura, model ini menerima sambutan baik daripada orang ramai.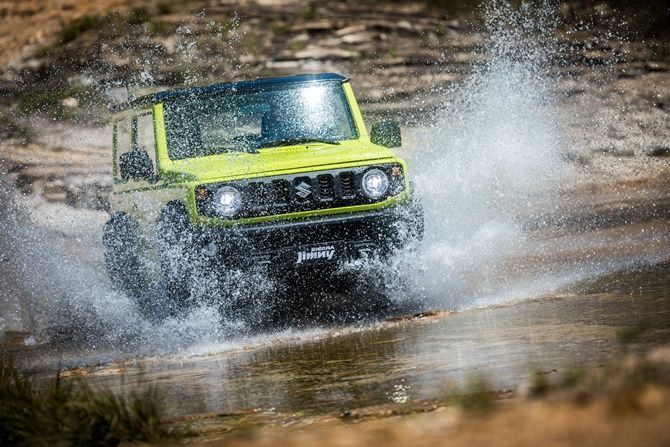 Walapun penggemar SUV kompak ini tidaklah begitu besar di negara ini, namun permintaan terhadap Jimny ini tetap ada. Kalau tidak, takkan lah sampai ada pengedar kereta import terpakai gigih bawa masuk model Jimny ni ke Malaysia kan? Apakah sebab-sebab mereka mahukan Jimny?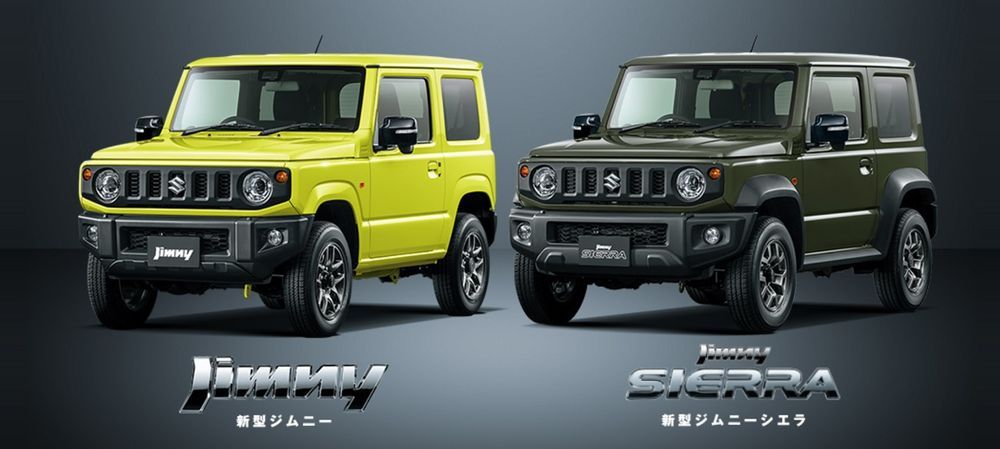 Kalau anda nak tahu, terdapat dua varian Jimny yang ditawarkan oleh Suzuki buat masa ini. Model tersebut ialah Jimny dan Jimny Sierra. Bezanya, Jimny merupakan kereta yang diklasifikasikan sebagai 'kei' di Jepun yang membawa maksud kereta ringan dan kecil manakala Jimny Sierra pula merupakan versi Jimny yang lebih berkuasa bagi pasaran luar negara. Akan tetapi di pasaran dunia, ia lebih dikenali sebagai Suzuki Jimny. Tapi jangan seronok sangat sebab walaupun Suzuki Jimny ini bersaiz kecil, tapi harganya tidaklah sekecil yang anda sangka. Harga sebuah Jimny di Thailand bermula daripada THB 1.55 juta (RM 199,000) sehingga THB 1.65 juta (RM 212,000)!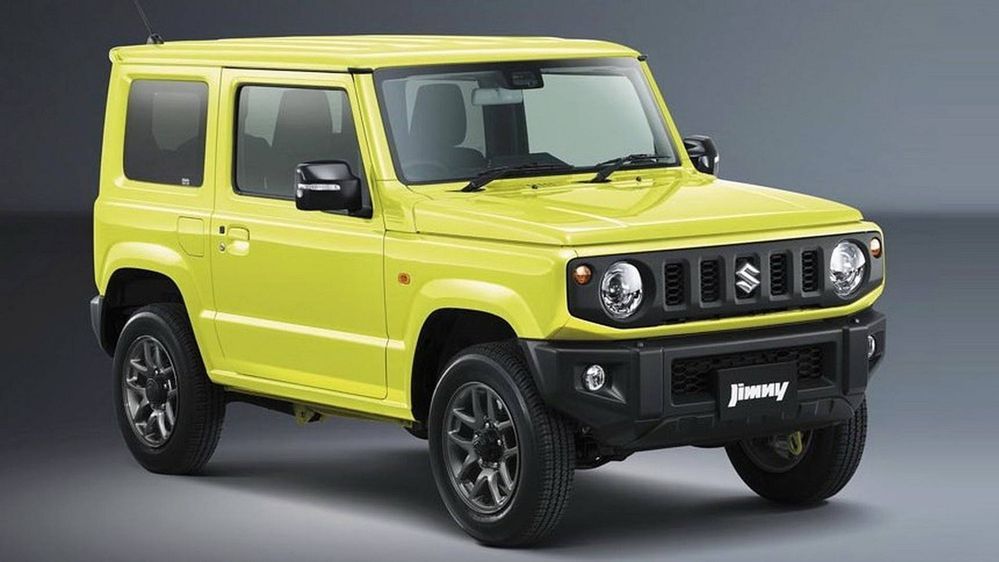 Bagi Jimny 660cc Turbo yang ditawarkan di Jepun sebagai kereta 'Kei', jentera ini menghasilkan 64 hp dan 95 Nm Tork. Terdapat pilihan 5 kelajuan manual dan empat kelajuan automatik. Tetapi, Jimny Sierra yang dibina khas bagi pasaran eksport Jepun lebih mencuri tumpuan. Mana tidaknya, SUV kompak ini memang handal kalau nak hadapi pemanduan yang lasak. Tak padan dengan kecil!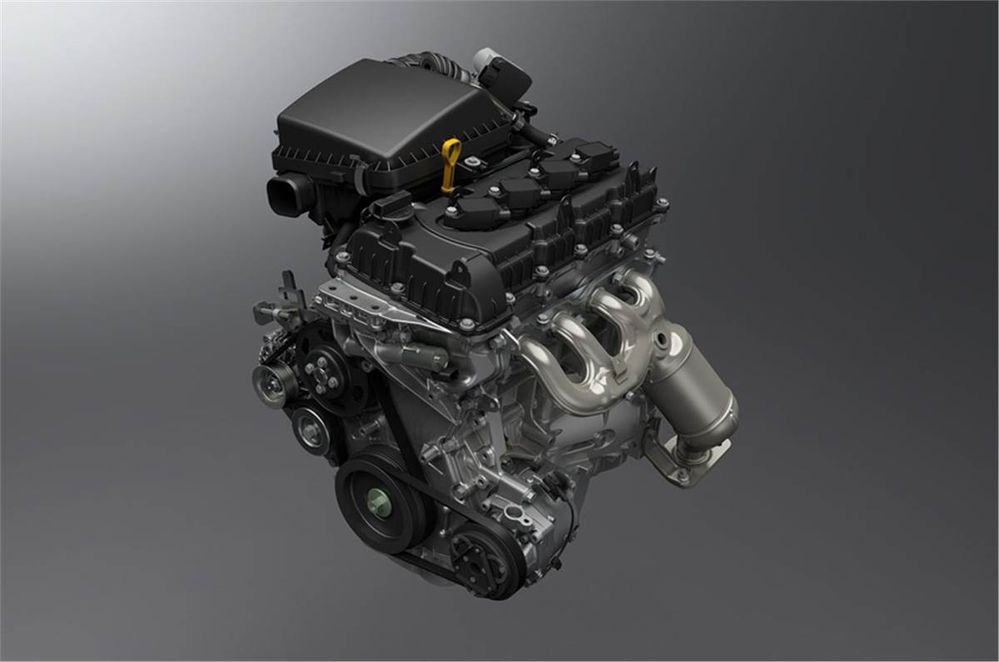 Jimny Sierra tampil dengan enjin 4 silinder 1.5 liter dengan pilihan daripada gear manual dengan 5-kelajuan atau gear automatik dengan 4-kelajuan. Jentera ini mampu menghasilkan 102 hp dan 130 Nm tork. Kelajuan bukanlah kekuatan sebenar Jimny, tapi kebolehannya untuk menghadapi jalan off-road sememangnya harus dipuji. Bukan itu sahaja, generasi keempat Jimny ini turut dilengkapi dengan sistem pengiktirafan tanda lalu lintas (traffic sign recognition).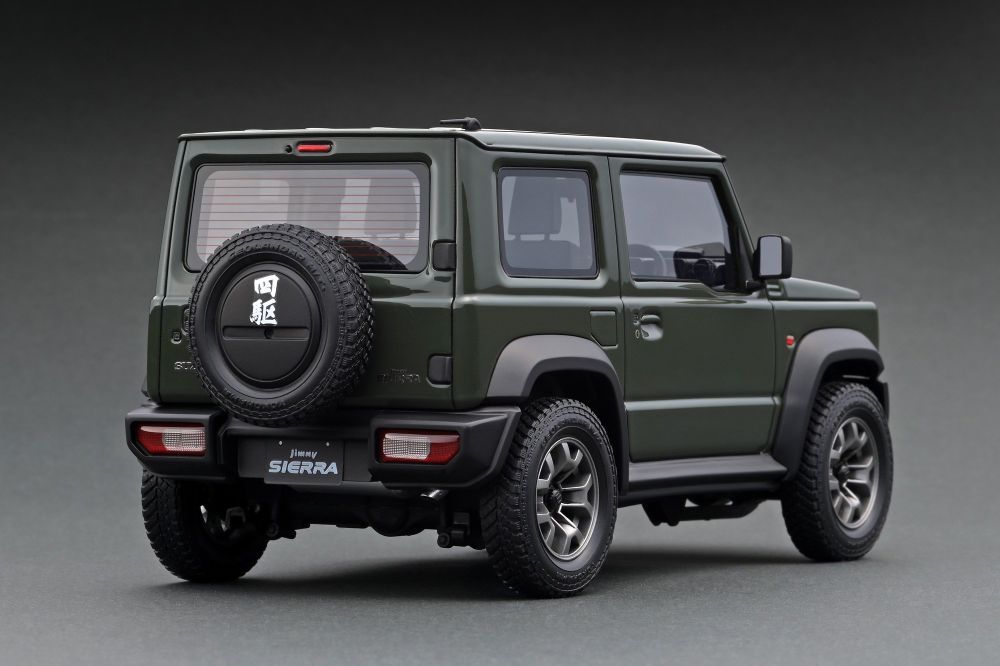 Selain itu, Jimny turut dilengkapi low-range transfer box dengan pilihan 2H, 4H dan 4L serta kawalan bukit. Sistem AllGrip Pro 4WD memberikan kemampuan pemanduan off-road yang lebih baik. Sistem ini mempunyai 3 tetapan iaitu:
2H: Untuk pemanduan di jalan biasa (Pacuan dua tayar, High range)
4H: Untuk pemanduan di jalan off-road (Pacuan empat roda, High range)
4L: Untuk pemanduan di jalan berbatu, kasar, ataupun lumpur (Pacuan empat roda, low-range)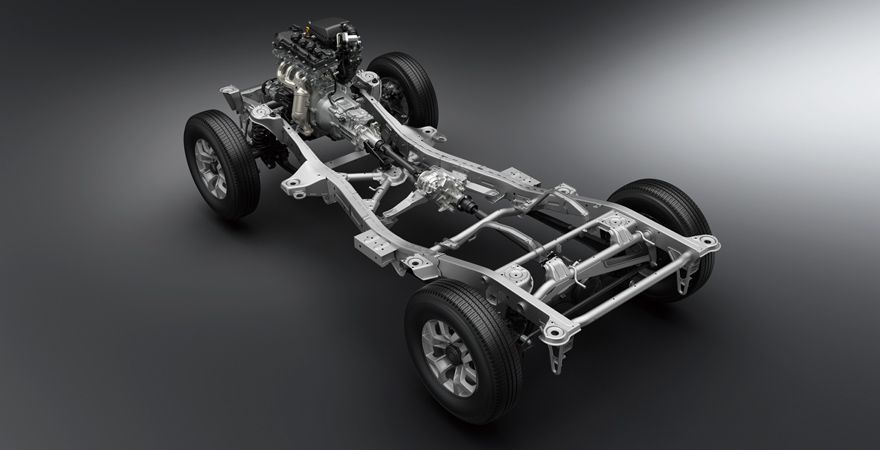 Pendek kata, Jimny ini bukan lah acah-acah SUV, tapi ianya memang SUV. Bak kata pepatah, kecil-kecil cili padi! Kereta ini dibina di atas ladder frame dimana struktur rangka ini memiliki kekuatan yang lebih kuat serta kukuh membuatkan ia lebih stabil untuk menghadapi laluan yang mencabar. Bagi suspension kereta ini pula, ia menggunakan 3-Link Rigid Axle With Coil Spring yang kuat dan stabil serta mampu mengurangkan gegaran dan goncangan pada kenderaan sewaktu pemanduan ekstrem.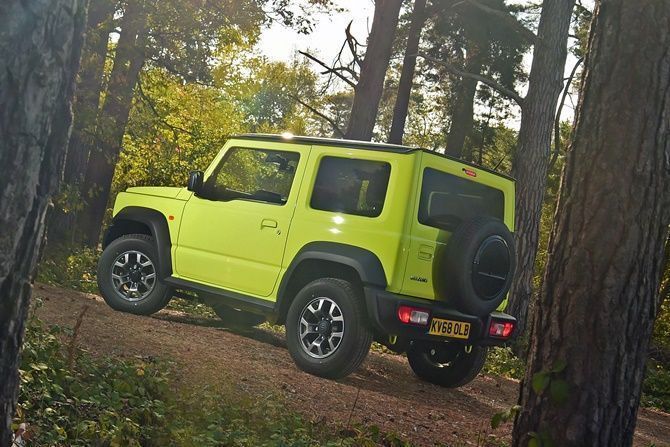 Untuk luaran pula, Suzuki Jimny dihiasi oleh gril depan yang garang dan dipadankan dengan bumper anti calar. Penggunaan lampu LED turut memberikan pencahayaan yang lebih terang dan jimat tenaga. Kalau anda gemar untuk masuk hutan atau pemanduan off-road, terdapat pencuci atau washer di bawah lampu utama untuk menghalang lampu daripada sebarang kekotoran/lumpur supaya lampu lebih jelas.
Interior: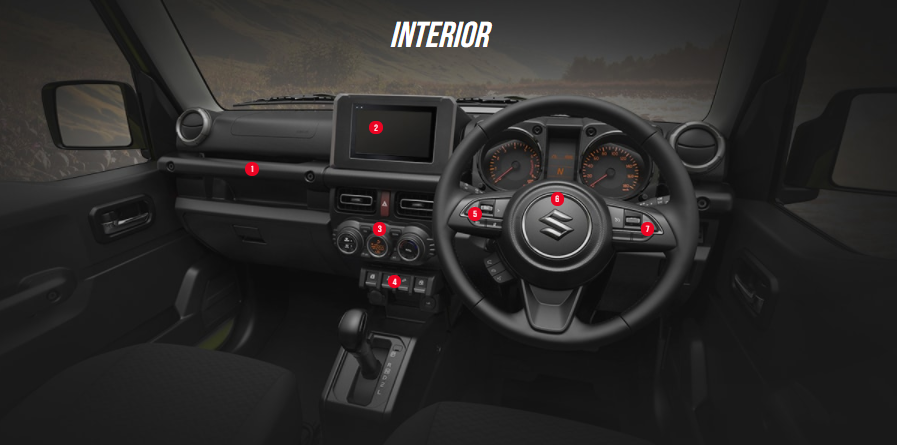 1. Ride-In Assist Grip berfungsi sebagai tempat selamat untuk penumpang pegang atau genggam bagi meningkatkan keselamatan dan keselesaan ketika menumpang.
2. Skrin sentuh infotainment saiz 6/8 inci yang dilengkapi dengan USB, Bluetooth, dan boleh dipadankan dengan telefon bimbit.
3. Penghawa dingin automatik
4. Kawalan panel yang mudah difahami dan digunakan
5. Kawalan audio pada stereng membolehkan anda mengawal audio serta menjawab panggilan
6. Balutan kulit pada stereng memberikan sentuhan mewah pada Jimny.
7. Cruise Control bertujuan mengekalkan pergerakan kenderaan anda secara malar tanpa memijak pedal minyak. Ianya aktif selepas melepasi kelajuan 40 km/h.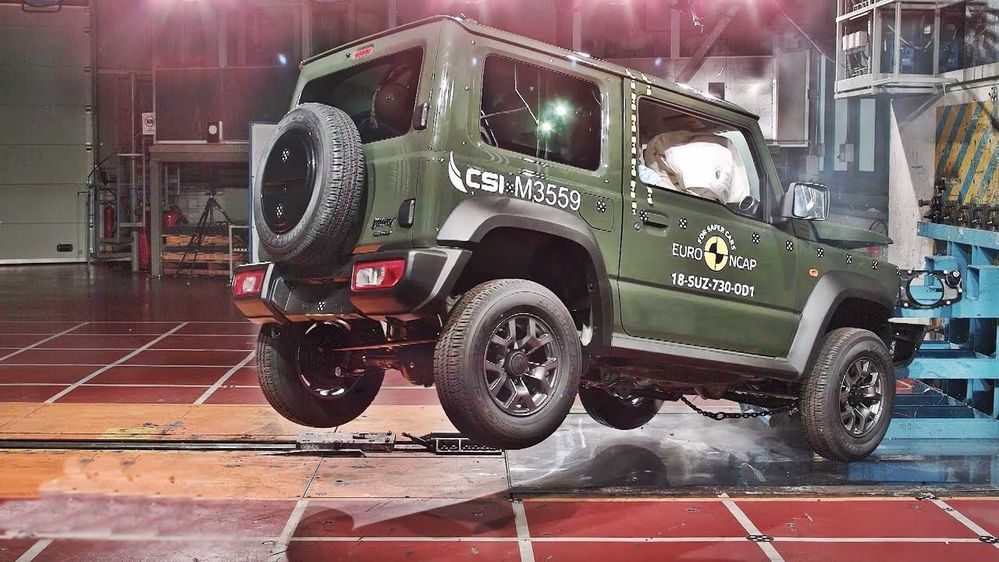 Bagi faktor keselamatan, Jimny tidak ternyata tidak mengecewakan. Model ini menerima 3 bintang daripada Euro NCAP. Selain dilengkapi dengan airbag, struktur badan kereta ini lebih efisien dalam menyerap dan mengurangkan efek pelanggaran. LSD Traction Control pada brek kereta ini membuatkan risiko kenderaan tergelincir ketika brek berkurang kerana mampu memberikan respon yang lebih pantas dengan hanya sedikit tekanan pada pedal brek. Pemanduan Jimny yang stabil di jalan licin dan berbelok disokong oleh ESP (Electronic Stability Programme). Selain itu, Jimny turut dilengkapi dengan ABS, Hill Descent Control (HDC), serta Hill Hold Control (HDC).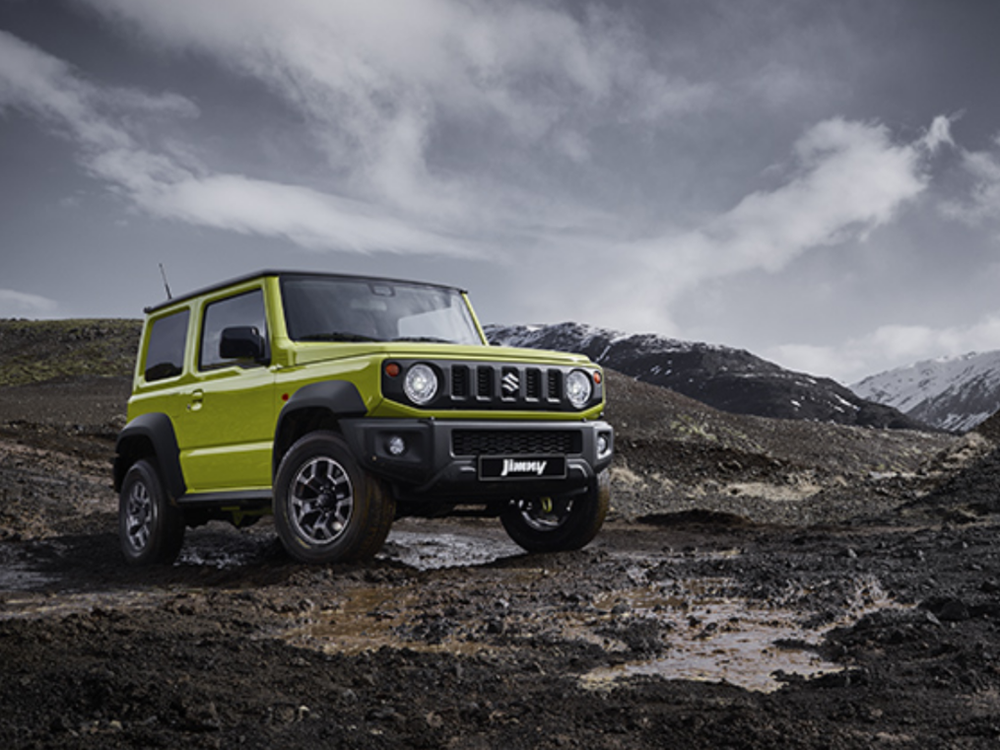 Seperti yang anda dah pun tahu, Suzuki dah sahkan bahawa mereka akan menghasilkan Jimny di India. Walau bagaimanapun, mereka tidak merancang untuk melancarkan barisan Jimny di dalam pasaran negara mereka. Jimny tersebut dibina bertujuan untuk dieksport ke pasaran luar. Kalau anda tanya adakah ianya akan tiba ke pasaran Malaysia dengan harga yang lebih murah? Jawapannya tidak jika tiada pengedar rasmi Suzuki di negara ini. Tapi harapan masih ada!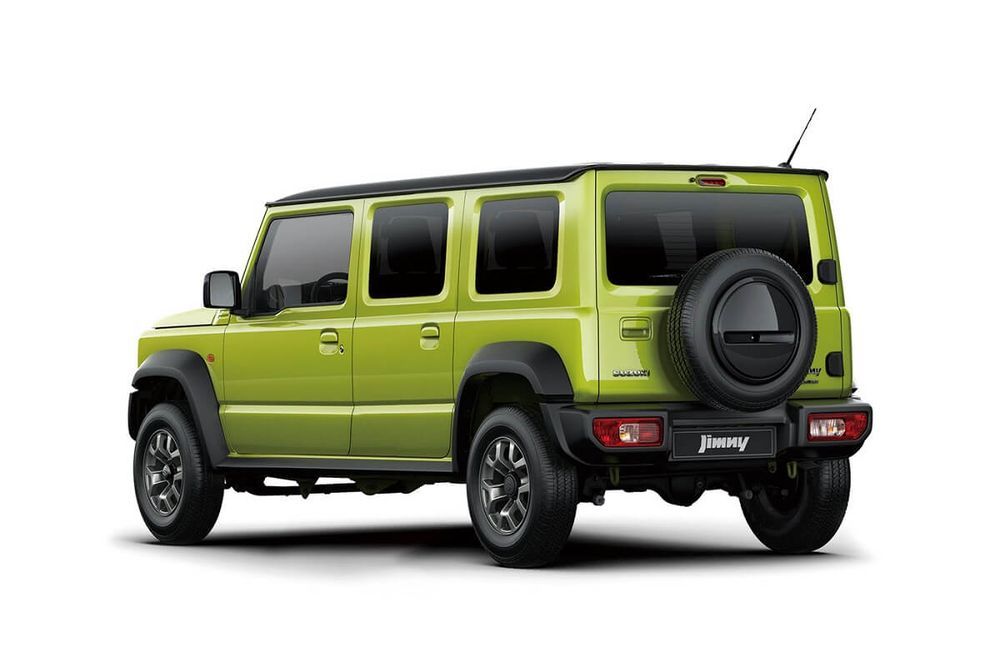 Terdapat juga berita mengatakan Maruti Suzuki yang bertapak di India bakal menghasilkan Jimny yang lebih besar dengan 5 pintu yang bakal dilancarkan pada 2022. Model yang sebelumnya hadir dengan 3 pintu sahaja. Persoalannya, sekiranya Jimny 5 pintu ini dilancarkan kelak, ada harapan ke nak masuk Malaysia?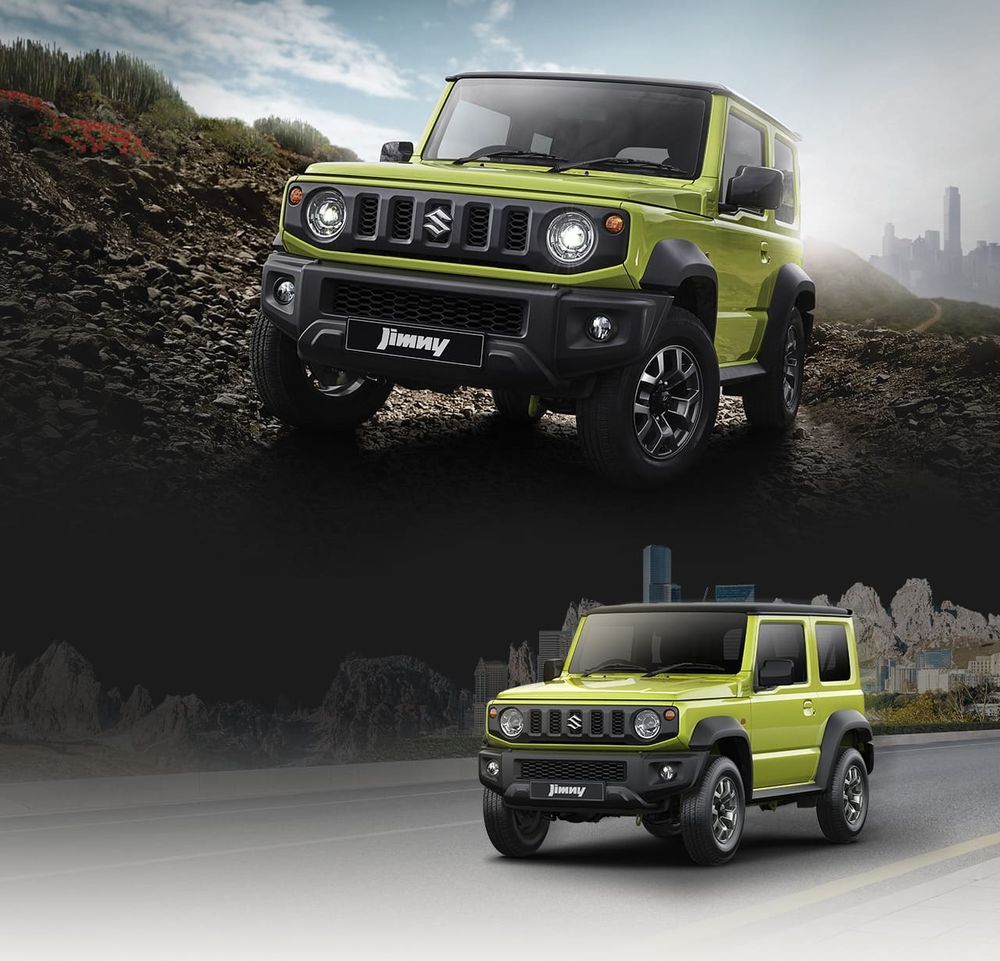 Khabar angin bahawa terdapat pengedar Suzuki yang baru di Malaysia masih lagi tidak mempunyai jawapan kukuh sehingga kini. Sekiranya Jimny boleh didapati di Malaysia, adakah anda berminat untuk mendapatkannya?
For more latest car news, reviews, car buying guides and videos visit us at Carlist.my Auto News.
Check out all the best new & used car deals in Malaysia at Carlist.my.
Sell your car fast with the best offer? Visit us at CarlistBid.my.
---
---
---
Comments