The A-Class Sedan, MBUX, and Mercedes Me
Insights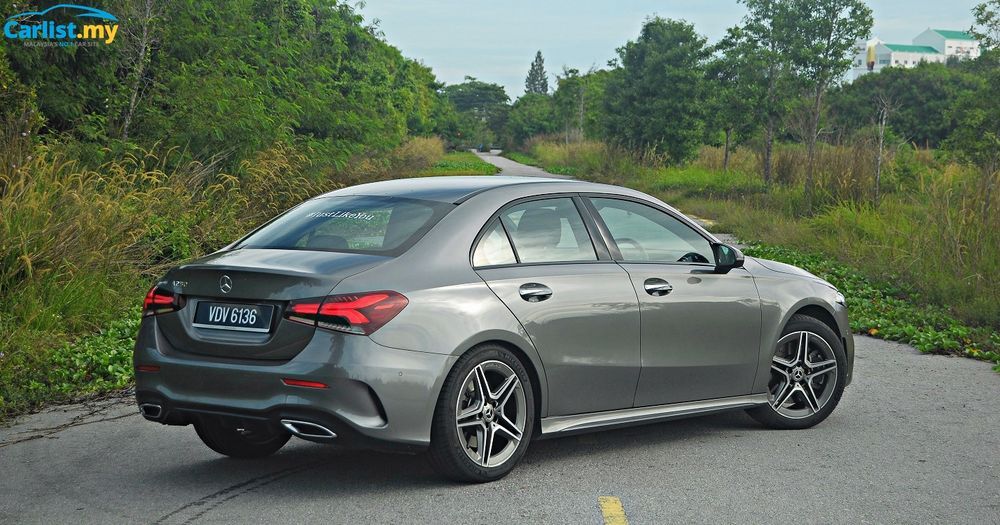 It was only a couple of years ago that a Swedish luxury carmaker wowed the world by entirely redefining what an in car infotainment system could be. Only a couple of years before that, even top tier luxury cars were still using regular old instrument clusters with built in analogue gauges, and touch screens that were still tacky and poorly executed.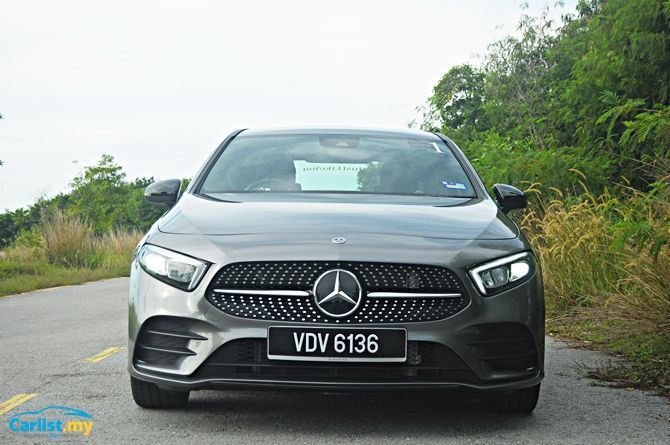 When we look back at all of these iterations of car interior design, they may seem fairly out of date and a little tacky – but that is the nature of infotainment systems and interiors. Carmakers have had the additional hassle of ensuring that modern cars aesthetically and functionally match smart devices that quite nearly everyone has – let alone make sure that these systems are capable of connectivity in a variety of ways.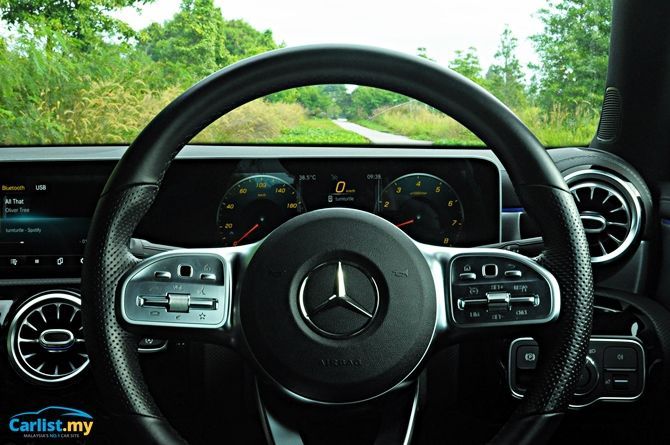 What is currently stealing the spotlight is MBUX – or, the Mercedes-Benz User eXperience in its long form. We've raved about it since its introduction in the A-Class, and it has slowly found its way into every Mercedes-Benz model as they undergo mid-life refreshes or full on model changes. The award winning system turns infotainment on its head, and makes it the very centrepiece of the driving experience.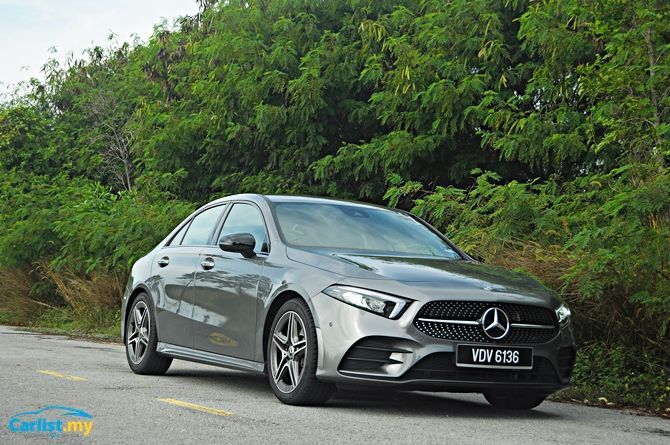 Truth be told, we haven't had much time to actually explore the system in depth and understand it – always more in awe of the looks rather than the way the system works. Thankfully, Mercedes-Benz Malaysia organized a short trip down south to sample their A-Class sedan range, as well as to thoroughly go through the MBUX system and even the Mercedes Me app on a select few cars.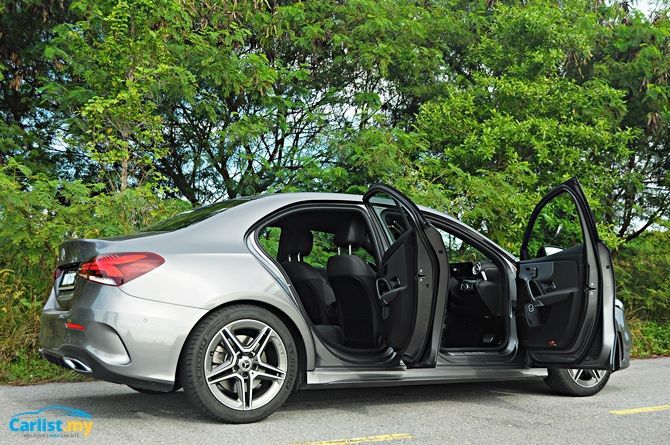 To dispense with the more traditional part of the review, let's take a look at the A-Class sedan. It's exactly as the name suggests – an A-Class, but with a boot. The previous generation A-Class only offered the CLA as its sole four-door option if you wanted a larger boot, and of course the downside to this is that the CLA has a fairly tapered roofline that crushes the heads of rear passengers.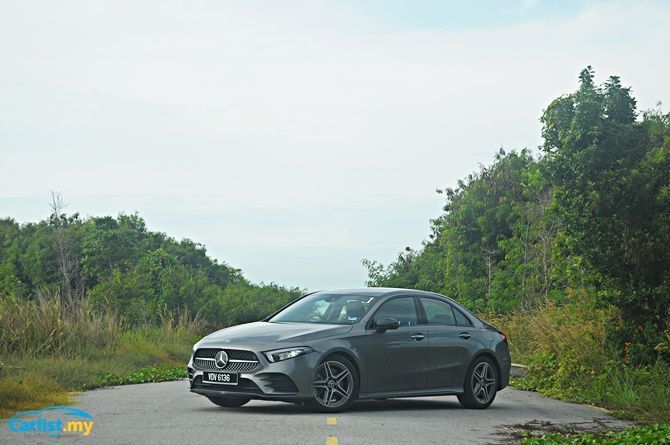 It makes sense that the A-Class sedan will be the darling of the range, because it will comfortably seat rear passengers and has a generous boot. Malaysians are dear to sedans for reasons beyond our understanding (wagons are still the best choice, but we digress), and a proper sedan variant for the A-Class offers a good entry point for those wanting a three pointed star in their garage.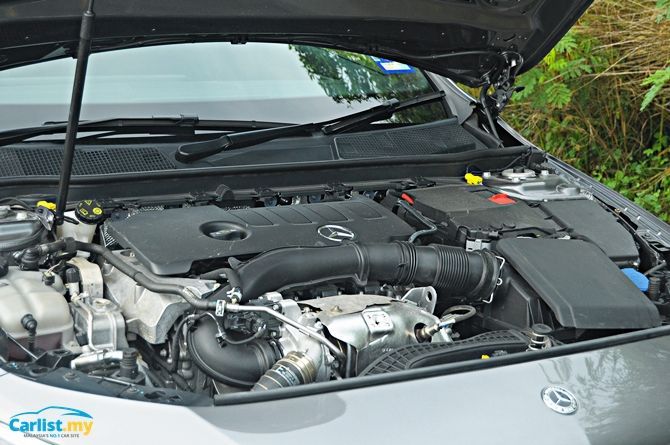 Powertrain options follow that of the A-Class hatchback as well, with the A 200 sedan and A 250 sedan performing as you would expect. There was also an A 35 AMG, but we didn't have any seat time with it as you would expect it to be in high demand. Performance for the A 200 and A 250 sedans are adequate for pottering around an urban environment, but the A 250 has the better top-end grunt for when you're heading down the highway. That being said, the three-cylinder turbocharged 1.5-litre engine in the A 200 is far from unrefined.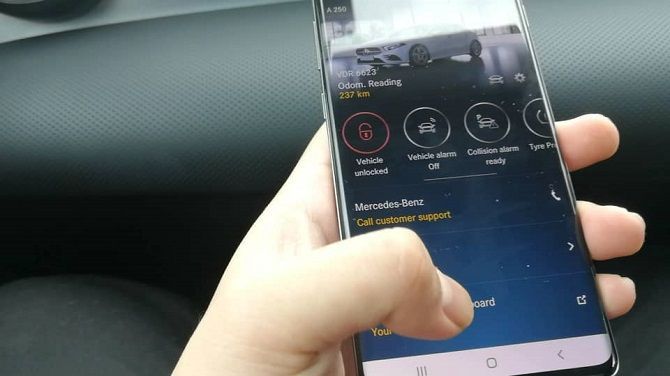 Only a few of the cars were equipped to work with the Mercedes Me app, and to be fair it is fairly limited in its functionality but as is the way with apps and software, you can expect development to take place fairly rapidly. It's possible to remotely start and stop your car over cellular networks, as well as monitor other vital signs and even check on service intervals.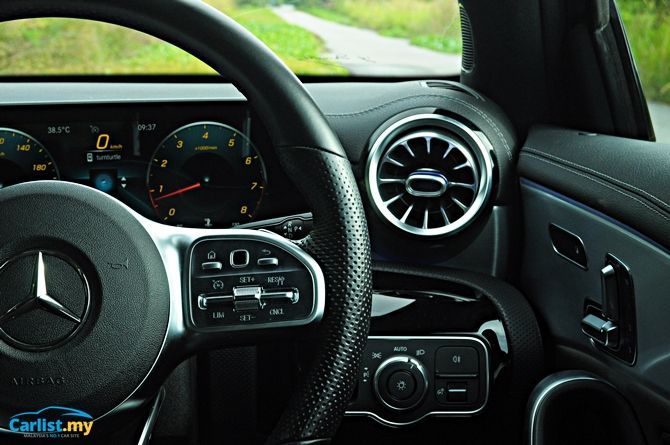 What we were really looking forward to was some intimacy with the MBUX. Without the threat of being rushed through our paces to test a car, it gave us more time to really take the system in. Its wide spread across the dashboard in a dual-screen setup somehow blends a utilitarian item with a flowing dashboard – and it doesn't look an inch out of place.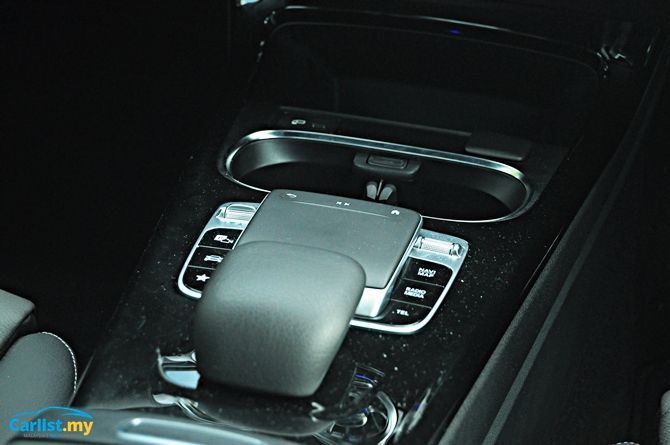 Controlling the MBUX can be done in a variety of ways, including voice control, but as our mild accents can sometimes be our own worst enemy, the way we found best to control it was through the traditional touchpad and some cleverly integrated steering wheel switches. The touchpad feels natural to use as you swipe through the menus and across the icons, although using the touchscreen itself is best done when you're not moving.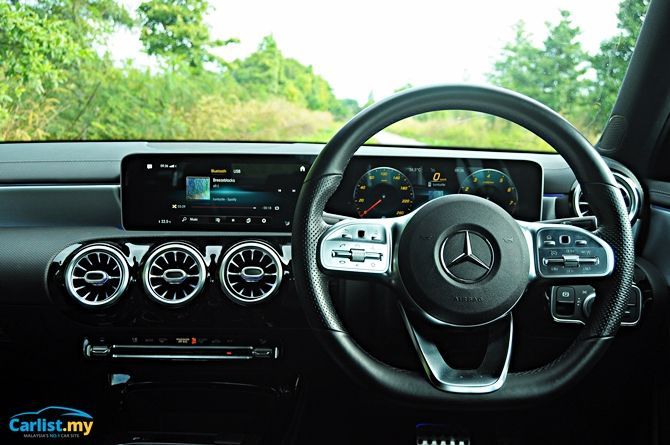 The steering wheel switches are the party piece, in a way. If you are old enough to remember Blackberry smart devices towards the end of their reign, the little tracker pad-esque square was the main way to get through the menus in addition to the large physical keyboard. That same little tracker nub is used to control the MBUX via the steering wheel: one on the left for the left screen, and one on the right for the instrument cluster.
It takes just a couple of minutes before the gestures become fairly intuitive. You can configure the screens in a variety of ways, whether you wish to have media info sit between your speedometer and tachometer, or if you would prefer navigation to occupy that same space. Before you know it, you'll have fallen for the charm of such a well thought out system, and you'll wonder if you can go back to a more traditional layout.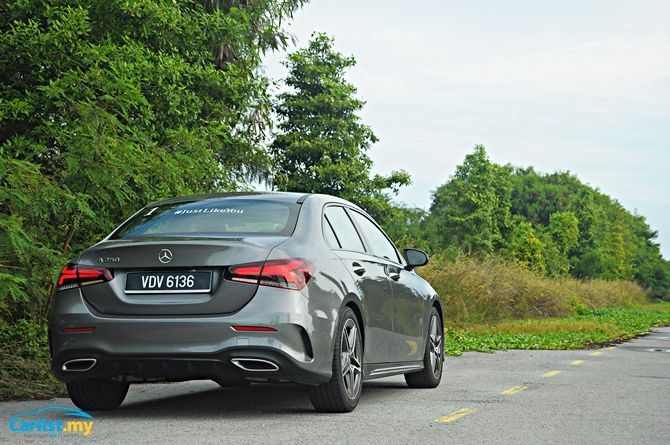 But as always, it is a lot harder to explain it than for you to experience it for yourself – it's in the name, after all. There's a beauty and simplicity to the system that makes it feel like it's ahead of its time, and yet before you know it, the next big thing in vehicle infotainment will hit the market. For now though, we would happily take the MBUX – we even ranked it as the best user interface of 2019.
---
---
---
---
Comments