The Great 2015 D-Segment Sedan Shootout
Reviews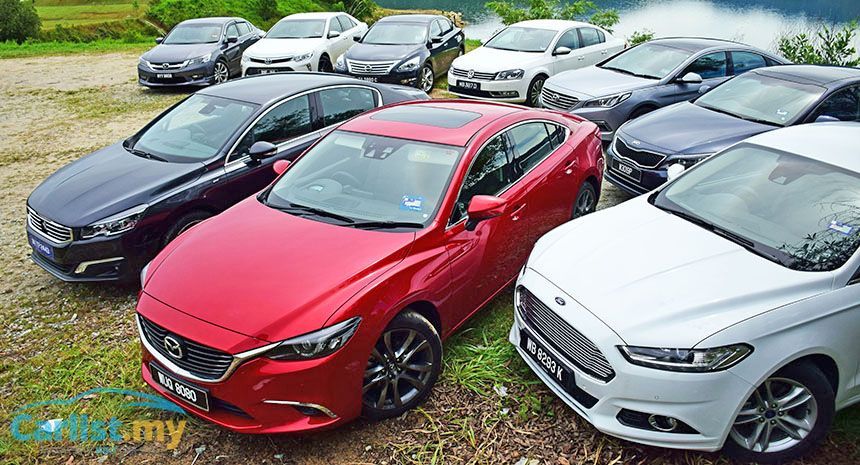 Choices, choices, choices. There was a time not too long ago, when one had the money and the intent of getting a big and comfy four door sedan, they didn't have to sit down for long to think of what they wanted to get. You had only the Japanese Big Three to choose from, and the occasional outlier European brand trying to swing with the brand giants. Today, such simpler times are far behind us as everybody has moved into the neighbourhood for a slice of the pie, and none so apparent than what is available in what is known as the D-Segment, or the executive car category.
Now you have not three but four Japanese marques to choose from, Toyota, Honda, Mazda, and Nissan. And if Japanese cars don't strike your fancy, the Koreans are here to offer a good-looking and tempting value-for-money proposition with the Hyundai and Kia siblings. For those still enthralled by the thought of having a European nameplate sitting on your front porch, don't worry as Ford, Peugeot, and Volkswagen has something to strike your fancy.
All in all there are nine contenders to pick from, and no verdict would be proper without an on-road test with all nine cars. Yes, thanks to a team of Malaysian motoring media representatives from The Malaysian Evo, Autofreaks.com, Motor Trader Magazine, and Autoworld.com.my we have brought all nine cars out to the beautiful and scenic foothills of Fraser's Hill to see what's what.
To be honest choosing an absolute winner from the crop wouldn't do justice to ability and diversity that is on offer in this particular segment. Instead our crack editorial team is going to go through each and every one of the nine cars, weigh their thoughts in on it, and at the end of it we will shortlist the top three that each brings a distinctive character to the table, be it value-for-money, fun-to-drive, or absolute comfort and luxury. So brew yourself a cup of coffee, sit back, because this is one epic test.
Ford Mondeo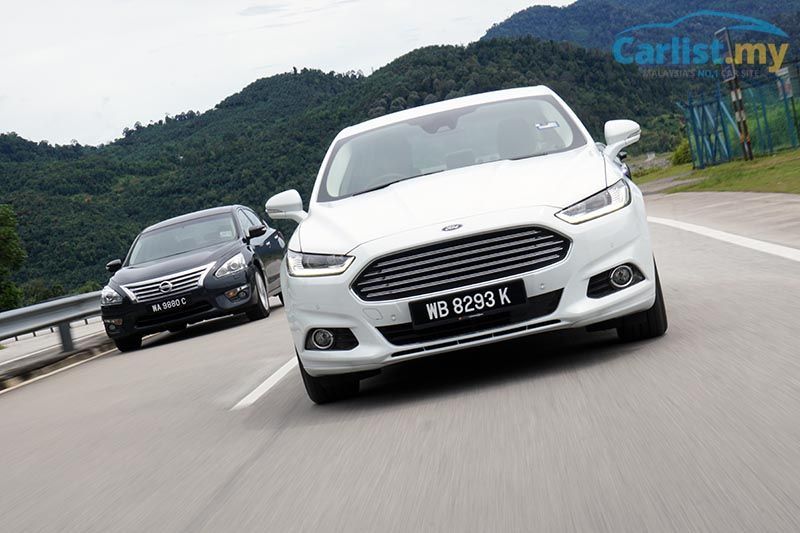 Specifications:
Engine: 2.0-litre 4-cylinder turbocharged petrol
Power: 240PS @ 5,300rpm
Torque: 345Nm @ 2,300 – 4,900rpm
Transmission: 6-speed Automatic
Price: RM198,000 (OTR with GST excluding insurance)
You might not find the Mondeo's name appearing high on most car buyer's shopping list, but the Mondeo's excellent ride and handling has made it a bit of an underrated cult car among enthusiasts who are in the market for a big car with the handling to shame a family hatchback when it came to the business of driving pleasure. So expectations were understandably high when the new aggressive-looking Mondeo emerged with a new Aston Martin-esque front grille and feature packed interior.
The good news is that the new Mondeo retains much of its predecessor's impeccable ride comfort and handling prowess, and its 2.0-litre turbocharged Ecoboost engine delivers a whooping 240PS and 345Nm of torque delivers plenty of poke. Gone is its predecessor's dual-clutch unit, and in its place is a smooth shifting six-speed torque convertor.
Our views on the ride comfort was unanimous in agreement, Bobby likened it to a "Tempur-pedic mattress drenched in spongey liquid gel that absorbs anything the road throws at it", while Jim marvelled at Ford's decision to give it a softer demeanour despite paradoxically adding in more aggressive styling cues. However while Daniel concurs on the Mondeo's soothing ride comfort, he is highly critical of its steering, which he finds numb and completely lacking of the clarity of feedback found in its predecessor.
However like its predecessor, the interior looks plain and uneventful, which Bobby believes could have looked better if it wasn't hobbled by Ford's decision to create a more premium variant known as the Vignale. Furthermore the dashboard features questionable ergonomics such as buttons that were hard to differentiate and layers of menus that weren't intuitive to use on the go, while its interface feels like another case of Sony and Microsoft trying their very best to work out something that so far hasn't worked out after such a long time. Jim on the other hand thinks that its nicely finished materials in the cabin adds to an air of solid build quality.
Nevertheless as Jim points out, the Mondeo serves its purpose as a comfortable and consummate long-distance cruiser very well, with its ample rear cabin space, humongous torque reserves, plush ride, and capability in the corners, which is undeniable. Though the Mondeo's disconnected steering and the 2.0-litre engine's thirst when you really wring out that engine for all its worth, stands as a pretty significant stumbling block.
Honda Accord 2.4 VTi-L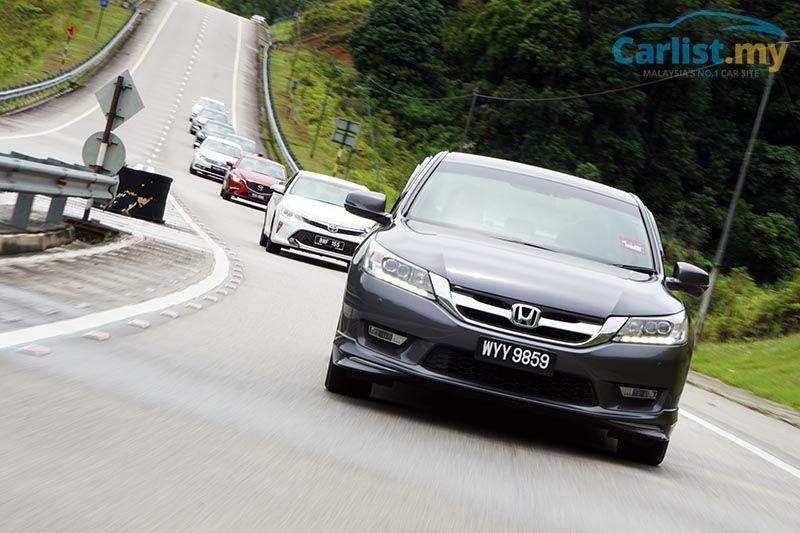 Specifications:
Engine: 2.4-litre 4-cylinder DOHC i-VTEC petrol
Power: 175PS @ 6,200rpm
Torque: 225Nm @ 4,000rpm
Transmission: 5-speed Automatic
Price: RM168,379 (OTR with GST excluding insurance)
It takes a special kind of car to beat the Toyota Camry as the sales phenomenon in its class, and Honda's ninth-generation Accord certainly had all the right ingredients. On this range-topping 2.4 VTi-L variant at least, you can find full LED auto-leveling headlights, Honda LaneWatch side view camera, and active sound cancellation, some of its features are yet to be found on this end of the market. All yours for a rather attractive RM168,379.
There is however plenty to like about the Accord's character besides the features and pricing. Unlike its predecessor, the Accord has a huge change in appeal. From having a more exuberant and sporty inclination, the Accord is now refined, quiet, and comfortable. In fact, the more we drove it, the more it is harder to pick faults in it.
"The seating position is spot on, and the controls and dials were exactly where I expected them to be," said Jim. "Amongst the cars assembled here, the Accord had the most direct steering by far, and nicely weighted too." Though Daniel isn't in agreement with Jim on the steering weight, he does say that there is something perfectly balanced about the way it drives. "It strikes the right ride comfort. Get used to the light steering and you will that it's actually rather precise, and feels light on its feet." Certainly the Earth Dreams 2.4-litre 4-cylinder DOHC i-VTEC engine, which puts out 175PS and 225Nm,and coupled to a smooth shifting 5-speed automatic, feels the part with an eager revving nature.
Bobby's admiration of the Accord goes beyond its ride and handling, and goes on to heap praise on Honda's packaging genius of getting the most space out of the Accord's footprint, as well making a rather beautifully appointed interior even with having to use switchgear that felt rather disappointing to the touch. However that latter critique is of little consequence considering what the Accord has to offer for its price.
Hyundai Sonata Executive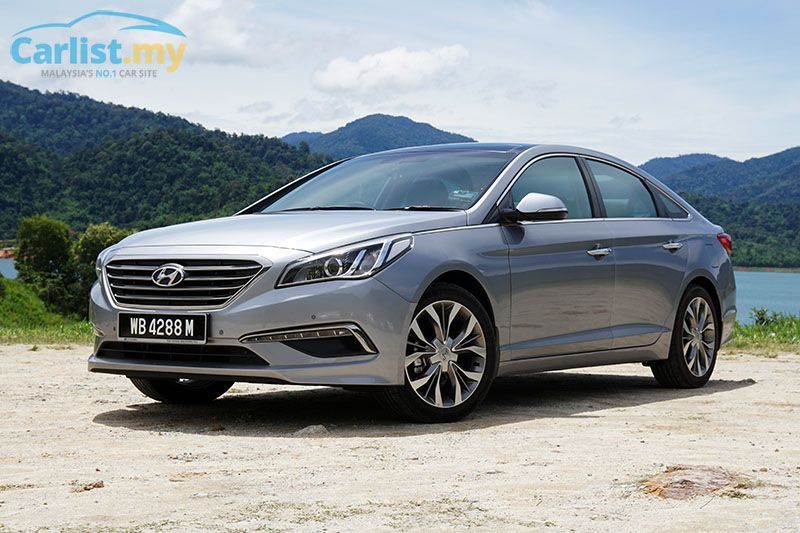 Specifications:
Engine: 2.0-litre 4-cylinder Nu 2.0 MPI petrol
Power: 154PS @ 6,200rpm
Torque: 194Nm @ 4,000rpm
Transmission: 6-speed Automatic
Price: RM153,510 (OTR with GST excluding insurance)
Modern minimalism is the best way to describe the seventh-generation Sonata's design. On the outside, it is a pretty handsome car while being subtle and not flashy. It looks very stoic and all Germanic on the outside. As for the inside, it is a similar case with flat silver-coloured panels, dark-coloured leather and accompanied by blue lighting, though Bobby finds its simple featureless hexagonal dashboard a fallback from Hyundai's adventurous design language of old. "Not only does it not look good, but its interior looks like a cheeky A-segment interior that was enlarged, with uncomfortable plastic placed where your knees would like to rest," said Bobby. While Jim describes it as bland and uninspiring, not off to a good start then.
On the move, the Sonata is refined and comfortable with the 2.0-litre Nu MPI engine doing a good job of pulling the car quietly and vibration free along. The 154PS/194Nm output in fact puts it in the tail end of this gathering, considering that Hyundai has decided to stop selling a 2.4-litre variant of the Sonata. That being said you never do find yourself having the urge to go faster, as far as this writer is concerned while behind the wheel of it.
This is a car that prefers to be driven smoothly, with a forgiving chassis that soaks up the road's deformities well. If you do intent on driving a little more spiritedly, the Sonata's steering feel isn't as direct and the powertrain feels burdened to move all that heft quickly. Despite giving lukewarm praise of its handling and its utter refinement, Daniel can't quite put his finger on what is wrong with the Sonata. "It is like those movies where aliens try to build a robot to emulate the perfect human from what they observe from a far, but can't quite grasp the subtle flaws and quirks that make us identify with one another," explained Daniel. "This Sonata is just like that, it's objectively quiet, and it's objectively quite capable, but it simply lacks those qualities that make you bond to it. It's just an appliance."
And appliance it is, as throughout the drive as most respected its qualities, but never quite saw themselves rushing for the keys when the opportunity came.
Kia Optima 2.0L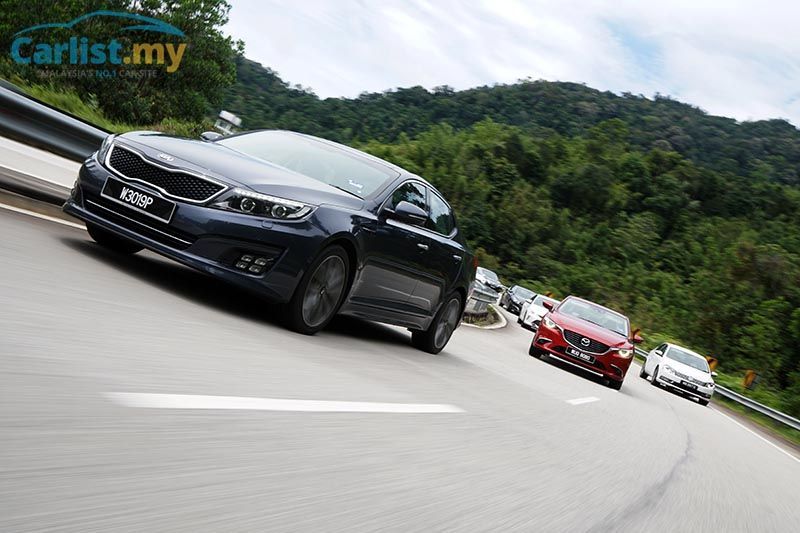 Specifications:
Engine: 2.0-litre 4-cylinder CVVL Nu petrol
Power: 165PS @ 6,500rpm
Torque: 196Nm @ 4,800rpm
Transmission: 6-speed Automatic
Price: RM148,000 (OTR with GST and insurance)
For RM148,000, you still won't be able to get a higher return on features-for-your-ringgits than the Kia Optima. It has all the luxuries you would want in a car including a panoramic sunroof, 8-way powered driver seat, six airbags, and full suite of safety systems. Furthermore, the Optima is far from a bad looking car. Its striking profile and driver-centric dashboard would certainly give onlookers the impression that it is a car worth twice its asking price.
Unfortunately, performance-wise, the Optima's looks is trying to spin off a cheque it can't quite cash. While its 165PS/196Nm 2.0-litre engine delivers a spirited acceleration off the line, the Optima doesn't drive as well, nor able to deliver a refined ride as its competitors here. On highway speeds, the Optima's over-assisted steering rack comes across as nervous, and the ride becomes jittery. "Those looks, that dashboard that wraps around you, and yet from the moment you get it moving the experience falls apart," laments Daniel. "The drivetrain might be smooth, but its refinement falls short and it feels uninvolving in the drive". Bobby says that the Optima suffers from the Korean's lack of engineering prowess as the engine and transmission is "poor and weak" and "weak and poor".
Unfortunately the Kia Optima doesn't quite do rear seat comfort either as space in the back isn't as generous and commodious as what is offered in the rest of the group. As such the Optima is a worthwhile option if you don't plan on driving out of the city too often, and you want the most you can get from a budget of below RM150,000. Look no further than the Optima if that is the case.
Mazda 6 2.5L SkyActiv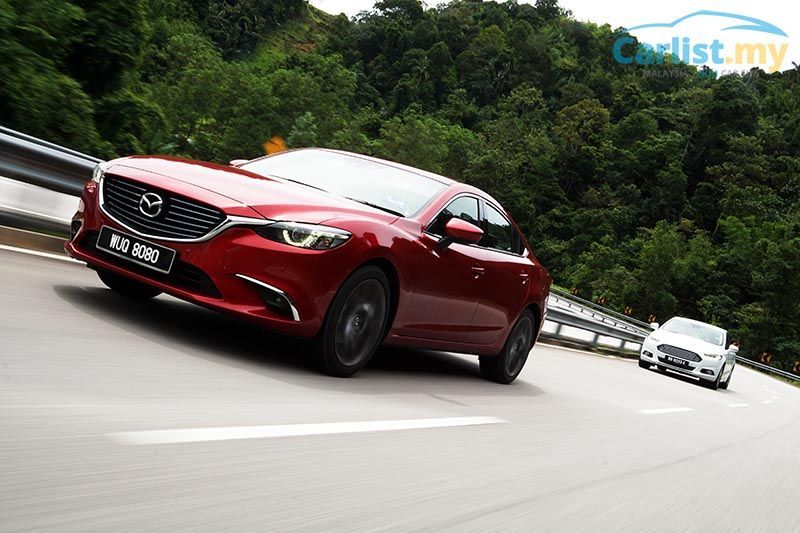 Specifications:
Engine: 2.5-litre 4-cylinder SkyActiv-G petrol
Power: 185PS @ 5,700rpm
Torque: 250Nm @ 3,250rpm
Transmission: 6-speed Automatic
Price: RM182,147 (OTR with GST excluding insurance)
Though the second model to have sport Mazda's KODO design philosophy, the 6 has been facelifted to exemplify the best of the company's ever-evolving style. Even when stationary, the car certainly draws the eyeballs to it first and fills the brain with thoughts of a sporty driving experience shortly after. And that's exactly what you get while behind the wheel of the 6.
Its 2.5-litre SkyActiv-G may not be the most powerful amongst the naturally-aspirated engines here, but is more than capable of hauling the car for daily driving and when asked for more performance, sounds absolutely amazing doing it. The direct-injection engine deals plenty of low-end torque to pull you effortlessly along while it is more than willing to wind it up the rev range at a prod of the throttle.
If you're in the mood for some spirited driving, the Mazda 6 is a rewarding drive with a chassis and suspension setup that gives even the most novice of drivers the sense they are going faster than they actually are. "It feels light on its feet and seems to want you to be a little more aggressive with it in spite of it being a far cry from a nimble hot hatch," muses Jim, though he isn't the only one that came out with a smile on his face after some time at its wheel. "It might not ride as well as the others, but the Mazda 6 just excites the senses, the feel of the cabin right up to the way all the steering, throttle, and gearshifts respond immediately to your inputs," adds Daniel. While Bobby says that this car does everything except excel in the department of ride comfort and rear headroom.
Despite its dramatic proportions and size, the 6's cabin is far from being the most spacious of the bunch, and feels more suited for the drive with its cosy driver-centric layout. But drivers at heart cannot help but smile at the design details such as the soft touch wrappings, and the heads-up display that channels speed and navigational information right in front of your line of sight. Bobby heaps high praise on its interior, suspecting that Mazda is pushing a 'premium' product without the accompanying price tag with the 6. "It is as though Mazda has opened a vault in Hiroshima that is full of super high quality plastics, leather, and high quality liquid metallic chrome that makes those from Lexus and Infiniti look like they are coloured with Staedler colour pencils," exclaimed Bobby. At RM182,147, it is the more pricey of choices here, but if you appreciate the essence of Mazda's Jinba Ittai (a Japanese phrase that means horse and rider becoming one), then the 6 ticks high on feel-good factor.
Nissan Teana 2.5XV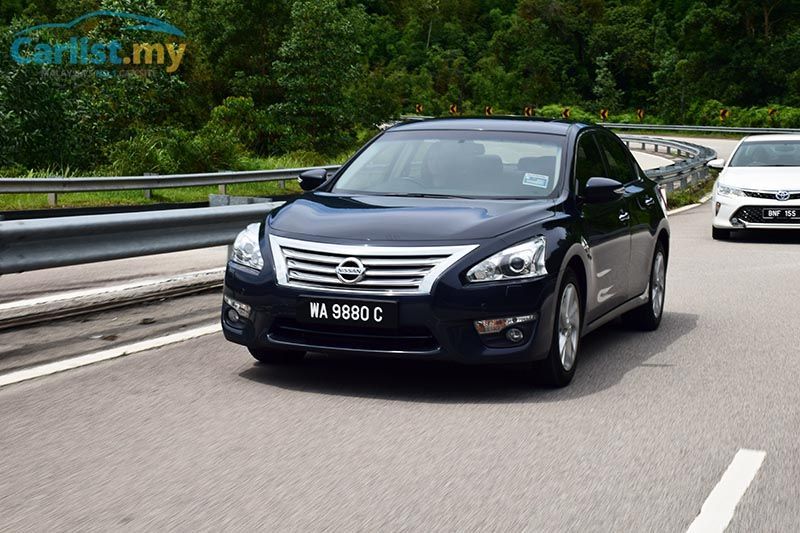 Specifications:
Engine: 2.5-litre 4-cylinder petrol
Power: 173PS @ 5,700rpm
Torque: 234Nm @ 3,250rpm
Transmission: CVT
Price: RM162,700 (OTR with GST excluding insurance)
When the Teana popped into the Malaysian market, it established itself as the pick for those who want the best in its class when it comes to comfort, and everything that was built into it was geared for that purpose. Though the silky V6 is long gone, consigned to the history books for its heavier internals, the new Teana sports a smooth running 4-cylinder engine, with improved fuel efficiency, and a new-generation XTronic CVT that delivers a satisfying pulling power.
Despite being muscular and bulbous in its looks, the Teana isn't a firm-riding sports sedan. Instead it retains much of its predecessor's comfort, with the inclusion of "Zero-Gravity Seats" up front that helps drivers assume a relaxed position that the human body takes in a weightless environment, and a very soft and supple suspension tuning.
That being said, Nissan has thrown in some neat features to ensure that the Teana doesn't become a barge, features such as an Active Understeer Control that applies the brakes to either one of the front wheels to reduce understeer, and a new rear multi-link suspension that delivers greater stability. Indeed such tweaks have given the Teana a surefooted character that is quite contrary to the impression its bulkier exterior leaves. "The handling and engine in the Teana is great," says Bobby. "And that says a lot considering my personal distaste for CVTs".
Rather ironically, the Nissan Teana suffers from the same problem the Mondeo has as Daniel observes. "Promising chassis and superior ride comfort, but the new Teana continues the nameplate's tradition of excluding driver involvement, and only this time it really feels unwieldy, like it is throwing its weight around when driven quickly," he explains. Despite keeping much of its predecessor's smooth and comforting character, Bobby despairs that the new Teana has become highly forgettable, with its dull design and uninteresting but well-built cabin.
Peugeot 508 GT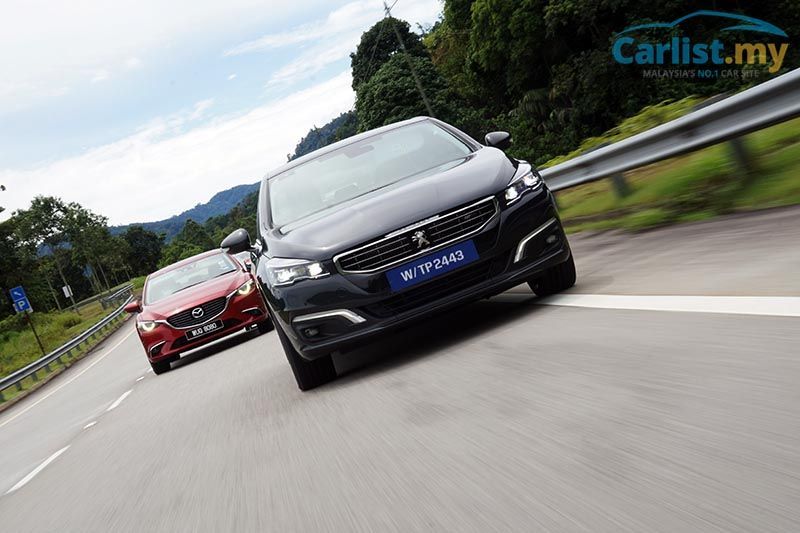 Specifications:
Engine: 2.2-litre 4-cylinder turbocharged diesel
Power: 206PS @ 3,500rpm
Torque: 450Nm @ 2,000rpm
Transmission: 6-speed Automatic
Price: RM201,888 (OTR with GST and insurance)
A sharper and more authoritative new front end has given the 508 GT an eye-catching guise. Behind its new grille and full LED headlights, the only other one besides the Accord in this ground, lies the same 2.2-litre HDi FAP turbocharged diesel engine as before. Not that we're complaining with its 450Nm of torque on offer, and paired to a six-speed automatic transmission that gives it an effortless nature.
Though the ride is on the firm side, the 508 GT manages to garner its fair share of praise from those who drove it. "It might not glide over rough roads as well when we got onto the country lanes, but the firm seats and planted ride made it a superb companion on the highway," said Daniel as he ponders on the Peugeot's characteristics. "You could get in and cover huge distances without feeling weary in this." Bobby is in agreement as well, describing the 508 as big, solid, extremely quiet, and excellent interior design, even going so far as to say it is a bit German. The steering and chassis isn't quite as excitable and agile as the rest of the line-up here, though we feel that the steering's slower response is better geared towards high-speed motorway travel rather than tackling the odd winding mountain road.
Inside, we can see what Bobby is going on about. It exudes a premium feel with seats upholstered in Nappa leather and soft touch materials draped around the cabin. It certainly is a nice place to be in and on the move, it comes with neat touches for both driver (heads-up display) and occupants (four-zone climate control). "Its interior feels very premium indeed with the leather and soft-touch material dressed along every corner of the car's interior that might come in contact with human hands," adds Jim. That being said, the only part that is tough to swallow is the Peugeot 508 GT's price, at RM201,888 it is the most expensive, and the only car here to breach the RM200,000 mark.
Toyota Camry Hybrid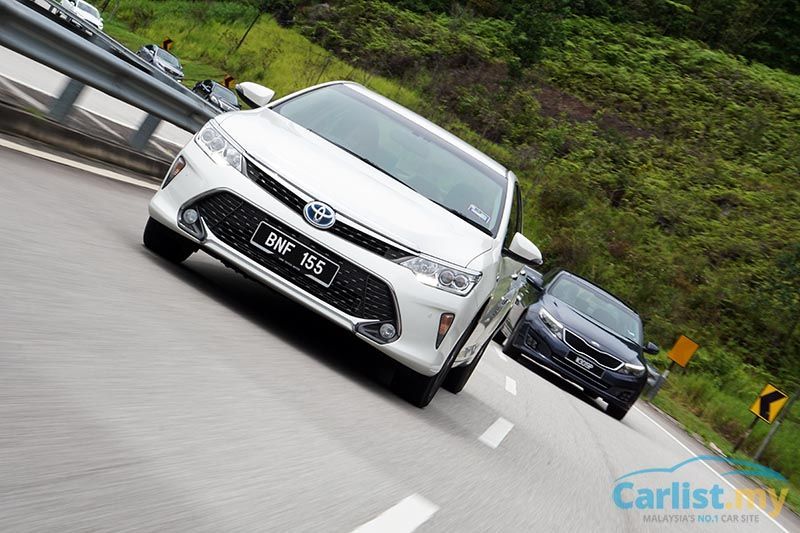 Specifications:
Engine: 2.5-litre 4-cylinder 2AR-FXE petrol hybrid
Power: 160PS @ 5,700rpm; 143PS (electric motor)
Total System Output: 205PS
Torque: 213Nm @ 4,500rpm; 270Nm (electric motor)
Transmission: E-CVT
Price: RM174,900 (OTR with GST and insurance)
Toyota doesn't like people calling the new Camry a mere 'facelift,' and rightly so. Far more than just a mere a facelift, the new Camry features a lot more changes beneath the surface. The main highlight is the new 2AR-FXE four-cylinder engine-electric motor Hybrid Synergy Drive combo powerplant paired to an E-CVT transmission. With a big 2.5-litre engine and a more substantial 143PS electric motor, it certainly makes the Camry no slouch off the line. The car gets up to speed quite rapidly and will even run on electricity alone should the battery pack have sufficient charge in them. That being said, with a total system output of 205PS, the Camry Hybrid does deliver excitement. It surges off the line like a train leaving the station, but after its initial launch the acceleration is calm and steady. Bobby thinks that the less powerful turbocharged Passat would be able to out accelerate it in real-world conditions.
As though we need to elaborate, the Camry Hybrid retains the Camry's hallmark cushy ride with very little consideration thrown in for driver entertainment. The steering is slow, and the creamy smooth drivetrain prefers not to be hurried. Even so, Daniel found something remarkable about the way it drives. "The more you push it the more you find that the Camry does grip and does high-speed corners rather well, just not willingly," he observes. Better to just drive it like a limousine, which is what it was made for. And its focus on the well-being for rear seat occupants is evident as the Camry remains the only car here where rear seat occupants can move and lean the front passenger seat forward for more legroom.
As such, the Camry is supremely comfortable on the move, soaking up road defects pretty well and sails over undulations like a boat, even though the suspension is said to have gotten an update which firms up the car a little, a major improvement over its predecessor. Even with locally-assembled hybrid tax incentives, at RM174,900, the Camry Hybrid does command quite a premium, but if you do like the idea of having the world's most proven hybrid system, then you can do no better than this.
Volkswagen Passat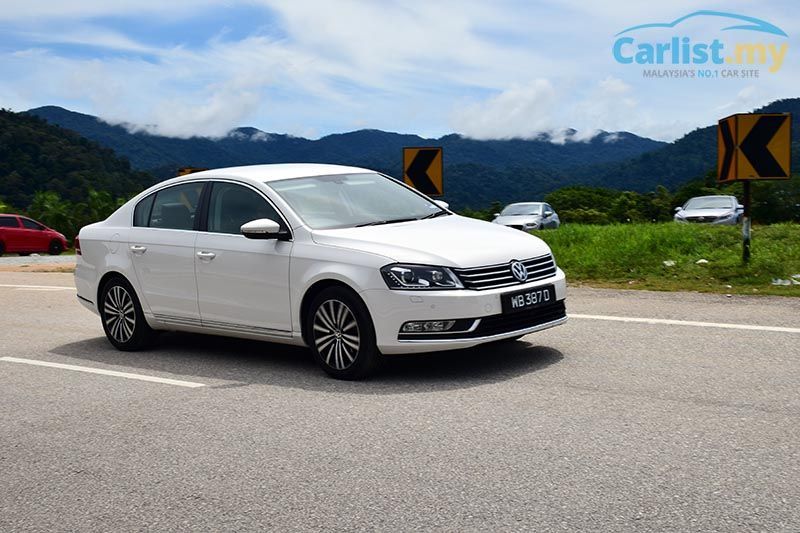 Specifications:
Engine: 1.8-litre 4-cylinder turbocharged petrol
Power: 160PS @ 5,000 – 6,200rpm
Torque: 250Nm @ 1,500 – 4,200rpm
Transmission: 7-speed Dual-Clutch
Price: RM174,835 (OTR with GST excluding insurance)
The sole German entrant may have been around for some time but the way it can show the new comers a thing or two about refinement shows just how thoroughly it was engineered. Punt it as fast as your heart's desire, or as far as the engine's 160PS would take you and the Volkswagen Passat just complies with a rock steady ride and hushed cabin. It might not boast big power figures, but never once did any of us felt that it was lacking in poke.
What it did lack was in onboard equipment, after all we are talking about a car that was launched here four years ago, and back then keyless ignition was a luxury, not the commonplace feature it has become in the segment as demonstrated in this group test. Features wise it only comes fitted with all the essential safety features, and little else in the way of toys. "Every time when I think that the Volkswagen Passat is way past its sell by date, I get in and drive it and think to myself, nothing can come close to matching its utter refinement and ease of driving," said Daniel bewilderedly after stepping out of for a second time. "The Peugeot comes close, but it doesn't have the Passat's ease of getting in and out, nor manoeuvring in low-speed situations."
On the move, the Passat's chassis and steering provides good feedback, making it a treat to drive on roads like these, and when coupled to the above-mentioned powertrain and paddle shifters, it provides a responsive and engaging drive. The cabin on the other hand is roomy and comfortable but may come across as being a little dated but the infotainment still offers multiple media inputs and pairs up to your phone as well, despite its low resolution screen.
Our Top Picks
Time for a confession, the original plan for this comparison test was that we weren't going to pick a decisive winner in the end. But after much deliberation, concluding that each car brings with it their own game to the table wouldn't do this comparison justice, there has to be favourites from the bunch, and so after much discussion we have narrowed it down to just three cars that excel in what their engineers and designers set out to do.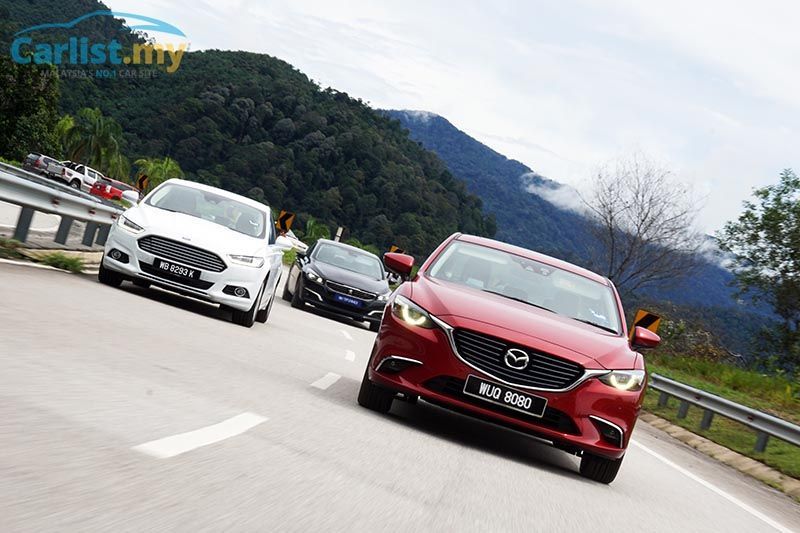 And the first car to get an immediate nomination in the Mazda 6, where nearly all who drove it had nothing but praise about the way it made them feel. From the moment you get into the cabin that is a feast for the senses, and its fine driving characteristics, the Mazda 6 turns out to be a firm favourite to drive. "Just as how Honda has made its name known for interior packaging and practicality, the 6's confirms Mazda's position as the champion in handling and driving enjoyment," said Bobby. However as much as we liked the 6, that isn't the end of the story. The 6's admittedly firm ride and less than ideal sound proofing means that it won't sit well with the middle age demographic who just wants a comfortable car they can unwind in.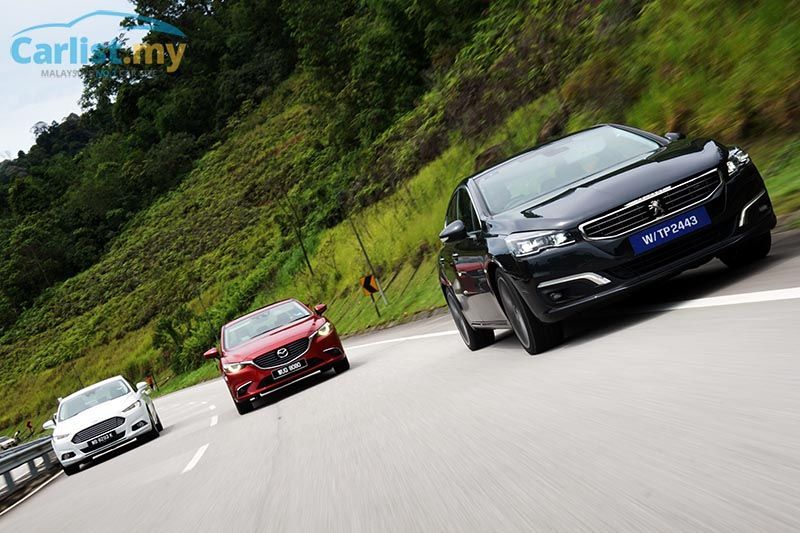 And that brings us to our second choice, the Toyota Camry Hybrid. It might not figure on many of our driver's top lists, and despite having what probably is the most advanced drivetrain in the lot, it is unadventurous on the surface. Yes it doesn't excite, and it might not boast the best ride comfort, but everything in it is tuned to make a passenger's life better. That front passenger seat controls for the rear occupants, the cushy ride that doesn't bother with trying to suppress body pitch and roll, and the quiet and sublime hybrid drivetrain. It is a predictable choice for those who don't want to get behind the wheel, but it isn't what we think is the most balanced and best of the lot.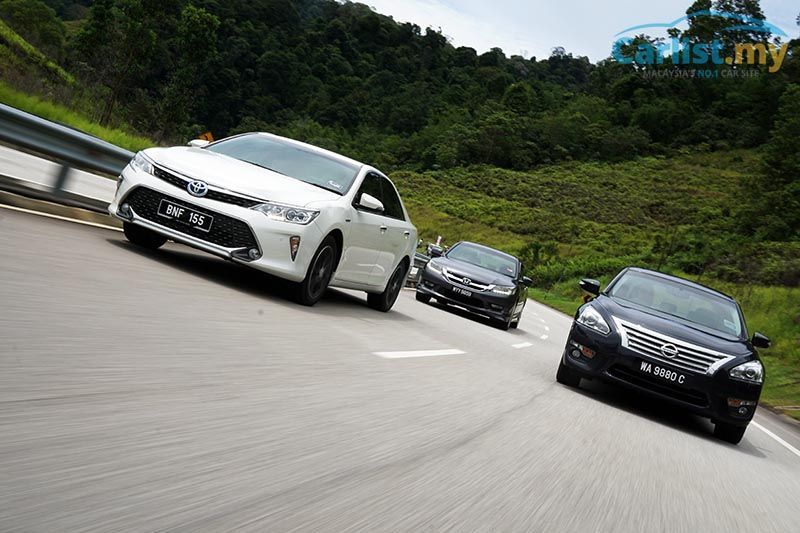 And neither is it the Peugeot 508 GT, which we think deserves a special mention here for its high level of equipment, superb ground-covering capability, build quality, and utter refinement. It has everything you could ask for, and rather unfortunately it had to pay a price, to which it ended up narrowly missing out on our picks. And that price, is well, the price. Breaching the RM200,000 mark does put the 508 GT nearly out of reach of the competition, especially well clear of our pick of the lot.
Wrestling the market leadership from the Toyota Camry shows that Honda has truly delivered onto the world a class-beating product. It might not be the most exciting, nor is it the most comfortable in the group, but no matter if you are the driver or the one being driven, there are no criticisms to be taken and only commendations to be found.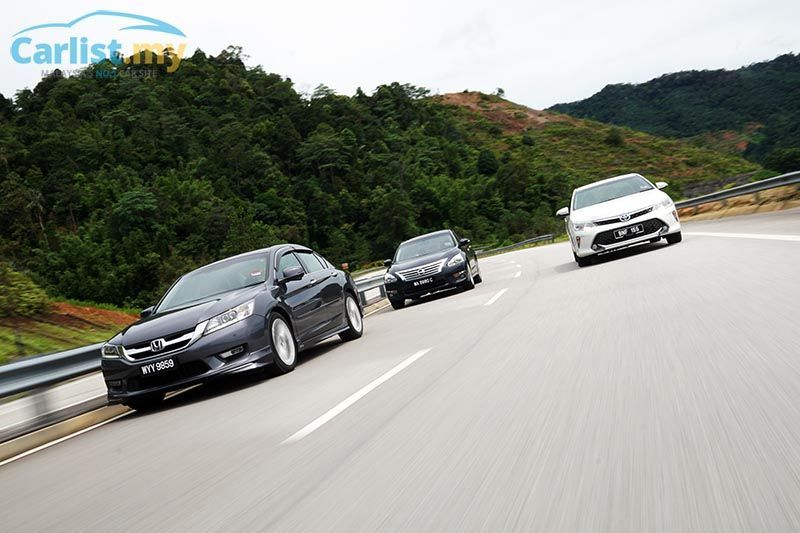 "While I suspect the 30-ish year olds are fast seeing those sporty brand new D-segment cars as proper all-rounder cars, the truth is this segment is still largely acquainted by the 'corporate uncle' demographic," explains Bobby. "And towards that end, no one can fault the Accord." Its comfortable to ride in, entertaining to drive, spacious to live with, and while it might lack luxuries, Honda knows better and loaded it up with features that you will appreciate the more you use it, such as bright LED headlights, Honda LaneWatch, and active sound cancelling systems. "It is as though Honda has ironed out its predecessor's flaws and made it more palatable for mature audiences, but unknowingly built a car that is subtly and suitably excels in every respect," summarised Daniel. Nit-picked and scrutinised as much as we could, the Honda Accord lives up to the expectations, and even more, which is why it is all the more deserving of its status as champion.
---
---
---
Comments