The Monotsukuri Focus – A Look at How Mazda Builds their Cars Together
Auto News These days every car maker likes to talk about heritage, reminding people of their achievements in innovation, motorsports successes, or even just making cars that lots of people buy. Heritage is like a magic pixie dust that you can sprinkle onto any car to make them appear greater than the sum of their parts.
As for Mazda, their heritage isn't so much tied to landmark cars they were responsible for, cars like the Le Mans winning 787B or the popular MX-5. For Kiyotaka Shobuda, a managing executive officer of Mazda Motors Corporation, the company's heritage is ingrained in the company itself. It is their spirit of taking on challenges, even if it means forging unconventional ways.
"At Mazda we have a spirit that never stops challenging," Shobuda elaborated. "Our goal is to produce products that will wow people around the world." Considering Mazda's history and position in the Japanese automotive industry, achieving the company's aforementioned goal is easier said than done.
Since the implosion of the world's financial markets in 2008, Mazda had to strike out on their own after the Ford Motor Company, which held a controlling stake in the company since 1996, sold off their stake in the company. Without the huge resources and volumes of scale that were available to them under the Ford banner, Mazda had to rethink the way of doing things in order to ensure their own survival without compromising on their belief of developing products that exceeds customer expectations.
In our previous interviews with Mazda's designers, we have seen how Mazda took the bold move to embark on a design-led revolution of their products, and used unconventional techniques to lend their vehicles a distinctive styling. But that is only part of the story. As is often the case, translating concept to production is a route fraught with challenges and compromise. Something that Mazda cannot afford to let it happen.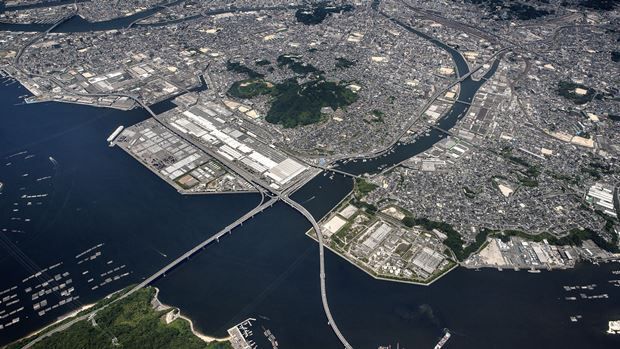 Being relatively small, Mazda has an annual production capacity of approximately 1.2 million (2008 figures), which is nowhere near as big as Japan's Big Three, Toyota, Honda, and Nissan, whose production figures often exceed 10 million vehicles a year. In a world dominated by volume, Mazda knew that maintaining the same operation structure with such small production numbers would render them uncompetitive. Something had to be done, and alluding to Shobuda's words, Mazda looked back at their production structure and sought to challenge the whole concept of vehicle manufacturing. In the end what they came up with was christened as the Monotsukuri innovation.
The Monotsukuri Innovation
Boil any business of making cars down to its core elements and it is all about striking the right balance between creating a diverse range of products in order to be competitive, whilst retaining a commonality in parts to achieve economies of scale. Through Mazda's Monotsukuri Innovation, the company was able to produce a diverse product line-up while maintaining economies of scale, even with a relatively low production capacity.
According to Shobuda, this was achieved through breakthroughs in key parameters of integrated planning, common architecture, and flexible production. Previously models were developed individually where the product development and manufacturing division worked exclusive from one another. This often resulted in conflicting perspective and ideals during the transition from the product's final design and concept to production, resulting in compromises and deviation from the original design.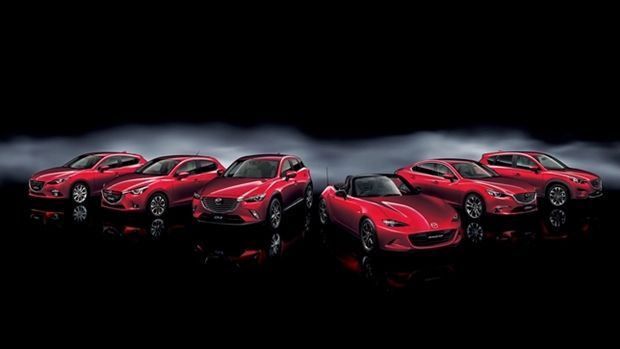 By using integrated planning defined in Mazda's Monozukuri innovation, key personnel from product development, manufacturing, purchasing, and even suppliers would often meet together to hold discussions as to what products and technologies Mazda should be aiming to develop for the next five to ten years, and closely collaborate with one another to achieve those aims.
Through these numerous discussions and collaborations Mazda is able to define the structures that would be shared between several of these future models, such as a fixed engineering concept, cross-sections, machining method, and transfer standard. In doing so Mazda is able to establish a common architecture that would be used across several models with one development concept, and thus achieve the desired economy of scale that is close to what is possible from a single model.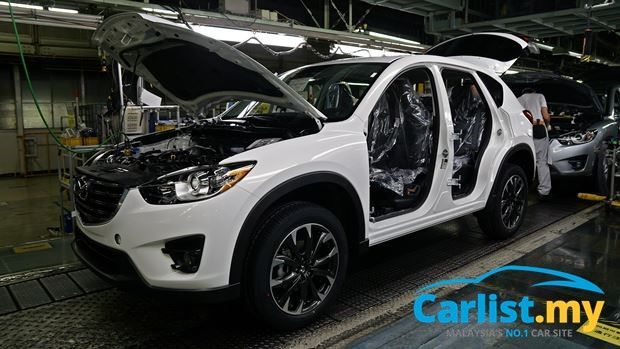 From this common architecture, Mazda's personnel will look into tweaking variable elements such as the wheelbase, sheet metal thickness, and floor height, to produce a wide variety of models such as hatchbacks, sedans, and crossovers from it.
Setting an Example through Design
A good example of this integrated planning is the company's effort in faithfully reproducing the design of their concept cars in production form. Previously the product development team would hand over the vehicle design to the manufacturing division once they have finished finalising its design. From there the manufacturing division would create dies to form the parts, which at times, often results in the failure to accurately reproduce the intended shape, due to technological or production constraints.
Under the Monotsukuri's integrated planning, product development and manufacturing divisions would have to work together to come up with a solution together. According to Shobuda it is a two-step process where engineers would have a design evaluation through forming simulation. With the information gained from the simulation, the designers are then able to follow up with the utilisation of craftsmen to further refined and fine tune the stamping die to achieve the intended form.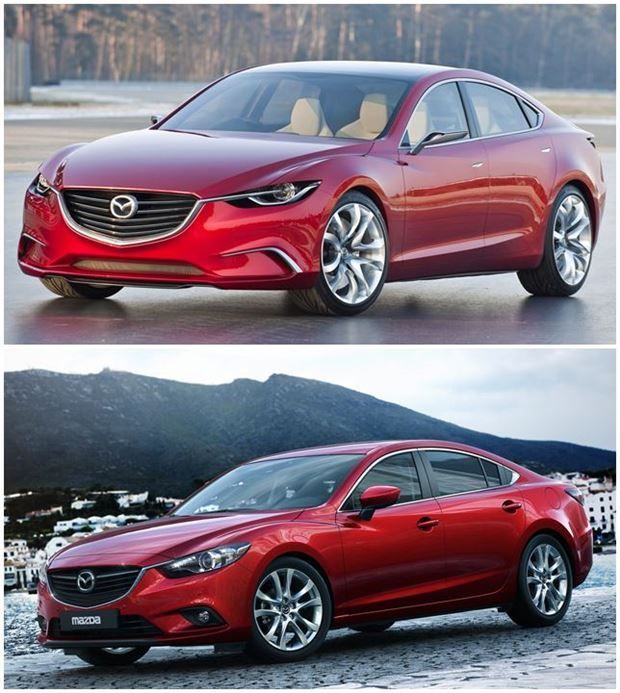 When Mazda's engineers wanted to bring the Takeri concept car into production, the designers were on hand to help them recreate the concept car's three distinctive lines on the body, while engineers gave feedback on solutions to help realise the Takeri's shape on the new Mazda 6. Taking their input, Mazda's designers then put the design data through a simulation, and from there craftsmen were able to do the necessary improvements to the dies used to press the sheet metal panels for the new 6
Achieving Soul Red
For Shobuda, one of the crowning achievements of the Monotsukuri innovation has to be the creation of Mazda's distinctive communication colour, Soul Red. In 2010 the design team mooted the idea of bringing the vivid metallic red hue used on their concept cars to the production 6. Its deep lustre and captivating metallic glow was achieved through the use of 13 layers of paint, which was impossible to achieve for a paint job that is supposed to take 54 seconds on the production line.

Instead of refusing the design team's request outright, the engineers came up with a paint layer design composition that comprised of just three layers. A reflex layer that is composed of aluminium flakes ensures reproduction of shine from a specific angle, giving its shimmering glow as you move from viewing angle to angle. Next a layer of translucent red paint is applied to give the desired red tint of light that is being reflected off the reflex layer below. And lastly the paint layers are topped off with a clear translucent layer that adds the depth of the concept car's paintjob. According to Shobuda, the team took two years to develop Soul Red and bring it to the production line, but from the look of satisfaction in his eyes, you can tell it was years well spent.
Besides developing a new shade of paint, Mazda's engineers also managed to improvise their paint shop. Their Aqua-tech paint shop is said to be lower in cost and poses less environmental burden with less than half the VOC (Volatile Organic Compound) emissions of standard water-borne paint production. The paint shop is also shorter than conventional paint shops at 81-metres in length, as compared to Honda's water-borne paint shop of 271-metres in comparison. Thus cutting down on the demands of space in a production line.
Speaking of paints, Mazda also uses a special spray-on damping material that is far lighter than the conventional sound dampening sheet, which adds to the weight reduction work Mazda's engineers are trying to achieve. The challenge of using a spray-on damping material is cutting down on excess layer thickness and application. For that Mazda uses a special porous nozzle spray, instead of slit nozzle that causes overlapping sprays and unstable spray widths. Its application on the car's body panels is said to be extremely precise with automatons that operate like that of an inkjet printer.
Cutting Waste, Optimising Resources
Though Mazda puts a considerable amount of attention into bringing their concept cars to production reality, it doesn't come at the expense of optimising their manufacturing processes. Being part of Monotsukuri, manufacturing optimisation is also factored in to maximise the effective use of their resources.
One of the ways to do so is in increasing the material yield rate of the press process. Thanks to the close collaboration between product development and manufacturing, they are able to stamp multiple parts out of one die, thus cutting down on wastage. Furthermore, by fine tuning the varying thickness of metal required for each body panel according to requirements in body rigidity, functionality, and design, Mazda is able to improve material yield from the stamping process and at the same time deliver lighter chassis components and body panels that keeps to their Skyactiv fuel-efficient technologies ethos. By Mazda's own estimates the improvement on material yield was said to be 60%, but their engineers managed to raise that figure to 70% for the CX-5.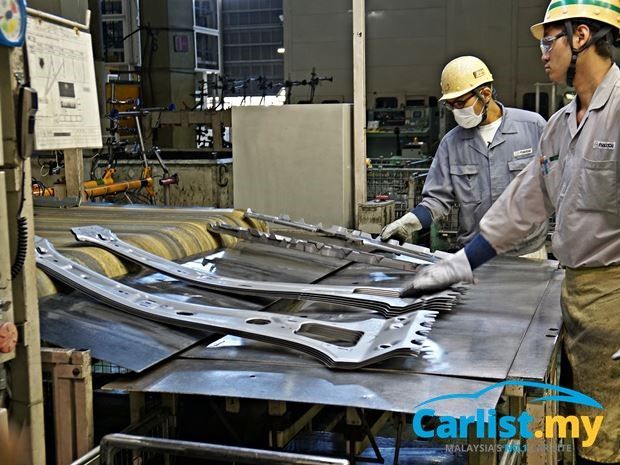 With the use of a common architecture, Mazda is able to develop a flexible production model with a mixed model production in one line that won't compromise on quality and delivery time. That being said it isn't just limited to producing different bodystyles atop a single chassis.
One of the assembly lines in the Mazda's Hiroshima plant we were shown around featured adjustable jigs that allowed the assembly of both the CX-3 and CX-5 SUV on the same line. The moveable jigs enables the assembly of chassis of different wheelbases and track widths. These jigs can be automatically moved on the X, Y and Z axis to allow for various body styles to be built on one line.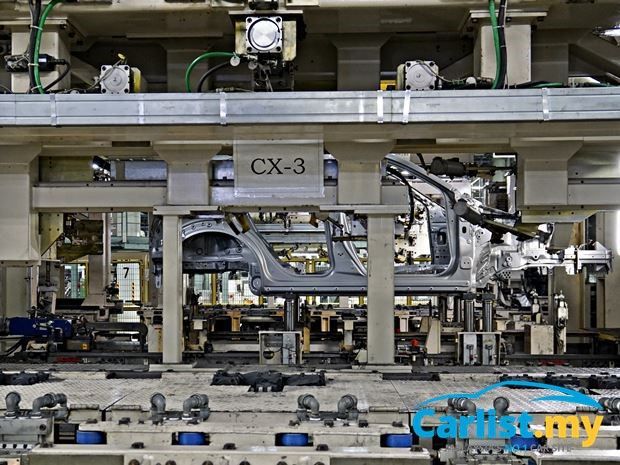 Like the adjustable jigs, the welding machinery of the body panels to the underfloor components can switch between the CX-3 and CX-5. Even with the production of Mazda's compact and medium-sized SUV being shared on the same line, Mazda says the production line is able to produce around 50 units an hour.
With design, quality, and environmental well-being being a priority, Mazda has also looked into reducing the spatter from its spot welding process. Those bright sparks that shoot out from the welding process isn't just insubstantial sparks of flame but tiny droplets of molten material that solidifies as it cools. Spatter isn't just bad for paint quality, but it also affects the reliability of the assembly robots and is a pollutant to the environment. According to Mazda their engineers had managed to cut down spatter by 94% by tweaking the angle and method of welding, in effect improving the finish and consistency of the vehicles rolling off the production line.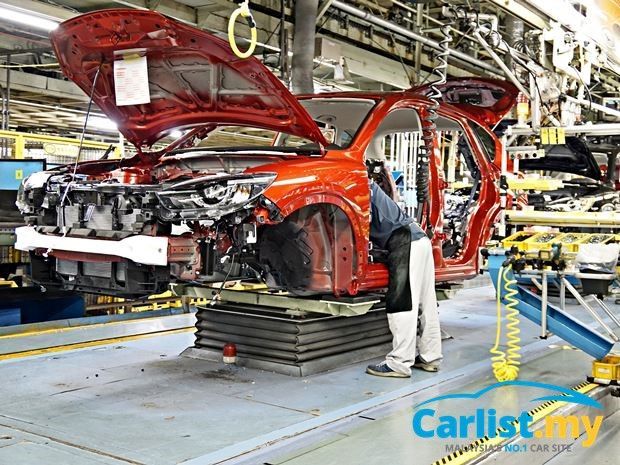 Engine Production – Bringing Skyactiv across the Range
Like the underfloor and body assembly Mazda also applied their Monotsukuri principles towards manufacturing their Skyactiv engine range with the adoption of a common architecture and flexible production. Even though Mazda's Hiroshima engine plant is responsible for the production of the 1.5-litre and 2.5-litre Skyactiv-G petrol engines, and 1.5-litre and 2.2-litre Skyactiv-D diesel engines, their designs are standardise to allow for the production of multiple engine types and displacement without the need for additional investment in new facilities.
Considering their production numbers, Mazda opted to use a machining centre to produce their engines. Looking closely at the cylinder heads of the four engines and you would see it has the same locators where the heads would be mounted to the machining equipment. When machining different engine types, the jig is able to switch cutting tool to create the matching cylinder head to suit the engine type.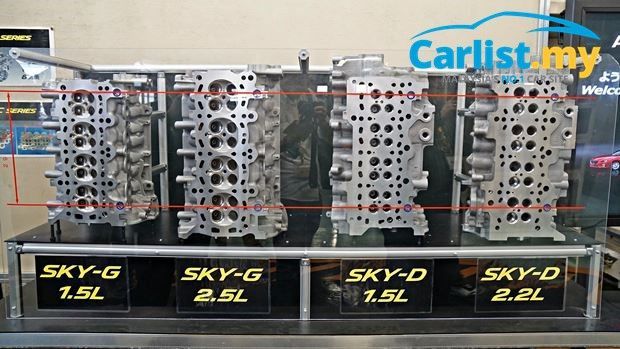 In order to improve productivity in engine production, Mazda sought to minimise the time of non-machining work. According to Mazda's technicians, machining a cylinder head would have required 43 different steps, but Mazda was able to reduce this figure to just four stations, thus reducing the time that is required to move the cylinder heads between machining jigs. To achieve this Mazda designed unique machining stations that is able to support the production of inline-4 and the Cyclone V6 engine that is used in the CX-9. Assembly of both Skyactiv engines and the V6 engine are also carried out concurrently on the same assembly line.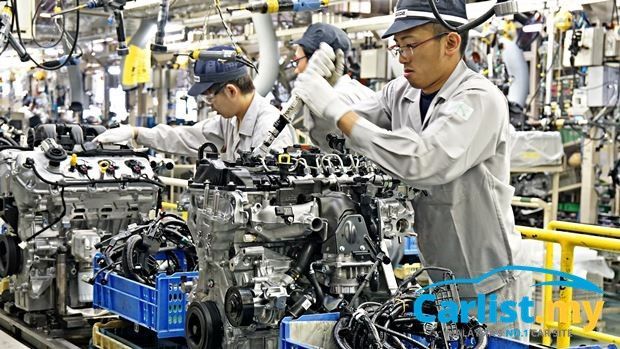 Considering the amount of fine tuning that went into the engineering of the Skyactiv engine range, Mazda's engineers had to ensure that the equipment used in production would be able to deliver finely and accurately machined engine components. When it came to machining the mounting points for the engine's camshaft, the engineers managed to design a special rig to support the long drill bit as to prevent sagging during the drilling process. It is said that this special rig is able to deliver an accuracy of between 0.015mm to 0.05mm. As for drilling valve holes in the cylinder head, Mazda's engineers were able to improve machining accuracy and reduce variations from a mere 9.4μm to just 3μm, or 0.003mm.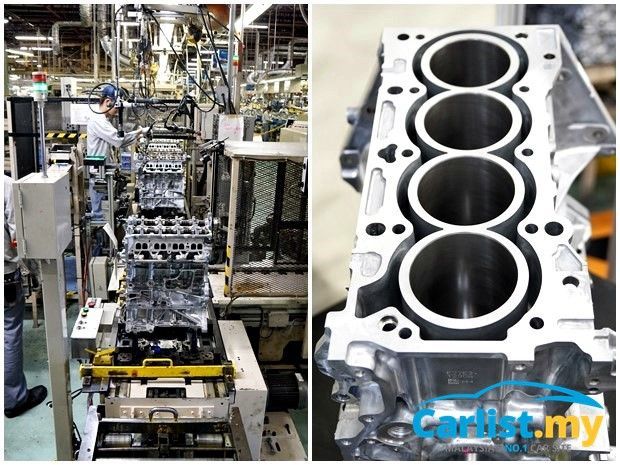 Bringing Monotsukuri to the World
As much as Hiroshima is Mazda's centre of excellence, Mazda wants to bring their Monotsukuri innovation to every one of their production hubs around the world. This is part of their goal to forge a single and consistent brand quality on a global basis. So a CX-5 that rolls off the production line in Kulim, is of the same build quality as those that roll off the production line in Japan or anywhere else in the world.
Where others are busily producing low-cost volume models for specific regions, Mazda doesn't see such differentiations between markets. Instead they are training their sights on delivering products that appeal to discerning car lovers around the world, be it in America, Europe, or Asia, and this is why Mazda is stressing the importance of bringing the Monotsukuri principles to the world. For Mazda the end goal isn't to sell more and more cars, but to make a clear and consistent brand image that captivates drivers around the world.
And they can only get there together as one.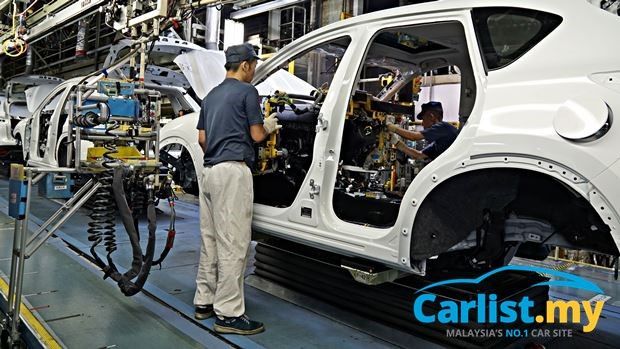 Shobuda summarises the Monotsukuri ideology as a relay marathon. "In a relay marathon each team will have seven runners, and each runner have to perform to the best of their abilities, a slight difference will result in a large gap," said Shobuda. "My vision for Mazda is that everybody plays their part in building and bringing up the brand."
---
---
---
Comments