The SF90 Stradale Is The First PHEV For Ferrari
Auto News No car manufacturer can escape the tightening noose of emissions requirements, not even Ferrari, it seems. The Italian supercar brand has just unveiled their SF90 Stradale, which is their first series production Plug-in Hybrid Electric Vehicle (PHEV). The LaFerrari would have been their first hybrid, but this new model really represents a paradigm shift at the company and a widespread welcoming of efficiency measures.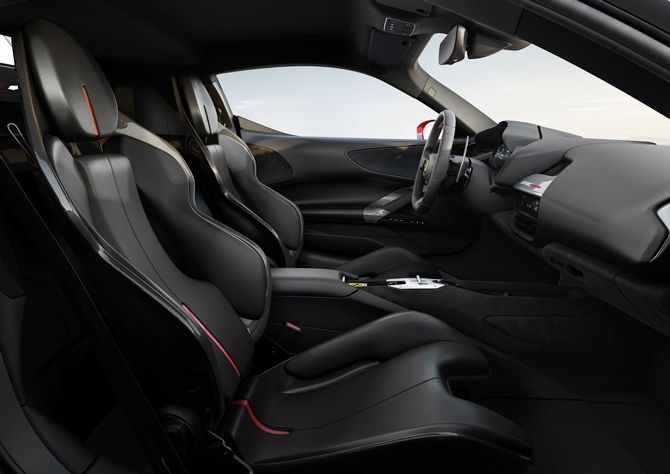 But beyond that, it also happens to be the most powerful Ferrari ever made, with a combined system output of 1,000 hp. Yes, the turbocharged V8 engine gets a capacity bump of 88 cc thanks to a marginally larger bore, allowing it to produce 780 hp on its own. The cylinder head was also revised to be narrower with a higher pressure direct injection system for better control over fuelling.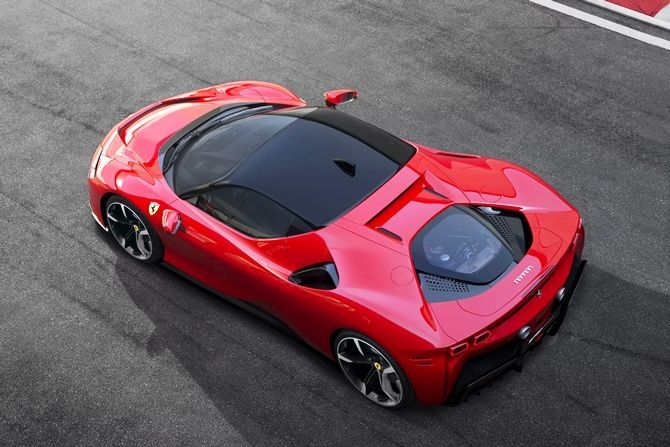 Where the hybrid system comes in is through three electric motors, delivering a total of 220 hp. There's one motor that sits between the engine and the 8-speed dual clutch transmission that delivers powers to the rear wheels, which both delivers power and regenerates it. The remaining two motors sit at the front end, making the SF90 Stradale effectively an all-wheel drive machine. It's the first Ferrari sports car to be AWD, which in turn also allows it to hit 100 km/h in just 2.5 seconds, taking another 4.2 seconds to hit 200 km/h.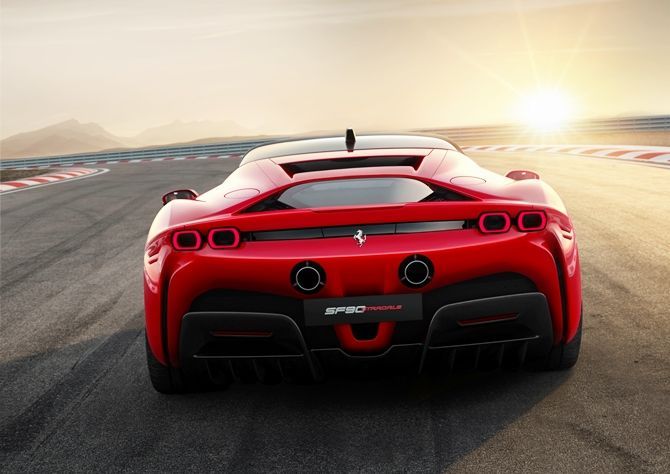 Much of the work is iterative in nature. The gearbox is smaller and lighter than before, but shifts marginally quicker and takes more torque than the 488 Pista. Components are hollow cast to help keep the weight down as the hybrid system adds an additional 270 kg, and Ferrari managed to keep the SF90 Stradale down to 1,570 kg compared to the 1,470 kg kerb weight of the regular 488. All of this leads to a weight to power ratio of just 1.57 kg/hp - not quite the 1 kg/hp One:1 like the Koenigsegg, but still incredibly impressive.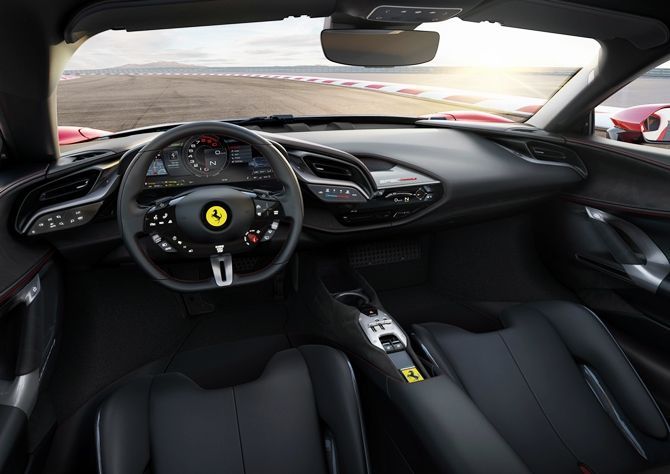 Aerodynamics have also been revised to keep the car more planted at speed. 390 kilograms of downforce is available at 250 km/h, with a re-sculpting of the bodywork in order to achieve better results rather than bolting on aero pieces to existing bodywork. Multiple heat exchangers were taken into consideration as the various engine and electric drive systems require sufficient cooling. There's even active aerodynamic elements at the rear to reduce downforce and drag when necessary.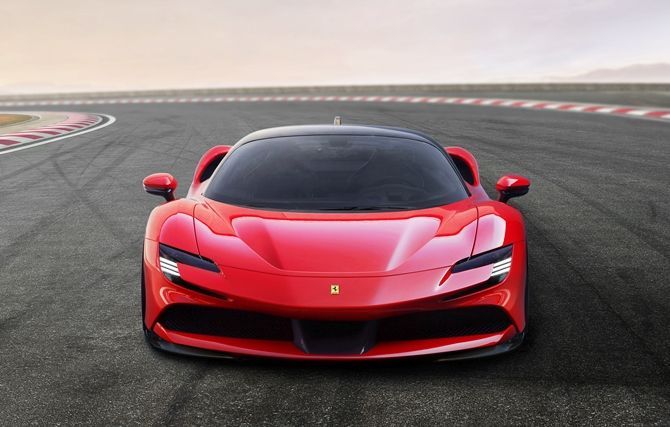 As for the systems and electrics, they have naturally been revised to accommodate the hybrid nature of the SF90 Stradale. There's a 25-kilometre all-electric range on a full charge in eDrive mode using just the front axle (a front-wheel drive Ferrari, imagine that). It can do this at speeds of up to 135 km/h, and reverse is only done through the use of these electric motors at the front as well. Upon braking, there is blended usage of the physical calipers and electric braking from the motors to provide a natural feel for the driver.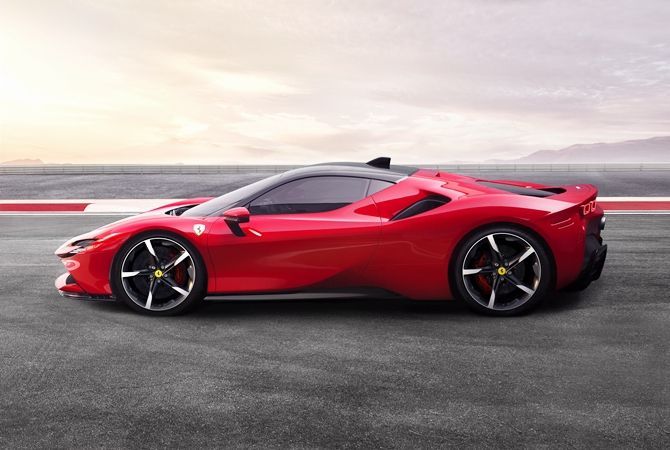 Side Slip Control gets an electric prefix, combining Electric Traction Control, brake-by-wire with ABS/EBD, and Torque Vectoring for a holistic approach and keeping the car going in the direction the driver intends it to go in. Drive modes include the aforementioned eDrive, but Hybrid allows for regular town use with both the engine and motors working in harmony, while Performance ensures maximum available power at any given time and Qualify prioritizes electric motor usage over conservation.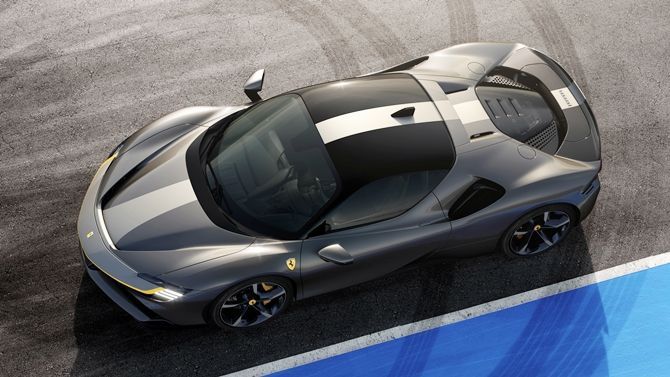 For the first time ever, Ferrari is also offering an even more aggressive variant of the SF90 Stradale known as the Assetto Fiorano specification which further lightens the car by 30 kilograms through the use of carbon fibre and titanium, while adding another carbon-fibre rear spoiler for even more downforce, and Michelin Pilot Sport Cup 2 tyres tailor made for the purpose of setting lap times in the dry.
---
---
---
---
Comments