Ticking Off The Bucket List – The Borneo Safari Is Something Everyone Should Do At Least Once
Live Life Drive If Land Rover is synonymous with the Camel Trophy, and Mitsubishi with the Dakar Rally, then Isuzu's name is forever tied to Borneo Safari. Often described as the one of the toughest 4x4 challenge in the world, this annual pilgrimage of hardcore off-roaders attracts mud seekers from all over the world, to challenge themselves in driving deep into the heart of Borneo.
Organized by the Sabah Four Wheel Drive Association (SFWDA), the Borneo Safari International Off Road Challenge has been held for 28 consecutive years. The most recent installment in November 2018 was its most successful ever – attracting 399 vehicles, 1030 of participants plus another 27 competitors testing their mettle in the Special Stages in their specially prepared off-road buggies.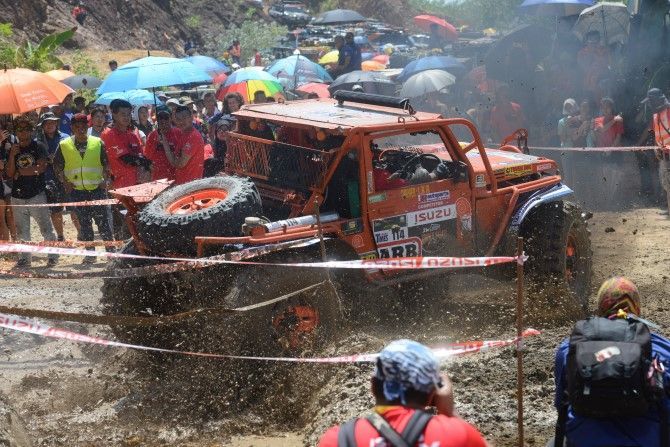 The event, which ended in November also saw a team from Russia joining, the furthest country the event has attracted. Other international teams came from Japan, Indonesia, Ireland, Philippine, Vietnam and Brunei.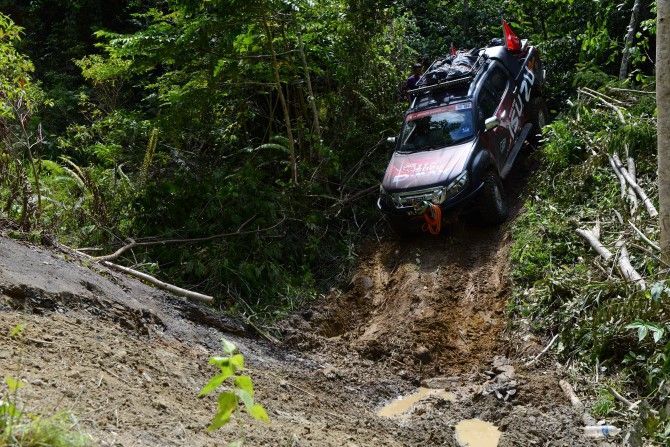 As before, Isuzu's ever dependable D-Maxes were the event's workhorse. This year's event saw three D-Maxes joining, including two units that have been in service of the event since 2013!
Any car company can make claims that their pick-up trucks are tough and reliable, but only Isuzu can say that their trucks have survived the world's toughest 4x4 event five times, and the cars are still holding strong. Isuzu trucks might not make the most power but have the latest electronic toys, but you can be that when civilization goes into an apocalypse, a D-Max will still be working fine so long as you can secure diesel supply. You don't even need fancy tools to make repairs on one, which is also why it is so well suited for Borneo Safari.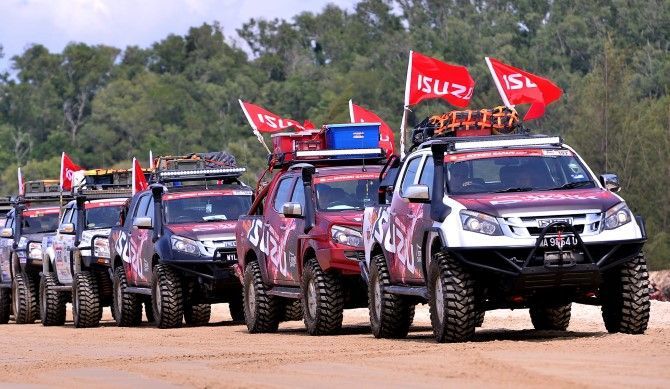 We should also reiterate these D-Maxes have been going in and out of multiple Borneo Safaris without any modifications to the powertrain. The only modifications done were limited only to the bare essentials for hardcore off-roading – uprated suspension, off-road tyres, winch, radio, auxiliary lighting and utility racks.
Flagging off from Kota Kinabalu, the convoy split was into two, with competition cars taking a slightly different path from the 'tag-on,' non-competition cars. Both teams however, will regroup at different points along the eight-day, 400 km journey which traversed through Kota Marudu and Kota Belud towns in Sabah.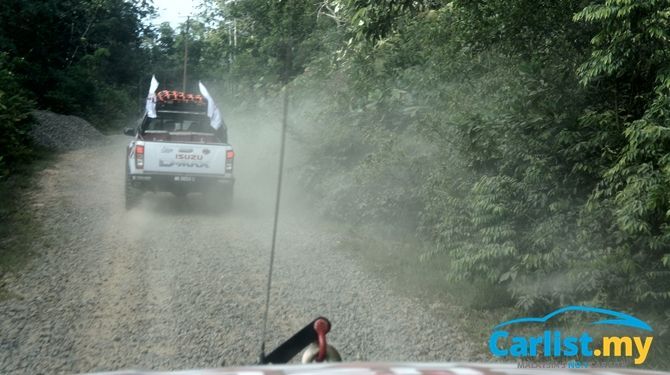 The first-half of the event was relatively easy. The terrain was rough but weather was dry. Leaving the tarmac and driving mostly on gravel or laterite trails, the drive was very dusty and cars have to keep their distance to maintain visibility. At night, we camped the first night at the beach front of Kampung Toburon.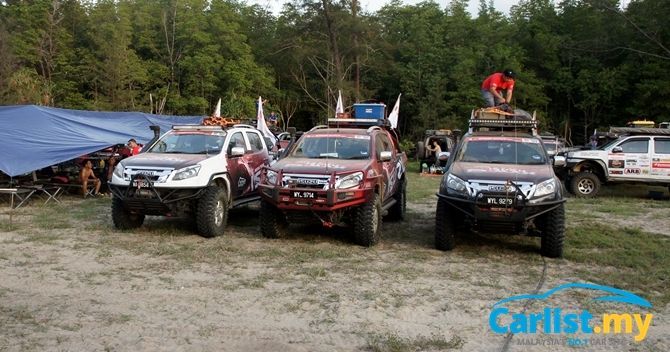 Things got a bit rougher on the next day. The convoy had to drive through an extremely tight trail, with tree twigs and undergrowth scratching the paint off our D-Max ever metre of the way as we bounced along the ruts, rocks, and holes.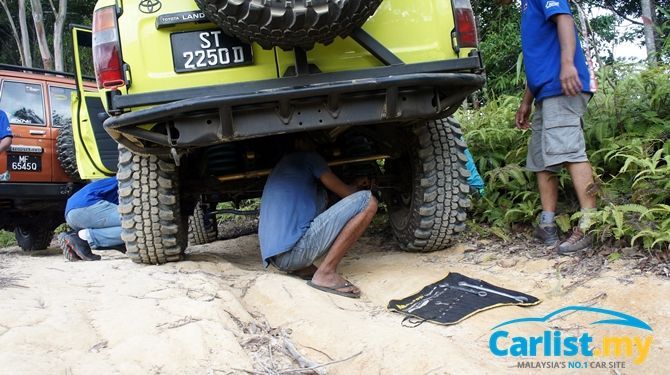 The drive took longer than expected, as the rough terrain soon took its toll on several cars that broke down. Of greater concern was that we were losing day light fast – sounds scary for the uninitiated but for veterans of Borneo Safari, it's another excuse for the 'jungle mechanics' demonstrate their resourcefulness and the speedy pace these field repairs can be made.
The tight trail also meant the the convoy can't proceed while the vehicles ahead were being repaired.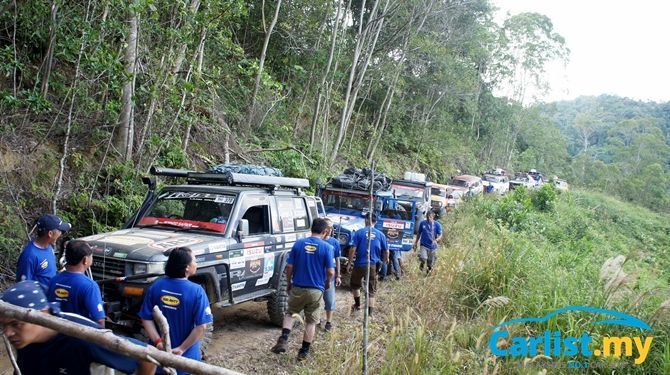 We managed to get out of the jungle just before night fall but the scout cars that had driven ahead of us reported that heavy rain had washed out our planned trail and our planned camp site.
The convoy ahead couldn't make any headway into the 'Super Hardcore' section of the trail, so we improvised to find an alternative camp site. The fact that it was a near a stream was a bonus because it means for that for the first time in days, we could now shower!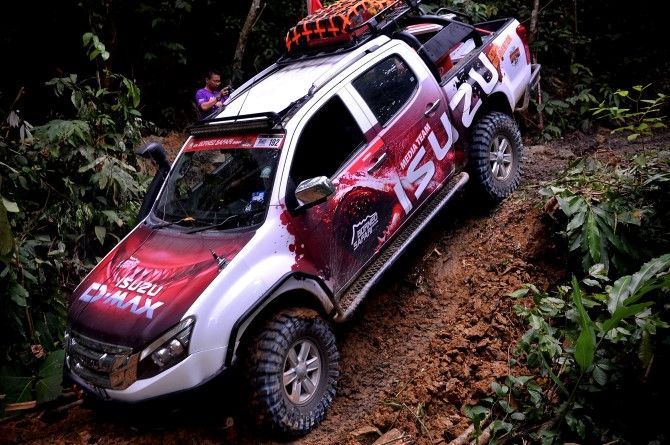 It had rained more that night, and we woke up to a mud caked camp site. The hardcore participants welcomed it as it mean a challenging day ahead. Yours truly on the other hand, was pleased that it was time to go home. While others stayed on for the full course, some of us had elected to only participate for half of the event, three days instead of eight days.
Popping behind a bush, not bathing for days, night battles with bugs the size of my fist, am I glad to have experienced it? Definitely. Do I want to do it again? No thanks.
But the experience also helped me understand why for some, this is an annual pilgrimage. When you have reached a certain level of success in business, the ability to disconnect from the world and be 'lost' deep inside the jungles of Borneo for eight days, becomes a luxury.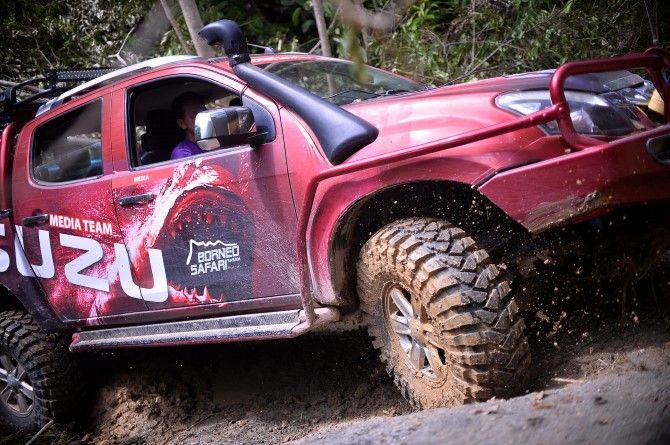 For eight days, it does not matter what language you speak, who you pray to, who your parents were, or which school did you went to, because the unforgiving jungle doesn't give a damn about these.
Getting out of the jungle alive requires intelligence of a different kind. It involves following the person ahead, while looking out for the person behind you. There was competition, but there was also cooperation.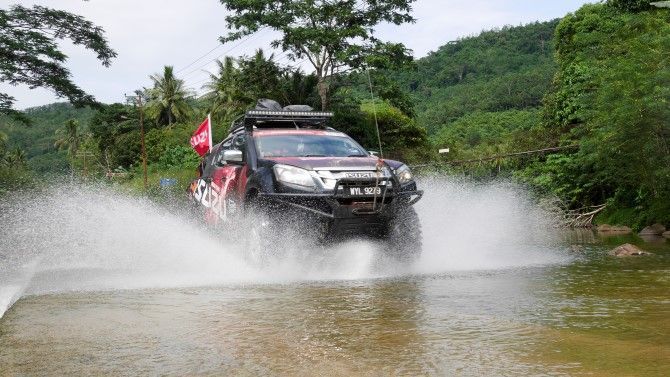 In a speech during the closing dinner, Isuzu Malaysia Light Commercial Vehicle Chief Operating Officer Mr Masayuki Suzuki expresses his gratitude for the strong relationship has been built between Isuzu and SFWDA.
"Borneo Safari International Off-Road Challenge is the best platform to showcase the toughness and durability of off-road vehicles. Our Isuzu D-Max has proven to withstand extreme terrains in the past Borneo Safari Challenge."
---
---
---
Comments