Tokyo 2015: Yokohama to present new Aerodynamic Tyre Design
Auto News Slick new cars and concept cars won't be the only new and revolutionary things on display at the 2015 Tokyo Motor Show later this month. Yokohama Rubber Co Ltd will also be showcasing their latest developments in aerodynamic tyre design.
The new tyre will feature a new fin shape and design, which places the fin protuberances at angles near the tyre's outer shoulder. These fins help reduce the vehicle's aerodynamic drag that usually occurs on the upper part of the tyre during its rotation. At the same time the vehicle's aerodynamic lift is reduced on the lower part of the tyre.
To validate the tyre's design, Yokohama had conducted a large-scale parameter study in collaboration with a team of Tohoku University. The study used aerodynamic simulations on the Supercomputer 'K' to determine the impact of the fin placement. This also help Yokohama tyre designers to find the optimal placement of the fins on the tyre to enhance the tyre's aerodynamic properties. The application of these fins could see tyres that are not only capable of improving a vehicle's fuel efficiency, but also improve its safety.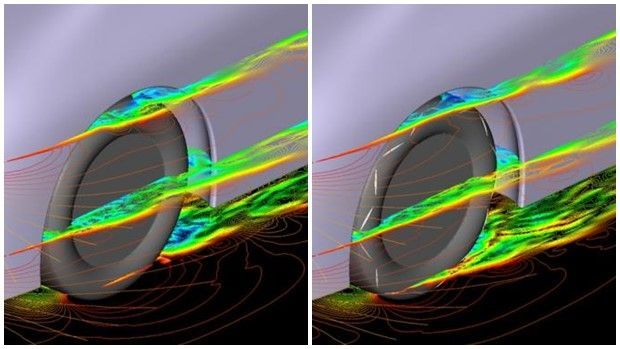 This latest development from Yokohama isn't entirely a new concept. Since 2010 the Japanese tyre brand has been focusing its research on aerodynamics technology to reduce aerodynamic drag. In December 2012, Yokohama Rubber developed the technology to place fin-shaped protuberances on the inner sidewall in a radial or spoke-like pattern to reduce aerodynamic drag inside the wheel wells. Some of Yokohama's tyre designs also incorporate small depressions on the side of the tyre to improve the vehicle's fuel efficiency.
Of late managing an airflow around the wheel well has been the focus of many manufacturers, as it would not only reduce dangerous aerodynamic lift, but also improve air flow and thus improve the vehicle's fuel efficiency. Aerodynamic features such as BMW's Air Curtains and Air Breathers, which cleans the air flow around the wheel well, are said to improve the vehicle's fuel efficiency.
---
---
---
Comments