Used Car Review: Proton Waja – Underrated Gem
Reviews After spending most of its existence cloning Mitsubishi Lancers, Proton's first fully in-house designed vehicle was the Waja. Whilst it later transpired that the platform is actually shared with the Mitsubishi Carisma and first generation Volvo S40, it was still the first vehicle which Proton designed without a guiding hand from Mitsubishi (or rebadged from Citroen, if one remembers the ill-fated Tiara).
It has been five years since the Waja was discontinued. At the time of its launch, it was lauded as a significant milestone for Proton. The car did endure some negative publicity along the way, but it has its merits, and many are still faithfully serving their owners. For the budget-conscious buyer shopping for a C-segment-sized vehicle with decent amenities, a used Waja is well worth considering.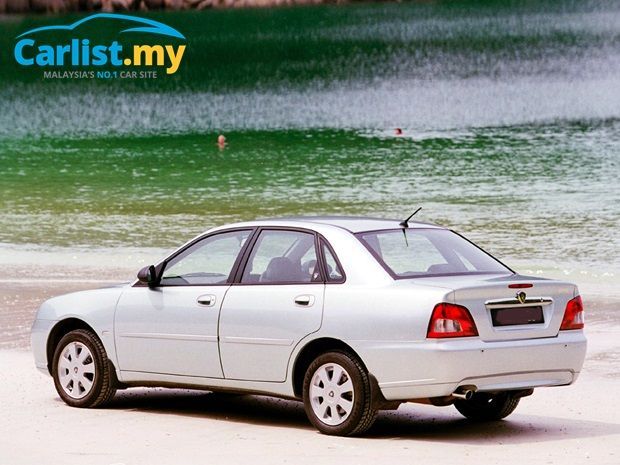 Specifications
Engines:
- 1,584cc, 4-cyl, SOHC, 16V (Mitsubishi 4G18) – 102hp, 140Nm
- 1,798cc, 4-cyl, DOHC, 16V (Renault F4P) – 118hp, 169Nm
- 1,597cc, 4-cyl, DOHC, 16V (Campro S4PH) – 110hp, 148Nm
- 1,587cc, 4-cyl, DOHC, 16V (Campro CPS) – 125hp, 150Nm
- 1,999cc, V6, DOHC, 24V (Mitsubishi 6A12 for long wheelbase Chancellor variant only)
Transmission: 5-speed manual, 4-speed automatic
Safety: Dual frontal airbags, ABS, EBD, reverse sensors (variant dependent), UK-spec rated Euro NCAP 3 stars (2002)
Origin: Locally-manufactured at Proton's MVF plant, Shah Alam.
Overview
The Waja debuted in late 2000 and was then powered exclusively by the Mitsubishi-sourced 1.6-litre 4G18 SOHC MPI petrol engine mated to either a 5-speed manual or 4-speed automatic transmission.
A further two variants with Renault-sourced powertrains, consisting of a 1.9-litre turbodiesel and a 1.8-litre petrol, were promised for later introduction, although only the latter version materialized. After much delay, the Waja 1.8 was launched in 2002, but the variant never gained sufficient traction and sold in very limited numbers.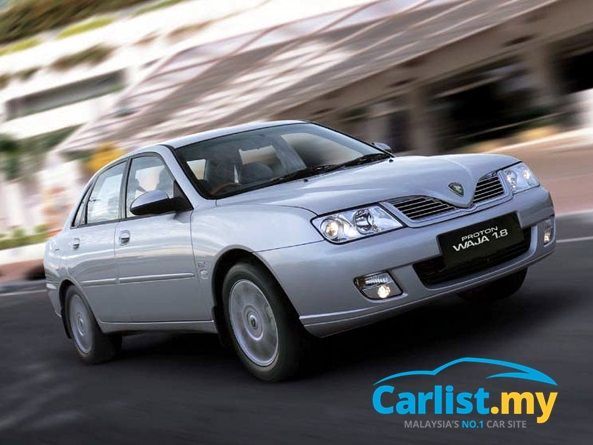 Production of the Waja lasted 11 years, and plenty of changes and improvements were implemented along the way. Most important alterations include introduction of the Campro engine to replace the 4G18 mill in 2006. The Campro engine itself was subsequently phased out and replaced by the uprated Campro CPS powerplant in 2008. An R3-fettled model, featuring actual chassis and engine enhancements, was also sold in limited numbers. In the UK, Proton had initially sold the car as the Impian, before reverting later batches to the Waja name.
An obscure, long-wheelbase variant of the Waja, known simply as the Proton Chancellor, was introduced in 2005, powered by Mitsubishi's 2.0-litre 6A12 V6 engine shared with the Proton Perdana.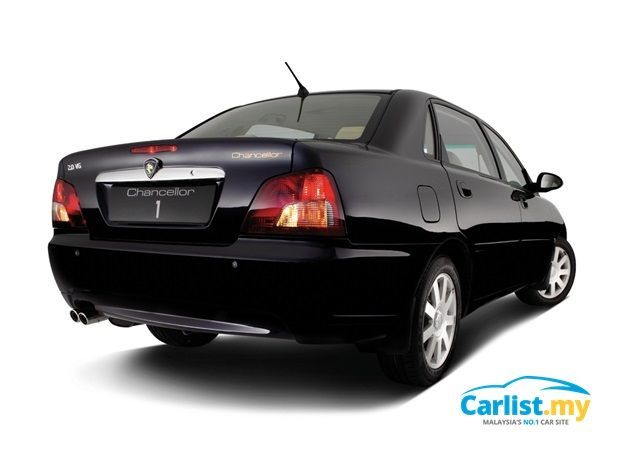 Exterior
The Waja's boxy but inoffensive shape has lasted the test of time well. On early models, the rectangular headlights and bumper-mounted front indicators are reminiscent of the first-generation Proton Saga. Right from the start, all variants of the Waja were fitted with halogen projector headlamps as standard.
After the Campro engine was introduced into the range, the Waja's familiar shape received two rounds of significant alterations. The first round of changes took place in 2006 brought revised tail lights, re-sculpted headlamp bezels, and wiremesh at the front bumper grille.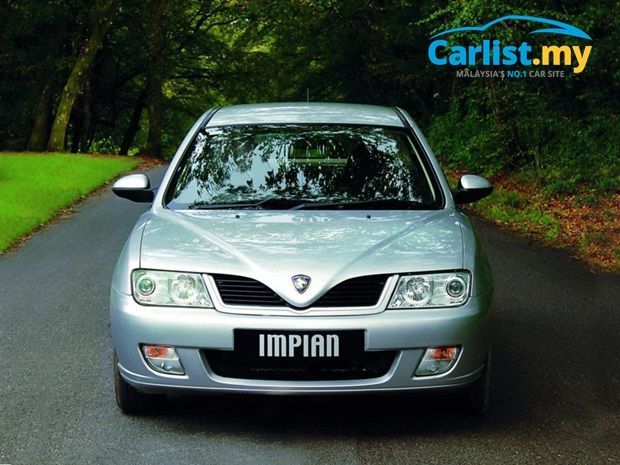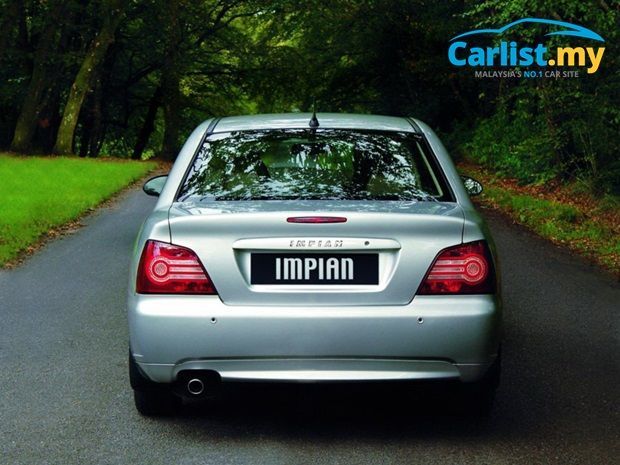 More significant changes were implemented in the 2007 MC3 revision, in which the headlamps were once again changed and the entire front end reshaped in a manner that resembles the Volkswagen Bora. This look was carried into the CPS variant, which received HID headlights as its only external upgrade.
Most variants of the Waja ran on 15-inch wheels with 195/55 tyres; the CPS model receiving an added dose of comfort with thicker 195/60 rubber. Some versions had 16-inch trims, and they ran primarily on 205/55 tyres.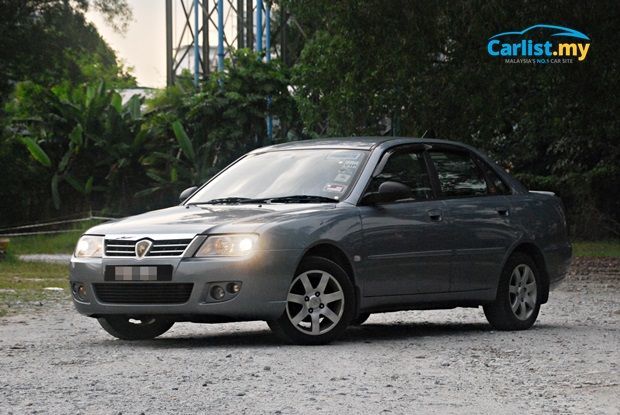 Interior
Being Proton's first ever car designed from ground up, the Waja's interior was the national company's first unguided effort, and it shows. Early models were built with materials of unsatisfactory quality and although substantial improvements were made along the way, all versions of the Waja were bugged by, shall we say, suspect ergonomics – prime example is the poor placement of power window switches at an area that is less than natural to reach.
Early versions of the Waja were famous for not being able to blow cold air to their front passengers. The Campro versions solved this flaw with redesigned vents that direct air more effectively. It's a plug-and-play retrofit that can be implemented onto earlier models, but the circular shape of these new vents are not congruent with the rest of the dashboard. It's a visual oddity.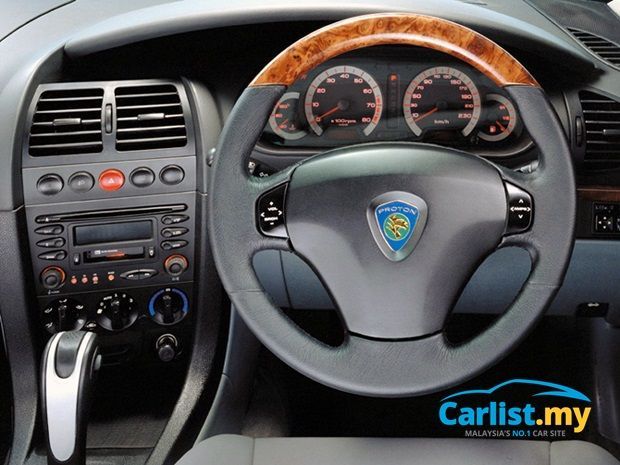 Thigh support was also poor in early models, a situation remedied when Proton fully redesigned the seats for 2006 models onwards. Later models also had better compartmentalized centre consoles complete with a double level storage box, but they lost the rear power socket that was found in early versions. For all its flaws, however, the Waja's cabin is spacious and will seat five occupants in decent comfort.
Lastly, all versions of the Waja had 60:40 split-folding rear seat backs and three-point seat belts for all passengers. Unlike newer cars, however, the seat backs do not fold flat. Boot capacity is adequate, but impeded by poorly-shaped gooseneck hinges.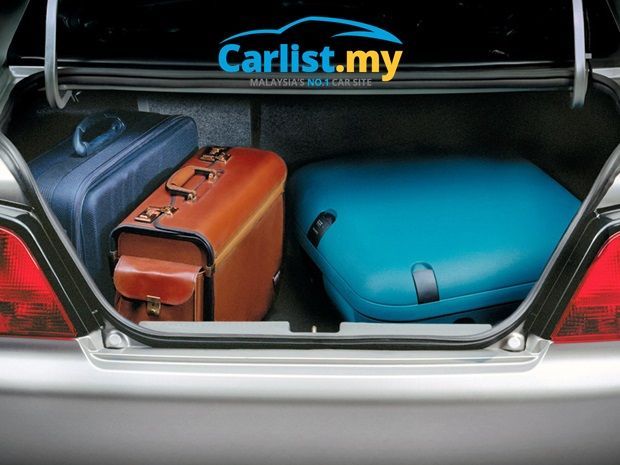 How does it drive?
Driving dynamics is a major strength of the Waja. Proton may have gotten a lot of flak for having the audacity of labelling it 'Asia's Answer to BMW', but there is indeed some substance behind the 'Handling by Lotus' claim.
Boasting an all-independent suspension setup with hydraulic power steering, the Waja offers inspiring dynamics around bends, whilst transmitting generous amounts of feedback through the wheel. On long-sweeping bends, you can bury the throttle with absolute confidence.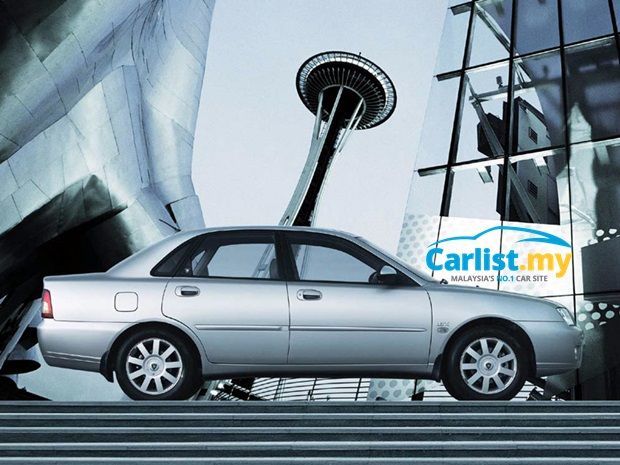 Not that the Waja offers a lot in the way of power anyway – the most powerful version available, which is the CPS model, offered only 125hp. In the context of a car that weighs in the region of 1.2-tonnes, that's not a lot of power.
Despite offering the lowest numbers on paper, versions with the Mitsubishi engine pack good low-end torque. The Campro versions need more revs on the tacho before serious progress is made, but the locally-made engines have more in reserve at the top end.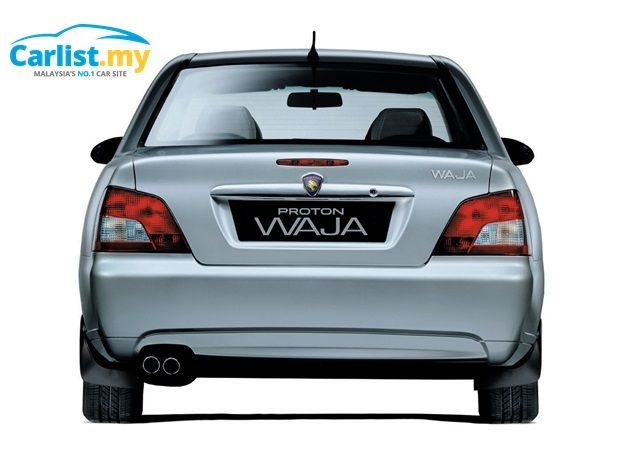 Most Wajas were sold with 4-speed automatic transmissions. The 1.6-litre models, Mitsubishi or Campro engine, utilized a Mitsubishi-sourced gearbox with INVECS-II software. The transmissions are known to aggressively downshift and hold a lower ratio when it detects the vehicle is descending a slope. It's a good thing, actually, but has been known to unsettle drivers more accustomed to a lazy style of shifting.
Manual transmission is the best way to enjoy the Waja's dynamic talents. Shift gates are precisely defined, but throw is a little long, and the first two gears can be difficult to engage at times. Drivers are advised to master the art of double-clutching. Speaking of which, the Waja's clutch can feel heavy for uninitiated users, and biting point is high.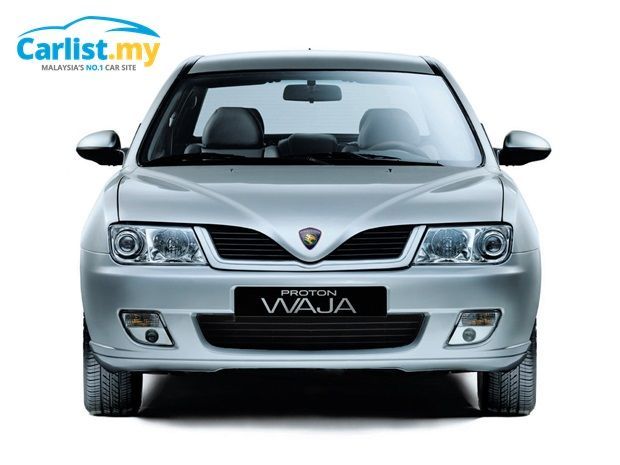 How comfortable is it?
For all the praise received by the Waja for its dynamic sharpness, it is also surprisingly comfortable. Its suspension is pretty adept in isolating harshness from the surface to give a ride quality that is slightly firm but generally pliant. The earlier Mitsubishi engine models have a slightly firmer ride than the later Campro versions, but both setups can generally be described as well-judged.
What the Waja does not do very well, however, is refinement. The engines sound thrashy when worked, and the standard insulation package do little to block out external sources of noise. So, even though the car feels very stable cruising at speeds well over the national limit, it's a very noisy affair doing so.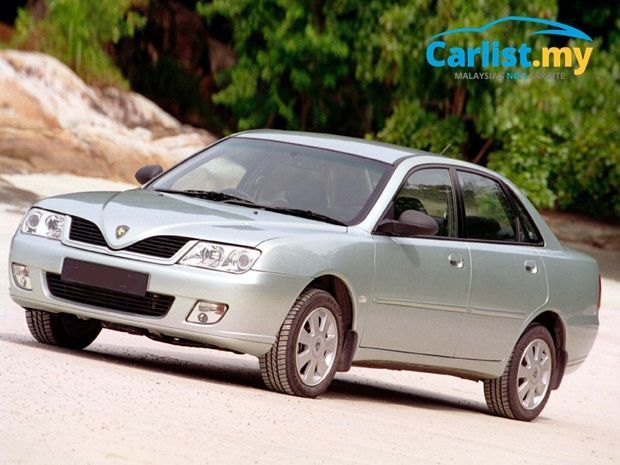 Maintenance
If fuel efficiency is a concern, limit your shopping of the Waja to the Mitsubishi engine models. With automatic transmission, a 4G18-powered Waja averages around 10.0 l/100km; the Campro models will get you the same figure only if it is fitted with a manual transmission.
Maintenance costs are reasonable, but some parts are prone pre-mature wear. Absorbers (RM260 per pair), in particular, require regular replacement. Early models were known to have fuel pump issues, but this has largely been resolved. The engine runs fine on both mineral and synthetic oil, but the latter allows service intervals to be stretched to 10,000km.
Mechanically, the Waja is a reliable performer. It gives few problems if timely serviced. Common issues revolve primarily around trim items and accessories. Power window and door handle failures are legendary, especially among early models; it is a problem further exacerbated by Proton's adoption of modular assembly for the Waja, whereby replacements are sold in entire modules as opposed to individual parts. Broken window pulley? Have the cash ready to replace the entire power window module (RM600 including labour). On a larger scale, these nitty-gritty failures on the Waja and carried on to subsequent models have primarily been responsible for Proton's chronic decline over the last ten years.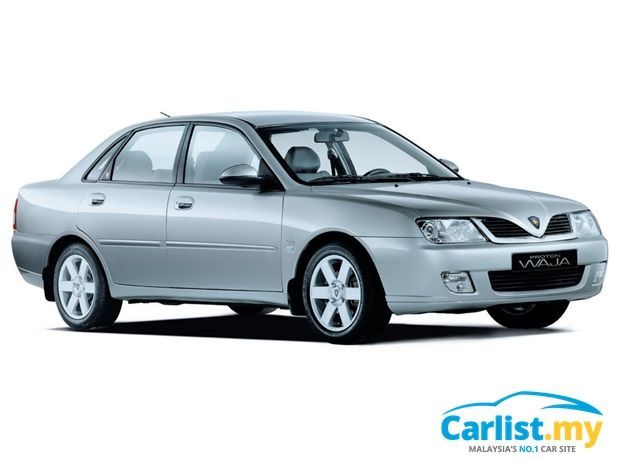 From the Used Car Lot
There are around 600 units of the Proton Waja currently listed on Carlist.my, with asking prices ranging from RM8,000 to RM38,000. Even if you limit your budget to just RM15,000, there are no shortage of choices.
We recommend going for later year models if possible, but if you insist on having one powered by the Mitsubishi engine, try shopping for the 2004-2005 models that come with dual airbags. The pre-2004 1.6X Premium model is worth considering too – that version has a more luxurious interior, ABS, but only one airbag. The 1.8 was a car with great potential, but the integration of its Renault-sourced powertrain to a chassis that was initially designed for Mitsubishi running gear was haphazardly done and the model variant is thus is best avoided.
Campro and CPS versions, particularly from 2006 onwards, have far better built interiors and have higher levels of safety – dual airbags and ABS have become standard fitment. If budget permits, focus your shopping on the 2007 Campro MC3 model upwards or go all the way for the CPS model.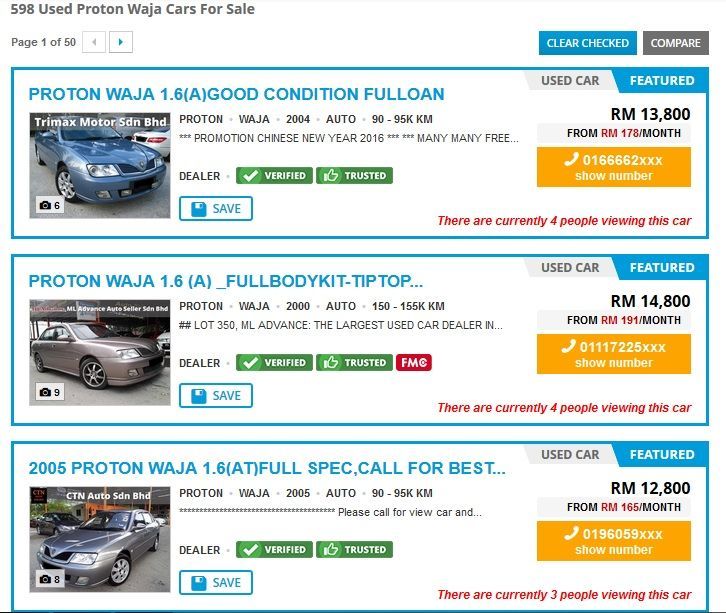 ---
---
---
Comments