Winner Set For 2018 Volkswagen Wörthersee GTI Festival in Austria
Auto News One lucky winner recently received the grand prize of an all-expense trip to the Wörthersee GTI Festival in Austria, courtesy of Volkswagen Passenger Cars Malaysia (VPCM). Mohamad Syazwan bin Mohamad Naim won bragging rights as the Golf GTI's number one fan after battling it out at the Grand Finale in front of a live audience at the recent Volkswagen Tour roadshow at One Utama Shopping Centre. The two other finalists were Moh King Yew, who came in a close second and Abu Ubaidah Amir.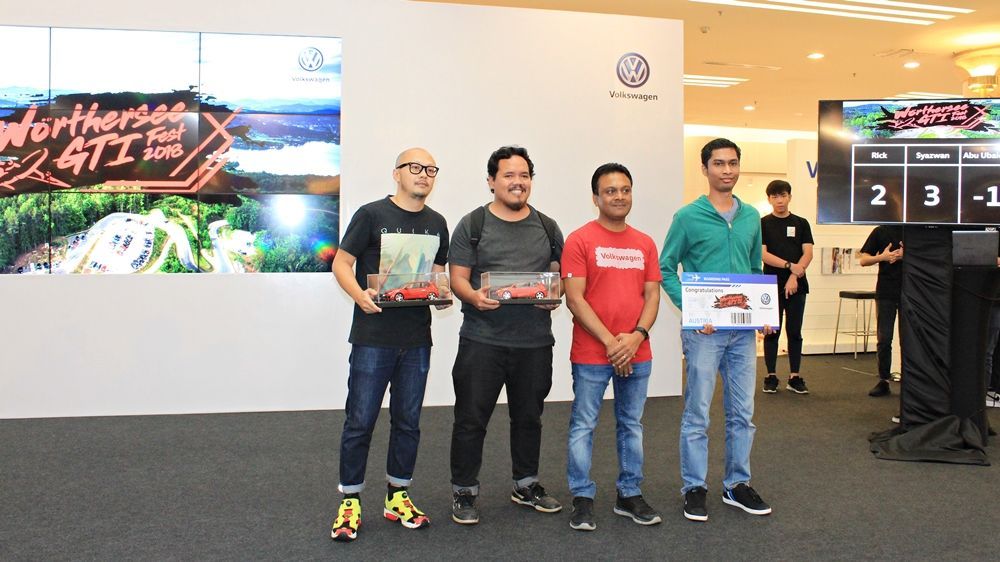 Rick Moh, Abu Ubaidah Amir with Deenan Nadar (Aftersales Director of VPCM) and Grand Prize Winner Syazwan
The Wörthersee GTI contest ran from the 20th till 27th March and garnered over 1,500 submissions. To compete, participants had to register and complete a slogan and answer 10 questions correctly in the fastest time, with the top three fastest participants qualifying to the Grand Finale.
26-year old Mohamad Syazwan is a self-confessed GTI fan, and had spent an entire week polishing his GTI knowledge to prepare for the contest. "It's been nerve-wrecking week, and I had even stayed up all night before the Grand Finale to make sure I covered everything on the GTI. To win this trip is a dream come true, and I couldn't be more excited," enthuses Syazwan, who will be bringing his younger brother with him to Austria.
During the Grand Finale, Syazwan displayed his high level of proficiency by correctly answering challenging questions concerning historical and technical aspects of the Golf and the Wörthersee GTI Festival.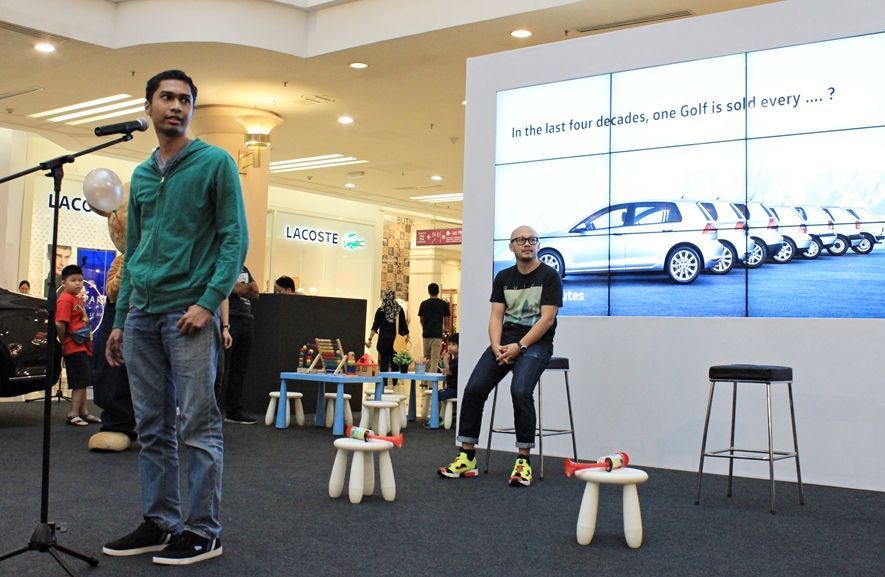 Syazwan did not even need to wait for the choices of answers to be announced, he already knew the answers to some of the historical data!
Erik Winter, the Managing Director of VPCM said that the Wörthersee GTI Contest was a way of celebrating the enthusiasm and devotion displayed by GTI fans in Malaysia. "We are delighted to be able to present this once-in-a lifetime chance to our winner – congratulations on a well-deserved win to Syazwan," he added.
The GTI Festival is held every May on the shores of Lake Wörth or Wörthersee, as it is known in German. What started as a small gathering of Volkswagen GTI owners is now a full-fledged event of modified, classic and vintage Volkswagen cars, attracting over 100,000 fans around the world. This year marks the 37th year of the festival.
Could you have answered these questions correctly? Here are some of the questions presented on Saturday :
When the first Golf GTI was introduced, what was its engine displacement?
In the last four decades, one Golf is sold every....?
Who was responsible for the "golf ball" gear knob and tartan seat of the Golf GTI?
How many engine options is the Golf available in around the world?
When was the first Wörthersee Festival?
---
---
---
---
Comments