Audi PB18 e-tron Concept Car: LMP1 Racer For The Road
Auto News Audi celebrates the Pebble Beach Automotive Week 2018 with their all-electric design and technical concept car called the PB18 e-tron.
Sharing plenty of motorsports DNA from their successful Le Mans racing programme, the Audi PB18 e-tron focuses on pure driving performance, and that includes the seating position.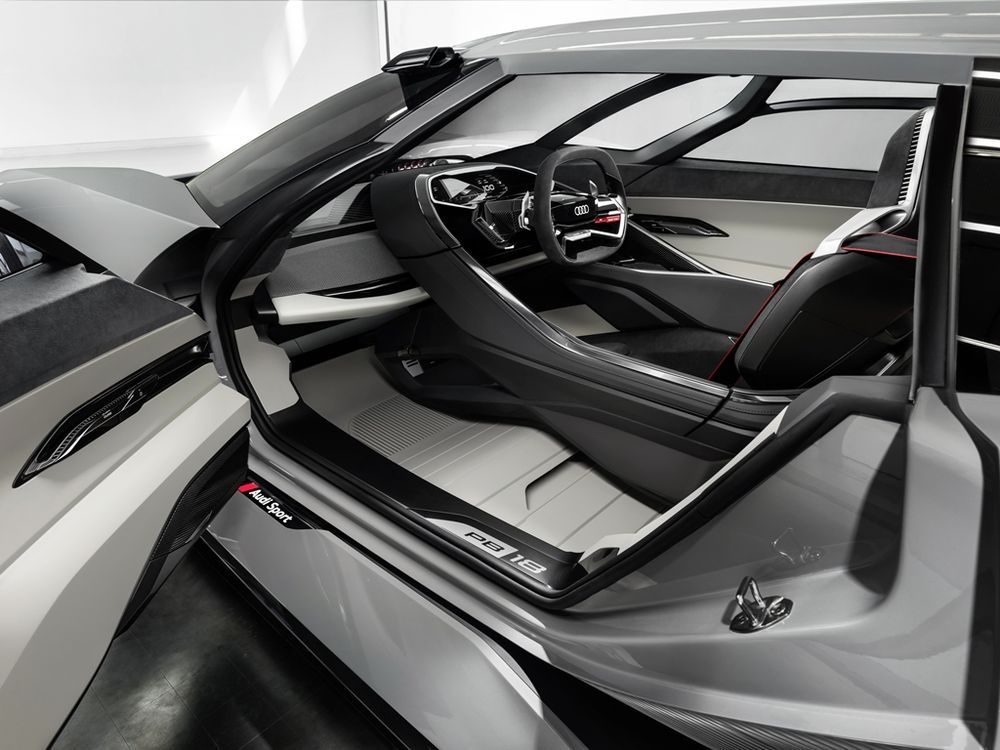 Gael Buzyn, Head of the Audi Design Loft based in Malibu, USA, said, "We want to offer the driver an experience that is otherwise available only in a racing car like the Audi R18. That's why we developed the interior around the ideal driver's position in the centre."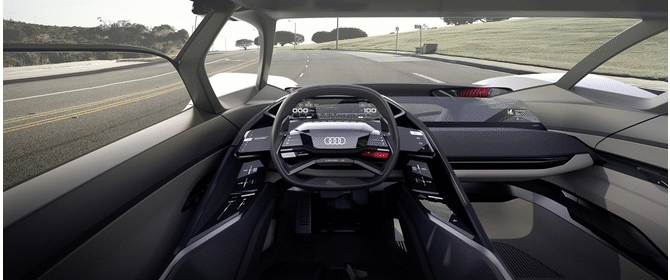 Inside the PB18 e-tron is an inner monocoque shell that can be slid sideways. Racetrack driving allows the seating position to be at the centre, the perfect placement. When driving around public roads, the inner monocoque can move to the left, leaving room for a passenger on the right. "Our aim was to give the PB18 e-tron a high degree of everyday usability, not just for the driver, but also for a potential passenger," Buzyn added.
This is made possible thanks to the fully-electrical connection of the steering and control pedals. Driving information is projected to a large transparent OLED surface, allowing for customized information depending on circuit driving or lifestyle commute. The motorsport-derived chassis also allows the driver to view the road ahead through the opening of the front ventilated hood.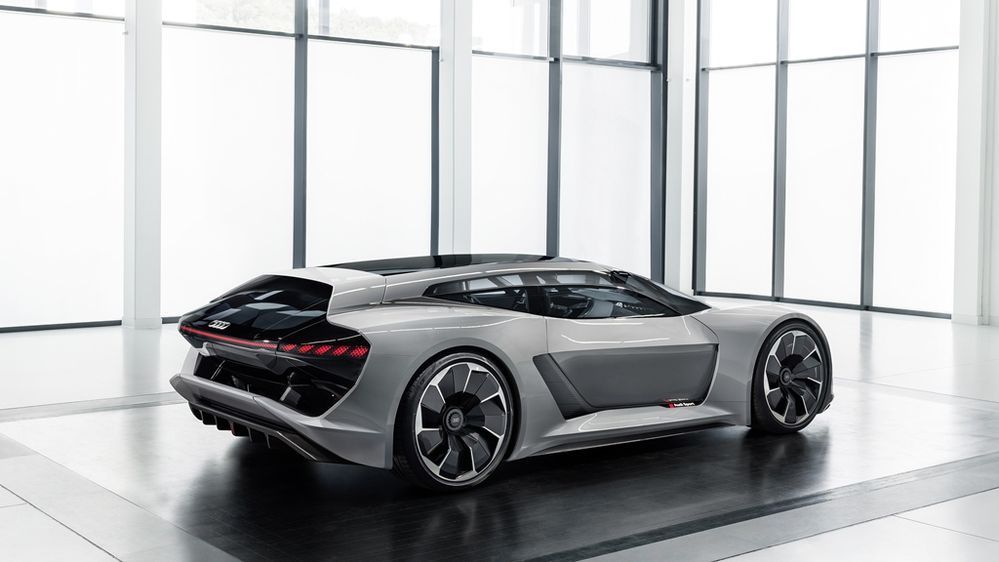 Without any large combustion engine mounted behind, the PB18 e-tron has a distinctive design that is reminiscent of a shooting brake. Opening the large tail gate with an integrated aerodynamic wing reveals a large boot of 470 litres capacity! An exclusive luggage set (the target audience seem to frequently carry their helmet and racing suit around) has also been customized to fit the space.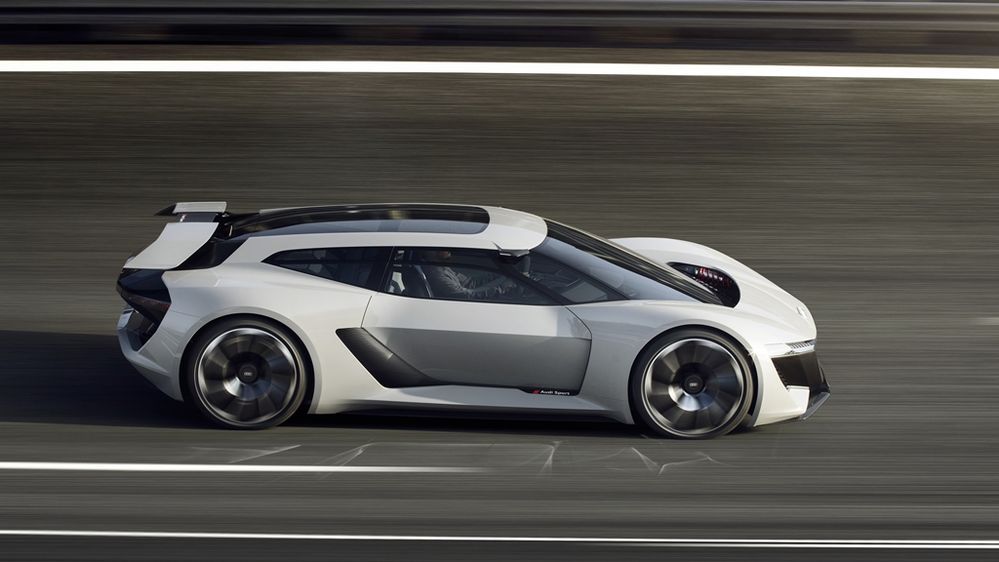 The Audi PB18 e-tron's e-Quattro all-wheel drive uses three powerful electric motors, with the rear axle having twice as many motors as the front axle. Together with a solid-state battery of 95 kWh capacity, the combined system outputs are as much as 775 hp (570 kW with momentary boosting) and 830 Nm of torque, where Audi technical team predicts it will touch 100 km/h from standstill is scarcely more than 2 seconds, similar to LMP1 racers.
In daily driving, the range can be over 500 kilometres. Audi has also incorporated wireless charging through induction, with a charging coil fitted to the floor of the car.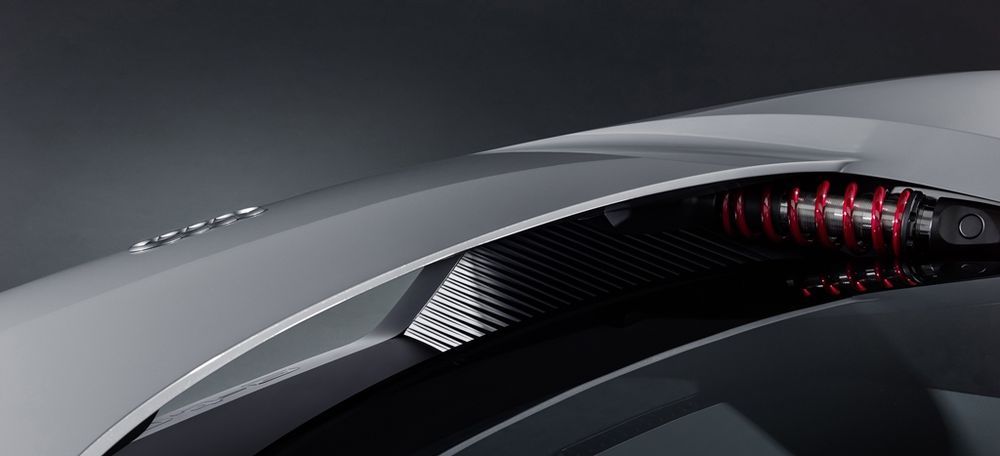 The drive to the nearby grocery shop might not be a comfortable ride, as the PB18 e-tron's suspension geometry is pure race-car design. Magnetic ride shock absorbers are linked by push-rods are fitted at each corner, together with large 22-inch tyres and wheels.
While the PB18 e-tron is just a design and technical study, Audi is set to unveil their first 408 hp all-electric SUV, the Audi e-tron in the coming weeks.
---
---
---
---
Comments