Bekas Pereka PROTON Hasilkan Sport Car Versi Malaysia – Aston Martin DB10 Sebagai Inspirasi
Auto News Bekas pereka (designer) PROTON yang telah bekerja selama 13 tahun dalam bidang rekaan, Saharudin Busri yang banyak terlibat secara langsung dalam rekaan kebanyakan model Proton telah berkongsi rekaan konsep yang diberi nama Malaysians Sports Car yang menampilkan sebuah kereta sport keluaran Malaysia!
---
Kereta sport yang direka beliau itu merupakan salah satu daripada kandungan yang disediakan olehnya untuk Design Talk MIMOS Berhad bersama Autodesk Asia secara maya pada September 2020. Kami diberitahu oleh Saharudin bahawa beliau telah menjadikan Aston Martin DB10 sebagai inspirasi dan panduan asas secara kasar seperti saiz rujukan dan 'package drawing' dalam reka bentuk kereta ini. Selebihnya, beliau menggunakan ideanya sendiri mengikut visi bayangannya dalam meneliti reka bentuk bagi kereta sport versi tanah air ini.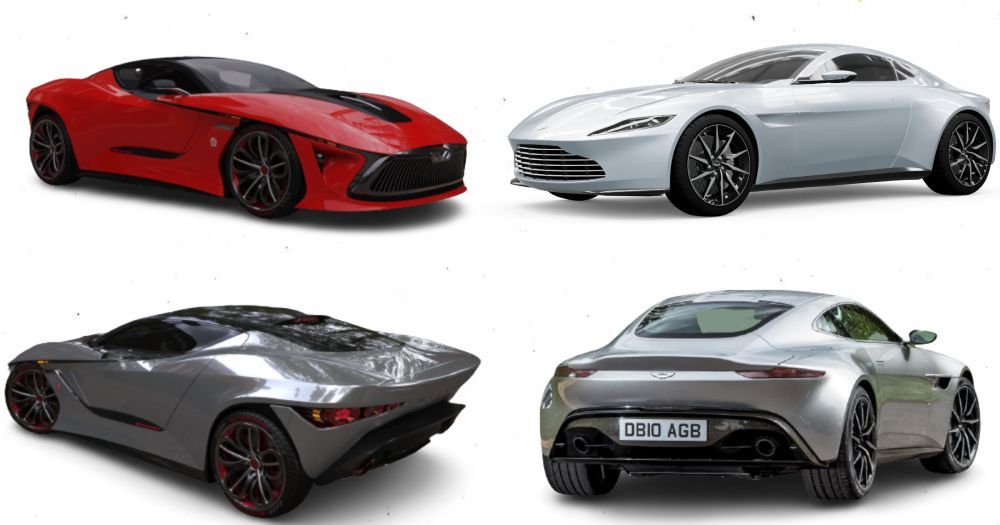 Jika diperhatikan pada keseluruhan bahagian sisi kereta ini, ianya kelihatan tegap, futuristik, sedikit bersegi dengan garisan tajam dan yang paling penting, ada sentuhan identiti Malaysia pada kereta sport ini. Tahukah anda terdapat beberapa ciri rekaan bunga raya yang melambangkan negara pada rim, lampu belakang serta fender sisi kereta sport ini? Difahamkan, rekaan bunga raya tersebut telah direka bagi memperingati Hari Kebangsaan.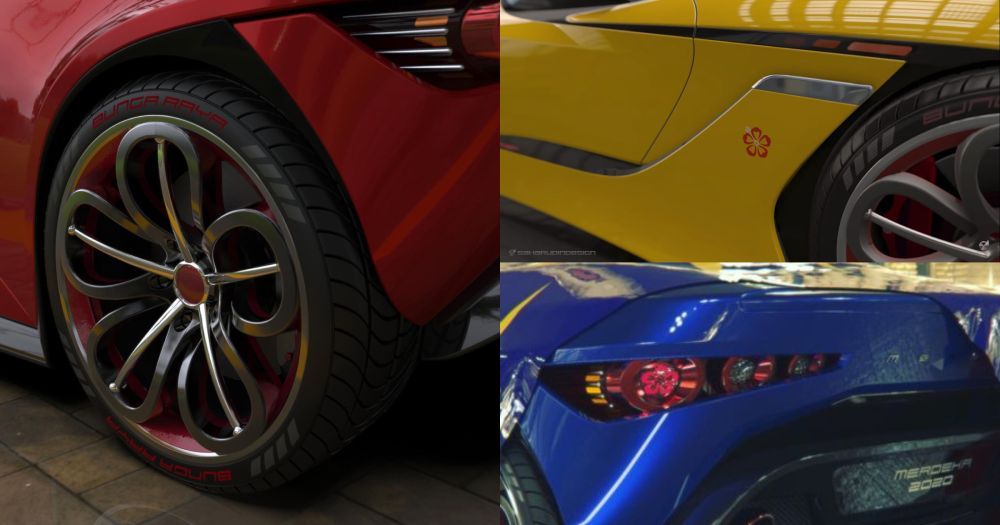 Bahagian hadapan kereta ini pula membawa sedikit imej dari masa hadapan seperti lampu utama LED yang berbentuk V yang nipis dan kecil. Menariknya, barisan atas lampu ini bersambung terus dengan bahagian sisi badan kereta ini bagi menempatkan lampu isyarat. Bahagian bonet hadapan pula menerima dua garian tajam yang membentuk lekuk sambil ditemani oleh air scoop yang dilengkapi dengan kemasan krom pada bahagian tengahnya.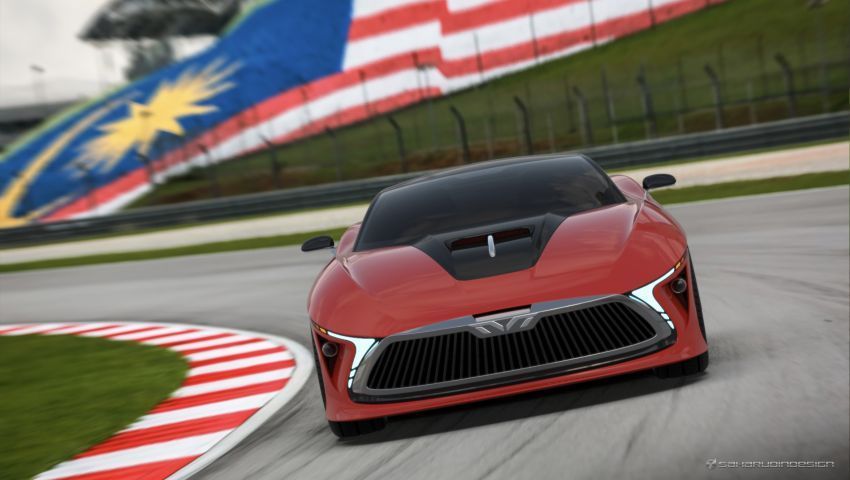 Rekaan pada bahagian sisi kereta ini menaikkan lagi ketegapan pada kereta sport ini. Rekaan yang sedikih 'meriah' di sekitar bahagian sisi menonjolkan rupa bersegi serta berlekuk pada kereta ini. Hadir dengan bumbung yang rendah, jentera ini hanya mampu menempatkan 2 orang sahaja. Dah nama pun kereta sport, takkan nak 7 tempat duduk pula betul tak? Selain itu, rim berbentuk bunga raya pada kereta ini sememangnya mencuri tumpuan sambil ditemani oleh logo bunga raya di fender sisinya.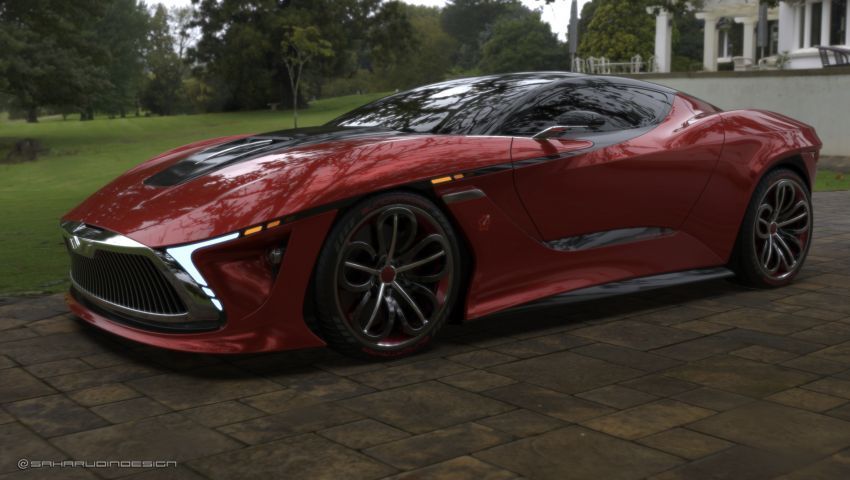 Walau bagaimanapun, bahagian belakang kereta kemungkinan akan melahirkan beberapa perbezaan pendapat di antara peminat-peminat kereta sport di Malaysia. Bahagian belakangnya kontot sahaja, namun ia kelihatan sedikit pelik bagi sesetengah pihak. Tapi bila nak difikirkan semula, kalau tak pelik tu tak Malaysia la kan bang?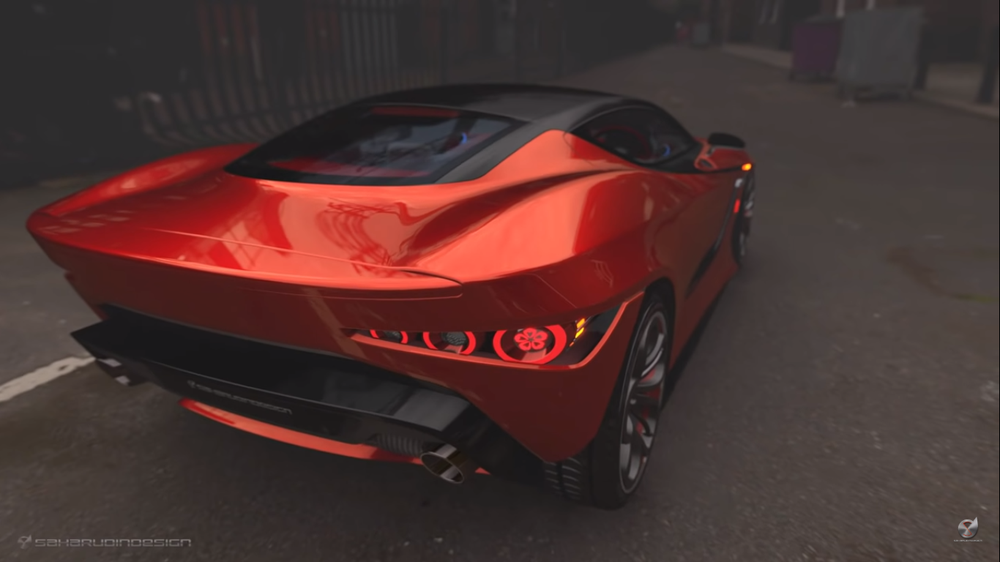 Bahagian belakangnya tidaklah buruk, namun sedikit janggal bagi sesetengah pihak jika dilihat dari belakang. Lampu belakang LED yang bercorakkan bunga raya yang bersambung pada lekukan di tepi tayar kelihatan sangat menarik di samping lekukan pada bahagian atas yang membentuk seakan spoiler. Tetapi, rekaan diffuser yang menempatkan ekzos pada bahagian bawah pada kereta ini sedikit terkeluar berbanding DB10 membuatkan bahagian belakang kereta ini sedikit 'jongang.'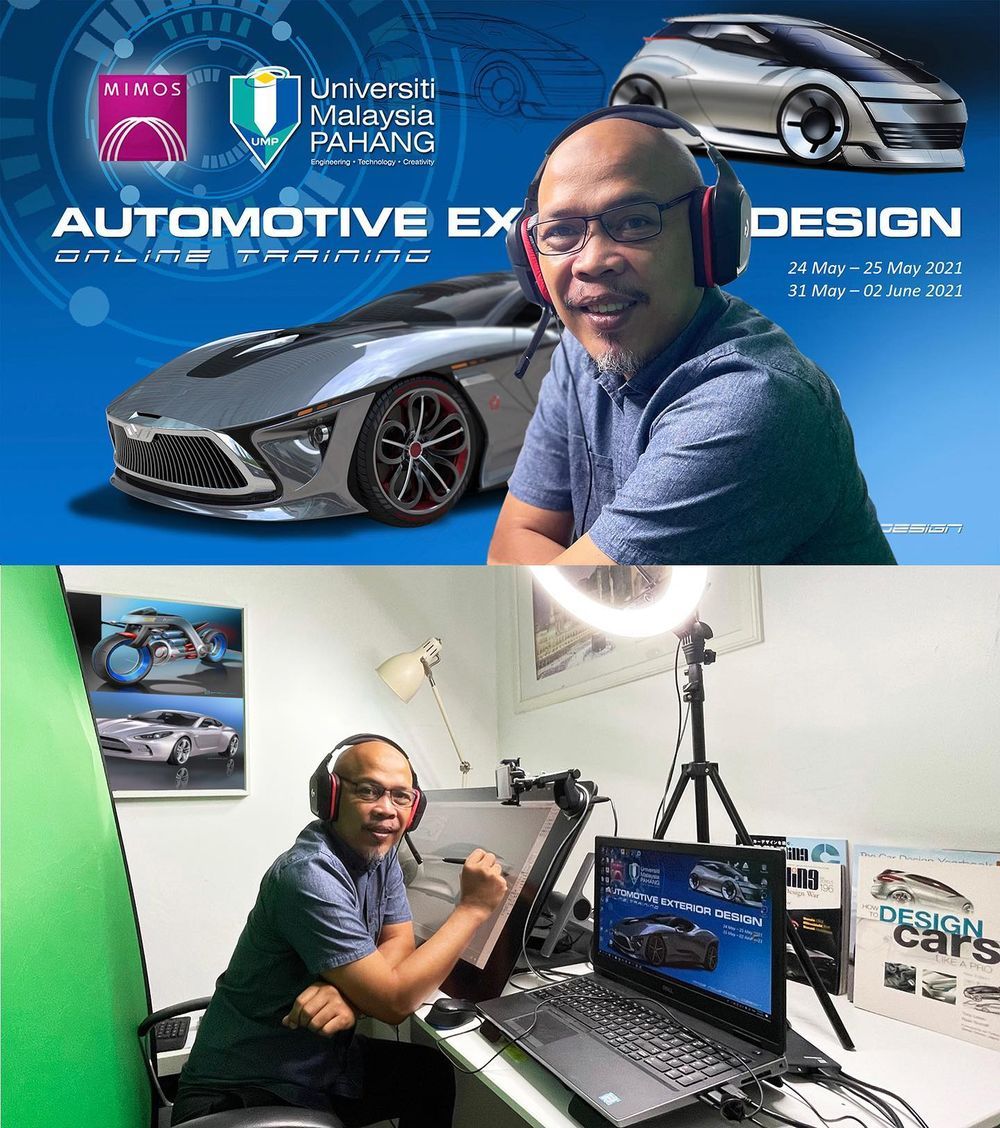 Walau bagaimanapun, pujian tinggi harus diberikan pada Saharudin kerana telah berjaya untuk menghasilkan rekaan konsep kereta sport versi Malaysia ini. Bukan senang nak hasilkan kereta yang belum pernah ada di dunia ni. Kalau setakat nak render model ubah sikit-sikit tu lain lah. Ternyata pengalamannya bekerja bersama PROTON dahulu digunakan sebaik mungkin olehnya.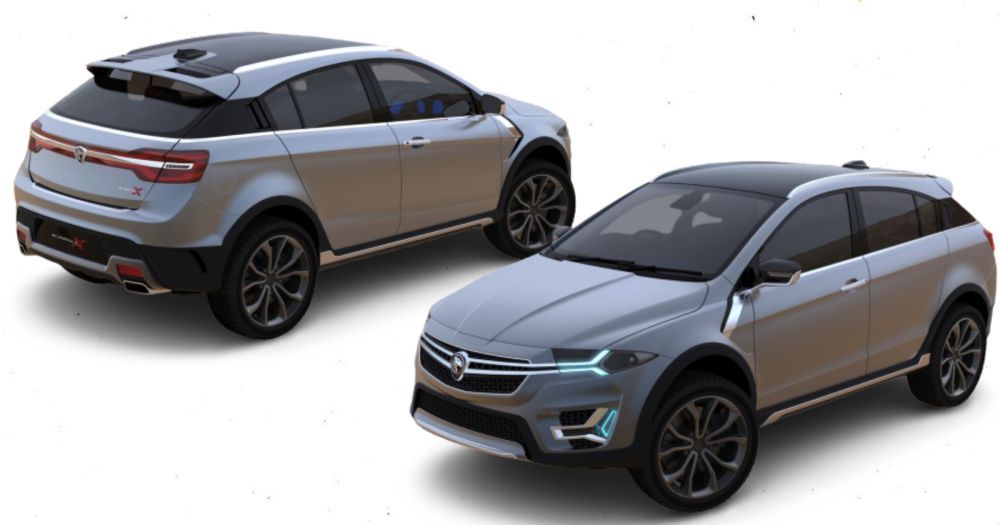 Bagi yang tidak tahu, ini bukanlah satu-satunya rekaan yang dihasilkan oleh beliau. Beliau telah menghasilkan banyak rekaan kereta konsep tempatan seperti Suprima X dan Suprima R yang dibina berdasarkan rupa bentuk Proton Suprima S. Suprima X dibayangkan sebagai sebuah SUV manakala Suprima R membawa imej hatchback.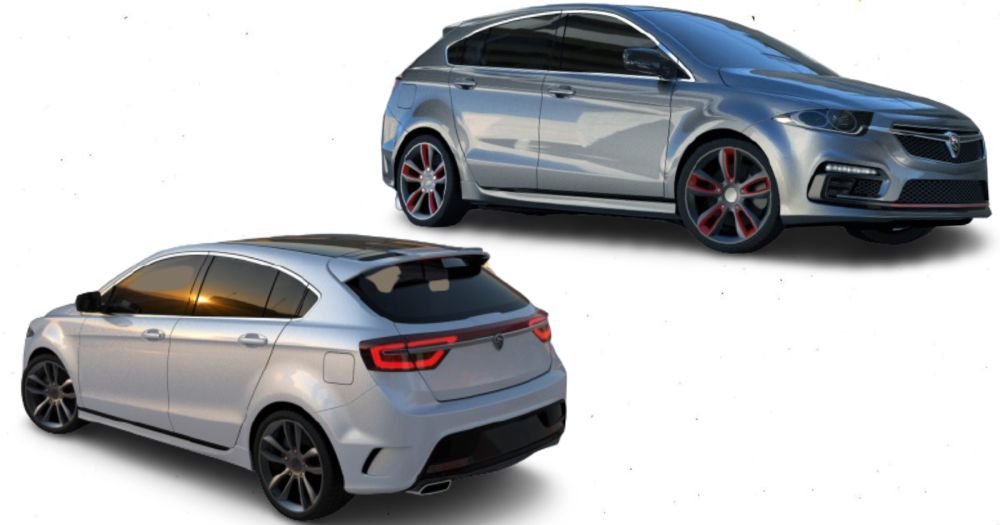 Model Proton yang dibunuh oleh Perodua Myvi iaitu Proton Savvy pun beliau pernah ubahsuai juga! Menariknya, beliau merupakan ketua pereka bagi model Proton Savvy ketika ia dibangunkan dulu. Boleh dikatakan rekaan ini merupakan imaginasi pereka asal Savvy tentang rupa bentuk model ini sekiranya dibangunkan semula pada masa akan datang.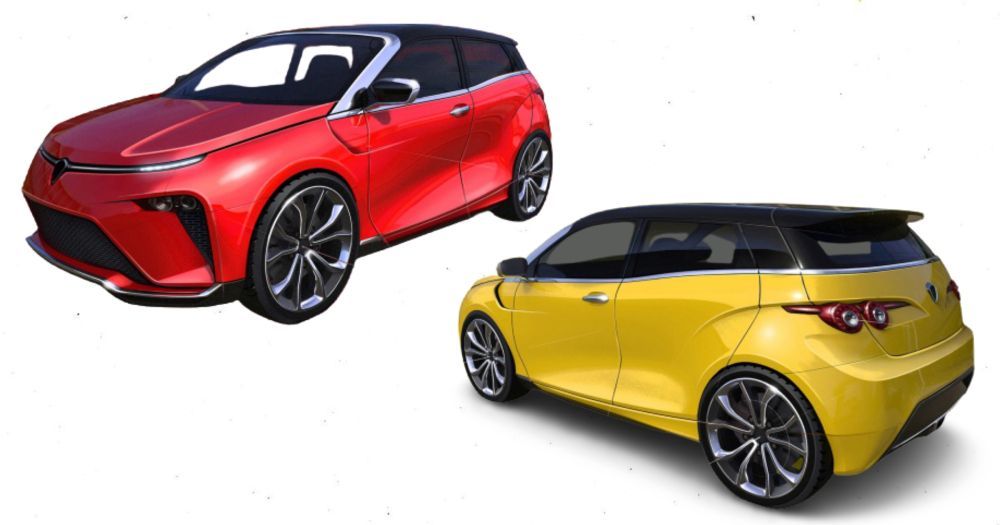 Bukan itu sahaja, beliau turut menghasilkan sebuah rekaan kereta konsep Aston Martin berdasarkan pengaruh rekaan daripada kereta Hotwheels. Betul tuan-tuan dan puan-puan, Hotwheels!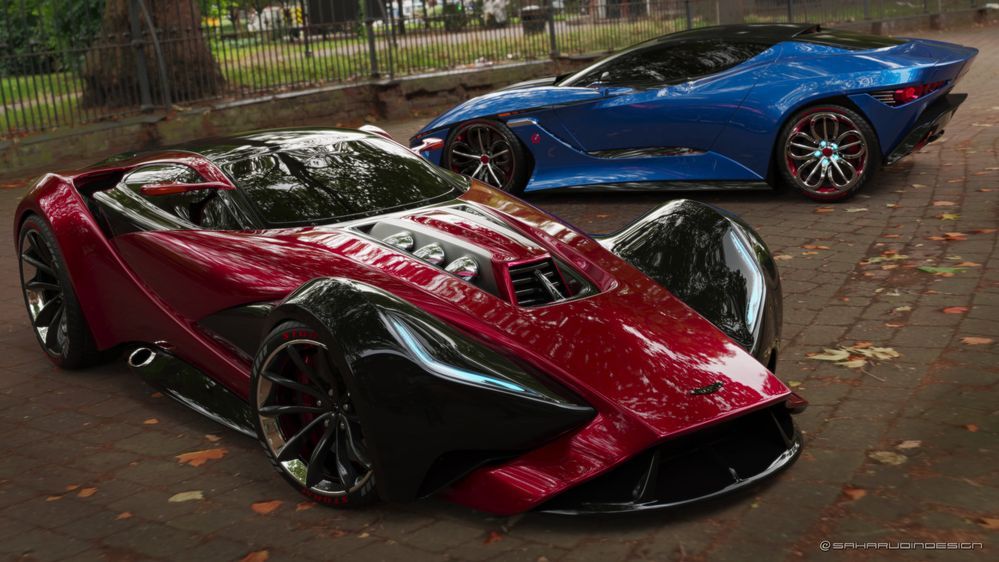 Antara design-design yang dihasilkan oleh beliau di atas, ada tak mana-mana yang anda berkenan? Ada macam-macam lagi rekaan yang dihasilkan oleh Saharudin. Anda boleh check rekaan lain di laman Instagram serta YouTube beliau, @saharudindesign. Andaikan sekiranya model kereta sport ini dijual di Malaysia, berapa pula harga yang sanggup anda bayar bagi mendapatkan kereta sport seperti ini?


For more latest car news, reviews, car buying guides and videos visit us at Carlist.my Auto News.
Check out all the best new & used car deals in Malaysia at Carlist.my.
Sell your car fast with the best offer? Visit us at CarlistBid.my.
Get the latest new car promotions at New Car website now.
---
---
---
---
Comments