 CVT = Continuously Variable Transmission. Are they reliable? Are they smoother? We explore 5 cars with the best CVT transmissions.
---
CVT (Continuously Variable Transmission)
With more and more vehicles manufacturers preferring to equip their vehicles with CVT transmissions for the sake of fuel efficiency and reliability, it's no surprise that these once frowned upon transmission is starting to be accepted due to the refinement it produces.
But what is a CVT transmission?
The CVT is a transmission that saw popularity on and off over the last two decades but has eventually become quite a staple – especially among Japanese cars. While there are various ways of engineering a CVT, the most common method is two variable-sized pulleys. One pulley takes an input from the engine, while the other pulley delivers an output to the wheels.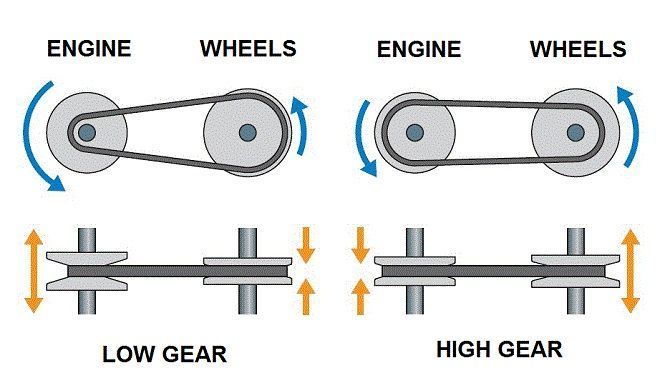 Connecting the two pulleys is a belt or chain. What's unique about the CVT is that the size of these pulleys can change in minute steps, which in turn allows the transmission to vary the ratio of input speed to output speed continuously – hence the name Continuously Variable Transmission.
With that being said, let us look at some cars with the best CVT transmission.


1. Toyota Yaris
With its edgy looks, bright colour palette, and optional bodykit, the Yaris strikes the right balance between the straight-laced image of past Toyotas as well as the more daring and mischievous character the automaker now finds itself leaning more toward.
The 1.5-litre engine is pretty much bulletproof, the ride is refined, and the drive is pretty darn smooth, thanks partly to its CVT transmission. The CVT is pretty much inaudible and helps deliver smooth linear power, which makes it a relaxed drive. The CVT also has a flipside where you can engage its 7-speed sequential mode, which allows you to pick gears manually.


2. Honda CR-V
Honda makes one of the best CVT transmissions around, and it really helps with the refinement of the Honda CR-V. Apart from being surefooted and well balanced, the Honda CR-V is also silky smooth, and the CVT transmission helps the SUV accelerate off the line with ease. Another strong point of the Honda CVT transmission in the CR-V is its seamless virtual ratios which are practically unnoticeable.


3. Subaru Forester
The Subaru Forester is one of the most underrated SUVs around, and it's a shame motorist do not open up to it more often. With a good level of passive safety, comfort, NVH levels and overall driving refinement, it's a good thing that its CVT transmission doesn't let it down.
In our opinion, Subaru makes one of the best CVT-type automatic gearboxes out there – those who have had a chance to drive the current generation WRX – will know what we mean. The CVT-type automatic suspension in the Forester is relatively quiet and responsive at low, mid and highway speeds. Additionally, there's very little engine drivetrain judder during stop-go traffic, making this an effortless transmission to get to terms with.


4. Honda Jazz
Honda Malaysia will probably be killing off the Jazz when the Honda City Hatchback arrives, and that's a shame because the Jazz is a versatile little thing with a smooth driving experience.
The 1.5-litre i-VTEC engine isn't all that powerful, and with 120PS/145Nm, can't quite match some of its rivals for pure punch, but the hatchback is no slouch as it is able to accelerate as quickly as any driver wants it to and even climb up some steep inclines without struggle.
That peppiness is managed by the CVT transmission that does a fine job of dialing in the power to the right ratio for an acceleration that is effortless. While some CVTs are occasionally attributed to being the weakest link in a car fitted with one, the Honda unit here complements the Jazz well and aids in its un-rushed and dignified personality while being more conservative of the fuel in its tank. This is a CVT that works; one you can (and probably will) literally forget about.


5. Lexus UX
If it's anybody that can make the good ol' CVT refined, it'll probably be Lexus - because their cars are all about refinement. Despite being an entry-level Lexus, the UX is still Lexus through and through. It has a 2.0-litre four-cylinder naturally aspirated engine mated to a "10-speed Direct Shift CVT", which is basically a CVT transmission with a launch gear and 10 virtual speeds.
As you can imagine, the CVT is smooth and launches the car well when you need to accelerate. It's also one of the quieter CVTs we have experienced, but then again, that's just probably Lexus' impeccable NVH dampeners doing their job. Of course, we're first a little uncertain as to why Lexus equipped the UX with a CVT transmission as it's supposed to be an entry-level luxury vehicle, but with a CVT that good, you will forget that it is there.



For more latest car news, reviews, car buying guides and videos visit us at Carlist.my Auto News.
Check out all the best new & used car deals in Malaysia at Carlist.my.
Sell your car fast with the best offer? Visit us at CarlistBid.my.
Get the latest new car promotions at New Car website now.
---
---
---
---
Comments