BMW Malaysia Adds Five New Charging Bays at Sunway Pyramid
Auto News BMW Group Malaysia, in partnership with ParkEasy, Shell Malaysia, and Sunway Group, has unveiled the new 'Reserve + Shell Recharge Bays' at Sunway Pyramid shopping mall.
The new Reserve + Shell Recharge Bays forms part of BMW Group Malaysia's ongoing efforts to drive e-mobility forward in Malaysia and grow the broader infrastructure of Plug-In Hybrid and EV charging facilities in the country. Over 20 BMW i Charging Facilities are available across Iconic Hotel, Penang, Weil Hotel, Perak, Banjaran Hotsprings Retreat, Perak, Ramada Plaza, Malacca, and most recently, Bangsar Shopping Centre, Kuala Lumpur.
Located at Level CP2 (Preferred Parking zone) of Sunway Pyramid, the five charging bays in Sunway Pyramid are part of a total of ten charging bays that will span three major Sunway Group properties: Sunway Pyramid (5 Bays), Sunway Pinnacle (3 Bays), and Sunway Velocity (2 Bays).
The five charging bays are equipped with second-generation BMW i Wallbox Plus (Type 2) units, which are optimised for 22 kW three-phase (fast-charging) operation. A full charge for a car like the BMW 740Le xDrive will require between 3-5 hours.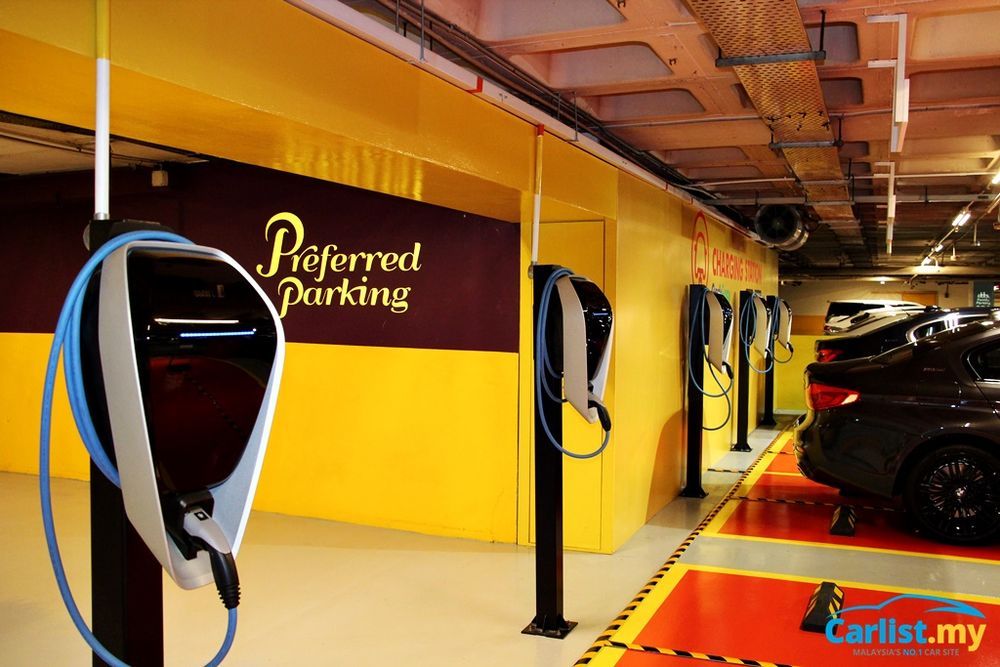 ParkEasy, on the other hand, with the support from Shell Malaysia will offer PHEV/EV owners an easy-to-use mobile application to reserve, unlock the charging bay, and charge their vehicle. The app also offers map guidance to charging facilities.
The Park Easy app allows owners to reserve a spot up to 60 minutes ahead of their arrival, assuring drivers of parking and charging availability. The app offers real-time updates of locations with charging bays, as well as charging bay availability. Each charging bay is equipped with an automated barrier that can only be lowered once the designated customer has reached the bay, and unlocks the barrier via the app.
The ParkEasy application uses credits which are deducted for the reservation and hourly use of the parking bays. ParkEasy credits can be topped up on the app using a debit or credit card. Normal parking charges still apply depending on the location. This cashless transaction also intends to cultivate ethical charging behaviour among EV and PHEV users.
Starting July, owners of BMW PHEVs will be entitled to exclusive BMW Privileges at the Reserve + Shell Recharge Bays. The package includes an e-starter pack for new BMW PHEV owners and an e-gift card to existing BMW PHEV owners for the use of the facilities at the Sunway Group properties. Using the promo code "BMWMY", customers can redeem five ParkEasy credits for use at the Reserve + Shell Recharge Bays. The promo code is available from now to 31st July 2019 and is limited to 2,000 users.
In addition to the Reserve + Shell Recharge facilities, BMW PHEV/EV owners can also utilise the existing ChargeNow service, which is offered as part of the BMW 360° Electric programme, which also grants straightforward access to partner charging facilities like ChargEV, where customers can enjoy 24/7 support and access to all charging locations in ChargEV's growing network nationwide.
---
---
---
Comments