 CKD cars, CBU cars. We discuss the differences and why they exist in the first place?
---
If you're into cars or currently looking into purchasing one, then you obviously know by now that the Malaysian government has given us some tax breaks to help re-ignite the automotive sector.
Under the 'Pelan Jana Semula Ekonomi Negara' (PENJANA) initiative, the tax incentive for new CKD cars fully exempts them from sales tax. It doesn't stop there either because it also states that there will also be 50 percent off sales tax for imported cars (CBU).
But what is the difference between CKD (Completely Knocked Down) and CBU (Completely Built Up) cars in the first place?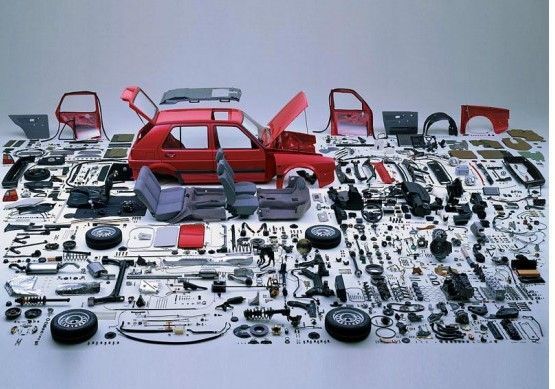 CKD
Thanks to this notion called CKD, foreign vehicle manufacturers are able to take advantage of a decreased amount of tax for their cars due to the nature of how CKD works.
CKD cars are built upon kits that are sent from a vehicle manufacturer to a country where it will then be assembled to be a whole car. It is a common practice in the worldwide automotive industry for various reasons, including a lower amount of taxation.
Manufacturers need machinery, land and a workforce to put CKD cars together, which effectively means that they are creating jobs and contributing to the country's economy. For this reason, it is only fair that governments give the manufacturers some tax incentives for their investment in a country.
This allows manufacturers to sell their vehicles for a much lower price, something that will help manufacturers make a profit in the long run.
So CKD works, because not only does a government get to protect their assets (we'll get to that later), but they also get manufacturers to help build up an industry, creating a skilled workforce while making a profit from selling cars abroad.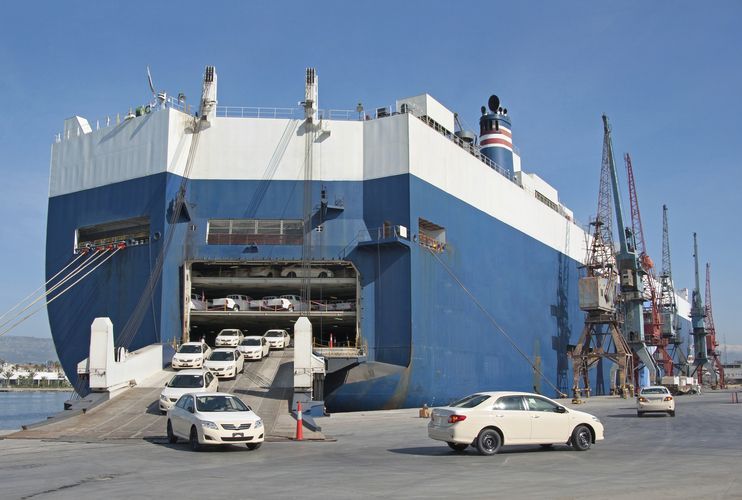 CBU
CBU cars are the complete polar opposite of CKD. Simply put, CBU cars are just fully imported vehicles. They are cars that are built somewhere else in the world and imported as a whole into the country.
Their prices are usually much higher than CKD cars due to the taxes imposed on them. Due to demand, these cars still exist, because those with the means are willing to pay a premium to get their hands on said vehicle.
However, not all CBU cars will be more expensive than CKDs. Because of a pact called ASEAN Free Trade Area (AFTA) and the ASEAN Trade in Goods Agreement (ATIGA) between ASEAN countries, there are no import duties on CBU vehicles produced in ASEAN countries. As an example, some Honda and Toyota vehicles are made in Thailand, so even though they are imported, those vehicles are not subject to the same taxation as a car made in Germany or Sweden.
History of CKD in Malaysia
Malaysia's modern vehicle industry is ruled by two local manufacturers, Proton and Perodua. We say ruled, because the National Car Policy is heavily influenced by them to give these two local car makers an advantage over every other manufacturer.
This in some way is a form of protectionism and many other countries with locally produced cars do the same thing. It is understandable because why wouldn't a country protect their assets, right?

But was it always about protectionism?
Before Malaysia's independence, we could only purchase imported vehicles (CBU). In 1960, a few years after our independence, the Malaysian government started to concentrate on industrialisation which helped kick start the Malaysian automotive industry.
By 1967 local businesses partnered up with foreign vehicle manufacturers to begin assembly of CKD cars. By doing this, not only did the government hope to create more jobs, but it also hoped to establish a market for Malaysian-made parts.
With the gradual increase of local content and technology transfer throughout the years from the joint venture assembly plants, Malaysia became more confident of producing cars which resulted in our own national car, Proton
Depending on who you ask, the pioneers of CKD in post-independent Malaysia were Swedish Motor Assemblies (now known as Volvo Car Manufacturing Malaysia) and Capital Motor Assembly (now known as Tan Chong Motors).
They started making cars towards the end of 1967. While Volvo assembled Volvos and still do in Shah Alam, Tan Chong assembled Datsuns in Johor. According to other sources however, they were not the first and were pipped by a few months by Kilang Pembena Kereta-Kereta (KPKK) who assembled Fiat and Mitsubishi cars in Tampoi, Johor.
Although it is difficult to find an exact figure of how many jobs the CKD initiative has created, it has contributed to the 700,000 nationwide workforces in our current automotive industry. It has also helped Malaysia become the third-largest automotive industry in South East Asia contributing RM40 billion to the Malaysian GDP.
Here is a fun fact
Way back then Malaya was ground zero for the first-ever foreign local assembly plant in South East Asia, which saw FORD Motor Company setting up a hub in Singapore in 1926.
For those who are interested in the current tax structure
Down below we have a list sourced from MAA (Malaysian Automotive Association) that gives us a better picture of how much tax is imposed on CKD and CBU cars. Since we have this tax break thanks to PENJANA, ignore the sales tax figures for CKD cars.
MALAYSIA: DUTIES & TAXES ON MOTOR VEHICLES
MFN - Most Favoured Nation
ATIGA - ASEAN Trade In Goods Agreement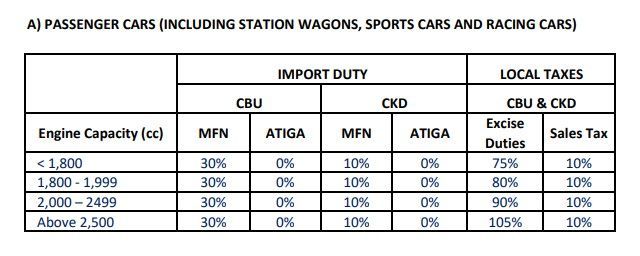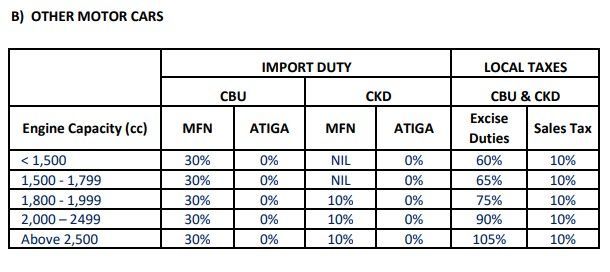 If you would like to find out the list of cars that are CKD in Malaysia, then read this article.
---
---
---
---
Comments