Honda Accord 2020 vs Toyota Camry 2020
Insights If we were to talk about the titans of the mid-sized family sedan, there's no going past the fact that the Toyota Camry and Honda Accord are the two most prominent players in this arena.
---
Year after year they go after each other, and sometimes we think they don't care about anything else except for being better than the other - something like Liverpool and Manchester United's never-ending rivalry.
But their rivalry isn't such a bad thing, because if it weren't for that competition the Honda Accord 2020 and Toyota Camry 2020 would never scale new heights generation after generation.
In our opinion, the Honda Accord 2020 and Toyota Camry 2020 are currently the best out of any of their previous generations. Their styling is more adventurous, and they feel more luxurious - thanks to that new competition, the SUV.
Saying that however, we can't have a tie between these two as people will naturally put these two kings of practicality against each other and decide which one is best for them. To help with the decision making, we thought we would breakdown these two cars and take a look at some of its good and bad bits.
As usual, we will pick the highest variants for both, which means the Honda Accord 1.5 TC-P VS Toyota Camry 2.5V, the only Camry variant in Malaysia.
All Pictures: Toyota Camry 2020 (left side), Honda Accord 2020 (right side)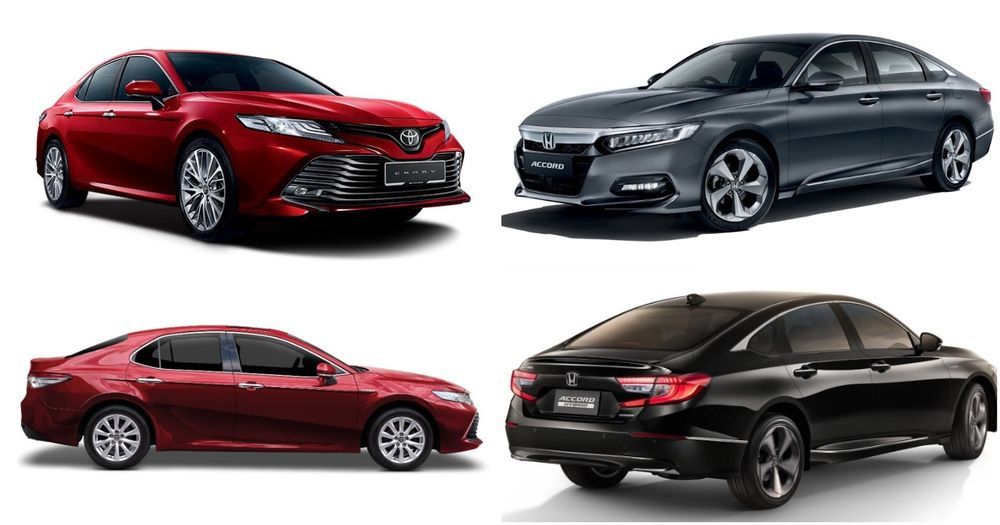 Looks: Honda Accord 2020 0-1 Toyota Camry 2020
There's no denying that Honda and Toyota have had to make the Accord and Camry sportier-looking to attract buyers away from purchasing an SUV. The Camry now looks like a sporty yet classy car, reminiscent of a Lexus body silhouette, while Honda has surprised everyone and gone all coupe shaped with the Accord giving it a dramatic sloping rear roofline. As much as we love that new sexy roofline on the Accord, somehow the Camry's stance just pushes all the right buttons.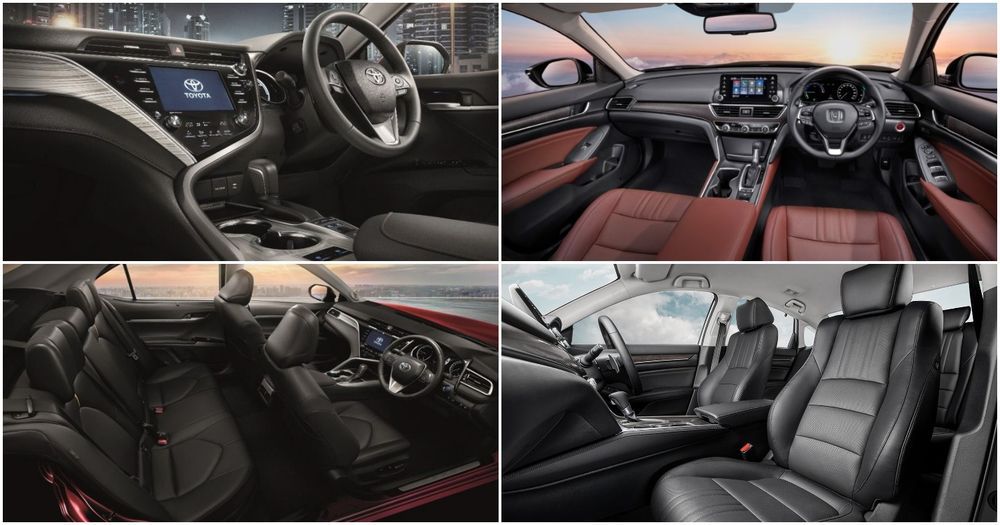 Interior: Honda Accord 2020 1-1 Toyota Camry 2020
Just as you think that the Camry will pull ahead thanks to its new good looking body, the interior doesn't feel as reflective of its great exterior design. Yes, the Camry's interior sweeping line which cuts through the centre console feels very driver-oriented and sporty, but it's the Accords' understated and simple interior layout that feels more appropriate. There's also this feel that the Accords' interior materials are better, everything feels supple to the touch. Also thanks to that coupe-like body, the Accords' boot space is slightly larger than the Camry's. The Accord's interior feels surprisingly larger too, a testament to Honda's clever interior design which all of their cars now have.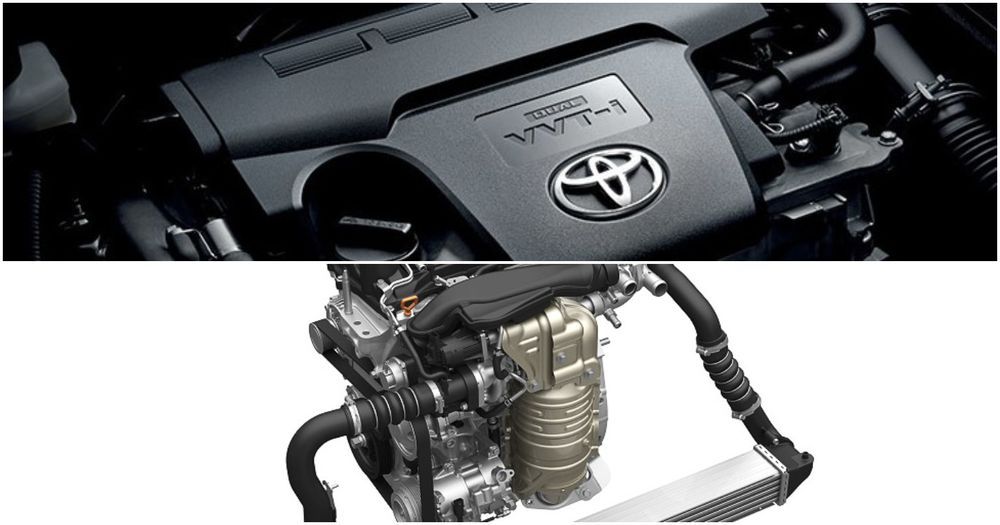 Powertrain: Honda Accord 2020 2-1 Toyota Camry 2020
Hands down, the Accord trumps the Camry here. Not only is the 1.5-litre 4 Cylinder, 16 Valve, DOHC Vtec Turbo (198hp, 260Nm) more potent than the Camry's 2.5-litre 4-cylinder, In-line, 16-valve DOHC with Dual VVT-I and ACIS (181hp, 235Nm), but you will also pay less road tax thanks to Honda's smaller engine displacement. But, we're just not big fans of CVT transmissions, so the Camry does get back some brownie points for having a 6-speed Automatic with Super ECT & Sequential Shifter.
| | | |
| --- | --- | --- |
| | Honda Accord 1.5 TC-P | Toyota Camry 2.5V |
| HP | 198 | 181 |
| Nm | 260 | 235 |
| Transmission | CVT | 6-Speed Automatic |
| 0-100km/h | 9.1 Sec | 10.7 Sec |
| Tyre Size | 235/45R18 | 235/45R18 |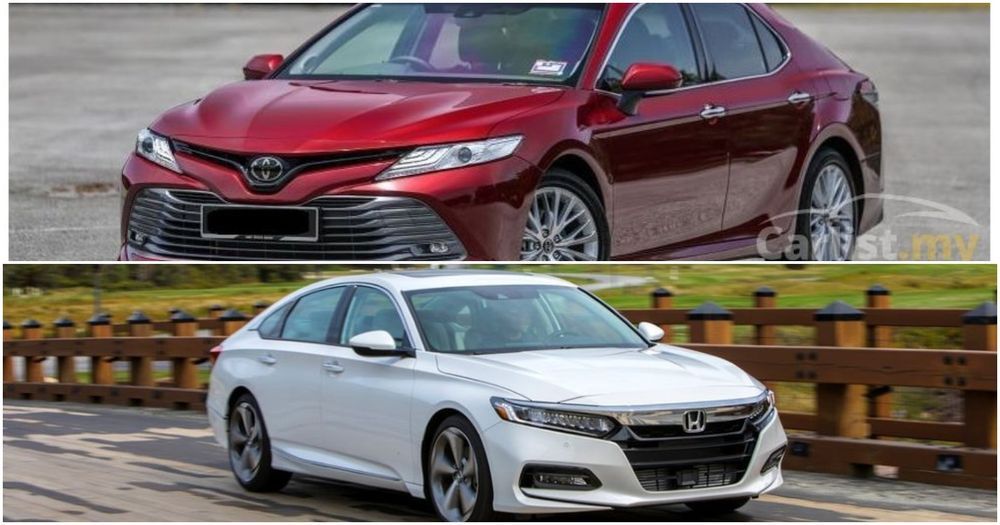 Driving Impressions: Honda Accord 2020 2-2 Toyota Camry 2020
Both are front-wheel drive cars but both feel very different to drive. Thanks to Toyota's pursuit of making more driver-oriented cars, the Camry actually feels quite agile and sharp. It really does reflect that sporty interior it has. The Accord, on the other hand, reflects its regal underpinnings and drives like a comfy limousine that an earlier generation Mercedes would be proud of. What a reversal of events for these cars, it used to be the opposite for both vehicles. Toyota should pat themselves on the back for being brave and altering the Camry so that it is bit more sprightly. Even the older generation like well-sorted handling cars and Toyota finally understand that.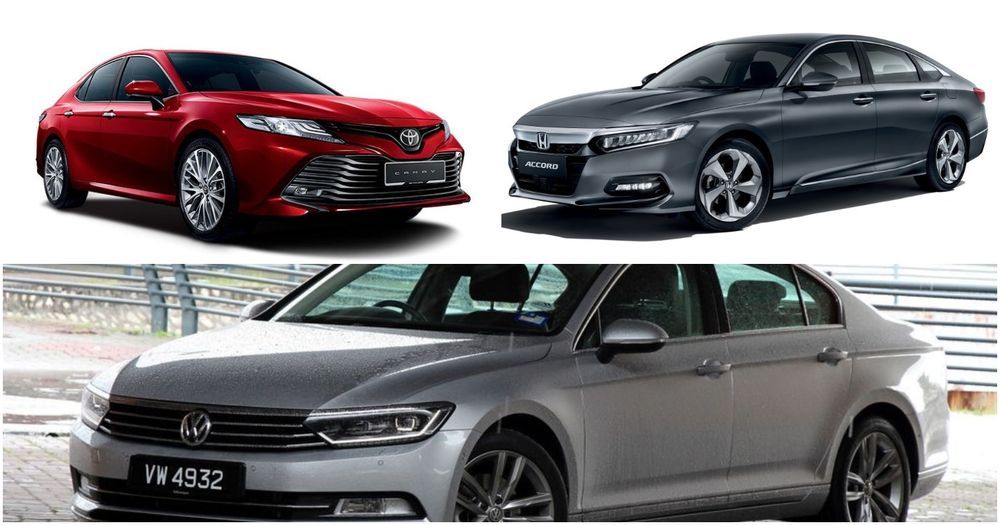 Conclusion: Honda Accord 2020 2-2 Toyota Camry 2020
Its really a tough choice choosing between the two, especially when there is only around RM1k difference between the price (Honda Accord 1.5TC-P RM187k vs Toyota Camry 2.5V RM188k). While the Honda Accord is a better package due to its low road tax, engine power and space, there is something to be admired about how Toyota has managed to completely turn the Toyota Camry into a different beast. We'd take a chance on the 2020 Camry and so should you but if all fails and you can't pick either, there's always that technologically advanced Volkswagen Passat you could look at.
---
---
---
---
Comments