Honda BR-V vs Mitsubishi XPANDER vs Perodua Aruz vs Toyota Avanza vs Proton Exora - Sub RM100k MPV Battle
Buying Guides There are more choices than ever for sub-RM100k MPVs, but which one is the right one for you?
---
Since its creation, the Multi-Purpose Vehicle (MPV) has been the answer for many family mobility woes. What was once considered an expensive and out of reach vehicle is no longer the case today.
The surge of affordable sub-RM100k MPVs has truly mobilised families like never before. With high levels of build quality, comfort, and clever space defying seven-seat arrangements, these sub RM100k MPVs can be considered as one of the best gifts to buyers who need more than five seats in their vehicles.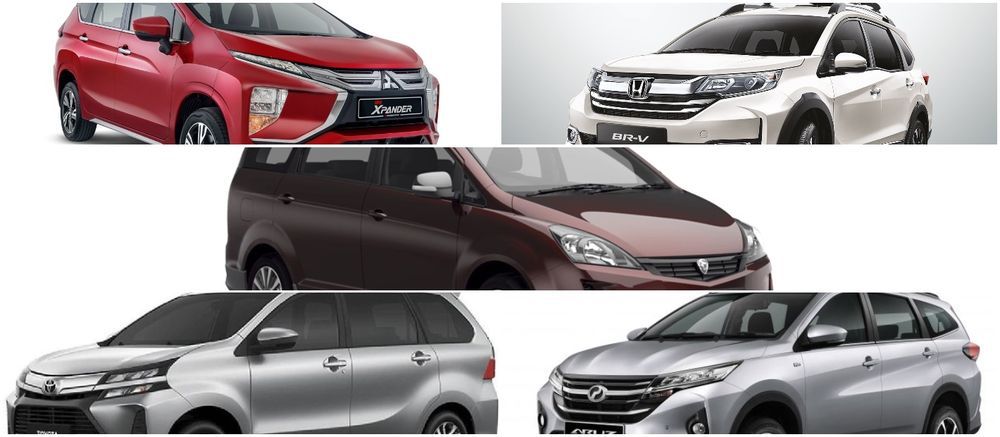 With many options available on the market, it's sometimes difficult to decide which one is best for you and your family, so to help with this conundrum, we thought we would put some of the newest and most popular sub-RM100k MPVs together to see how they stack up against each other.
The newest of these sub-RM100k MPVs is the Mitsubishi XPANDER. It has to compete with some titans like the Perodua Aruz, Proton Exora, Toyota Avanza and the venerable Honda BR-V. Does it come out on top? Let's take a look.
Sub-RM100k MPV Battle

Index

Honda

BR-V

Mitsubishi

XPANDER

Toyota

Avanza

Proton

Exora

Perodua

Aruz

MSRP
From RM87k
RM91K
From RM81k
From RM60k
From RM69k
Engine
1.5-litre N/A
1.5-litre N/A
1.5-litre N/A
1.6-litre Turbo
1.5-litre N/A
Transmission
CVT
4-speed Auto
4-speed Auto
CVT
4-speed Auto
Drivetrain
FWD
FWD
RWD
FWD
FWD

Fuel Economy

(claimed)

6.5L/100km
4.8L/100km
7.7L/100km
8.3L/100km
6.4L/100km
Horsepower
118hp
104hp
104hp
138hp
104hp
Torque
120Nm
141Nm
136Nm
205
136Nm
0-100km/h
12.2 sec
13.3 sec
13.5 sec
11.3 sec
16.5 sec
Wheels
16"
16"
15"
16"
17"
Dimensions

4,451mm(L)

1,735mm(W)

4,475mm(L)

1,750(W)

4,200mm(L)

1,660(W)

4,592mm(L)

1,809mm(W)

4,435(L)

1,695mm(W)

Airbags
2
2
2
2
6
Safety

ABS/EBD

Stability control

ISOFIX anchors

7x 3-point seat belts

ABS/EBD

Stability control

Hill-start assist

ISOFIX anchors

ABS/EBD

ISOFIX anchors

ABS/EBD

Premium Spec adds ESC

ABS/EBD

Brake assist

VSC

ASA 2.0

Hill-start assist

Hill descent control

ISOFIX anchors
As you can see from the table above, each of these MPVs really has its own strengths. If safety is of primary concern, go for the Perodua Aruz, if power and space are what you want, go for the Proton Exora, if you want an RWD MPV, go for the Avanza, If you want an MPV that is fuel-efficient, good at everything and not a master of anything go for the BR-V and if you want the best looking and handling out of them all, go for the Mitsubishi XPANDER.
No doubt just by glancing at the table, the Perodua Aruz shines above the rest. Ok, it might not be the fastest MPV on the block, but it pretty much has everything covered as well as excelling in the safety department. It's also the second cheapest car out of the lot, so you're getting a lot of bang for your buck there.
However, you should never buy a car based on specs alone, because sometimes a car just speaks out to you. There is also an emotional element to consider when picking a car to buy, even an MPV. Even though the XPANDER doesn't have all the safety gear of the Aruz, its exterior design is a winner, and sometimes, that's all it takes.
---
---
---
---
Comments