Interstate Travel Coming Soon! Very Soon!
Auto News As was mentioned before the interstate travel ban will be lifted when the adult population vaccination rate in Malaysia reaches 90%. We are currently at 87.2% as of the time of publication.
---
In a posting on his official Twitter account on October 2, 2021, Health Minister Khairy Jamaluddin said 86% of the adult population in Malaysia has been fully vaccinated.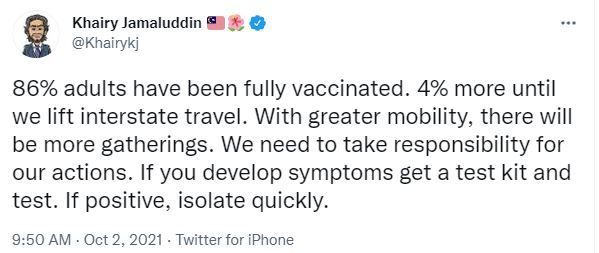 He went on to add, "With greater mobility, there will be more gatherings.
"We need to take responsibility for our actions. If you develop symptoms get a test kit and test. If positive, isolate quickly," he tweeted.
Recently, Prime Minister Ismail Sabri Yaakob also mentioned that interstate travel would be allowed when 90% of the country's adult population was fully vaccinated.
This was further echoed by National Recovery Council (MPN) chairman Tan Sri Muhyiddin who even indicated that interstate travel might be allowed as early as mid-October.
At the time of publication according to the COVIDNOW portal, the adult population in Malaysia fully vaccinated stood at 87.2%.
---
---
---
---
Comments