JKR Kuala Langat Quick To Say Sorry To Khairy Jamaluddin
Auto News Minister of Science, Technology and Innovation, Khairy Jamaluddin has a spill whilst riding his bicycle and JKR Kuala Langat's Twitter account is quick to apologise for the bad road condition.
---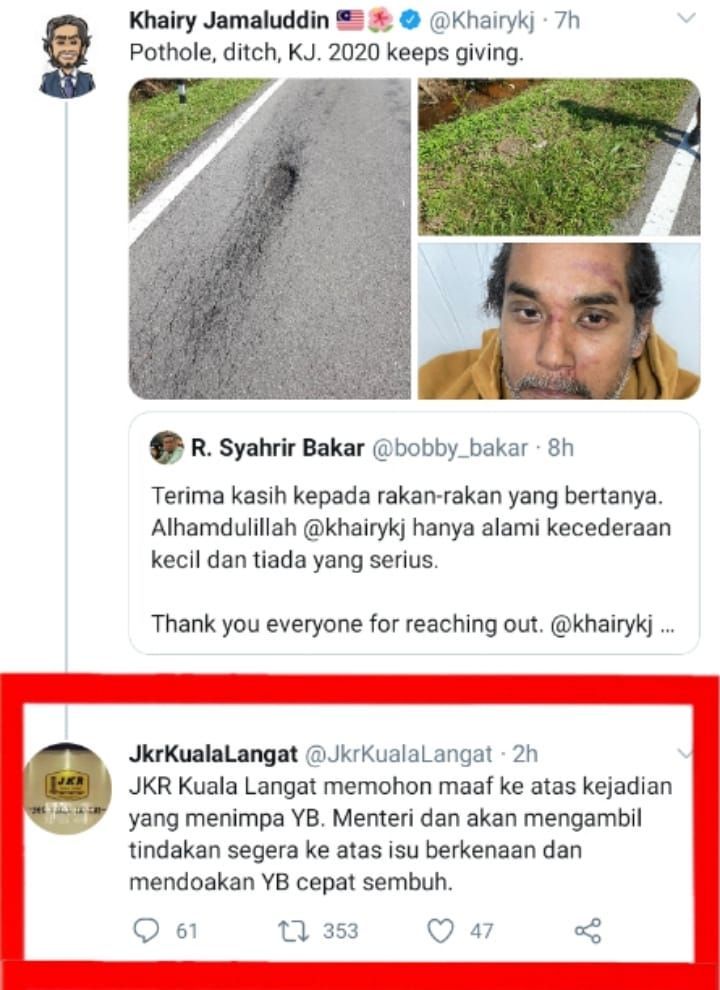 Malang tak berbau bagi Menteri Sains, Teknologi dan Inovasi apabila jatuh ketika berbasikal semalam. Para netizen lantas menghulurkan rasa simpati dengan ucapan agar beliau cepat sembuh.
Yang agak menghairankan ialah apabila laman Twitter JKR Kuala Langat @JkrKualaLangat turut meminta maaf ke atas kejadian yang menimpa YB Khairy seperti di atas. (Kesahihan akaun Twitter ini masih belum dapat dipastikan)
Ini sepatutnya menimbulkan tanda tanya, kenapa kalau YB jatuh cepat sahaja responnya? Bagaimana pulak dengan segala aduan daripada rakyat biasa seperti anda dan juga si penulis?
Kita setuju yang bagus tindakan diambil terutamanya jika keadaan jalan tidak berada di dalam keadaan yang baik atau selamat tetapi tanggungjawab JKR sepatutnya untuk kesemua rakyat Malaysia dan bukan sahaja ahli politik!

*Gambar ehsan Info Roadblock JPJ/POLIS dari Facebook 
---
---
---
Comments