July 2018 New Vehicle Sales- Only 6 Makes Did Better Than June 2018
Auto News The expected surge in Malaysia's total industry volume (TIV) continues into the month of July. A total of 68,465 units of new vehicles were sold, which is an increase of 3,963 units or 6.1% versus the previous month.
Year-to-date, the TIV is 358,179 units, which is over 25,000 units (or 7.6%) more than the same period last year. MAA also reported that Audi did not provide their sales figures for the month of July.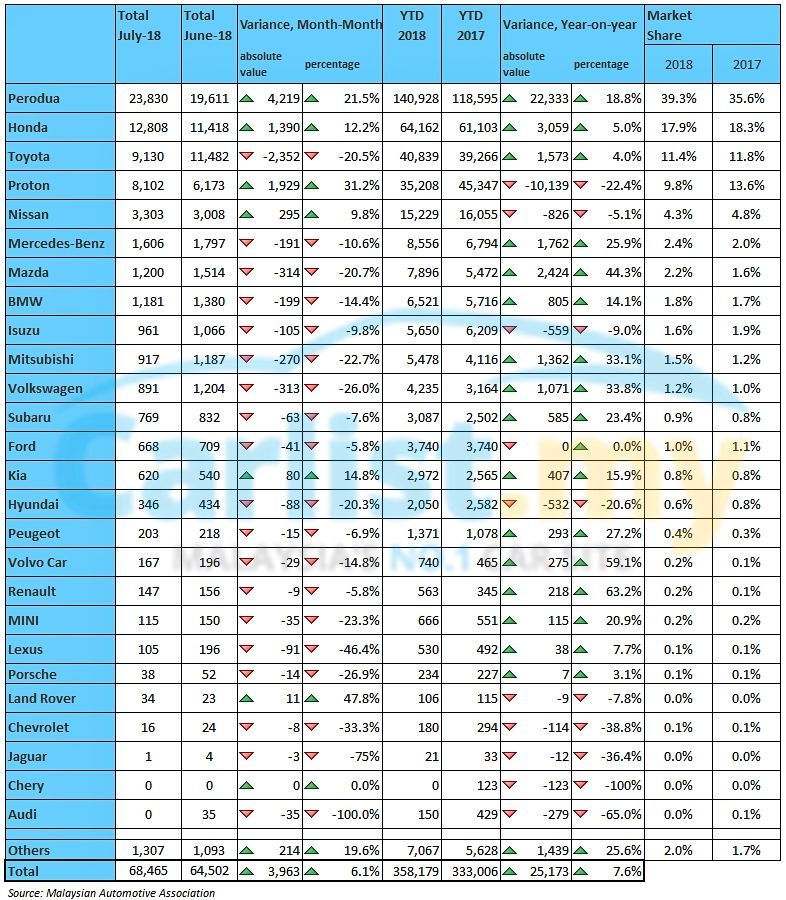 While June was an above-average month for Perodua, the car company with only four models achieved their best month of sales in July, registering 23,830 units. With this outstanding sales result, the company's sales are almost 19% better than the same period last year. The sales contribution of each of the four models can be found here.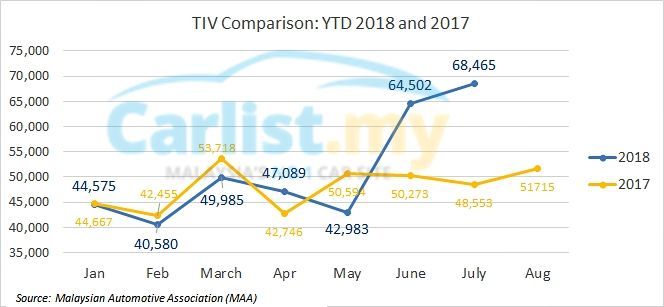 Only five other makes enjoyed a better sales in July versus June- Proton, Honda, Nissan, Kia, and Land Rover. Proton earlier announced their July sales of 8,102 units was their best in 30 months.

With the sales of 12,808 units, July was also the best ever monthly sales performance for Honda Malaysia. Based on the body type breakdown, the sales of their passenger car range (City, Jazz, Civic, HR-V, and Accord) hit a new high of 9,745 units, triple the figures achieved by long-time arch-rival Toyota (3,246 units) and tenfold over Nissan (944 units).
For this month, we will also take a quick look at the production output numbers, to assess if the local assembly plants are reacting to the surge in demand due to the 'tax-free holiday'.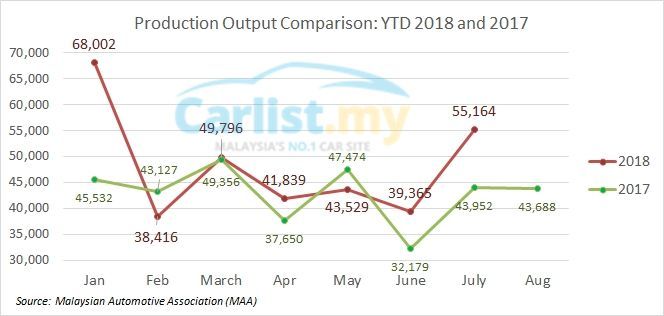 From the trend above, production in January 2018 was almost an all-time high of 68,002 units. This surge was attributed to a single model, the new Perodua Myvi, where the company reported to have produced over 24,000 units.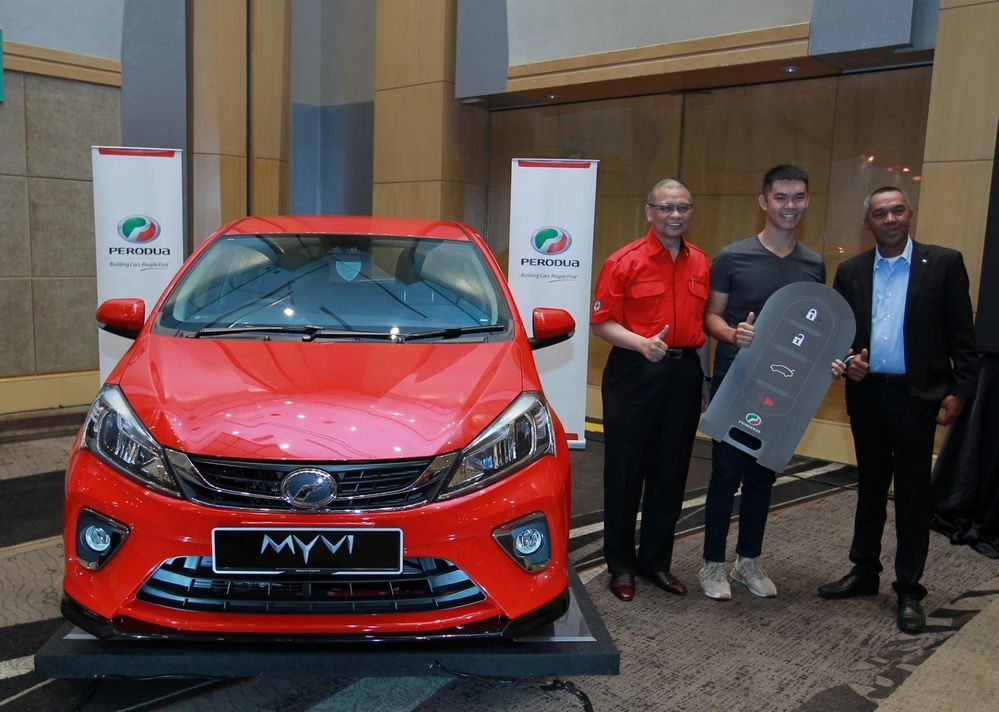 After the announcement of zero-rated GST with effect from 1st of June, the 'rakyat' started pulling forward their new vehicle purchases and thus, clearing the available new vehicle stocks.
Data for July 2018 highlighted that with 55,164 units of new vehicle production, it is the second highest of 2018, and even surpassing any of the months in 2017 (monthly average production output in 2017 was 41,637 units). Year-to-date, assembly plants in Malaysia had produced approximately 36,841 units more (or 12.3%) compared to last year, totalling to a figure of 336,111 units.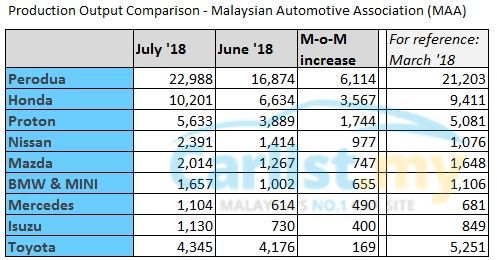 A quick analysis revealed these plants also managed to increase their production output tremendously to meet the surge in demands from the 'tax-free holidays'. Honda Malaysia's plant in Malacca managed to churn out 10,201 units, over 50% more than its June output, while Toyota's ageing plant in Shah Alam did not really reflect many changes at an increase of just 169 units.
An interesting note, June and July outputs of Toyota's Shah Alam plant are far lower than their production output in March 2018. This could be due to the company's transition of moving production to the new plant in Bukit Raja, Klang, that is designed for the all-new TNGA platform and products.
Mazda, Nissan, and Isuzu also managed to increase production in line with the surge in demand, together with premium brands Mercedes-Benz and BMW.
As we reach the final 10 days of the memorable 'tax-free holiday', further promotions are still available on top of zero-GST savings for quite a number of makes. Both the government and MAA have also announced that prices of new vehicles will be going up next month with Sales and Services Tax (SST) being re-introduced.
---
---
---
---
Comments