Lagi Ford Mustang Terbabas – Teruk Sangatkah Kereta Ini?
Auto News Menerusi rakaman video dashcam yang dikongsi di sebuah akaun Facebook, sebuah Ford Mustang kelihatan memecut laju ketika cuaca hujan menyebabkan kenderaan terbabit terbabas ke tepi jalan.
---
Ketika kejadian, kawasan terbabit berada dalam keadaan hujan renyai namun permukaan jalan yang amat basah menandakan hujan lebat baru sahaja berlalu. Faktor jalan yang licin mungkin menjadi penyebab utama kemalangan ini. Dalam video tersebut, jalan yang dilalui itu lurus sahaja. Mungkin kereta tersebut terbabas ketika cuba memotong kenderaan lain dengan menukar lane pada kelajuan tinggi.
*Kredit Video: Malaysian Crime Watch
Permukaan jalan serta tayar turut berkait rapat dalam pemanduan sesebuah kenderaan. Keadaan tayar yang kurang baik juga bakal mencacatkan prestasi jentera. Kalau dah kereta tu mampu untuk memecut sehingga 250 km/h, tayar mesti kena padu untuk tampung kelajuan tersebut.
Ini bukan kali pertama kita dengar Ford Mustang terlibat dalam kemalangan jalan raya di negara ini, kan? Ramai yang tak tahu meskipun Mustang ini berharga dalam lingkungan empat ratus ribu keatas, namun ciri-ciri keselamatannya agak rendah? Kalau anda ingat mahal itu maksudnya selamat, anda silap! Tak semua kereta mahal itu lengkap dengan ciri-ciri keselamatan.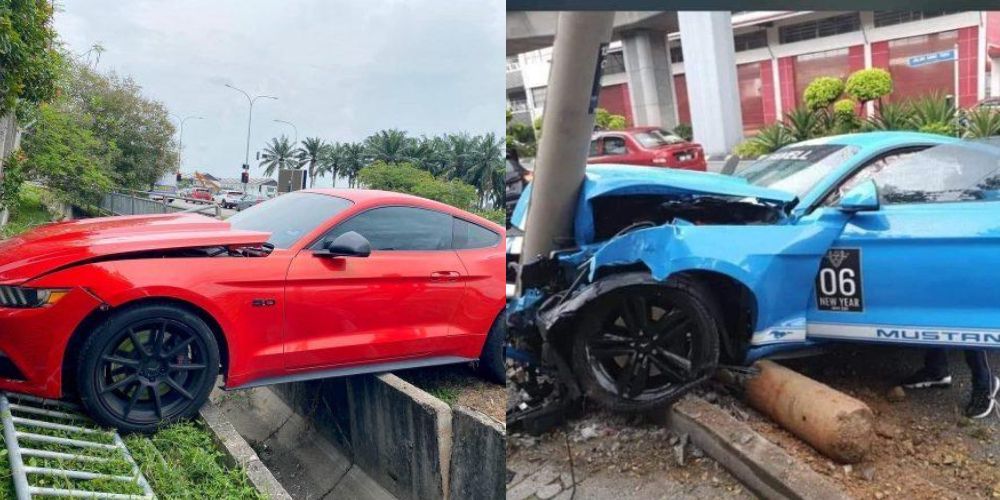 Berdasarkan penilaian keselematan EURO NCAP, Ford Mustang tahun 2015 hanya memperolehi 2 bintang sahaja daripada lima bintang. Bahkan model tersebut juga tidak mempunyai AEB. Bila tiada AEB, maka semakin kuranglah sistem bantuan untuk mengelak dan mengurangkan kebarangkalian kemalangan tersedia untuk pemandu.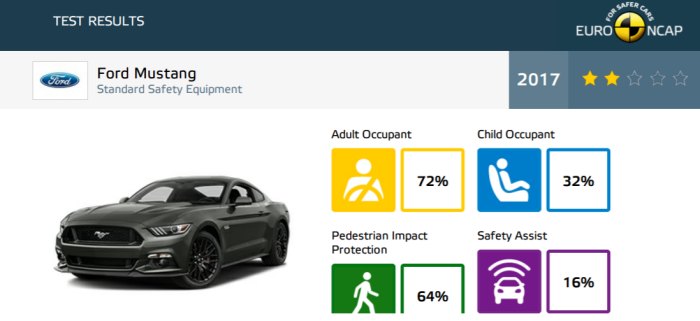 Berdasarkan keputusan yang ditunjukkan pada patung ujian, keselamatan anda ketika kemalangan berlaku akan lebih terjamin sekiranya anda duduk di tempat duduk hadapan. Kalau duduk belakang, peratusan keselamatan anda itu lebih tipis. Jadi kalau ada kawan-kawan anda yang pelawa naik Mustang kepunyaannya tapi duduk di belakang, kena fikir dua kali dulu lah.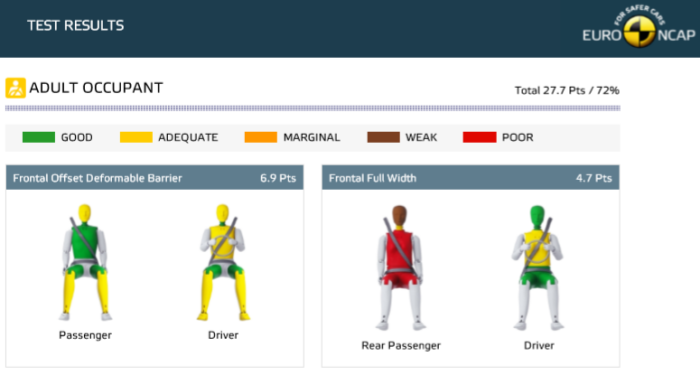 Selepas mendapat dua bintang, beberapa penambahan dilakukan pada model Mustang 2017 seperti Lane Keeping Aid dan Pre-Collision Assist yang merangkumi sistem pengesan pejalan kaki, amaran pelanggaran di hadapan and brek kecemasan autonomi. Hasilnya, model ini berjaya mendapat 3 bintang daripada Euro NCAP.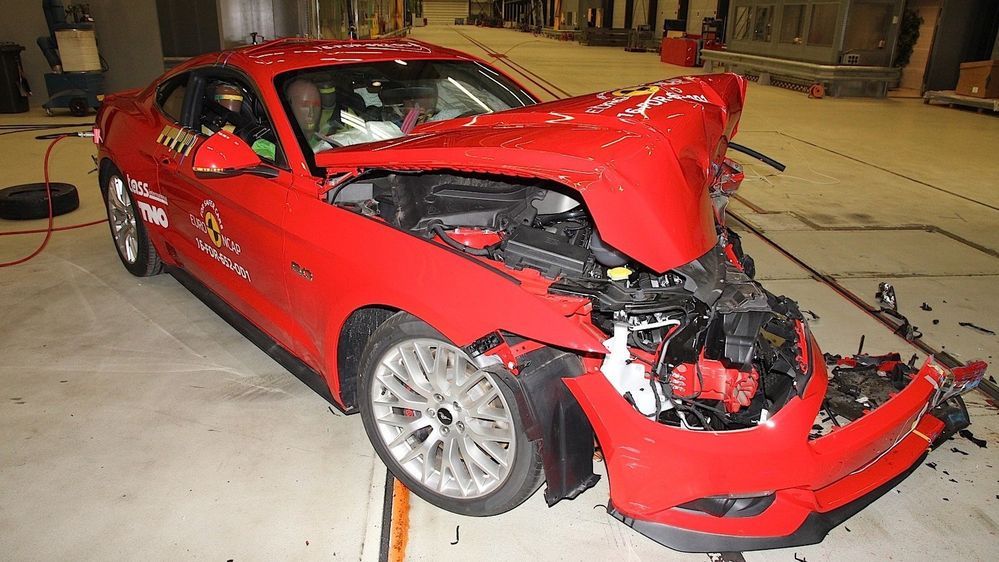 Meskipun ciri-ciri keselamatan pada kereta masa kini semakin canggih, namun ia hanyalah berfungsi untuk mengurangkan risiko kemalangan, bukanlah mencegah kemalangan 100%. Segalanya bergantung pada pemandu. Pengalaman dalam mengendalikan kereta berkelajuaan tinggi seperti ini amat ditagih pada pemandu bagi memastikan jentera dapat dikawal dengan baik dalam kelajuan yang tinggi. Kalau tidak, memang out lah. Kalau anda seorang pemandu yang berpengalaman, kekurangan ciri keselamatan pada Ford Mustang ini pun tak terasa pada diri anda.
Walaupun menerima pengiktirafan yang rendah daripada Euro NCAP, mengapakah jentera ini masih popular di Malaysia? Jawapannya adalah kerana perspektif masyarakat. Perasan atau tidak, Ford Mustang kebanyakannya dijadikan tanda kejayaan seseorang usahawan lebih lebih lagi mereka yang terlibat dengan MLM. Bila orang bawahan dah nampak leader pakai Mustang, mesti kelam kabut nak turut serta kan? Terpaksalah push sale demi Mustang sering muncul di kaca TV serta layar filem antarabangsa.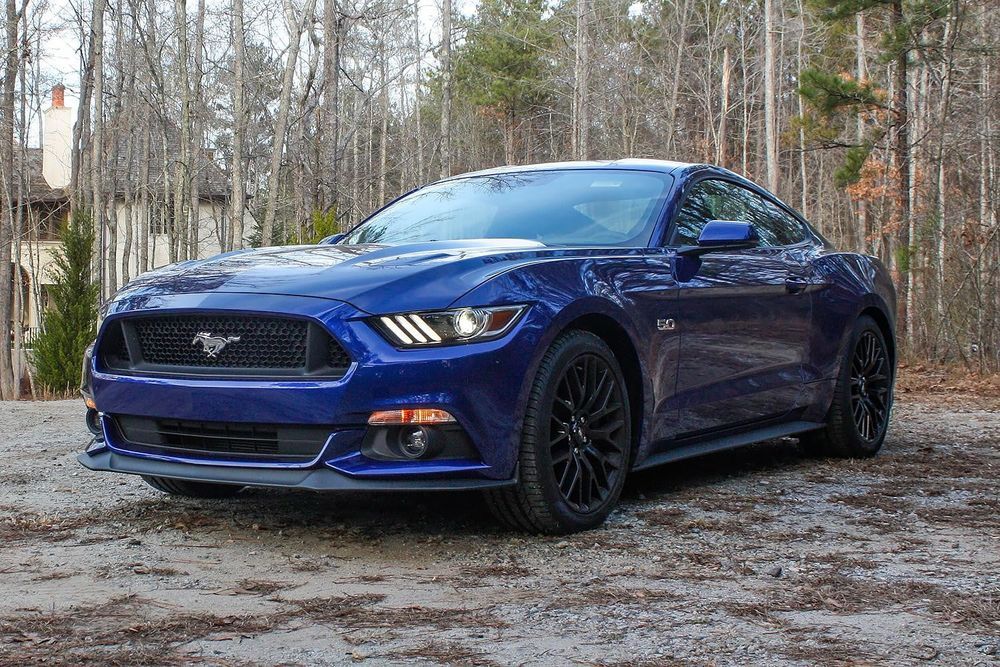 Tapi ada juga peminat setia Ford Mustang ini di Malaysia. Mana taknya, Mustang 2015 merupakan model pertama yang hadir dengan konfigurasi pemanduan sebelah kanan. Nak drive kat Malaysia pun tak pening! Bukan itu sahaja, kalau nak beli kereta Mustang recond, buat pinjaman bank pun boleh lepas. Kalau meminjam ni tak rasa sangat betul tak? Asalkan tak makan pasir la lepas beli sebab dah perabis duit beli Mustang.
Apa-apa pun, kemalangan boleh terhasil daripada banyak perkara. Kadang-kadang, kemalangan yang kita alami bukan berpunca daripada diri kita pun. Sebab itu kena berhati-hati di jalan raya.
For more latest car news, reviews, car buying guides and videos visit us at Carlist.my Auto News.
Check out all the best new & used car deals in Malaysia at Carlist.my.
Sell your car fast with the best offer? Visit us at CarlistBid.my.
---
---
---
---
Comments