Malaysia Day Special: The Who and Where Of Malaysia's Car Industry
Insights When the late Tunku Abdul Rahman proclaimed Malaya's independence from the British empire in 1957, our local roads were mostly travelled by imported British cars. There was no vehicle assembly or manufacturing plant in the country.
The nearest was Ford Motor Company's plant in Singapore, which later joined the Federation of Malaysia in 1963 for a brief two years.
Plans to establish a local manufacturing industry began in the '60s. In 1963, the same year the Federation of Malaysia was formed, Malaysia began implementing measures to establish heavy industries.
Our initial industry policy was very much influenced by ideals pushed forward by experts from the Colombo Plan – an inter-governmental organization funded mainly by Western countries to promote economic development in South East Asia, with the intention of combating rising communist influence in the region.
By 1964, the then Minister of International Trade and Industry Mr. Lim Swee Aun announced several measures to promote the local production of automotive components and setting up of vehicle assembly plants.
To kick-start demand for locally-produced industrial products, an import substitution policy was introduced. Import duties were imposed on imported vehicles and distributors were required to obtain a special license before they are able to import vehicles. The license had to be renewed every six months.
The introduction of locally-assembled vehicles also added several new terminologies to our policy papers. Today, many of us identify cars either as CKD (completely knocked down, referring to locally-assembled vehicles) or CBU (completely built-up, referring to imported vehicles).
There is actually another term, SKD (semi-knocked down) - which is much simpler operation that usually involve only fitting the axles and doors. Unlike CKD operations, SKD plants have no body painting or welding processes. However as far as our industrial policy papers are concerned, a vehicle is either a CBU or a CKD. Officially, there is no such thing as SKD, at least not recognised by our tax structure.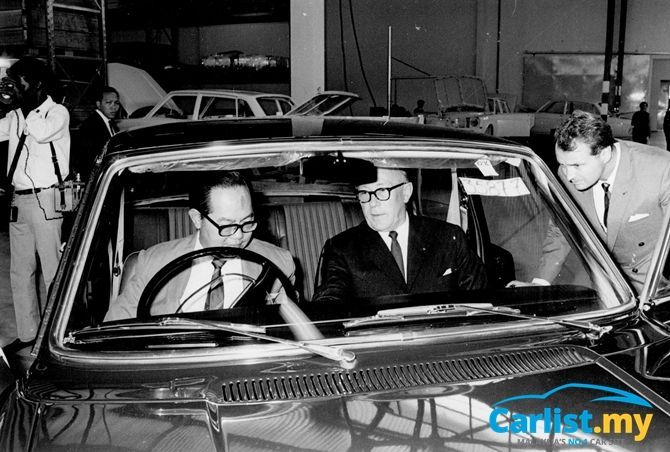 The first vehicle assembly plant setup in Malaysia is Volvo Car Manufacturing Malaysia (formerly known as Swedish Motor Assemblers) in Shah Alam, Selangor. Built in 1967 and officiated in February 1968 by the same aforementioned MITI Minister, it produced the Volvo 144 – the first locally-assembled car in Malaysia. Today, the Volvo plant produce not just Volvo cars, but also Volvo trucks.
Between 1971 and 1976, the Volvo plant also took on contract manufacturing of Datsun models while Tan Chong Motor Assemblers readied its plant in Segambut, Selangor.
Shortly after the Volvo plant began operations, Champion Motor opened its own plant across the road from Volvo. Known as Assembly Services, the plant produced the iconic Volkswagen Beetle, as well as a small number of Chevrolet Impala.
Champion Motors would later exit from Malaysia and ownership of the plant was transferred to UMW Toyota Motor, which continued to assemble Toyota vehicles there to this day.
Rounding up the trio of pioneer automotive assembly plants in Malaysia is the Tan Chong Motor Assemblies plant in Segambut. Opened in 1976, the plant used to assemble Datsun and Nissan models, but today it has been re-designated to do contract assembly jobs for non-Nissan models.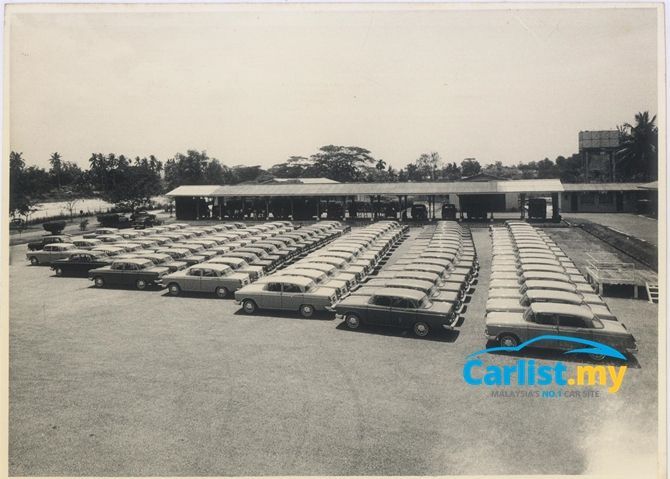 The Segambut plant now mainly serves Nissan's sister-brands from the Renault-Nissan Alliance, which now also includes Mitsubishi. It also assembles Subaru SUVs.
In total, there are now 20 vehicle assembly plants in Malaysia. The number used to be higher but increasing competition and under-utilization of plant capacity have forced at least four plants to close.
The most recent plant closure was Sime Darby Motors' Associated Motor Industry (AMI) plant in Shah Alam. It used to assemble Ford and BMW vehicles before shuttering in 2008. The last vehicle to roll out of that plant was an E60 generation BMW 5 Series. The property now belongs to the Tan Chong Group but is left dormant.
Over in Sabah, the Kinabalu Motor Assembly plant used to assemble various Isuzu pick-up trucks and commercial vehicles. The plant's former owner the Lion Group has since sold the property to MBM Resources (which owns Volvo dealer Federal Auto, and is a major shareholder of Perodua) but to date, the plant is left dormant and Isuzu vehicles are now produced at the Hicom plant in Pekan, Pahang.
Further down south in Sarawak, the former Sarawak government-owned Sarawak Motor Industries plant in Kuching used to assemble Toyota and BMW models before closing down in 1986.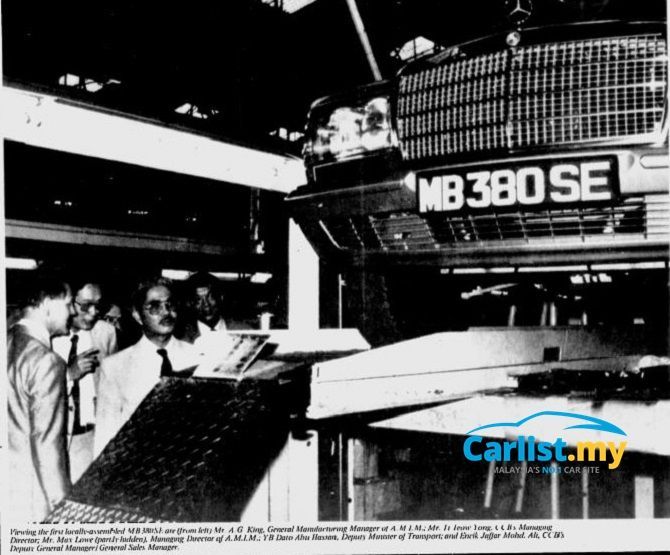 Cycle and Carriage Bintang, then the distributor of Mercedes-Benz vehicles in Malaysia prior, used to assemble Mercedes-Benz vehicles at a plant located next to Federal Highway in Petaling Jaya. Today, production of Mercedes-Benz vehicles is carried out at the Hicom plant in Pekan, Pahang.
The remaining 20 plants in Malaysia currently produce over 90 models, including commercial trucks and buses. The biggest exporting brands are Mazda, Volvo and Toyota.
Mazda exports the CX-5 diesel to Thailand while Volvo exports all its passenger cars range to Thailand. Toyota exports the standard wheelbase Hiace to Thailand (long wheelbase variants are produced in Thailand). Perodua exports a small number of cars - the Myvi to Indonesia (badged as the Daihatsu Sirion), Axia and Bezza to several island nations like Fiji, Mauritius and Sri Lanka. Proton used to have quite a number of active export markets, notably United Kingdom, Thailand and Australia, but the brand has since pulled out of the UK and Thailand, and is no longer active in Australia. It however did send a small shipment of cars to Chile and a small-scale local assembly operation is on-going in Bangladesh.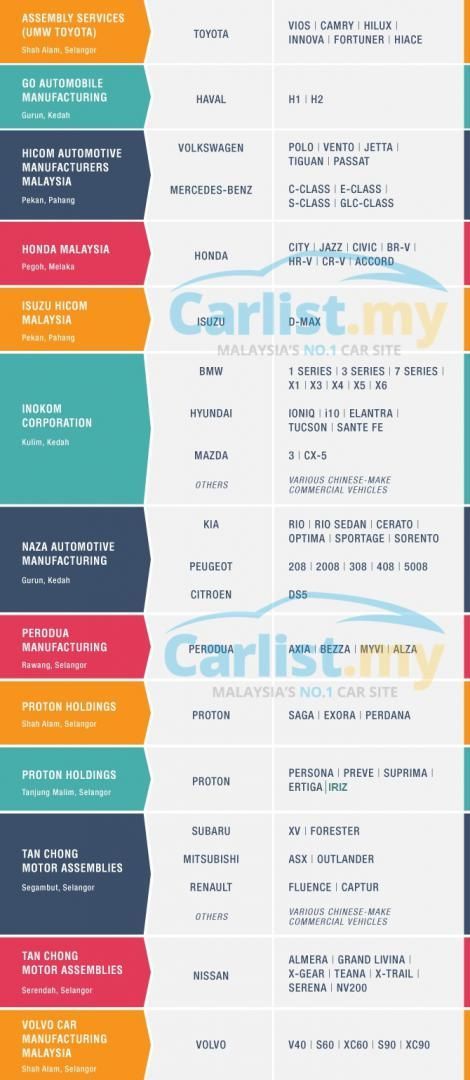 Apart from what's listed above, there are several more plants that assemble commercial vehicles. Scania has a plant in Shah Alam that assembles trucks and buses, Hino has one in Sendayan, while the Oriental Assemblers plant in Tampoi that used to assemble Honda vehicles when the brand was represented by Kah Motor, currently produces various Chinese-make commercial vehicles. Three other plants assemble Chinese-make commercial vehicles - Hong Seng Assembly in Butterworth, NB Heavy Industries in Sibu, DeAuto Industries in Klang.
If we are to be liberal with what defines a car plant, then we can consider boutique manufacturer Bufori's handcrafted cars too, which are produced at their small facility in Kepong, where Bufori's custom-made cars are put together by local artisans before they are exported to wealthy clients from around the world.
---
---
---
---
Comments