March and Q1 2018 New Vehicle Sales – An Uninspiring Quarter
Auto News Malaysia's automotive industry continues to see a downward trend for 2018, as Quarter 1 (January to March 2018) have charted lower vehicles sold than Q1 2017.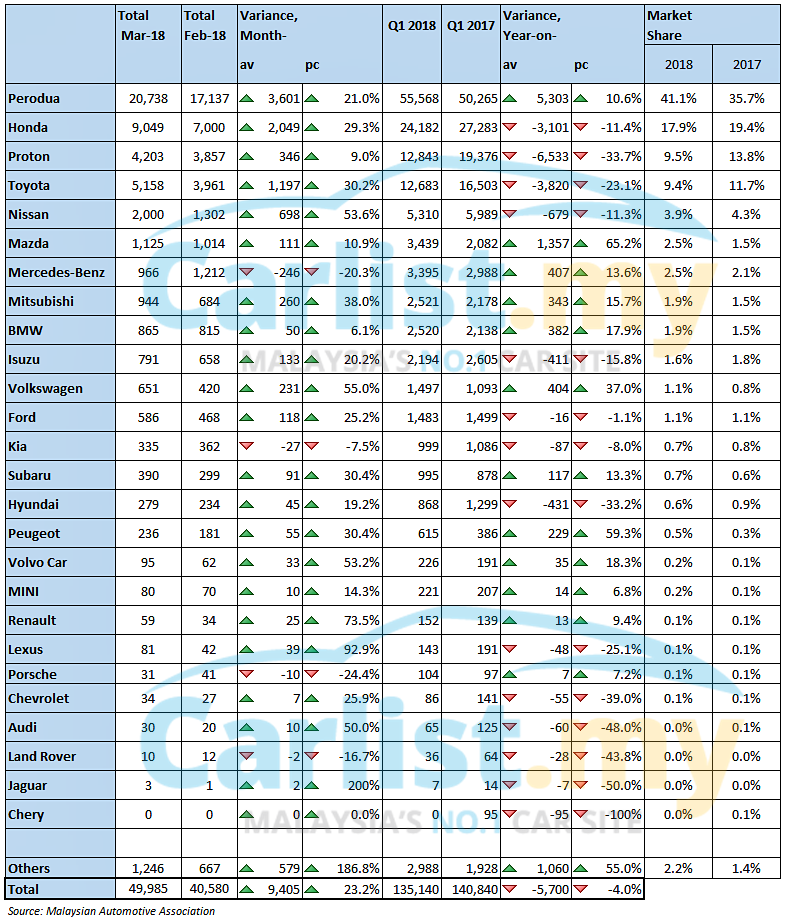 For March, the total industry volume (TIV) was 49,985 units, a reduction of 3,733 units versus March last year. Taking the sales performance of the first three months, Q1 2018 ended with 135,140 units versus Q1 2017 of 140,840 units, representing a 4% decline (or 5,700 units).
Apart from Perodua and Mazda who are enjoying a strong 2018 thus far, Mercedes-Benz, Volkswagen, and Peugeot are also achieving a positive Q1. Below is the summary of the top 9 strong performers of 2018, and the key reason for their strong Q1 2018. Newly-launched models such as GLC class, Tiguan, Passat, 3008, Outlander CKD and XV have improved the sales performance of their respective brands.

However, the strong performance of these few brands could not overcome the weak consumer sentiments, which are reflected in the drop of Q1 sales in big names such as Toyota, Honda, and Proton.

Honda Malaysia end their first quarter with a year-on-year decline meant that the company will have a very challenging 9 months ahead to achieve their announced 2018 target of 109,000 units.
While government agencies portray a rather optimistic Q1 (improving consumer index, stabilized price index), the automotive industry is still experiencing a weak consumer sentiment. With the General Elections schedule for May 9th, we expect a weaker than expected April 2018, and perhaps the month of May too, as consumers will be have reduced working days plus adopt a wait-and-see approach to the GE14.
Nonetheless, with Q1 being the weakest quarters of the year (Q4 traditionally the strongest), there are still plenty of new models to excite the market in the second half of the year and perhaps reach closer to MAA's forecasted TIV of 590,000 units.
---
---
---
Comments