New Vehicle Sales To Fall 2 Percent This Year
Auto News Malaysia's automotive industry is expected to contract even further to 647,000 units this year, estimates RHB Research. This means that 2016 could potentially see a second consecutive year of decline for new vehicle sales in Malaysia, pending the final tabulated numbers for 2015 by the Malaysia Automotive Association (MAA) later this month.
RHB said it understands that 2015's numbers are likely to fall to 665,000 vehicles while market research company Frost and Sullivan is projecting 657,500 vehicles, down 1.3 percent from the record sales of 666,465 vehicles in 2014.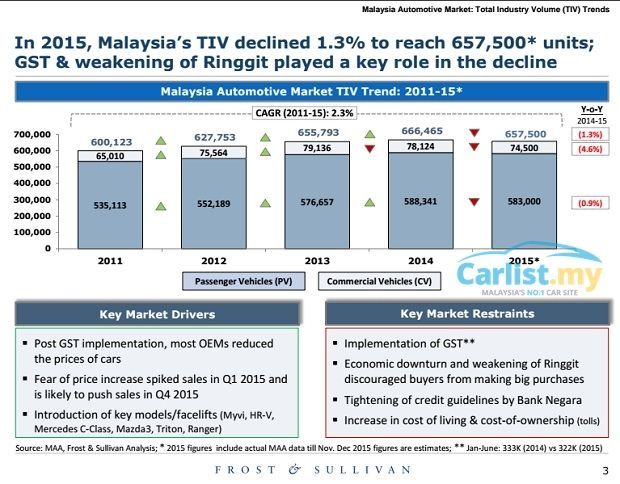 RHB Research expects this year's sales to be poorer than 2015 as many consumers had brought forward their purchase to 2015, in anticipation of higher prices in 2016 due to our weakening Ringgit.
"TIV (total industry volume) in 1Q16 may shock on the downside after buyers advanced their purchase decisions to avoid higher prices. Sector margins will remain under pressure, with headwinds overwhelming and risks weighted on the downside," said the financial research house in its Auto and Automotive parts sector report for January 2016.
It added: "We see a difficult year ahead for companies in the sector. Sentiment continues to wane as consumers become increasingly cautious of committing to big ticket discretionary spending given the rising cost of living. The sharp decline in the MYR could manifest itself in 2016 in the form of higher car prices that consumers will take some time to adapt to. We believe there is a low probability that USD/MYR may be able to strengthen above MYR4.00 this year, with RHB forecasting an average rate of MYR4.34.
"Margins would remain under pressure in an increasingly competitive market place, while price-sensitive consumers may demand for the best deal and could decide to trade down, diluting the model mix. National auto manufacturers will not be immune, as the middle-income target market is especially susceptible to spikes in the cost of living"
On automotive stocks to buy or sell, it said: "We see few re-rating catalysts for the auto sector in 2016. Headwinds remain overwhelming with few positives to highlight. Accordingly, we expect TIV to contract further in 2016 to 640,000 units. The outlook for demand and profit margins remains challenging in the face of weak sentiment. Risks remain weighted on the downside."
It maintained its Buy call for Berjaya Auto's stocks (Mazda) on the back of "strong product pipeline, expectations of further gains in market share from a small base and compelling product range" but called Sell for UMW's (Toyota, Perodua) and Tan Chong's (Nissan) stocks.
---
---
---
---
Comments