Paris 2016: Hyundai RN30 Concept Previews A VW Golf R Fighting i30N
Auto News If Volkswagen is known for its R badge, and Ford for its ST, Hyundai wants some of attention too, so they are calling theirs N, probably a homage to Nurburgring. The RN30 Concept seen here is a souped up, motorsports inspired version of the all-new Hyundai i30.
It previews a production version of the i30N, which Hyundai says will go on sale next year.
While the concept car might look a bit too extreme for road use, the highlight of the RN30 is actually under the bonnet. The 2.0-litre turbocharged unit, which will be used by the upcoming i30N.
In its concept car form, the boosted four-cylinder engine produces 380 PS and 451 Nm, courtesy of an enlarged turbo and forged internal components replacing the standard i30's casted components.
Drive is transferred to all four wheels via wet-type dual-clutch, all-wheel drive transmission. There's also an electronic limited-slip differential system (eLSD) to keep traction in check.
Like a proper motorsports-inspired car, the RN30 Concept has rev-matching function. The centrally-mounted white ceramic twin exhaust pipes also uses an Electronic Variable Exhaust system for added aural stimulation.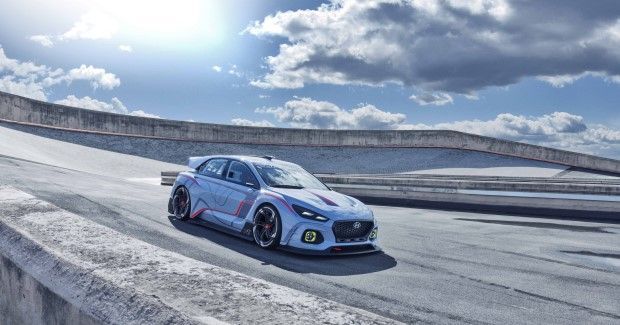 For weight reduction, Hyundai has opted to reduce weight by using what the company calls 'an all-new high-performance plastic materials,' developed in collaboration with BASF.
The center of gravity is lowered further by pushing back and lowering the seats.
Compared to the i30, the RN30 is wider and sits lower – 30 mm wider and 84 mm lower.
Leading Hyundai's N brand offensive is Albert Biermann, formerly from BMW M.
Peel away the RN30 Concept's loud, outrageous styling, and you will have a rough idea of what the i30N will look like.
Depending on the 2.0-litre turbocharged engine's final output, and availability of all-wheel drive in the production car, the 2017 Hyundai i30N will compete with either the Volkswagen Golf R or Golf GTI, and maybe even the Ford Focus ST.
---
---
---
---
Comments