Porsche Is Developing Its Production Processes For The Taycan And The Future
Auto News For the longest time, each new model introduced to the market meant a retooling effort in manufacturing and assembly sites - iterative changes, and nothing particularly groundbreaking save for larger re-development when a production site simply can't handle a new vehicle.
But the introduction of electric vehicles has seen a lot of manufacturers haing to invest in entirely new tooling, and entirely new processes for production. Some have tried to adapt existing production sites to produce electric cars, but the most efficient are production sites built from scratch.
Porsche is tackling this issue head-on with the production of the Taycan ramping up. Six billion Euros invested and 1,200 new employees, merely for the launch of the Taycan, and Porsche is continuously developing their Porsche Production 4.0 in order to commit to electric mobility in the years to come.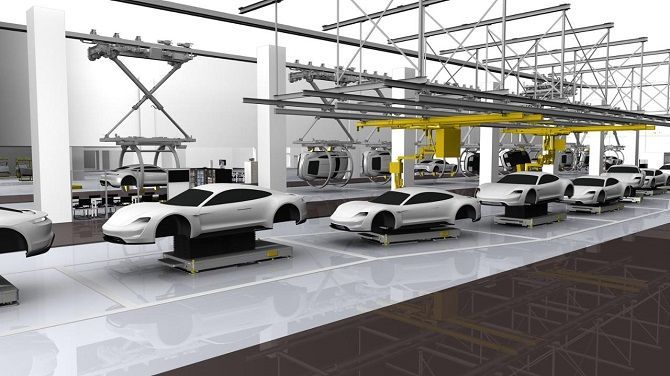 As it is now, the Taycan production site operates as a "factory within a factory" at the main plant in Zuffenhausen, which is to say it is so far removed from conventional car production that it could be a factory on its own. It's definitely a departure from what Porsche knows, and for that they have looked to combining experienced sports car manufacturers and new staff.
The new system is designed to be flexible in nature, with driverless transport systems within the factory, and will allow Porsche to combine continuous car production with versatile assembly. The number of work cycles that can be completed within same amount of space has also been increased, making work more efficient.
This is in tandem with the goal of being resource-friendly, and the aim is for the Taycan to be carbon-neutral in production, with the eventual goal being to have the entire factory being zero impact. The aforementioned 1,200 new jobs is the largest influx ever made in Porsche's history, a testament to the complexity of the Taycan.
Part of the production process development also depends heavily on the electric vehicle architecture, and in the case of the Taycan that happens to be an 800 V system. The system allows for quick charging as well as better packaging, along with higher power density and better performance on the whole. The components have all been designed based on this system, and the result is a car that takes just 4 minutes for enough charge to drive 100 kilometres.
---
---
---
Comments