Proton Iriz Facelift 2021 Dilancarkan – Dari RM40,300
Auto News Proton Iriz facelift 2021 dengan harga bermula dari RM40,300 kini dilancarkan di pasaran negara ini secara rasminya oleh Proton melalui pelancaran secara maya di media sosial mereka, pagi ini.
---
Proton Iriz Facelift 2021
Bagi anda yang sering terbaca artikel ataupun melihat gambar-gambar intipan hatchback terbaru Proton ini, kali ini ianya bukan lagi mimpi dan anda dah boleh tempah kereta ini! Sebelum itu, jom kita tengok apa yang baru pada Proton Iriz 2021 ini.
Harga: RM40,300 - RM50,000
Varian: Standard 1.3L, Executive 1.6L dan Active 1.6L
Kapasiti Enjin: 1.3L dan 1.6L
Jenis enjin: 4 silinder In-Line 16 valve DOHC, VVT
Kuasa: 1.3L (95 PS, 12 Nm tork), 1.6L (109 PS, 150 Nm tork)
Transmisi: CVT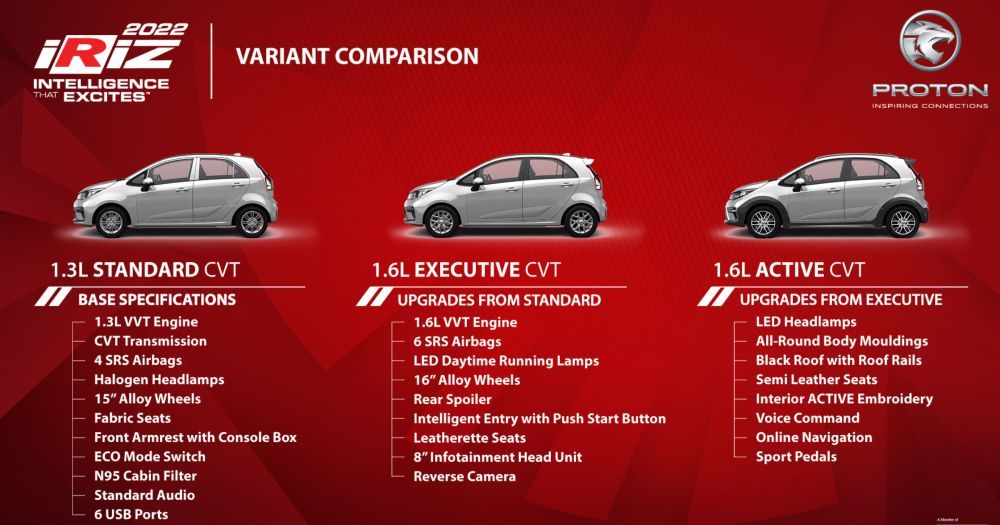 Dalam artikel ini, kami hanya akan fokus pada varian 1.3L Standard dan 1.6L Executive sahaja. Untuk lebih info mengenai varian crossover Iriz Active 1.6L, sila tekan di sini.
Apa yang baru Proton Iriz 2021?

Exterior:
Perubahan luaran bermula dengan bampar reka bentuk baru dan gril corak 'Infinite Weave' dan "Ethereal Bow' yang telah dikemaskan. Bahagian bampar depan Proton Iriz 2021 kelihatan sama sahaja seperti Proton Persona 2021. Ia hadir dengan rekaan lampu utama halogen yang baharu serta kemasan lampu bekalang yang dikemaskini. Lampu LED hanya terdapat pada varian Active sahaja.

Interior:
Iriz 2021 kini dilengkapi dengan port USB khas untuk dashcam kereta anda. Untuk varian 1.6 Executive, ia turut menerima kemasan tempat duduk balutan kulit serta butang Push Start. Unit infotainment 8 inci jenis terapung dipadankan dengan lubang udara yang baru yang dilengkapi penapis udara N95.
Ciri kebolehgunaan pula dipertingkatkan dengan konsol tengah baru yang menyediakan perehat lengan serta ruang penyimpanan yang kini lebih senang diguna.

Rim:
Varian Executive serta Active akan menerima rim bersaiz 16-inci yang lebih kemas dan sporty. Manakala, varian Standard akan menerima rim 15-inci rekaan baharu yang lebih kecil.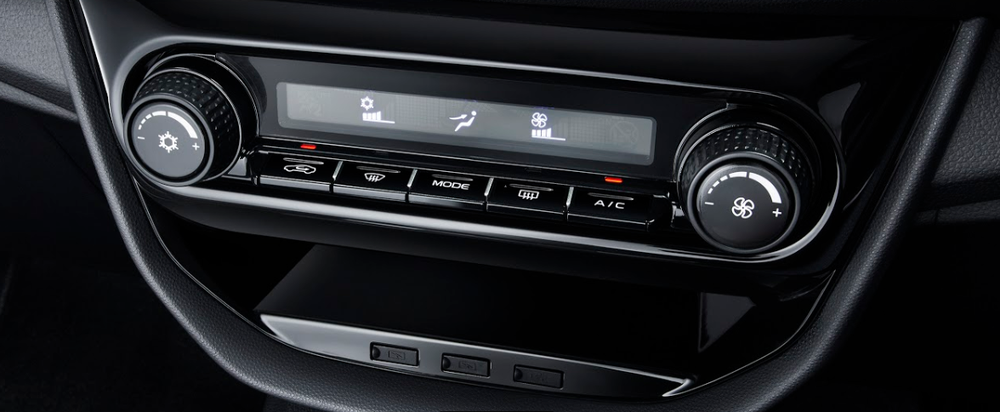 Sistem kawalan penghawa dingin digital:
Sistem kawalan penghawa dingin model ini turut telah dimodenkan menjadi digital sambil ditemani skrin paparan kecil pada bahagian kawalan tersebut. Tak disangkal lagi, pendingin hawa Proton memang sejuk-sejuk, jadi penukaran sistem ini kearah digital dilihat sebagai satu langkah menarik kearah kemodenan reka bentuk kereta mampu milik segmen-B.

Infotainment:
Bahagian tengah papan pemuka kereta ini dicantikkan lagi dengan skrin paparan infotainment terapung yang bersaiz 8-inci pada varian Executive dan Active. Model Standard 1.3L pula hanya akan menerima skrin sentuh infotainment bersaiz 7-inci seperti sebelum ini. Malangnya, fungsi kawalan suara Hi Proton yang mampu mengawal tingkap dan penghawa dingin hanya hadir pada varian Active.
Enjin dan Prestasi:
Iriz 2021 akan ditawarkan dalam dua kapasiti enjin yang berbeza iaitu 1.3L dan 1.6L. Barisan Proton Iriz MC2 ini akan hadir dalam 3 varian iaitu 1.3L Standard CVT, 1.6L Executive CVT dan 1.6 Active CVT sahaja. Varian manual serta 1.3L Executive CVT telah digugurkan daripada barisan variannya. Ia juga masih menggunakan transmisi CVT dengan fungsi SAT (Stepped Auto transmission), sekaligus menidakkan khabar angin bahawa CVT bakal digantikan dengan 4 kelajuan auto seperti pada Proton Saga. Pendek kata, tiada perubahan dari segi mekanikal pada model facelift ini. Enjin 1.3 masih lagi menghasilkan 95 PS dan 120 Nm tork manakala enjin 1.6 menghasilkan 109 PS dan 150 Nm tork.
Ciri-Ciri Lain
6 slot USB
Kamera dan sensor parkir
Mod ECO
5 Bintang ASEAN NCAP
Struktur badan yang diperkuat menggunakan keluli Hot Press Formed (HPF) steel,
Kawalan Stabiliti Elektronik (ESC)
Sistem Kawalan Traksi (TCS)
Bantuan Pegun Bukit (HHA).
Harga:
Proton Iriz 1.3L Standard CVT: RM40,300
Proton Iriz 1.6L Executive CVT: RM47,100
Proton Iriz 1.6L Active CVT: RM54,000
Semua harga di atas ialah dengan pengeculian cukai SST, OTR dan tanpa insuran. Proton Iriz ini tiba dengan pakej waranti selama 5 tahun atau 150,000KM (mana-mana yang tiba dahulu). Selain itu, kadar tenaga kerja yang perlu dibayar ketika 3 kali servis terawal juga percuma. Hanya Iriz Active yang menerima pakej data 1GB sebulan selama 5 tahun.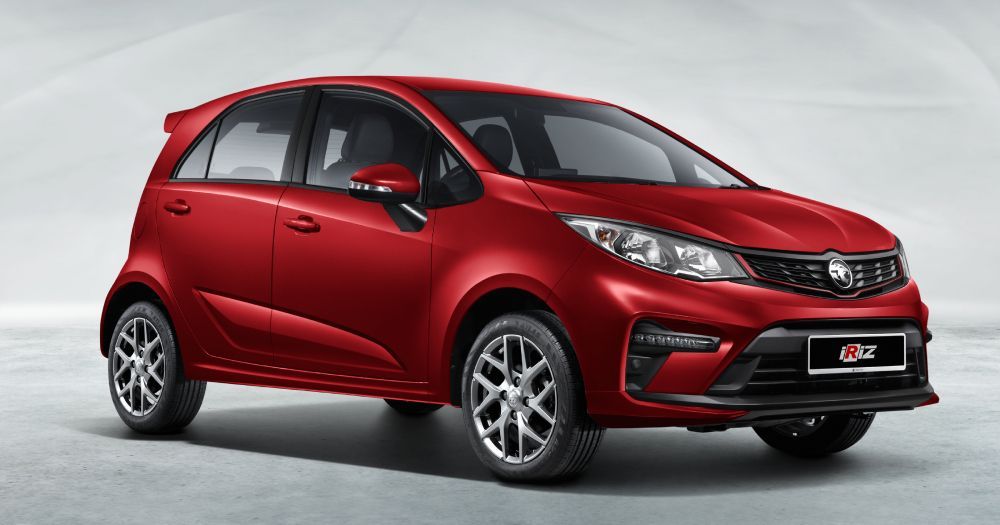 Sekiranya anda berminat dengan Proton Iriz 2021 ini, anda boleh meninggalkan maklumat anda di laman web rasmi Proton dan penasihat jualan mereka akan menghubungi anda untuk tindakan selanjutnya.


For more latest car news, reviews, car buying guides and videos visit us at Carlist.my Auto News.
Check out all the best new & used car deals in Malaysia at Carlist.my.
Sell your car fast with the best offer? Visit us at CarlistBid.my.
Get the latest new car promotions at New Car website now.
---
---
---
---
Comments