REVIEW: 2021 Mercedes-Benz A 250 Sedan AMG-Line - Finally A Real 'Benz', Only Smaller
Reviews Who would have guessed that Mercedes-Benz, in 2021, would have the best-selling and most widely varied portfolio of compact premium vehicles? Wind the clock back a few years and you'll observe that both BMW and Audi had made early inroads with the A3 and A1 as well as the 1 Series and, prior to that, the E36 3 Series Compact. Proper cars.
---
Around this time, Mercedes-Benz was still floundering around with the oddball first-and-second-generation A-Class, which was an embarrassing thing to own and be seen in.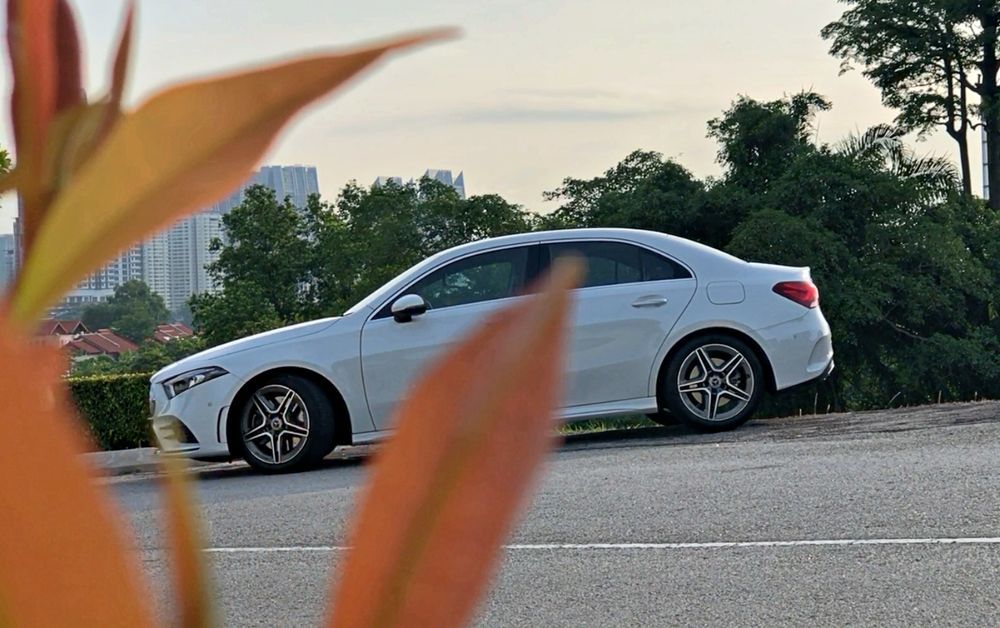 Yet, in the present-day, the both the A1 and A3's sales have been pretty stagnant as the focus moves to Ingolstadt's smaller Q range of SUVs/crossovers, while BMW seems to be losing its identity along with rear-wheel drive in their new generation 1 Series hatch and 2 Series Gran Coupe.
By contrast, the Mercedes-Benz has snatched overall victory (so far) in the premium small car arms race by playing to its strengths - luxury, brand perception, leading-edge tech - and pairing that with a deft ear to the desires of their target audience, positioning them as more petite versions of their larger models.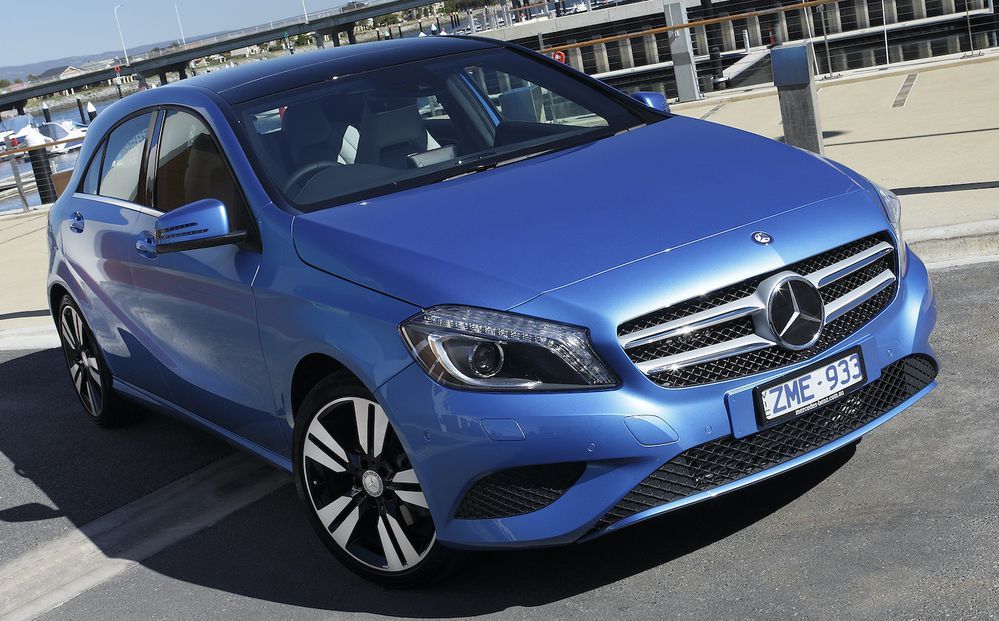 Still, there was always a degree of compromise. The older W176 A-Class alongside its siblings the C117 CLA-Class, and X156 GLA-Class were victim to some questionable design choices, sub-par interior fit and finish for the money, and lacked some of the headlining toys that the bigger boys were granted. Despite that, they were all exceptionally strong sellers for the brand - customers were willing to make many concessions if it meant a less expensive entry-point into the famed automotive marque.
This generation, though, isn't putting up with that disparity, making for a much more compelling package that, on paper, should easily outshine the competition. Logic follows that it should also be an even more successful outing than its predecessor.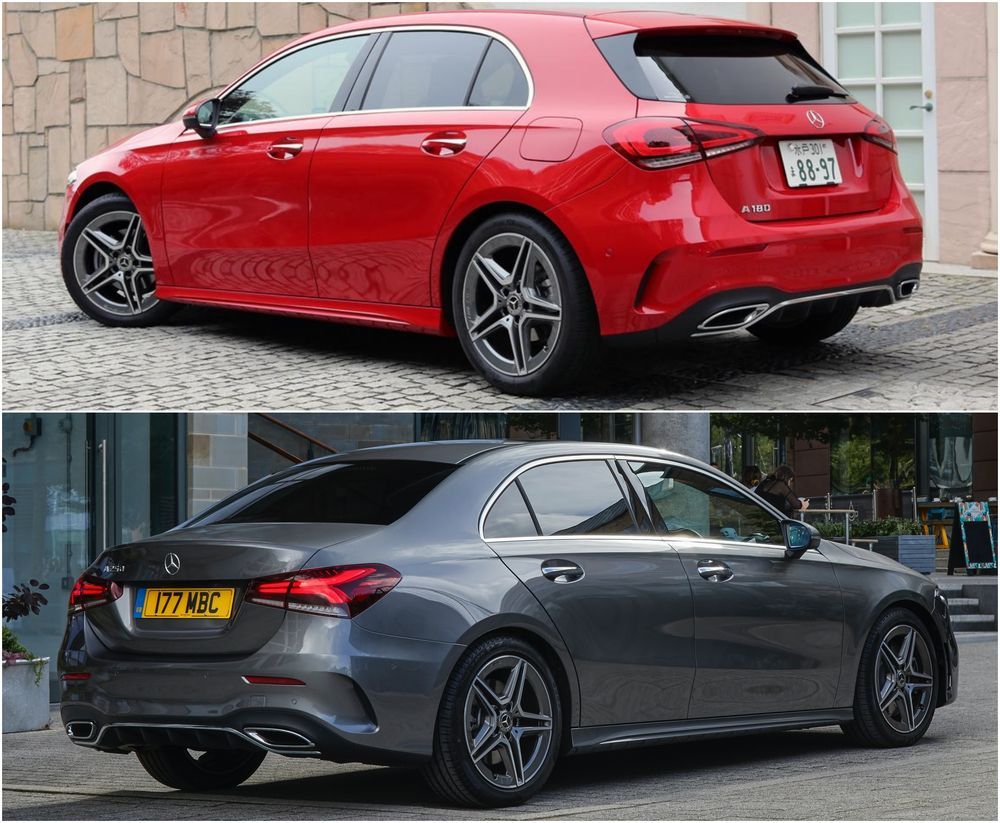 I had been, and remain, confused about why exactly Mercedes-Benz decided to split the x177-generation into 2 body styles as the sedan would only seem to diminish the appeal of the new CLA. But here we are with the A 250 AMG-Line variant of the new four-door A-Class.
It is just about the extra boot space? Or is this a unique proposition deserving of this forked approach?
Prices for the A-Class hatch in A 200 Progressive Line form start at RM219k and RM222k for the entry-level sedan. Stepping up to the mid-tier A 250 Sedan AMG-Line, such as the one we have here, will set you back RM259,255, about RM5.6k more than the equivalent hatch.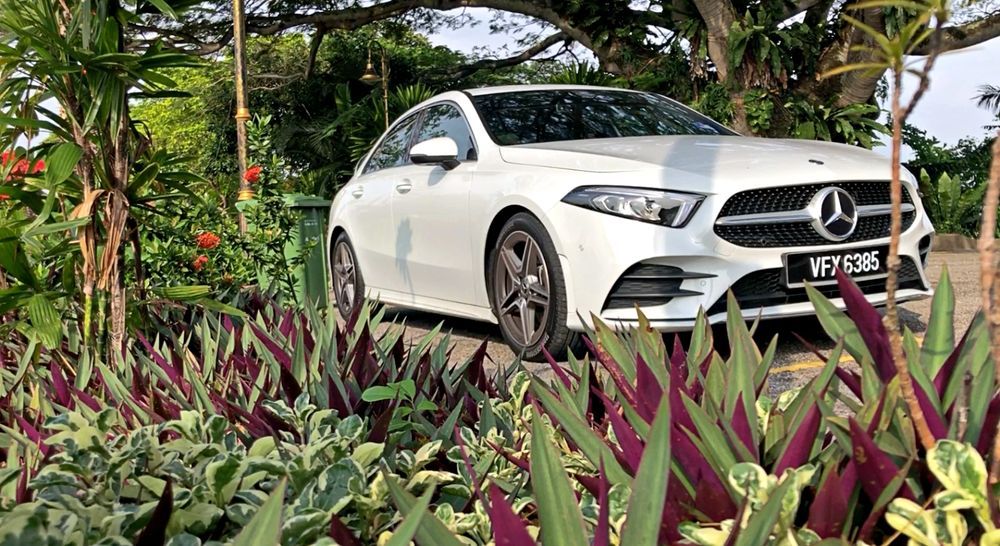 Exterior
Having not been a fan of how the previous-generation A-Class looked, with its too-high bonnet and oddly proportioned overhangs, this replacement model rights so many wrongs from the get-go. The lines are much more elegantly drawn and the curves are so subtle as to be nearly free from actual body creases.
Even with a strong aesthetic foundation, it's much too easy for automakers to make a total mess of a hatchback-based sedan, take the previous Ford Fiesta sedan or Peugeot 207 sedan as the ugliest of these cautionary tales.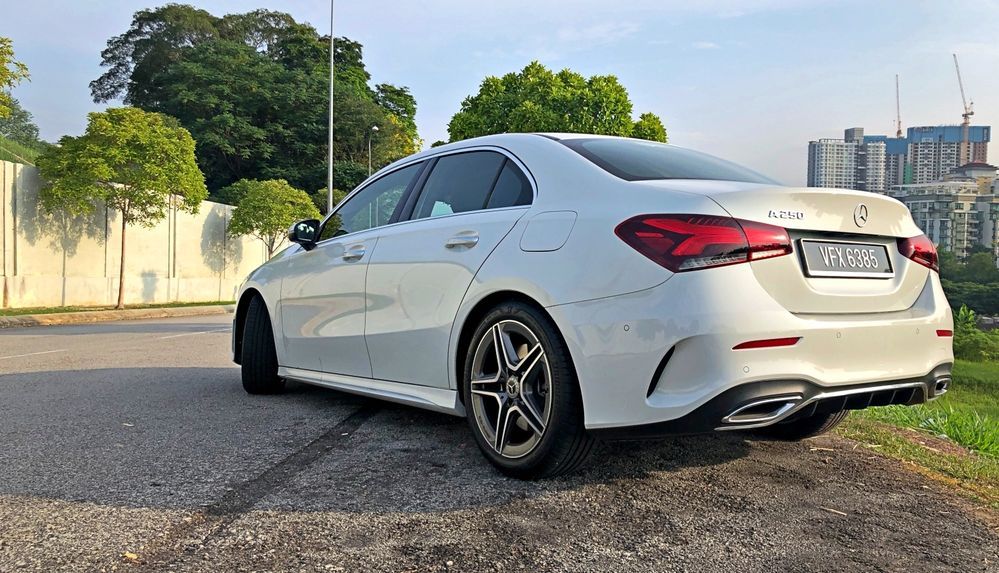 Mercedes-Benz, however, have pulled it off with the A-Class sedan. It manages to retain the design cues of the hatch while sporting a unique roofline and rear section that blends very well with the overall shape that it's nearly seamless. One has to even wonder if the car was initially designed as a sedan instead of the other way around.
That being said, there are some of areas of criticism as well. Its wheels are far from the most sporty looking to come out of an AMG appearance package, so it's a shame to see them so widely used within the local Mercedes-Benz range. In this white, too, it can look quite plain - in harsh midday sun, its body's defining cues are no longer distinguishable.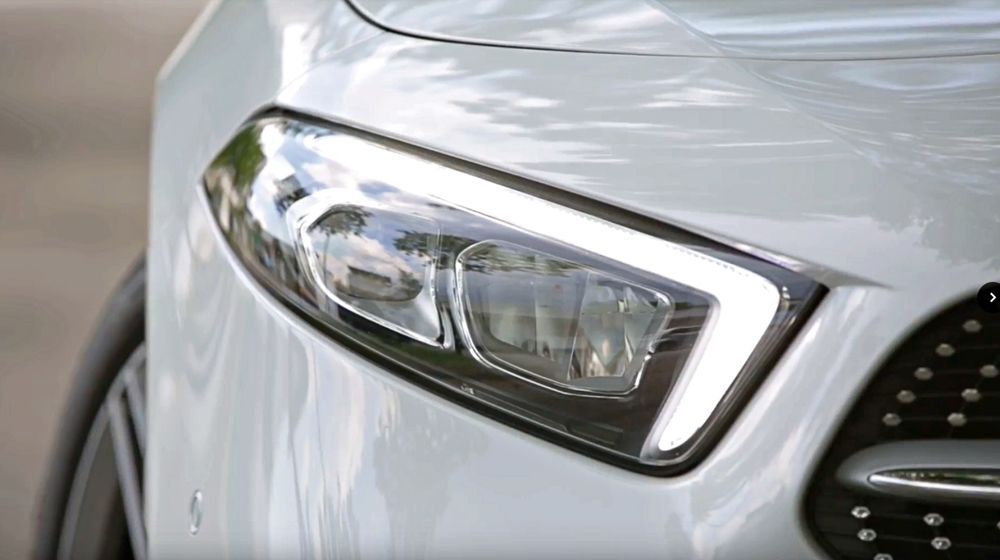 Here the AMG-Line upgrades have given it a slight edge over the baseline A 200 Progressive Line, however. The bumpers, front and rear, are shaped to be wider and more angry looking despite all additional the air inlets and vents being totally fake. Speaking of which, the chromed exhaust finishers that suggest dual exits are also totally fraudulent. The actual pipe is a single unit that points downwards. Disappointing.
As subjective as a car's appearance is, however, this is like a much easier car to like from the outside, looking like a shrunken CLS from certain angles and calling into question the huge overlap between this and its cousin, the new CLA. Over the competition, though, the A-Class is easily the beauty queen.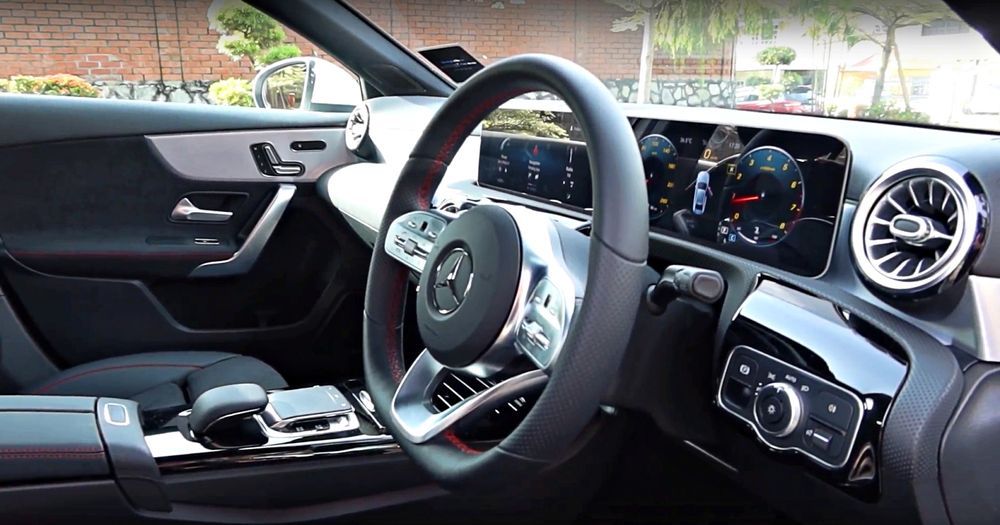 Interior
Snug is the word you might use when first stepping into the driver's seat. The A 250's upholstery is a blend of dark Artico leather and this suede-like Dinamica fibre that's not quite Alcantara but plenty textured nonetheless.
The 'premium' feel in here is hugely evident too as the cabin feels so well insulated and well put together. Even stepping into a 2 brand new Volvos in quick succession couldn't dampen the superior sense of quality present in the Benz, even at this tier, which is something I couldn't say about any older model A-Class.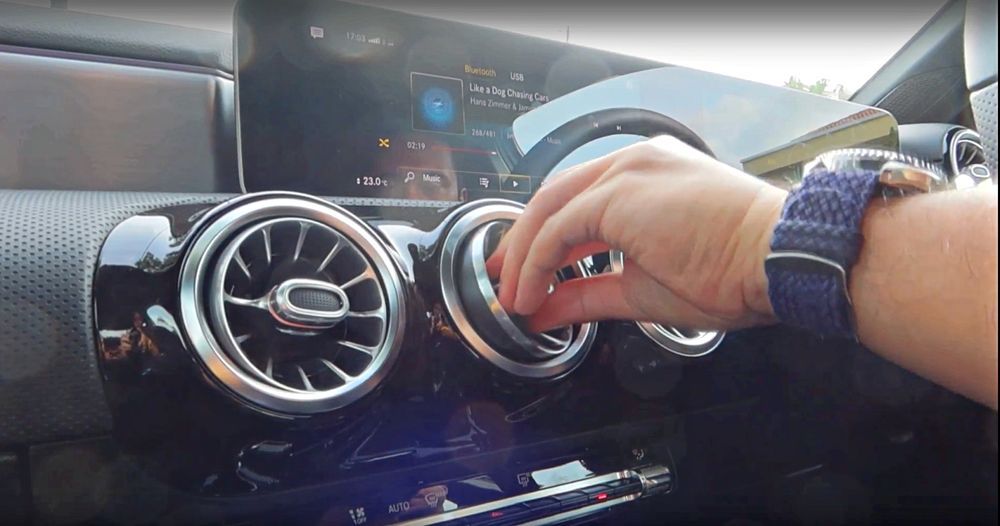 Using just the turbine-style air conditioning vents as an example, each feels like a solid and weighty and precision milled work of art, yet can be articulated so effortlessly within its nestled position, fulfilling its function with so much style.
MBUX stands for Mercedes-Benz User Experience, and it honestly surprises me that it's even included here. While other cars make do with the single obligatory touchscreen to serve the usual media/infotainment functions, this goes much further, at least in its presentation.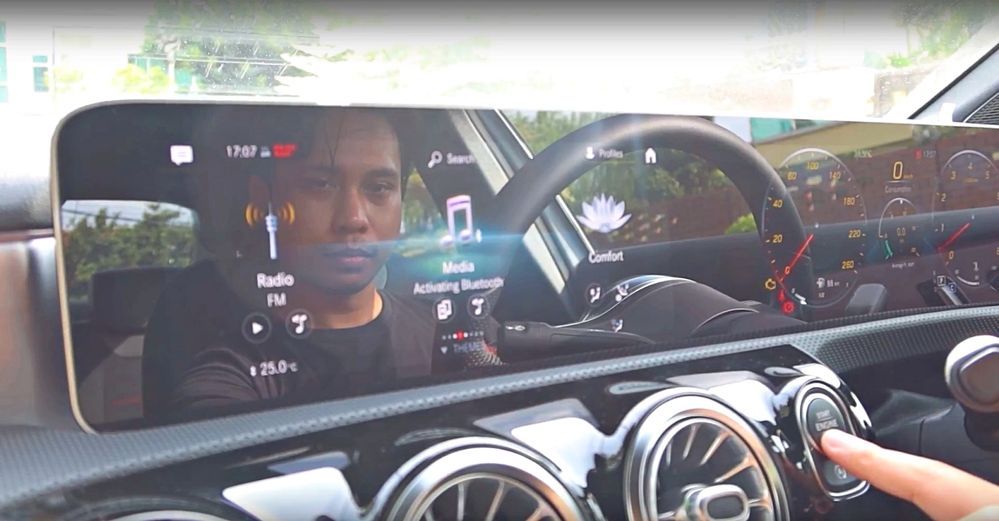 The dual 10.25-inch wide panels are arranged side by side for an enveloping 'mega' wide effect with the one just ahead of the driver dishing out the vehicle information of typical a instrument cluster (and more), while the one next to it does basically everything else.
To run through the various functions on offer here would be pretty exhaustive but just know that it pretty much blows the socks off everything that BMW and Audi can muster in their class competitors. The screens themselves are bright, sharp, and colour-rich, while the controls intuitive and animations/interface speed is slick and buttery.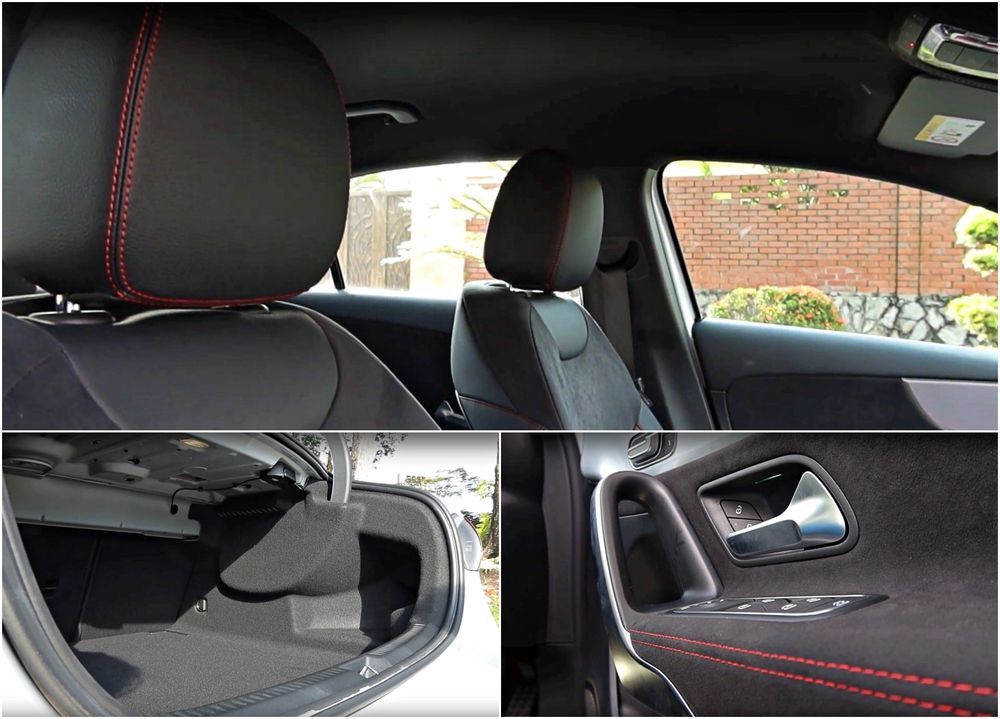 Rear space is fair but definitely not its strong suit, so just make sure you have someone modestly sized like me sitting up front to make sure legroom isn't always too scarce. Rear headroom is in the same boat, and about middling, which makes me curious about the CLA with its lowered 'coupe' roofline. Boot space stands at a legitimately impressive 420-litres, which is 70-litres more than the hatch.
There are niggles, though, and these surround the odd placements of some driving-involved controls. I'll never quite get used to (or see the benefit) of having the gear selector in place of an indicator stalk, and the electronic handbrake's obscured location on the dashboard behind steering wheel seems like an afterthought. Also, there's no rear air conditioning vents. Did you guys forget about that too?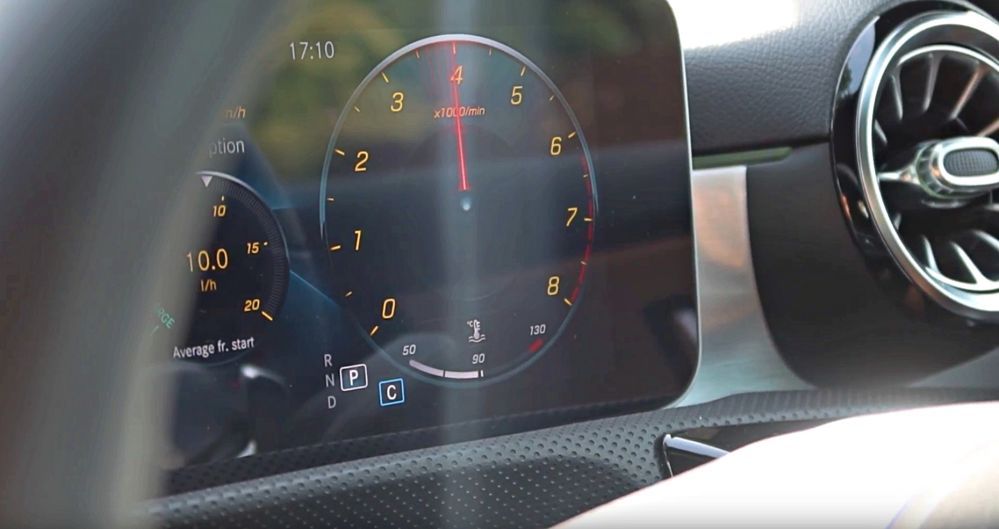 Engine And Powertrain
Under the bonnet is the M260 lump with four-cylinder displacing 2.0-litres. This petrol engine has direct injection and is paired with a twin-scroll turbocharger for some above average performance. Power is rated at 224hp at 5,500rpm while torque stands at 350Nm between 1,800-4,000rpm.
That's a pretty wide band within which to exploit the car's full thrust, and it lends the A 250 some honest hot-hatch-like thrills (even though this is the sedan), which makes up for its slightly underwhelming soundtrack in most situations, but especially at idle.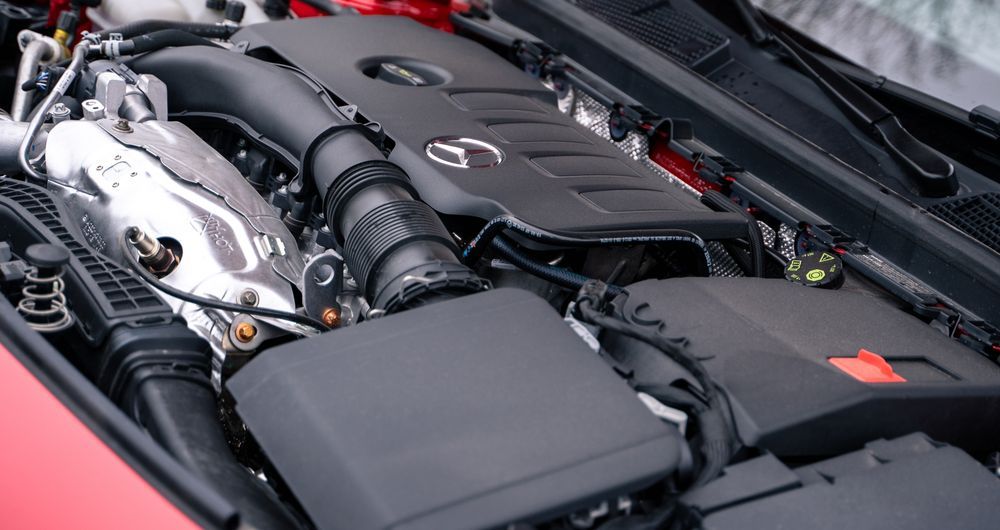 This isn't a 'real' AMG, so lacking 4Matic, power is sent to the front wheels exclusively. And this is achieved via a 7-speed dual-clutch automatic transmission. In typical driving, this wet-type DCT is smooth and clever predicting shift patterns, though some mild judders could be felt at a slow-speed crawl. You'll quickly learn to avoid what it dislikes, though.
Just as it did with the older A-Class and this engine's predecessor, the M270 (yes M260 is newer than the M270 - Stuttgart logic), this again feels like the sweet spot for most buyers, especially younger ones with the more occasional 'sporty' impulse.
This combination is both eager and potent, able to hurl itself to 100km/h in 6.3 seconds as to easily keep up with the Golf GTI crowd. And once you're done, just slot it back into Eco mode and let it settle itself back into its Bruce Banner persona, conservatively sipping fuel.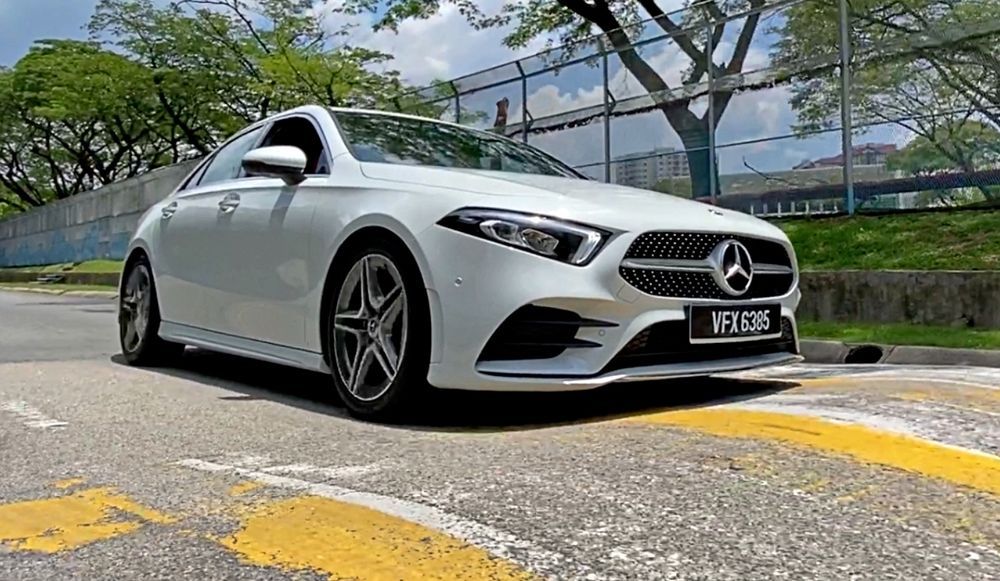 Behind The Wheel
This car isn't the Benz to buy if you're looking for pure comfort, but there is a real sense of refinement and class to how this car, even in AMG-Line guise, carries itself about. It is comfortable, though my sense of that word might be a little warped given my firm-riding daily driver.
The busier ride might make the most pothole-ridden parts of the Klang Valley only slightly bearable, perhaps exacerbated by its 18-inch wheels and 15mm lower ride height, but it is poised and uncommonly refined everywhere else that's paved.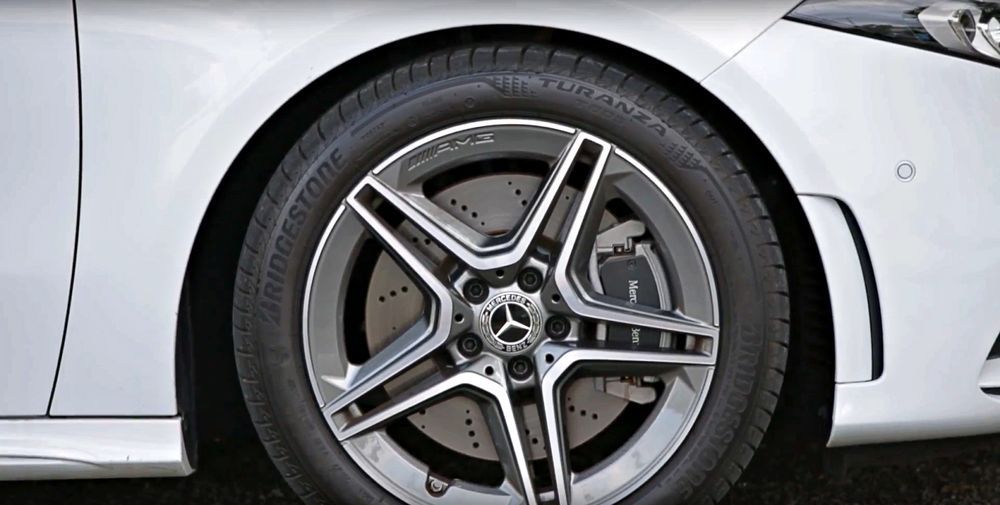 However, the Bridgestone Turanza tyres that came fitted was really letting the side down with road noise and subpar sidewall impact absorption. Switch them out for a set of Michelin Primacy or Pilot Sports for a much improved experience, I reckon.
Turning on Sport in the drive mode selector does make the engine and transmission adopt a more aggressive tune. Shifts are snappier, steering is heavier, the throttle is more sensitive, even the engine sounds a little more naughty (though I suspect this is party artificial).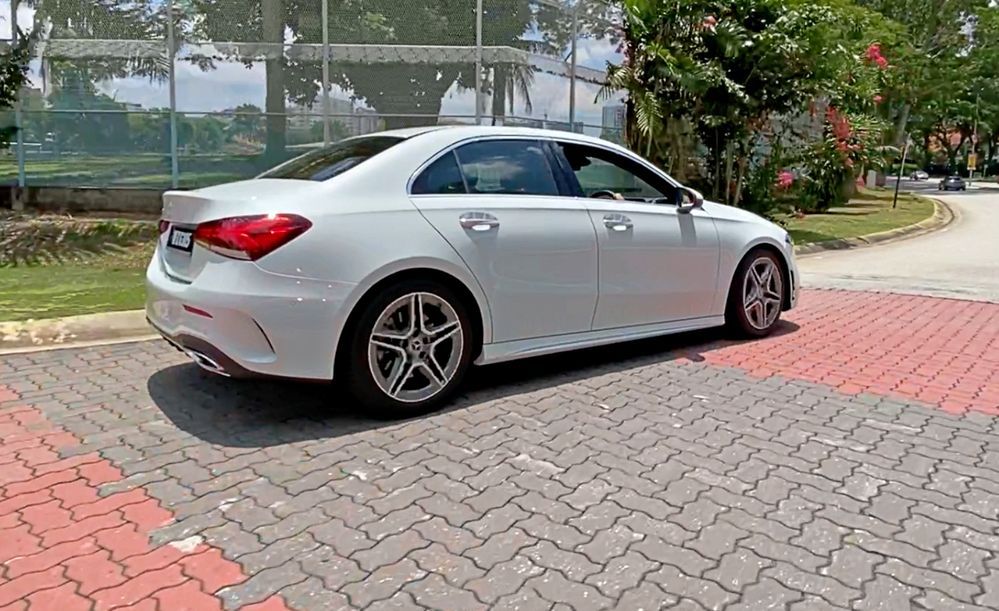 The dampers here are passive units, so you won't be getting a stiffer spring rate depending on setting. The A 250 also receives a multi-link setup at the rear over the A 200's less glamorous torsion beam treatment. Despite Mercedes-Benz still labelling them as 'Comfort' suspension, they do a pretty good job in the bends.
Front end grip is ample and its ability to sustain a hard line through a challenging corner without washing slightly wide or feeling too vague at the wheel is especially commendable. Body roll is pretty well judged with a mild amount of sway that doesn't overload the outside tyres. Yes, you can have fun in this thing!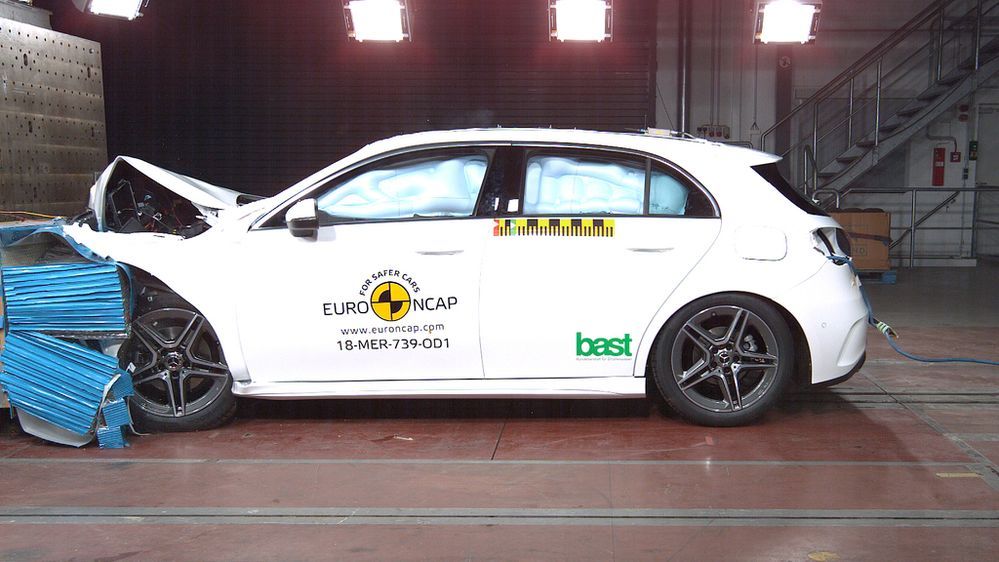 Safety
On this front, the most prominent defence mechanism is its array of 7 airbags, which is quite a high number for such a small vehicle. Naturally, the usual anti-lock brakes, stability control, traction control, parking sensors, and reversing camera.
On the road, Euro NCAP rates its crash integrity with a 5-star score, so you should feel pretty secure about walking away from a collision unscathed. To prevent that from happening, though, Mercedes-Benz have fitted their Active Brake Assist system, which is just another way of saying Autonomous Emergency Braking.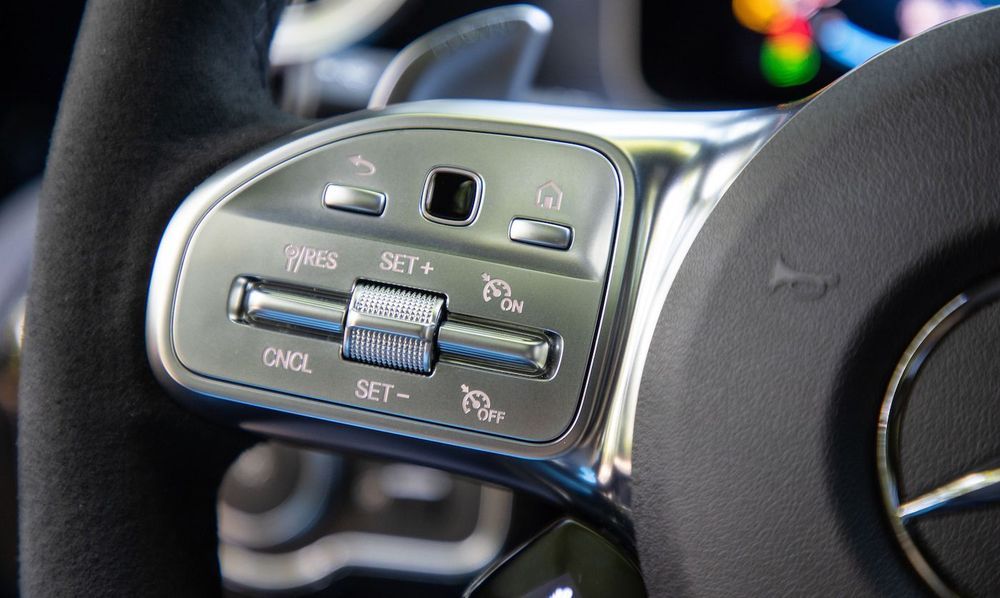 This is perhaps the most important active safety feature to have as it has been proven time and again to actually save lives by averting collisions through lightning quick computer-assisted reaction times. However, the A-Class isn't privy to the wider selection of driver aid features offered by Mercedes-Benz in their more high-end models. This is a shame, but not unexpected.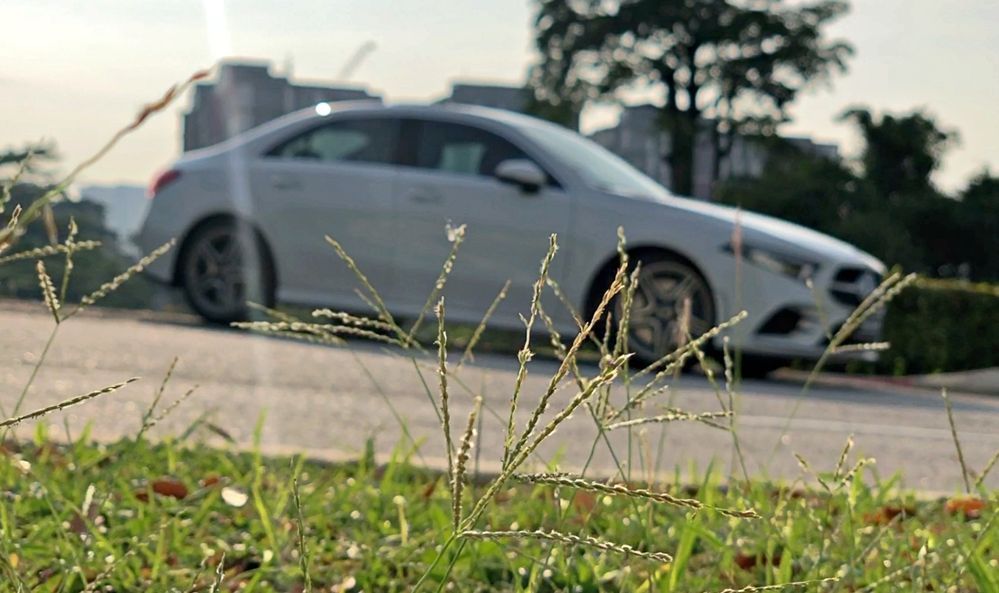 Conclusion
If you're looking for a compact vehicle in the premium space, and if it simply must be a sedan, then this is probably the best one to buy - by a significant margin, too. But if you don't need the 70 extra litres of boot space, I'd probably still recommend the equivalent hatch instead.
In Malaysia, your other options include the Audi A3 Sedan and BMW 2 Series Gran Coupe. Both are solid options when considered in isolation but ultimately cannot keep pace with the new A-Class' panache, performance, or tech.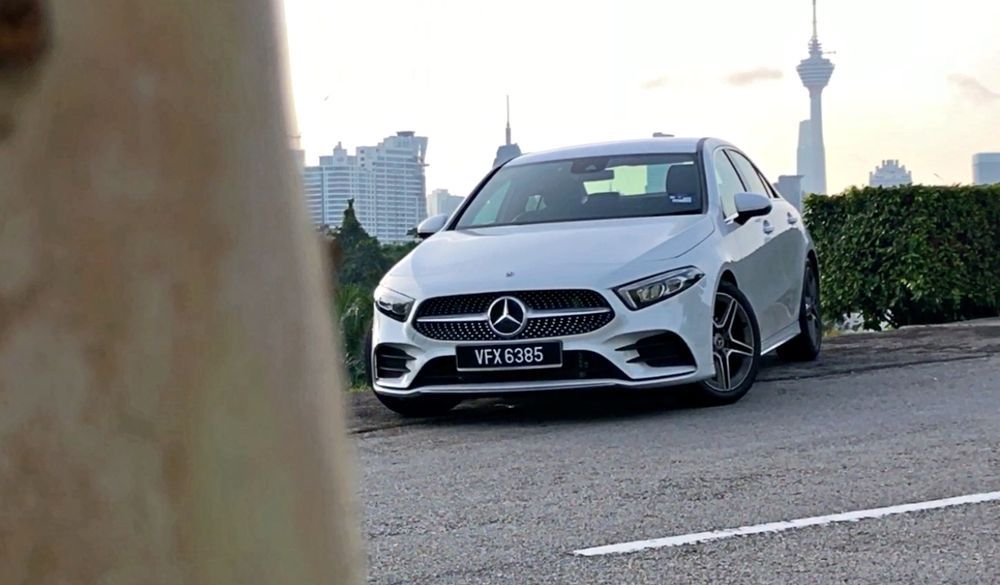 Five years ago, I might have asked you steer clear of this car's predecessor in favour of the F20 1 Series or Audi, but Mercedes-Benz have ruthlessly and methodically sanded down its most common criticisms to bring out the car we're testing here.
The W177 A-Class hatch is an excellent car, and happily, the V177 A-Class sedan adds a bigger boot and a more commonly-liked four-door saloon shape with zero compromise (besides the price premium).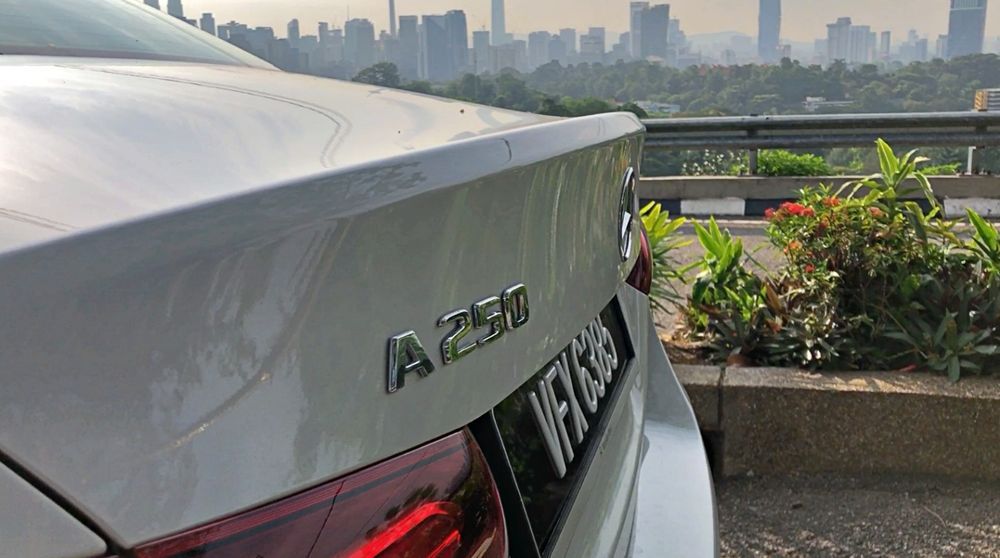 Importantly, it drives and feels like a car that's worthy of comparison to their larger, more prestige offerings such as the C-Class and E-Class. It's a Mercedes-Benz, just in a more compact package, which is something I definitely couldn't genuinely say about the older model. And the A 250 AMG-Line is smack bang in the range's sweet spot.


For more latest car news, reviews, car buying guides and videos visit us at Carlist.my Auto News.
Check out all the best new & used car deals in Malaysia at Carlist.my.
Sell your car fast with the best offer? Visit us at CarlistBid.my.
Get the latest new car promotions at New Car website now.
---
---
---
---
Comments