Review: New Mitsubishi Triton And Why Its Super Select 4WD II Is The Best Around
Reviews The Mitsubishi Motors brand has seen better days. The fallout of Japan's bubble economy and the '97 Asian Financial Crisis hit the tri-diamond brand harder than others. Gone are the Lancer and Galant, and along with it the illustrious Ralliart world rallying program - all done so the company can have a chance of recovery by concentrating a laser-like focus on 4x4 vehicles – the one area where nobody, not even the mighty Toyota could match it, at least not in terms of technology.
In fact one of the reasons used by the Renault Nissan Alliance to justify taking Mitsubishi Motors under its wings was its clear leadership in 4x4 vehicles, something that Nissan couldn't achieve despite having bigger budgets.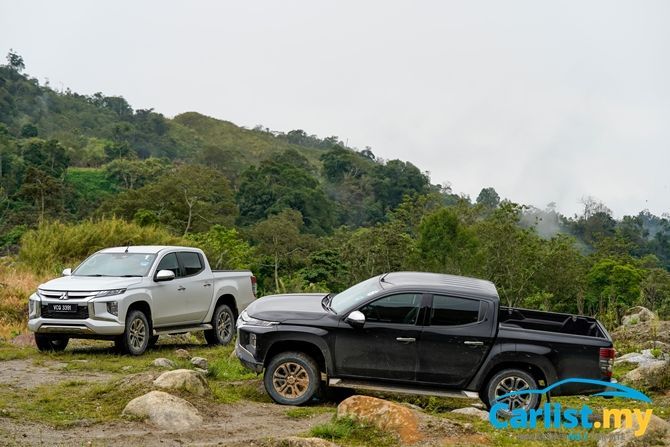 In fact, in some markets like Indonesia, it is the Mitsubishi Triton rather than the Toyota Hilux that reigns supreme. Closer to home, the Triton still has some catching up to do before it can challenge the Hilux - a product so popular in East Malaysia that it refers to not just a Toyota pick-up truck but an entire genre of vehicles.
So during the planning of this new model, Mitsubishi Motors Malaysia pulled out all the stops to provide Malaysians with the best Triton ever, equipped in the same equipment levels as Tritons sold in bigger markets like Thailand. Gone is the previous Easy Select 4WD. Finally, our local Triton gets Mitsubishi's famed Super Select 4WD II.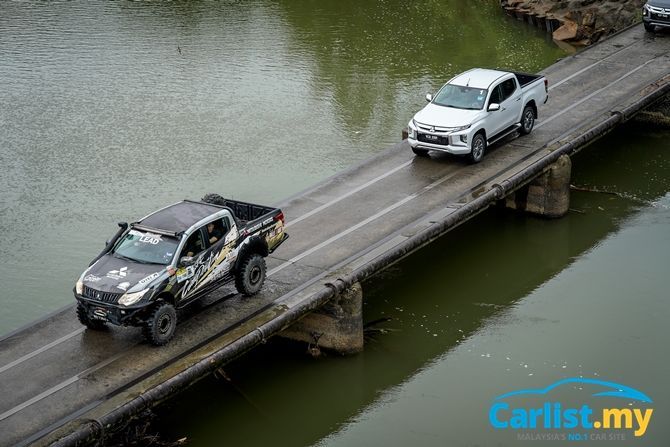 The mechanical superiority over its peers is stark. As a part-time 4WD vehicle, pick-up trucks typically can only operate in two-wheel drive (rear) 2H mode on dry tarred roads. The new Triton's Super Select 4WD II however, is able to operate almost like a premium full-time 4WD SUV, capable of driving in four-wheel drive 4H mode even on normal roads - the only pick-up truck in the market with such capability.
The 4N15 2.4-litre turbo diesel MIVEC doesn't match the bi-turbo Ranger Wildtrak's power output but it still outguns the larger 2.8-litre Hilux. Compared to many of its rivals, the MIVEC engine runs quieter and sips rather than drinks fuel thanks to lightweight aluminum construction, low 15.5:1 compression ratio, and variable valve timing - all of which are unique only to the Triton.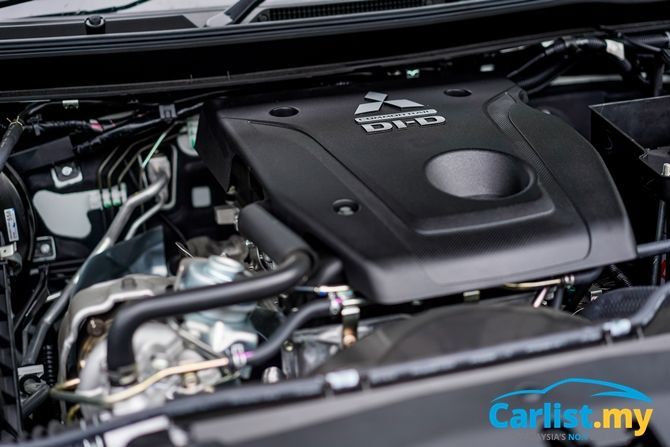 Safety features have also been significantly upgraded. On top of the previous Triton's seven airbags and electronic stability control (ESC), the new model now adds:
Forward Collision Mitigation (FCM)
Blind Spot Warning with Lane Change Assist (BSW with LCA) – warning alerts only, no corrective steering action
Rear Cross Traffic Alert (RCTA)
Ultrasonic Misacceleration Mitigation System (UMS)
Auto High Beam (AHB)
Hill Descent Control
Hill Start Assist
It's an extensive list but it's still not quite at the level of the more expensive RM 144,888 Ford Ranger Wildtrak, missing out on Lane Keeping Assist and Adaptive Cruise Control.
On the upside, prices are lower and you get better peace of mind from Mitsubishi's class-leading 5-year/200,000 km warranty. Pick-up trucks lead a hard life and most of its fellow Japanese rivals only offer 5-year/150,000 km warranty, while the Ranger comes with just 3-year/100,000 km warranty. It speaks a lot about the Triton's proven durability.
Segment rivals will be the Toyota Hilux and Ford Ranger. There is also the Nissan Navara and Isuzu D-Max, but both are aging models.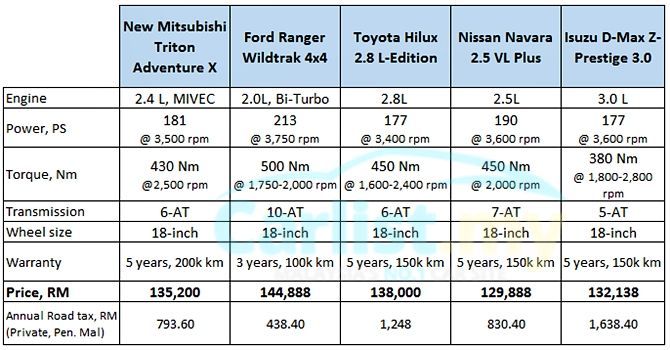 A week prior to the official launch of the new Triton, we were invited by Mitsubishi Motors Malaysia to sample the new Triton in a drive across the challenging terrain of Sabah – ranging from steep ascents up Kundasang to muddy trails in the outskirts of Tamparuli.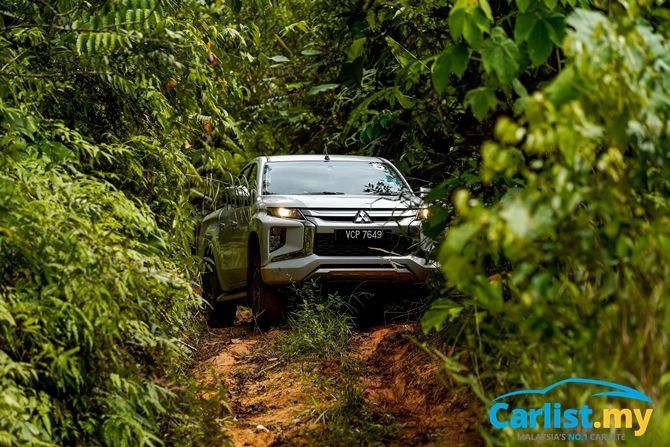 Specifications for Mitsubishi Triton Adventure X
Engine: 2.4-litre MIVEC common rail turbo diesel (4N15)
Power: 181 PS at 3,500 rpm
Torque: 430 Nm at 2,500 rpm
Transmission: 6-speed automatic, Part-Time 4WD (Super Select 4WD II)
Safety: 7 airbags, ESC, Forward Collision Mitigation (FCM), Blind Spot Warning with Lane Change Assist (BSW with LCA), Rear Cross Traffic Alert (RCTA), Hill Descent Control (HDC), Hill Start Assist
Origin: Imported from Thailand
Price: RM135,200 excluding insurance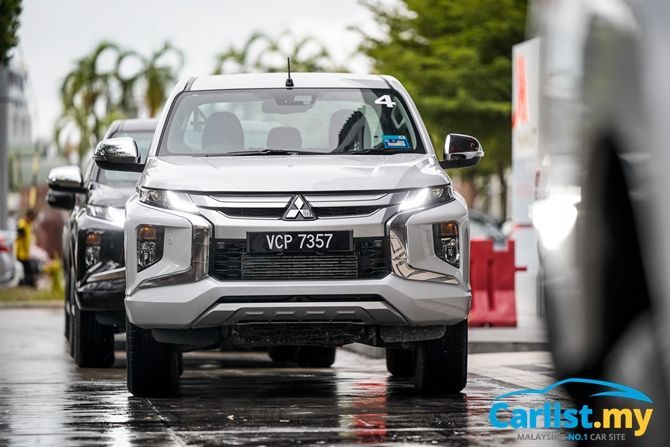 Parked along the streets of Kota Kinabalu where pick-up trucks are more common than Perodua Myvis, the new Triton's chunky styling clearly stands out in traffic. The angular lines give it a very industrial yet progressive image – less like a Black & Decker tool, but more like a design icon, like a Transformer.
Inside, the interior is all new but at the same time, it's more of the same and keeping the previous Triton's pros and cons too. We will start with the cons.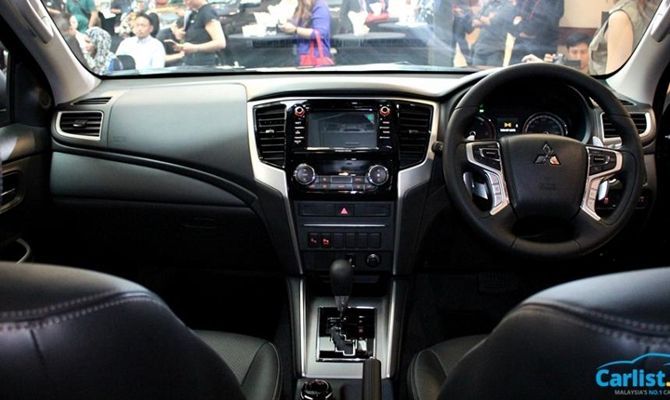 Compared with archrivals like the Toyota Hilux and Ford Ranger, the Triton's interior doesn't look as pretty, which is a disappointment considering what a big leap its exterior styling is. As before, the infotainment is below average; resolution is low compared to the Ranger's Sync 3 but at least it closes the gap by offering support for Android Auto and Apple Car Play.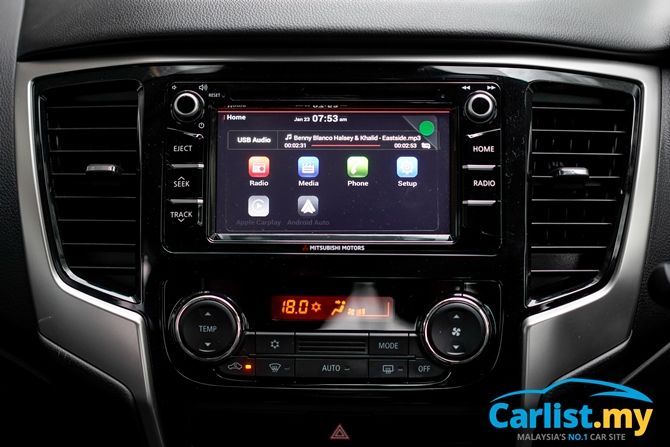 Material selection however, has been improved. The leather wrapped steering wheel is shared with the far more expensive Outlander Plug-in Hybrid (not offered here), and soft leather padding can now be found on the sides of the centre console stack, so your knees no longer rub against plastics.
The door panels are now trimmed in nicely stitched leather too.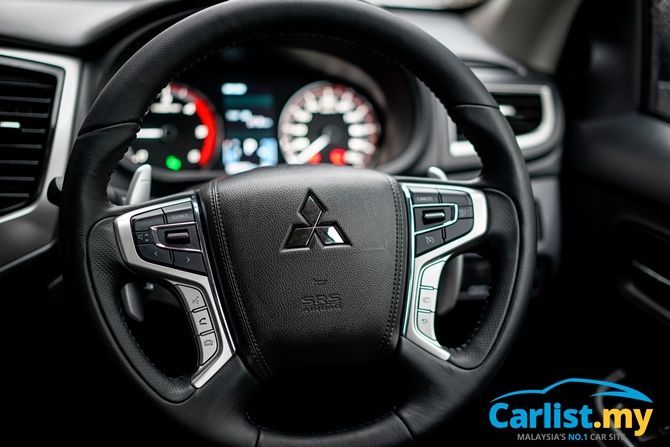 The Triton has always been the class leader in comfort. The early L200 was the first pick-up truck with an automatic transmission, while the previous Triton was the first with tilt and telescopic steering and keyless entry. Mitsubishi's extensive experience in rally races is also apparent in the Triton's suspension tuning – balanced but yet comfortable even when the rear is not loaded.
This new Triton raises the bar further with the addition of rear air-conditioning vents. However unlike the ones used in the Nissan Navara, the Triton's vents are installed flushed into the roof lining, just like premium SUVs.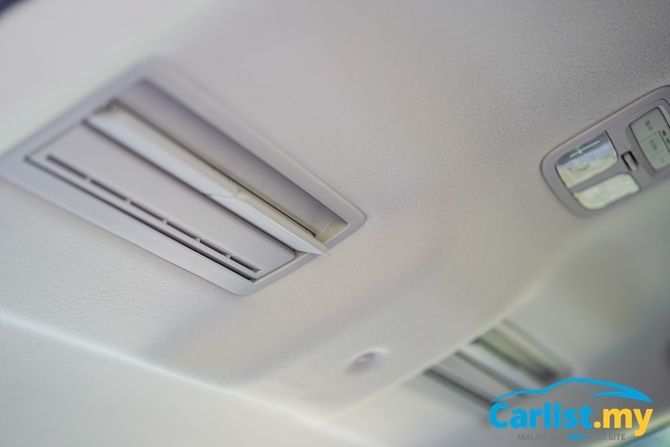 As cold air is denser and thus tend to stay low, mounting the air vents on the roof significantly improves cooling performance and air circulation, as opposed to floor mounted vents that merely aim cold air at your nether regions.
The Triton's signature J-line cabin design continues to set new benchmarks in offering the most comfortable rear seat in its class. Instead of an upright seat back, the Triton's rear seat is angled very similarly to a passenger car.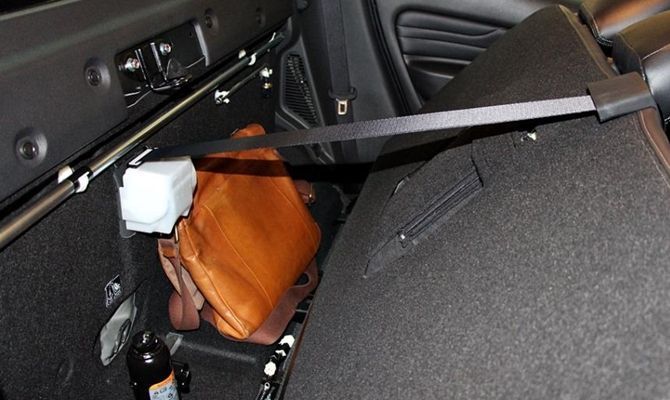 It also flips forward to reveal a small storage compartment too! It effectively solves the biggest problem I have with pick-up trucks – just where am I supposed to keep my bag so it's hidden from prying eyes? Even if you have a tonneau cover for the deck, climbing up one or stretching into the deep deck to reach for your bag is just silly.
The front seats provide excellent support and we especially appreciate the 'spinal column' that has been shaped into the seat back. It gives you the right support while at the same time promotes ventilation for your sweaty back.
On the move, our expectations were high as the previous Triton (4N15 engine) was famed for its best in-class acceleration. This new Triton retains the same engine, which was introduced here only in late 2016 so we won't even call it 'old' but it's now paired to a new 6-speed automatic transmission.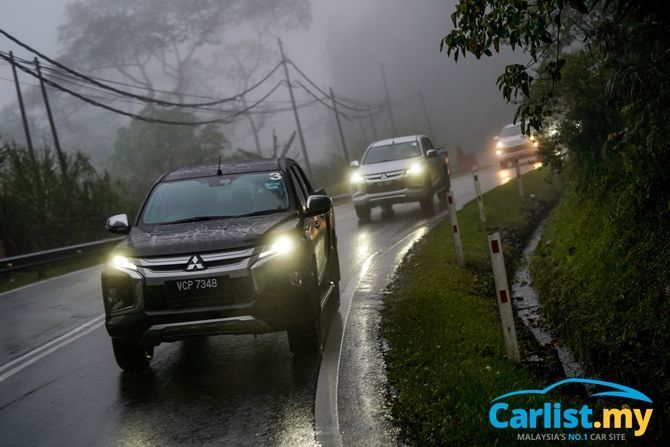 However for reasons that we cannot fully confirm, the new Triton just doesn't feel as eager as the previous one despite having one extra forward ratio. On paper, the vital stats remain the same – 181 PS at 3,500 rpm and 430 Nm at 2,500 rpm.
Climbing up Kundasang, there were many moments where the gap between the second and third ratios were ill-suited for the steep ascent, while the engine's very limited 4,000 rpm redline meant frequent swapping between the second and third gears as neither ratios were suitable. The only consolation was the paddle shifters, which eased our troubles a bit.
It could be that the combination of steep ascent and high altitude that was limiting the engine's breathing, and also the fact that our car had less than 1.000 km on the odometer so the engine internals were still tight. The mountainous terrain that we drove on had very few flat and straight roads for us to evaluate it further and conclusively say that it's (oddly) slower than its 5-speed automatic predecessor.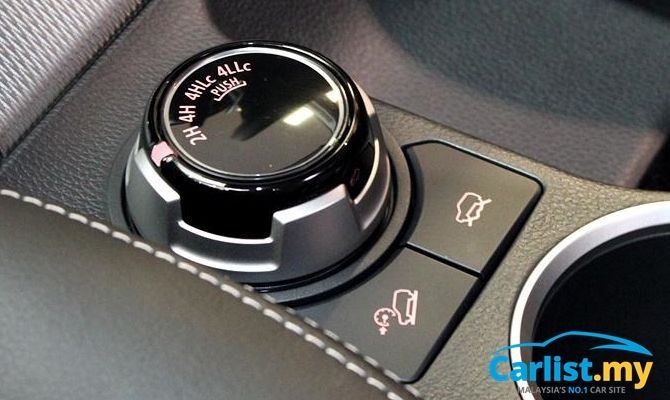 As it had been raining earlier, the steep climb up Kundasang was done mostly in 4H, which in other trucks, would have damaged the transmission. However because the new Triton uses a Super Select 4WD II drivetrain rather than the previous car's Easy Select 4WD, a viscous coupling differential compensates for differences in the individual tyres rotational speeds front to rear, thus allowing us to maximize the usage of 4WD even on tarred roads, just like a high-end full-time 4WD SUV.
Switching back to 2H however, will yield slightly better fuel economy, and we suspect, marginally better acceleration too (this is not a 300 PS car so four-wheel grip won't shave acceleration time). Shifting between 2H to 4H can be done at speeds of up to 100 km/h but for mechanical longetivity, lift off the throttle pedal when making the switch, just like how you would change gear on a manual transmission car.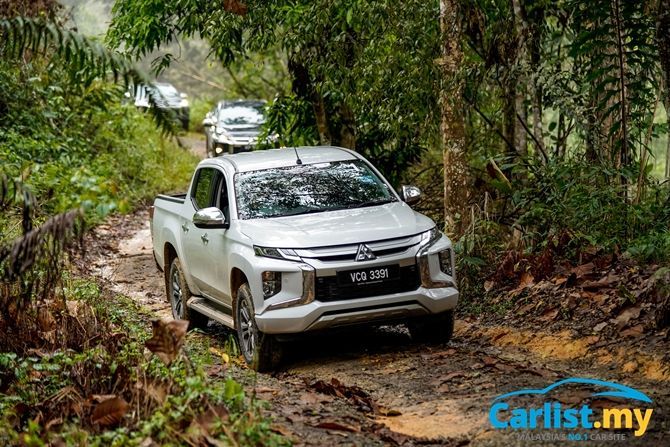 Hitting the rougher, muddy trails in the outskirts of Tamparuli, we switched between 4HLc and 4LLc (both modes must NOT be used on tarred roads, car must come to a complete stop before switching). The suffix Lc refers to locked centre differential, which keeps all four wheels spinning at the same speed (but uneven torque), useful for uneven, rough terrain.
Switching to 4LLc disables FCM because as you can imagine; leaving these on-road safety systems on will create problems when car is driven at extreme off-road angles. Engaging either 4HLc or 4LLc also opens up four selectable off-road modes, a feature unique to the new Triton. Pressing the button above the Super Select 4WD II's rotary dial toggles between Gravel, Mud, Sand, or Rock – pretty much like some of more sophisticated systems used by a Land Rover.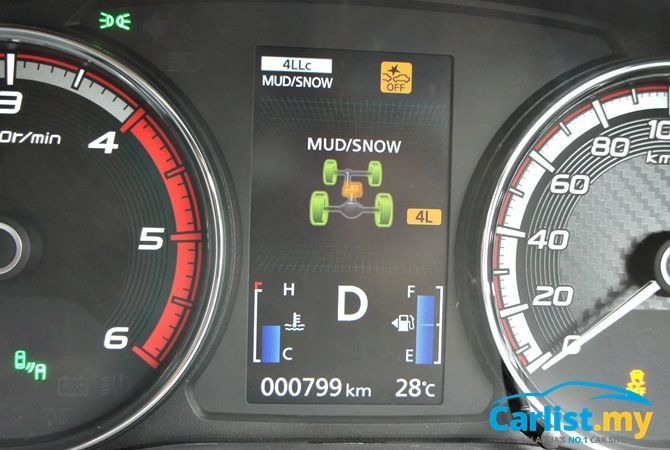 Each mode allows for varying levels of wheel slip. For example, you might want the wheels to spin a bit more in mud to dig in slightly for traction but not when you are crossing a rocky riverbed.
The new Triton has a water wading depth of 700 mm, equaling the Hilux but still 100 mm less than the Ranger.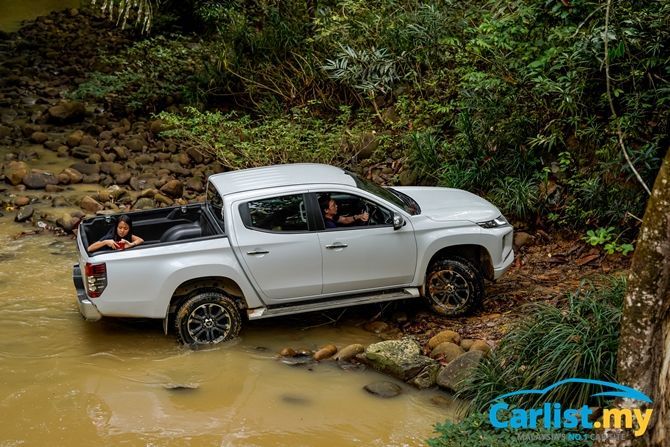 There's also a Hill Descent Control (HDC) feature, which we used with varying levels of success. As we were running on Highway Terrain tyres and the trail we were supposed to follow had been washed out by mud, HDC did little to rein in our descent speed but on drier slopes, it worked smoothly with none of the jerky motion that's common in other makes. It just goes to show why having the right tyres is far more important than electronic aids.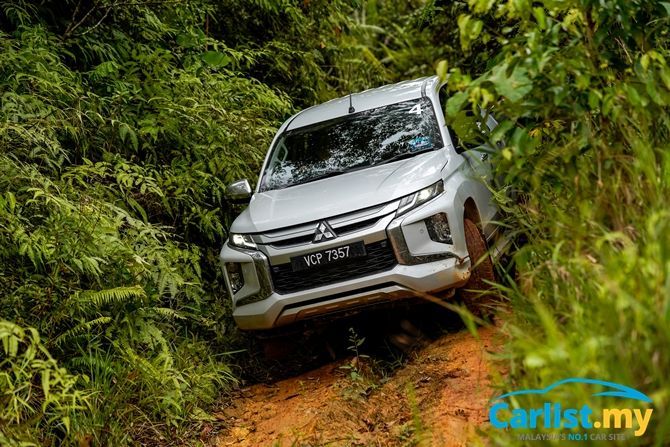 When engaged, HDC allows the driver to keep his/her feet off the brakes, allowing you to focus on steering while the vehicle creeps forward very slowly. Descending a steep, slippery slope can be tricky because too much braking can unbalance the vehicle or cause it to skid. The trick is to keep the tyres rolling forward, but at just the right crawling speed, and HDC makes the task easier.
The previous Triton was known for its best in-class 5.9 metre turning radius, and the new model retains that distinction. It's still the easiest to maneuver around tight spaces, whether it's off-road or at some city scape.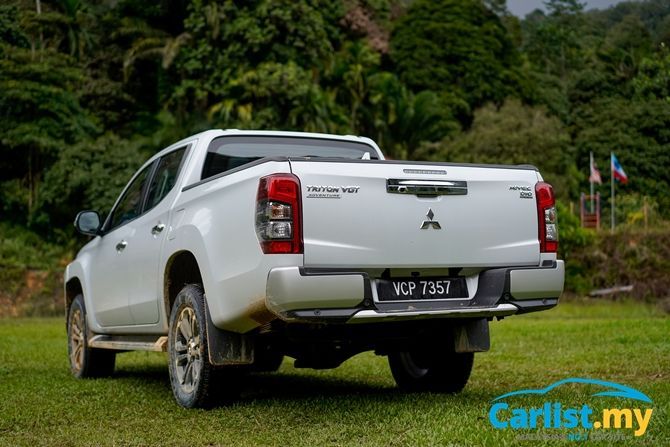 After covering over 210 kilometres with a mix of muddy trails, gravel, and tarmac, we came to the conclusion that the new Triton is staying true to its core values of durability and class-leading comfort but some questions - such as how will it fare on the highways of Peninsular Malaysia - can only be answered at a later time.
The Ford Ranger Wildtrak remains the lifestyle truck icon, with snazzier looks inside and outside, and comes with more fancy toys. However it is the simpler Triton that does a better job at meeting the needs of those who rely on their trucks for both work and play – the Super Select 4WD II and a class-leading 5-year/200,000 km warranty sets it apart. It's also another way of saying that the new Triton is pitted closer against the Toyota Hilux rather than the more expensive Ford Ranger Wildtrak.
For details of the other lower priced variants of the new Mitsubishi Triton, go here.
---
---
---
---
Comments