Shell Introduces First Ever Engine Warranty Program in Malaysia
Auto News Shell Helix, today unveiled Malaysia's a first of its kind engine warranty programme, the Shell Helix Engine Warranty (S.H.E.W). This extended warranty programme covers 15 major engine parts against lubricant caused failure for up to 12 years or 200,000km mileage – whichever comes first.
The warranty is offered to customers who purchase a 4-litre pack of Shell Helix Ultra with Pureplus Technology or Shell Helix HX7. The warranty is applicable for cars under 8 years old with mileage less than 100,000km at first registration and is transferrable to the new vehicle owner in the case the car is sold.
The SHEW program covers up to a maximum or RM15,000 for Shell Helix Ultra users per claim and RM8000 per claim for Shell Helix HX7 customers (inclusive of GST).
The 15 major engine components covered under the program are:
Piston and piston rings
Crankshaft and bearings
Connecting rods
Connecting rod bearings
Gudgeon pin
Valves
Engine block
Cylinder head
Timing gear and chains
Camshaft and bearings
Cylinder liner / bore
Turbocharger
Cam followers
Rocker arm and pivot
Push rods and balance shaft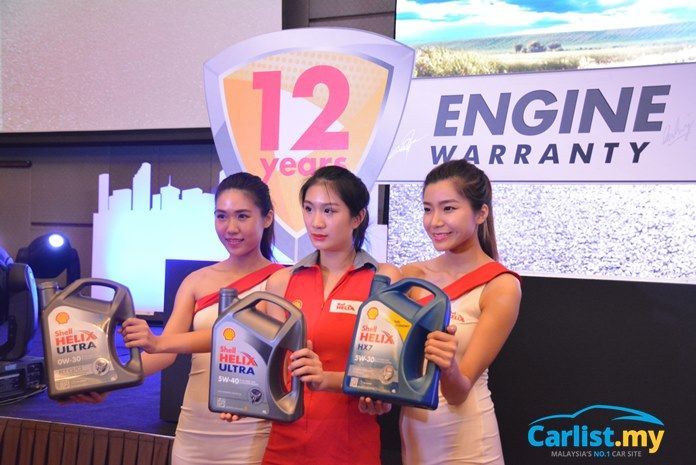 Customers can either purchase their engine oil at any of the growing database (1000 partners and counting) of SHEW authorised workshops nationwide, where the mechanic will require a few details to sign the customer up, or, purchase the car at any Shell station, conduct a service at their preferred mechanic, then perform a self-registration.
Self-registration can be conducted by contacting then SHEW hotline at 1800-18-1855 or visit www.shell.com.my/helixwarranty. Customers who meet the eligibility will receive an SMS confirmation. The warranty starts 30 days or 1,000 km after enrolment, whichever is later.
The warranty remains in effect if the customers perform lubricant changes on a timely basis as per Shell or the car manufacturer's recommendation. Customers will also receive service reminders 1 month before the service is due from Shell.
If a customer wishes to make a claim, they'd have to call the SHEW hotline, a customer representative will arrange for the vehicle to be assessed at the nearest panel workshop, to ascertain if the issue is linked to the engine oil. If the issue or engine failure is deemed to be caused by engine wear due to improper lubrication – the repair costs will be borne by Shell.
The program is totally free and a maximum of one claim can be approved every 12 months. If the vehicle is actively covered by a manufacturer warranty – customers will not be allowed to claim from the SHEW warranty. This makes the SHEW an ideal option for users with cars that have surpassed the manufacturer warranty period.
---
---
---
---
Comments