When You Want A Mitsubishi XPANDER But The Proton X50 Racun Is Strong
Buying Guides If you're in the market for a new car for the family, this year saw the local launches of at least a couple of very viable options - two of which we will be covering below: the Mitsubishi XPANDER versus the Proton X50 1.5T Premium.
---
In order to earn their spot in as many homes as possible, both of them attempt to solve the needs of everyday motoring in their unique way but manage to arrive at roughly the same plateau, ironically making their would-be customer need to think extra hard about which to choose.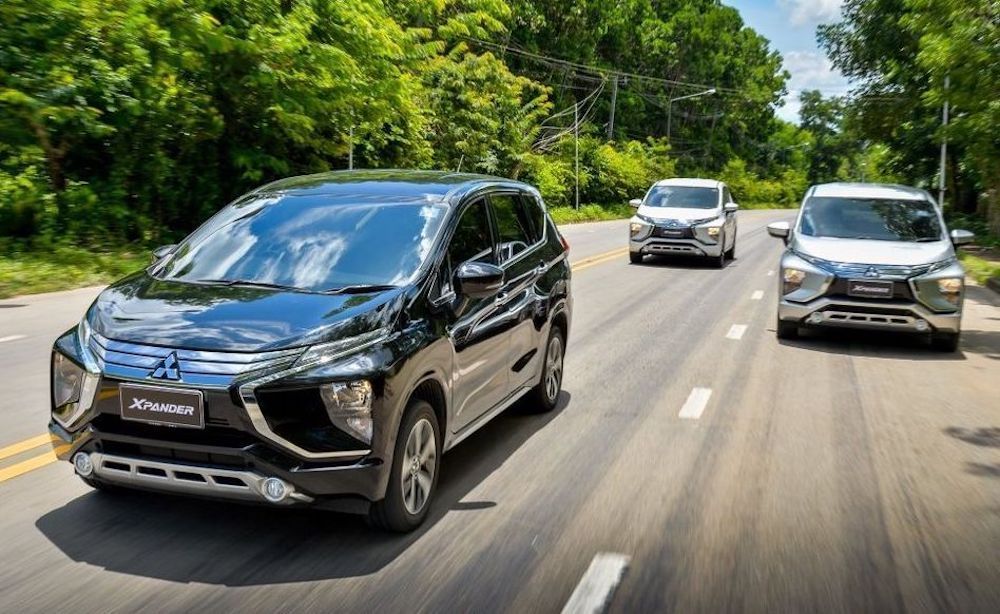 The Mitsubishi has been received very well in neighbouring ASEAN markets Indonesia and Thailand, the XPANDER attempts to blur its MPV classification with bold SUV-like design cues. It enters Malaysia during the SST discount period at RM91,359.
Our challenger is the Proton X50, the hottest new model to roll out of Tanjung Malim in a very long time and simultaneously, prior to launch, was the worst kept secret in the Malaysian automotive scene.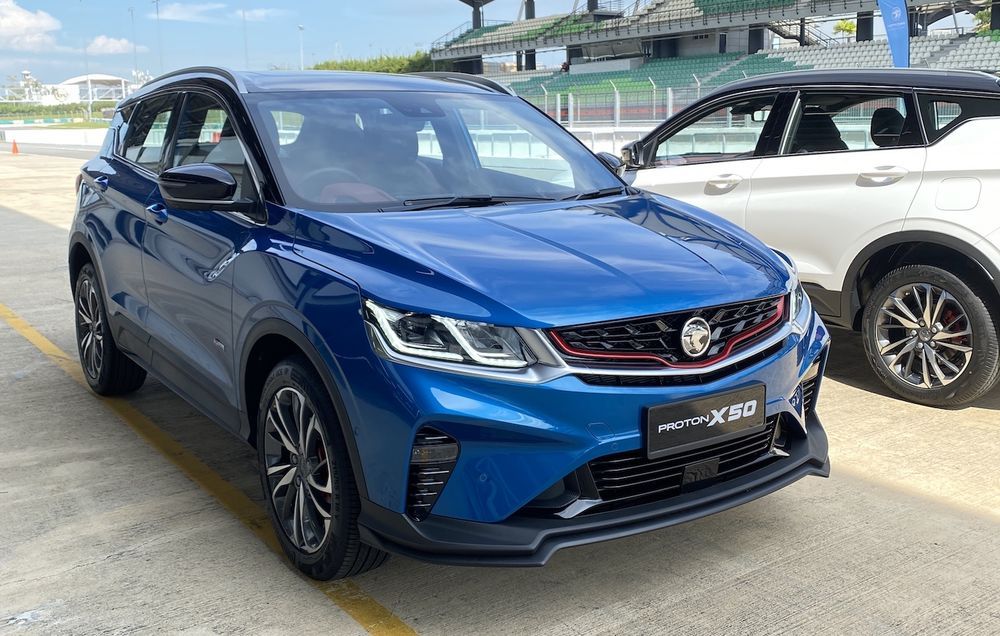 The 5-door compact SUV butts heads with segment big shots such as the Honda HR-V and the very established Mitsubishi ASX, but counters their rank and tenure with pretty much all the goodies from the Geely Binyue on which it's based.
However, the pricing of the XPANDER's sole variant means that the range-topping X50 Flagship is out of reach. Matching it closely on the ringgits and sens is the 1.5T Premium at RM93,200 (again during the H2 2020 SST discount period), a very impressive machine despite missing out on a few of the equipment options.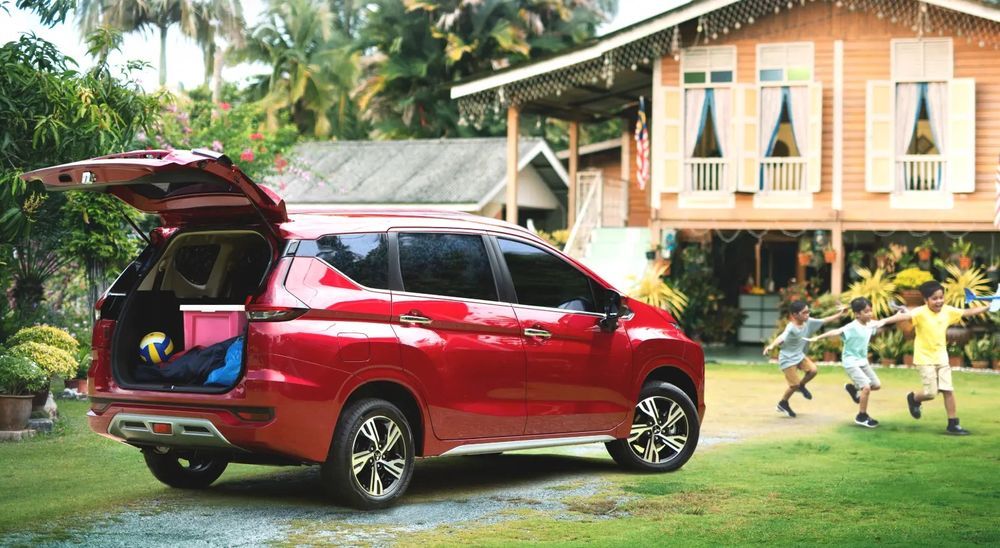 Space and Practicality
Including the boot, both the Proton and Mitsubishi have five doors but the X50 is left without response when the XPANDER whips out its trump card: third-row seating. This might be a killing blow to the smaller contender if the buyer needs to accommodate, even occasionally, more than 4 passengers.
As my colleague explored during the XPANDER's closed-door preview, those rear-most seats are actually large and comfortable enough to perhaps even see an average sized adult through a long-ish road trip.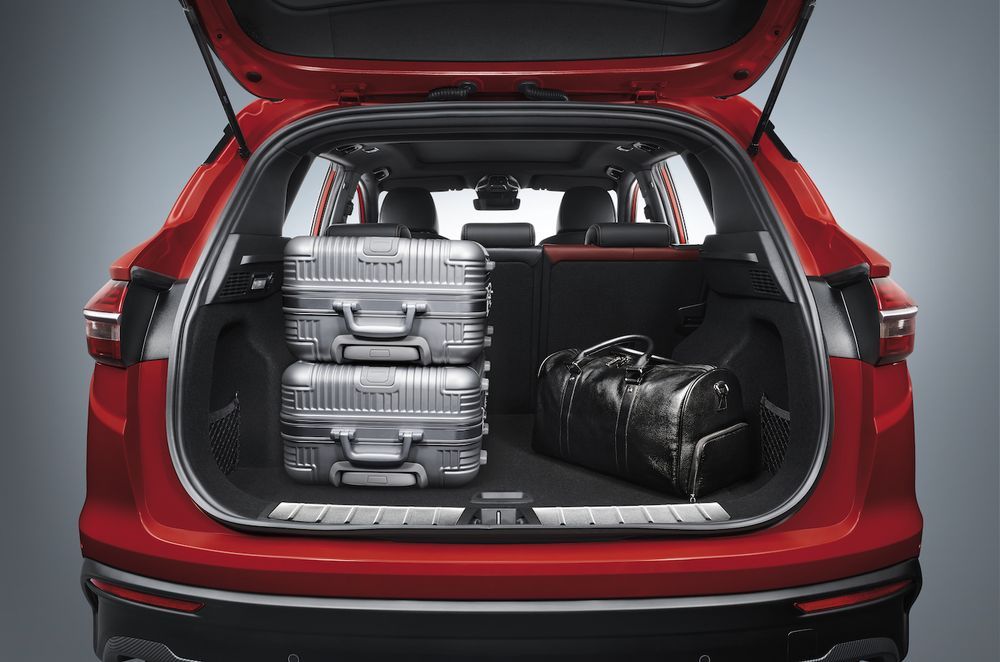 With all three rows of seats upright, though, the Mitsubishi does greatly sacrifice boot space down to 295-litres. However, in its 5-seat configuration, it's expansive 780-litres makes the Proton's 330-litre boot look like a cruel joke.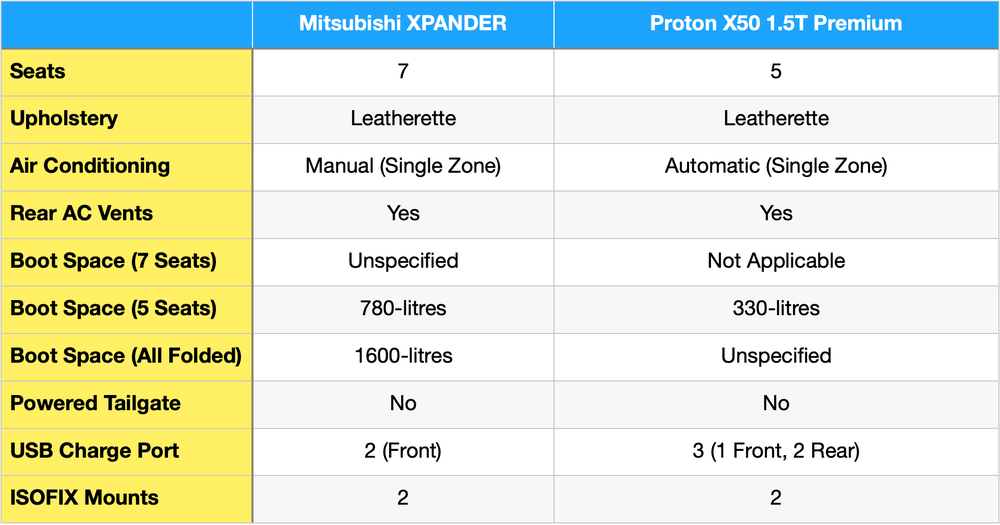 Ouch. First blood to the Mitsubishi XPANDER.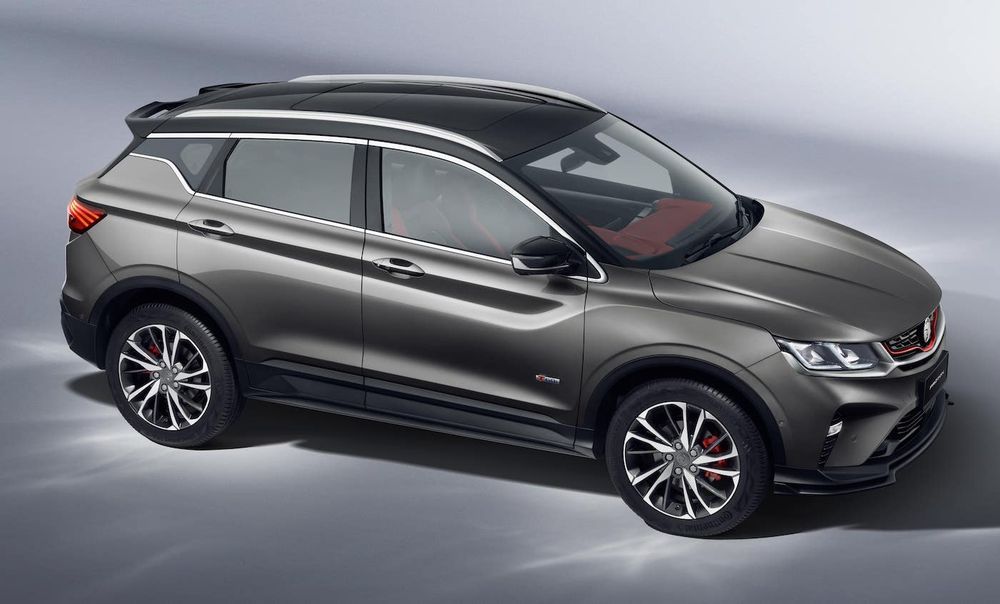 Styling and Exterior
This is all rather subjective, of course, and we'd also argue that aesthetics rarely has any bearing on utility, which is why the XPANDER and X50 are targeting different parts of the car buying spectrum.
The Mitsubishi adds some flair to the unremarkable stretched box shape with the Dynamic Shield fascia, a light show of reflective LED illuminators, and plenty of metal upfront. Again, the slightly more raised ride height does echo SUV cues. That bling factor does diminish with the Mazda 2-sized 16-inch alloys, though.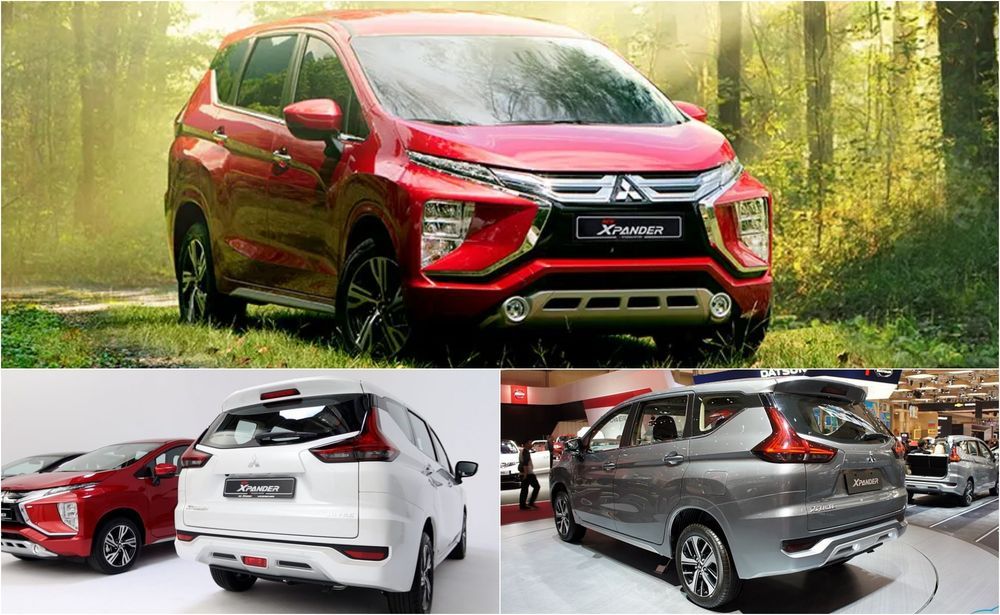 In the other corner, the Proton is clearly putting its most stylish persona forward with the X50, positioning it as a trendy newcomer to our roads with 18-inch alloys on the Premium variant. There aren't quite as many shiny bits, but that's probably a good thing.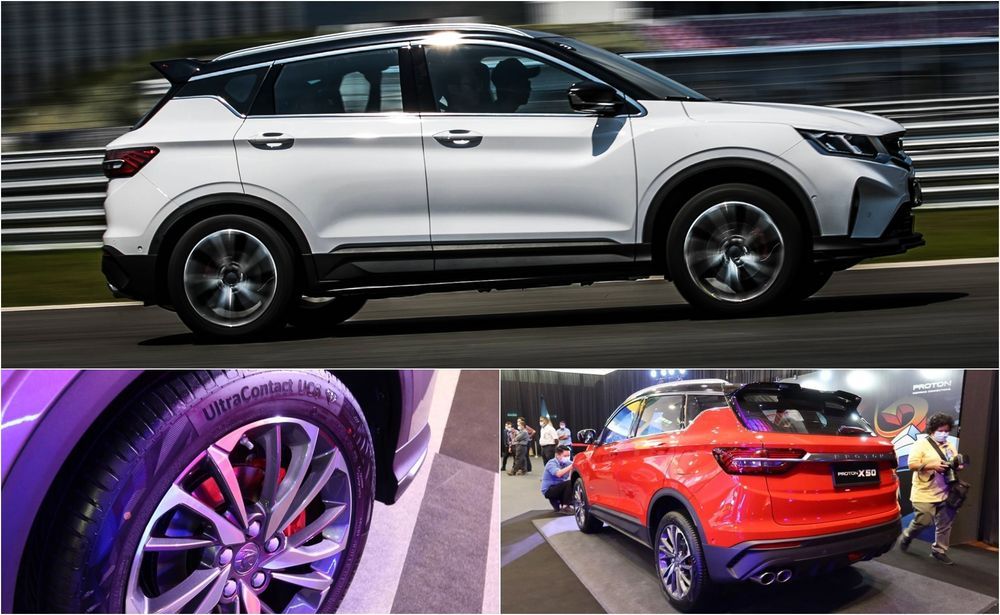 Overall, it's more distinctive shape and natural good looks do also endow it with a good amount more road presence than we usually see from other cars in this category, especially in the eye-catching Passion Red or Citric Orange exterior colours.
Second Round goes to the Proton X50.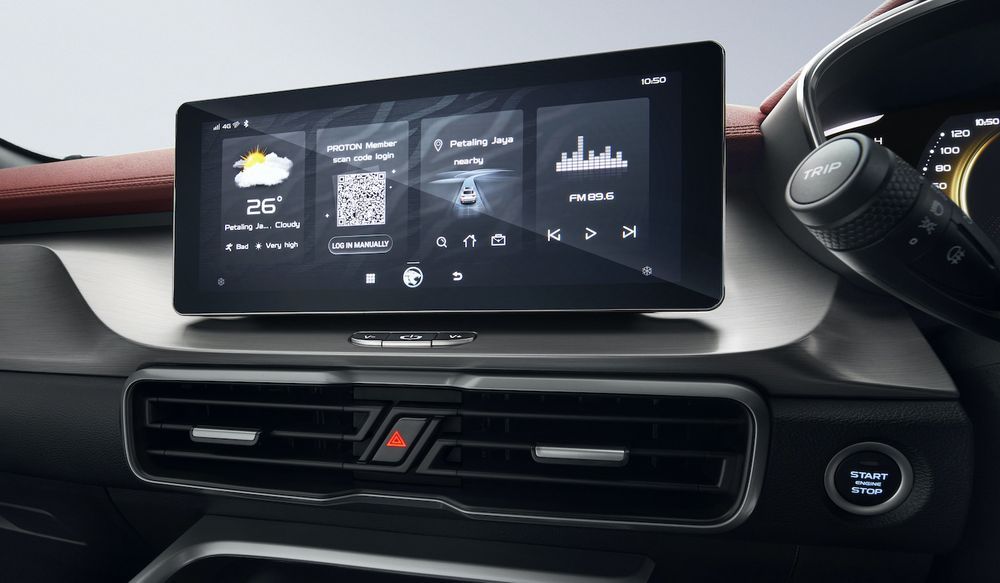 Tech and Safety
If the 7-seat capacity was the XPANDER's party trick, the comprehensive list of tech and safety features belongs squarely in the X50's arsenal, which is why its arrival is a keystone moment for the automotive landscape in Malaysia - not just Proton.
Unluckily for the 1.5T Premium, its stable of features isn't filled to the brim, but it does offer up a very formidable tech line-up that really does run circles around the XPANDER's, including the fun but somewhat gimmicky Remote Engine Start.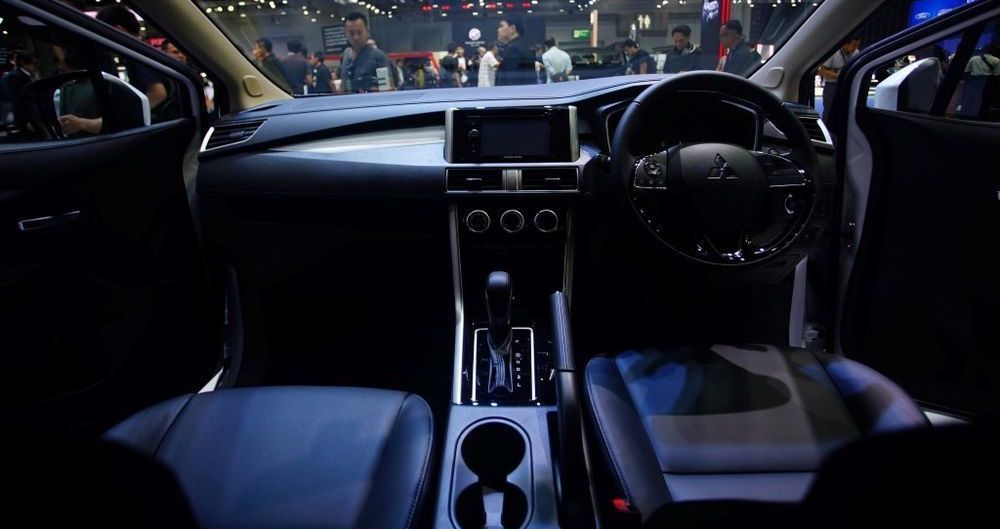 The 10.25-inch infotainment screen is big, bright, and clear, supplemented by a full colour LCD instrument cluster while the Mitsubishi makes do with a 9-inch panel for media and analogue gauges. 4G and short range WiFi connectivity are also standard on the Proton for onboard music streaming and navigation. That said, the XPANDER is the only one here that has support for Apple CarPlay and Android Auto, granting it instant interface superiority/versatility over the Proton running GKUI.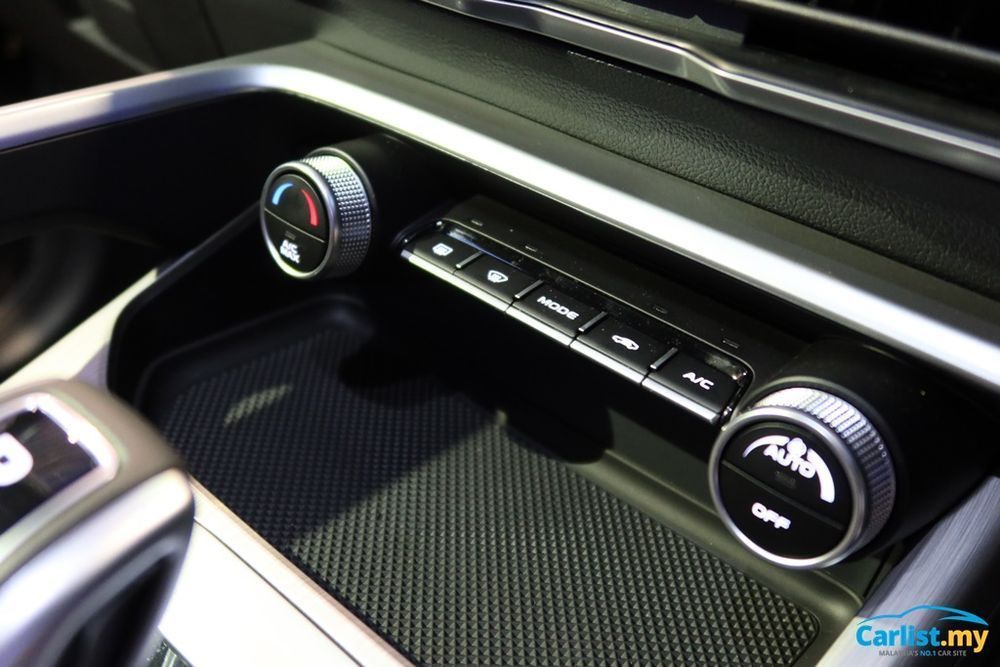 Only the X50 1.5T Flagship receives Active Safety and Driver Assist features such as Autonomous Emergency Braking, Lane Keep Assist, Rear Cross-Traffic Alert, and Adaptive Cruise Control. On big ticket specs, both the XPANDER and X50 trade blows as both offer a 360-degree camera system (All-Round Monitor), Stability Control, Anti-Lock Brakes, and Traction Control.
However, the Mistubishi only has 2 airbags, both of which are for the driver and front passenger. For upwards of RM90,000, this is borderline unacceptable. Despite being smaller and seating fewer, the X50 comes with 4 airbags as standard, but 6 on the 1.5T Premium.
Third Round goes to the Proton X50.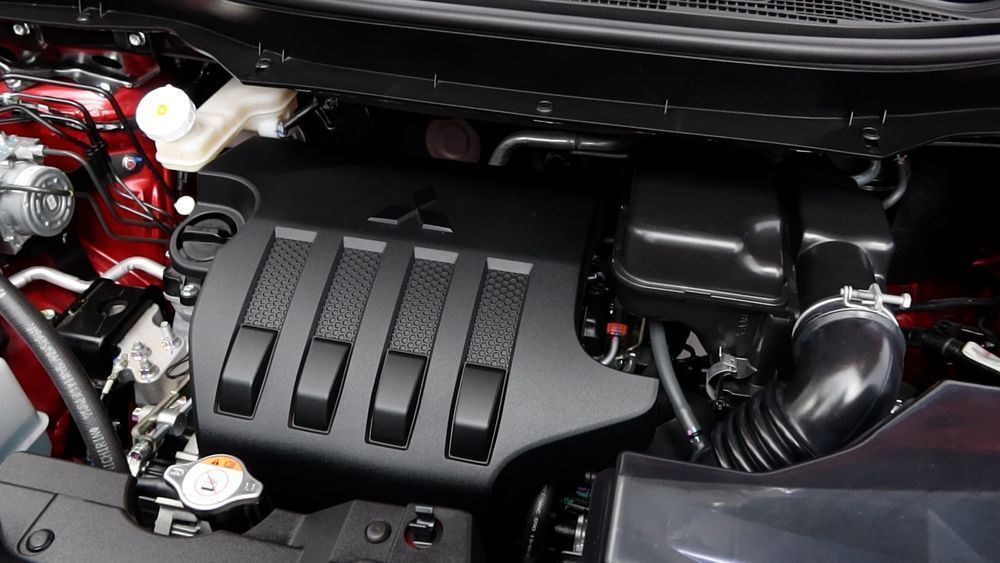 Engine and Drivetrain
On paper, it seems the XPANDER's old school naturally aspirated four-cylinder MIVEC mill is walking into a no-win battle against the X50's 1.5-litre turbocharged 3-cylinder petrol engine.
With just 105PS and 141Nm of torque, it runs into a lot of the same powertrain hurdles that the Perodua Aruz did. Mated to an equally antiquated 4-speed automatic, there seems to be a lack of gear ratios to keep the engine running at its sweet spot, making us doubt it can even get out of its own way when carrying a full complement of driver and 6 passengers.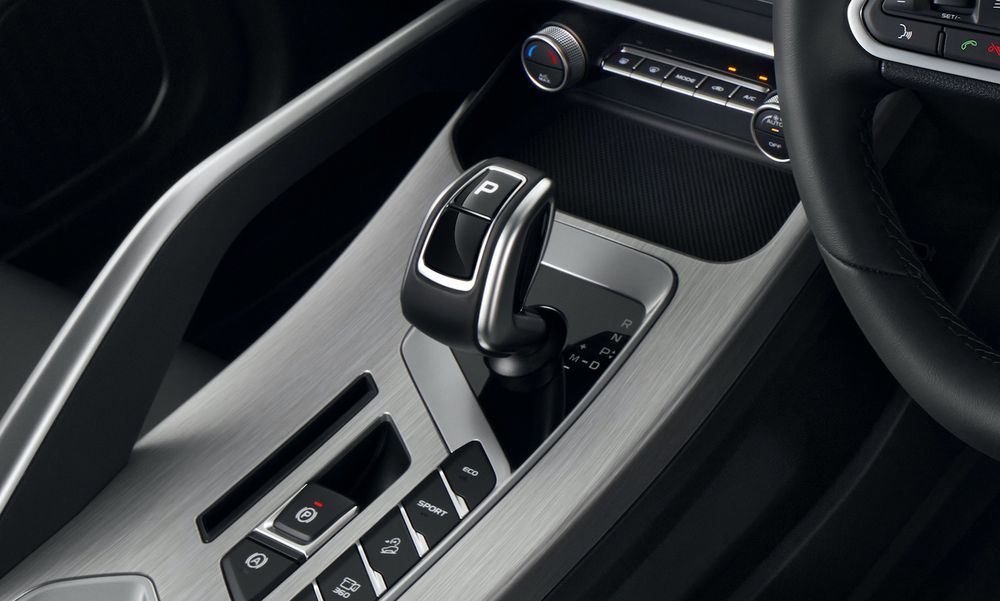 That being said, the MIVEC four-banger and torque converter gearbox are tried and true to the point of almost being bulletproof if maintained well. The Proton's engine pumps out 150PS and 226Nm that reach the front wheels via a 7-speed dual-clutch transmission.
While definitely more technically advanced, only time can uncover the unforeseen issues that always seem to emerge when additional complexity is added. Warm and humid conditions in Malaysia can also accelerate wear and strain cooling tolerances on stressed turbocharged engines which might require more frequent fluid changes for both engine and transmission.
When it comes to reliability, simplicity is the gold standard. Though slow and lacking in grunt, the XPANDER's beating heart is a strong one built on a proven track record, requiring less pampering and preventative maintenance to keep tip-top, possibly making it a wiser choice in the long run.

Fourth Round is a tie.
_________________
In conclusion, on paper at least, the Proton X50 edges the Mitsubishi XPANDER 2-1 but let's bear in mind this isn't an 'apples to apples' comparison but more one of value and getting your best bang for buck. Which one would you go for? Sound off in the comments.
---
---
---
---
Comments