2015 Peugeot 508 THP Full Review - Real Substance Dressed Over French Style
Reviews The facelifted 508 made its Malaysian debut in June 2015, and is an updated version of Peugeot's flagship sedan, the french marque's latest (and arguably, their best) attempt at a real contender in the luxury sub-category.
But even with that new face, the 508 still has a few points to prove before the public at large would start putting it on their shortlists. In this review, we take a look at the base model, which receives a newer breed of more powerful twin-scroll turbocharged petrol engines dubbed THP (Turbo High-Pressure).
The pre-facelift 508 made the world take notice, with it being a huge leap from its predecessor (the 607) and an altogether more accomplished car in its own right. Has Peugeot managed to deftly, and more effectively, blend trademark French flair with improved build quality, reliability, and even decent fuel economy while packaging it into a pretty, if generously proportioned, car - again? More importantly, on its second chance to convince us to choose in its favour, does it make a stronger case?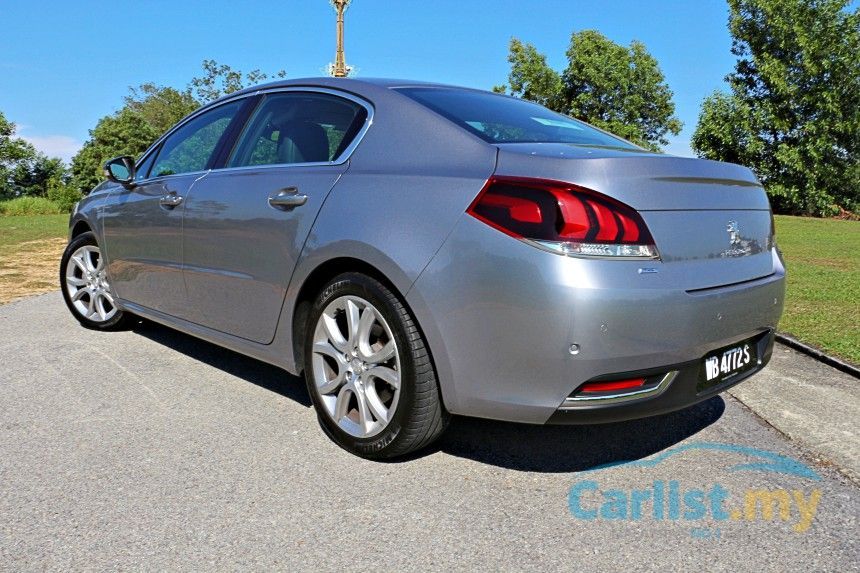 Key Specs
Price: RM173,888, on-the-road (OTR) with insurance inclusive of GST
Engine: 1.6-litre Twin Scroll Turbo High-Pressure
Power: 165PS @ 5,000rpm
Torque: 240Nm @ 1,450rpm
Transmission: EAT6 six-speed torque converter automatic with paddle-shifters
Fuel Consumption: 7.1-litres/100km (claimed)
Kerb Weight: 1,405kg
Overview
The original 508 in 2010 was something of turning point for Peugeot, ushering in mechanical and visual upswings that swept through the company's entire offering of vehicles, and to us Malaysians particularly, we thought Peugeot had a clear shot of reinventing themselves. Or was that just me?
Those changes might not have been revolutionary, but they collectively helped draw attention to a resurgent Peugeot and in many ways were necessary for the brand to keep pace and mindshare with key competitors. They trickled quickly down to the eventual release of the 308 THP and the 208, which were arguably more warmly received compared to Pug's most appointed D-segment offering.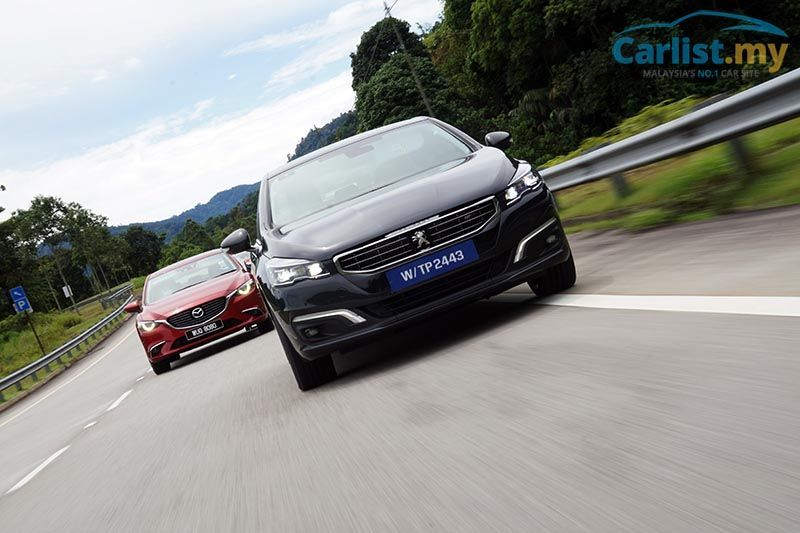 As circumstance would have it play out, the step-up that the company made to the overall quality of their vehicles did not do enough to close the gap between its more popular rivals to shuffle Peugeot's large car sales upward from its lacklustre market pecking order.
Now nearing the middle of its life, Peugeot has taken its 508 and put it under the knife, fitted it with engine improvements, and generally took the opportunity to fix any chinks in the car's armour. The 'newer' car will face old rivals such as the Honda Accord, Toyota Camry, Mazda6, Nissan Teana and Volkswagen Passat, as well as new competition from the more expensive fourth-generation Ford Mondeo that was released in Malaysia only midway through last year.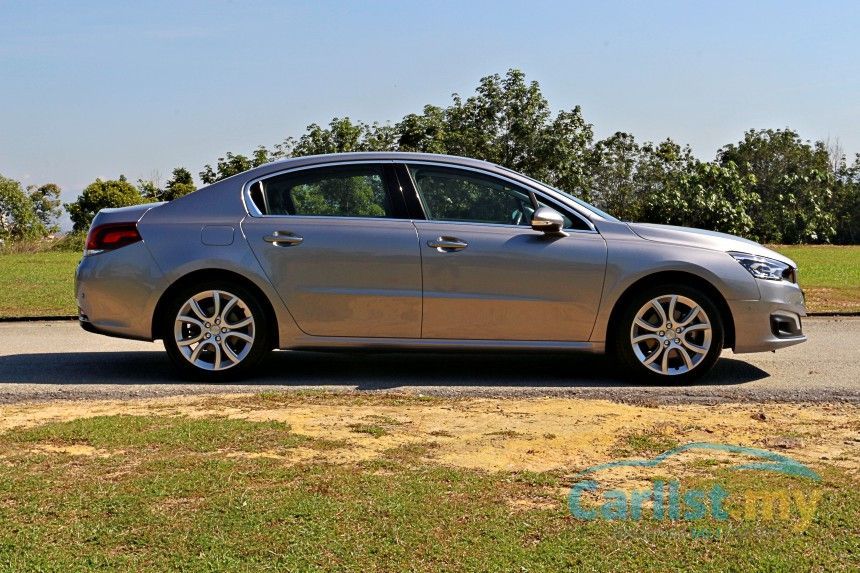 Exterior
The alterations Peugeot have made to the 508 don't seem major, but last thing you should do is shrug it off as a lackadaisical effort from the French outfit. After being accustomed to the newer car's updated front end, seeing pre-facelift 508s made me appreciate how much more current they've now made it look.
It has an overall more assertive and bold front, with a headlamp and DRL arrangement that is more cohesive. Peugeot gave its 508 the stronger, leading man-esque jaw it deserves.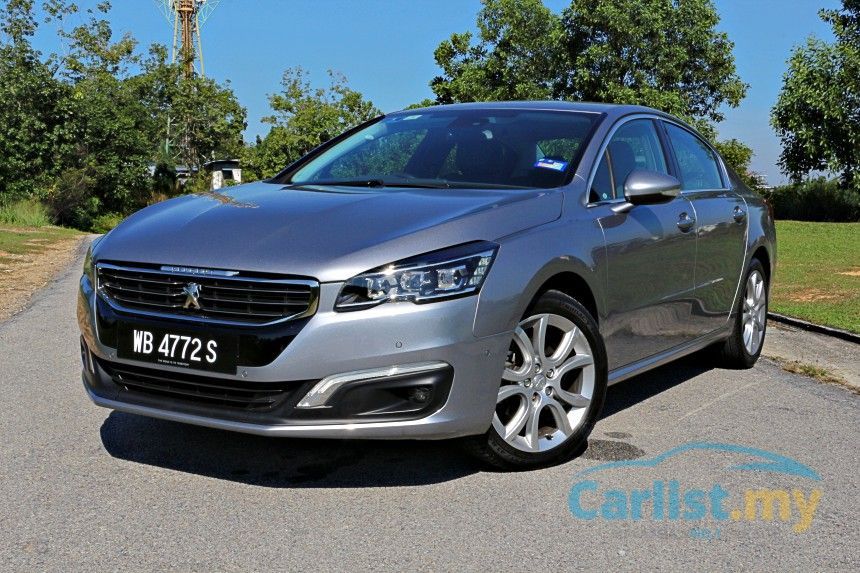 Apart from that, the differences start to slim out with only minor noticeable details thereafter. The overall silhouette has not been tampered with in the least and the rear end has remained relatively unchanged besides an altered LED tail light arrangement and chromed accents near the bottom, although those aren't fitted to the higher GT variant as its dual tailpipes would get in the way.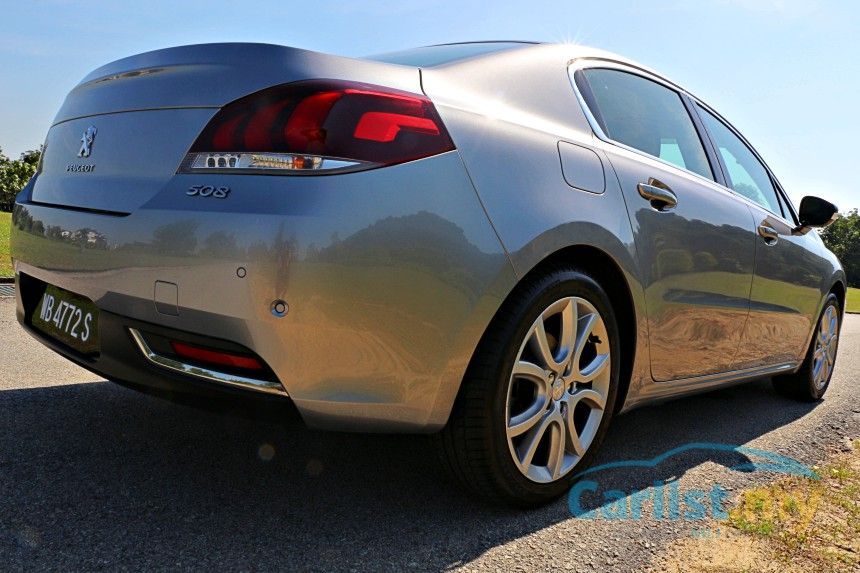 The 18-inch alloy wheels on the 508 THP, too, are inherited from the previous base car, the 508 Premium. Same goes for the facelifted GT, which receives the previous set of 19-inchers.
It is still an undeniably handsome car, with little to left to complain about visually. It is meant to be a subtle and quietly dignified vehicle, perhaps to mirror the type of owners who are on the prowl for a car in this corner of the marketplace. In this respect, it does well while managing to keep a certain charm about it.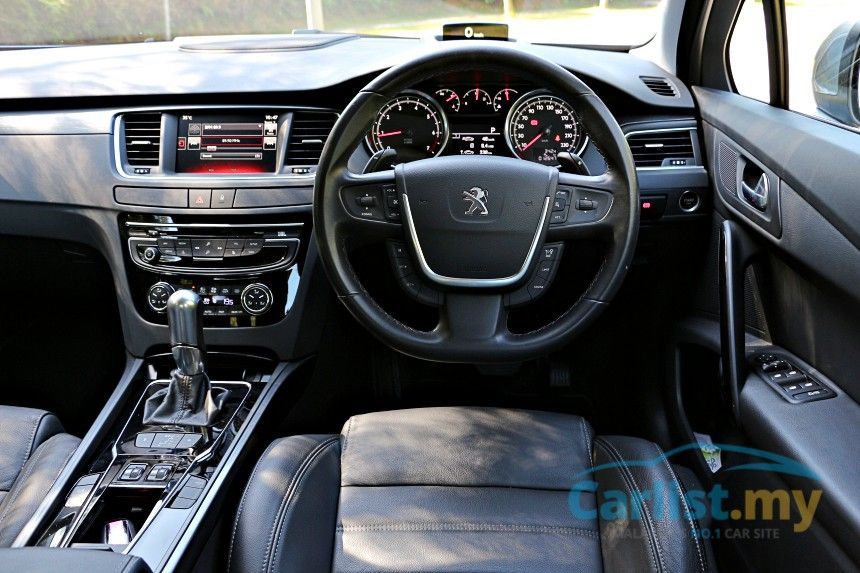 Interior
Stepping inside and settling into a French car's cabin, one does have a rush of latent expectation that's coloured by past - usually negative - experience, personal or vicarious. But the 508 doesn't let those expectations bleed into reality.
The dark grey interior is well laid out and the materials themselves look to be thoughtfully chosen to make sure the surfaces you do touch feel satisfyingly plush. There is, of course, leather but also soft touch plastics, glossy surfaces and aluminium-esque finishes strewn throughout. The seats are very comfortable and supportive, and hey, they even smell nice.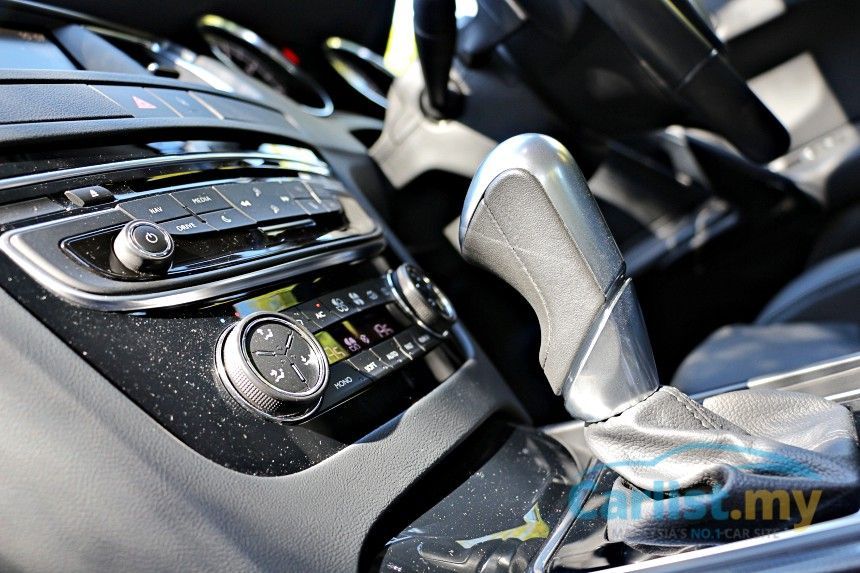 The build quality, too, does impress. The pre-facelifted 508 was already a step forward from what we're used to from Peugeot and we're sure the interior here went through it with a fine-toothed for the recent refresh. It's sturdy and free from the kind of loose rattles and that hollow unsubstantial feel that mar the in-car experience.
And thank goodness for the lack of Peugeot's i-Cockpit dashboard layout. There's just something about Peugeot's newer helm arrangement that, for some reason, would not let me find a satisfying seating position that gave me good visibility of the dials and the road. I'll stick with a normal dash, thank you very much, like the one in this 508 THP.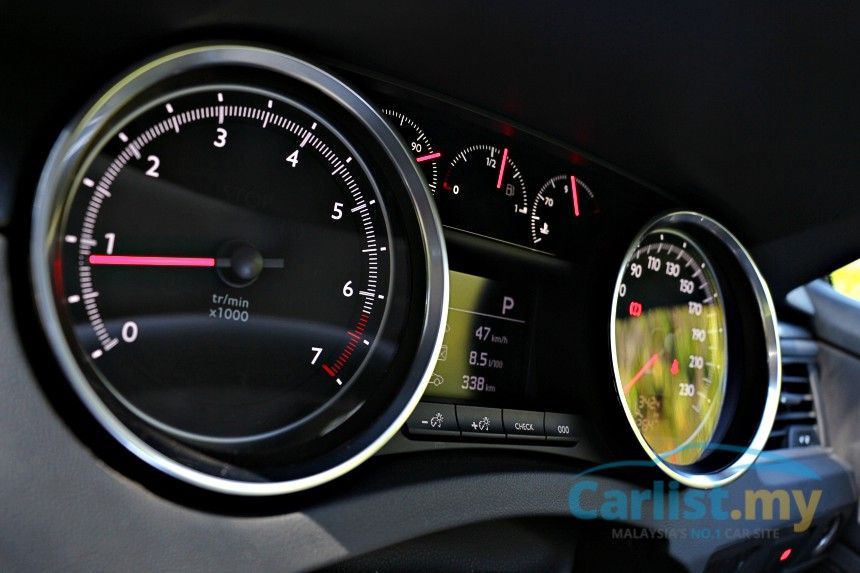 The instrument cluster itself is beautiful; sharp dials framed within a shallow aluminium-trimmed cylinder with details that make it resemble a sophisticated watch face. The fuel and temperature gauges are enclosed between the tachometer and speedometer behind a dark polarised screen that goes completely opaque when the car is turned off, and comes to life when the (presumably) very brightly backlit instruments are illuminated. Beneath that is a digital display showing the usual trip computer readouts.
There's a heads-up display too which is a nice, if only a partially useful addition since it only showed the car's speed. For those of you who hate glancing down at the dials to make sure you're within the legal limit, you'll love it. There's also an identical digital speed readout next to the speedometer, just FYI.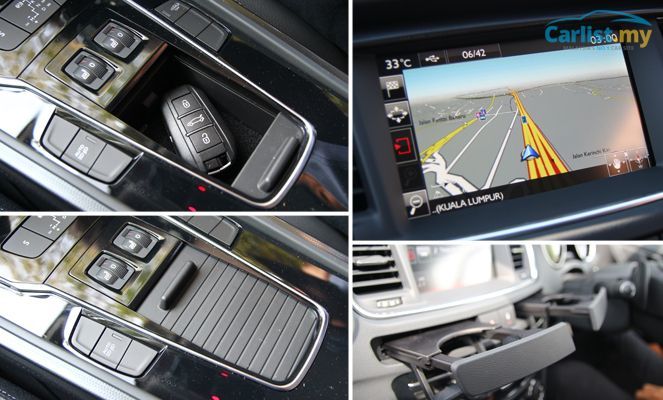 The infotainment unit was a mixed bag with the Bluetooth connection routinely being severed, forcing me to have to pull over and reconnect manually or have to endure listening to FM radio. The interface itself, which after the facelift omits the circular control dial in favour of fully touch operation, is cumbersome to navigate and a little slow to respond. Its placement isn't ideal either, being further embedded into the dashboard and not tilted toward the driver either. Instead it points slightly upward, which means glare is an almost constant annoyance.
A high point, though, once you got the system working how you want it, is the JBL 500-Watt 10-speaker + woofer setup. Suffice to say, it produces great enveloping sound, and that's all there is to it. Period.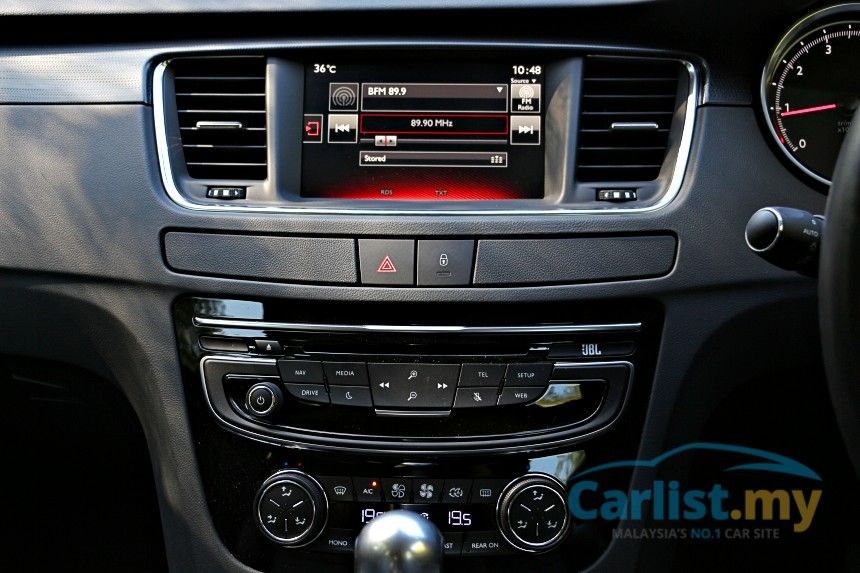 In terms of ergonomics, the 508's interior lands some hits and misses. There are cupholders that fold out of the dashboard and the door storage slot is big enough for a mineral water bottle and some other trinkets. However, there isn't much room for anything else. The infotainment control dial has been axed, replaced with a slot that's barely large enough for the 508's keyless dingus if shoehorned in diagonally. The compartment just ahead of the gear shifter isn't quite large enough for a modestly sized pair of sunglasses or a smartphone, begging the question: what do the French carry with them into their cars?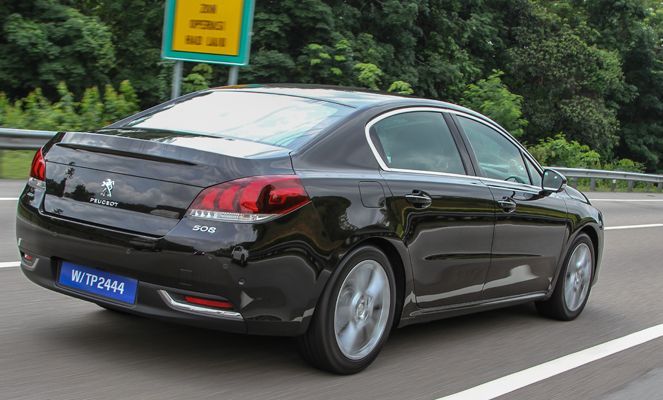 Drive
Give the 508 a clear stretch of road, and it makes quick work to devour the kilometres with little fuss. This is all assuming you're driving calmly, because that's how the car prefers. It's a smooth car, firm enough to give the driver a good sense of what is happening on the road, but expertly dampened to weed out any jarring sensations. Quiet too, with barely any ambient noise creeping in to ruin the appreciation of music or an engaging conversation.
While ferrying a friend home after dinner, the car rode so smoothly that she was able to conduct a whole Skype interview session with her professor without any arm acrobatics or the raising of speaking voice. She remarked afterward how, during the call, she almost forgot she was in a moving car.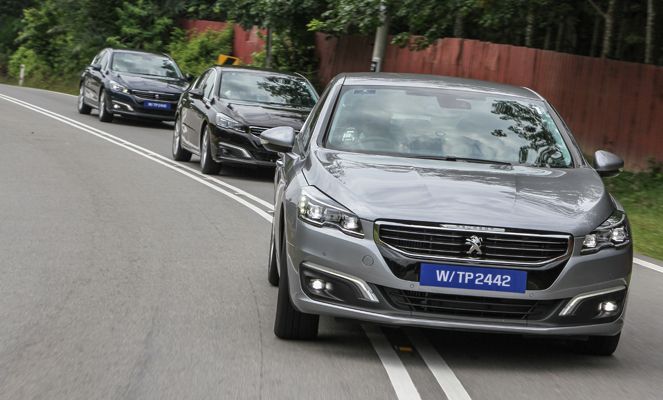 The engine, a 1.6-litre four-cylinder with a twin-scroll turbocharger good for 165PS and 240Nm, spools up quickly and is gutsy at low to medium speeds with maximum torque available as early as 1,450rpm. While that is appreciated, especially in the city, the powerplant does feel a tad breathless when accelerating for longer periods. Letting the car rev to higher RPMs rarely produces much more speed.
Obviously, the 508 is a heavier car than, say, the 308 THP, in which the very similar 1.6-litre unit feels much more suited, and even though Peugeot has increased its power in the 508 THP, it still doesn't feel like enough when you need it. Overtaking at high speed, in particular, highlights this neatly.
Either the gearbox kicks down on its own, or you pull the paddle yourself; either way, there isn't much power left hiding at the loftier end of the tachometer spectrum, leading to a somewhat lacklustre passing manoeuvre. In gear acceleration is good at lower speeds but at cruise, the transmission kicks down unnecessarily, revving the engine to exactly where the power isn't.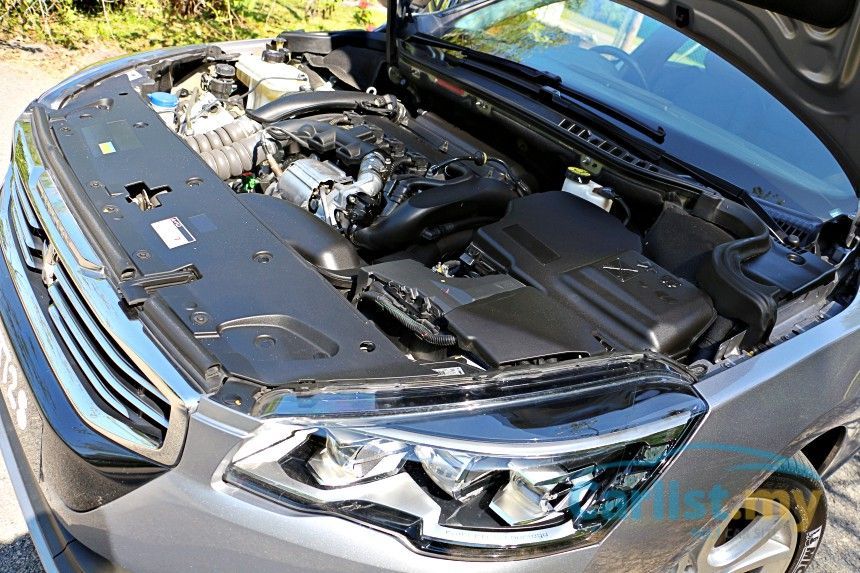 One more thing, the shape of the gear lever itself seems like it is placed front to back. Take a look. Maybe it's just my isolated peeve.
Back to the engine: to move the 508 requires it to work that much harder, which in turn requires more fuel to be consumed, thereby rendering the argument for a more economical 1.6-litre unit moot. At city speeds is where the car feels much more nimble and reactive - impressive for a vehicle of this size and mass - but at the same time left me wondering how much more fuel efficient it would be if fitted with a start-stop system (Peugeot's e-HDi Micro-Hybrid Technology), which is a curious exclusion at this price. In mixed driving, the best fuel economy figure I squeezed out from the 508 THP was 8.7-litres/100km.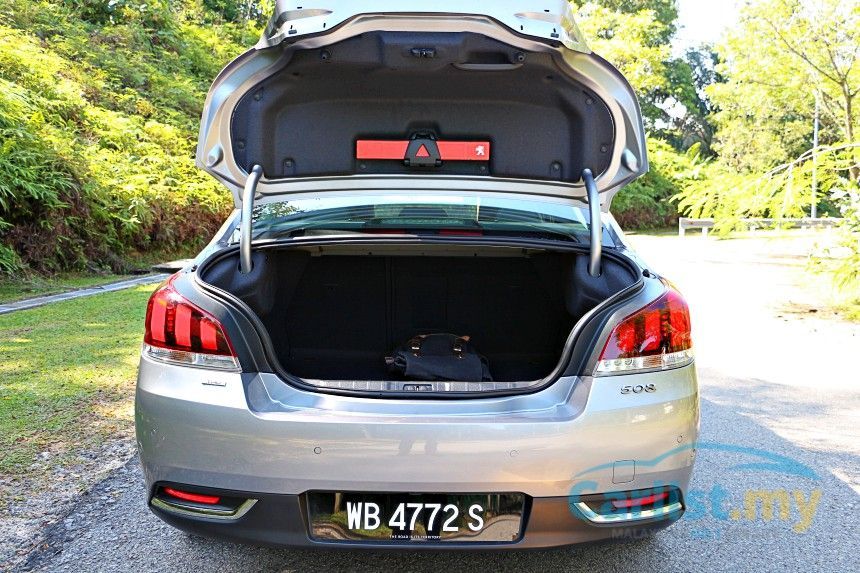 Practicality
There's no getting around the fact that the 508 is a larger car, and as such should be able to accommodate almost any sort of cargo-carrying concern you may be faced with. There's ample space in the rear for legs to flop around freely with no impedance from a transmission tunnel hump. Rear seats, too, are grooved just enough in the same plush but somewhat firm leather for occupants to remain planted but also unencumbered at the shoulders.
Both the front and back doors open nice and wide for easy ingress and egress, and the boot itself is very large at 545-litres. The sill is a little tall, but the expansive aperture makes up for the extra lift required to hoist up some heavier hauls.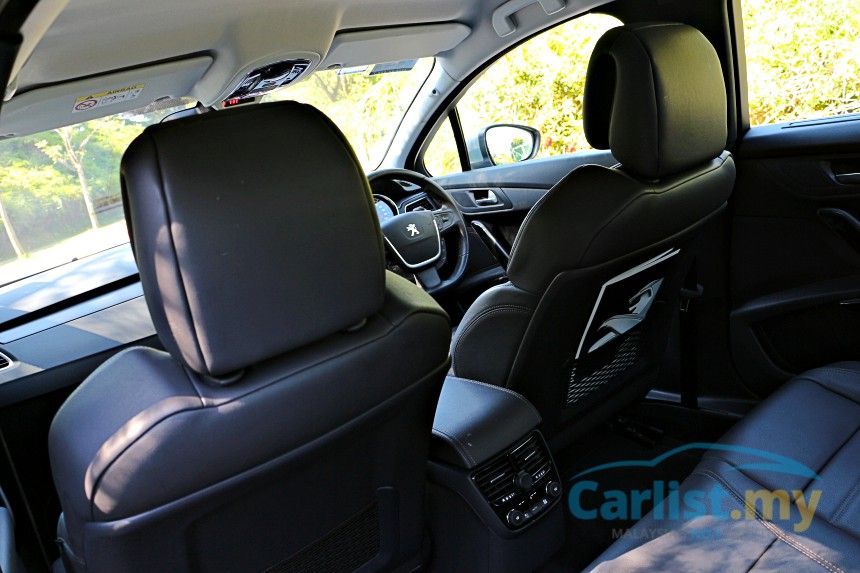 What the cabin lacks in sheer compartments, as I've touched on earlier, it makes up for in sheer airiness. If you step to the 508 THP SW, that sense space expands with the panoramic glass roof. And if the sun is making the car too toasty for your liking, there's four-zone air conditioning to keep the heat in check.
Safety
The Peugeot 508 THP comes standard with six airbags across the range along with a slew of safety systems such as anti-lock brakes (ABS), electronic stability control (ESP), traction control (TCS), Dynamic Stability Control, Emergency Braking Assistance, Blind Spot Information System (BLISS) and rear seat ISOFIX child seat mounting points.
It also comes with cruise control with a speed limiter function as well as adaptive LED headlamps that illuminate corners as you turn the wheel and switch from main beam to high beam automatically where necessary to provide optimal illumination.
The car, pre-facelift, has been tested by Euro NCAP in 2011 and was given a full 5-star safety rating.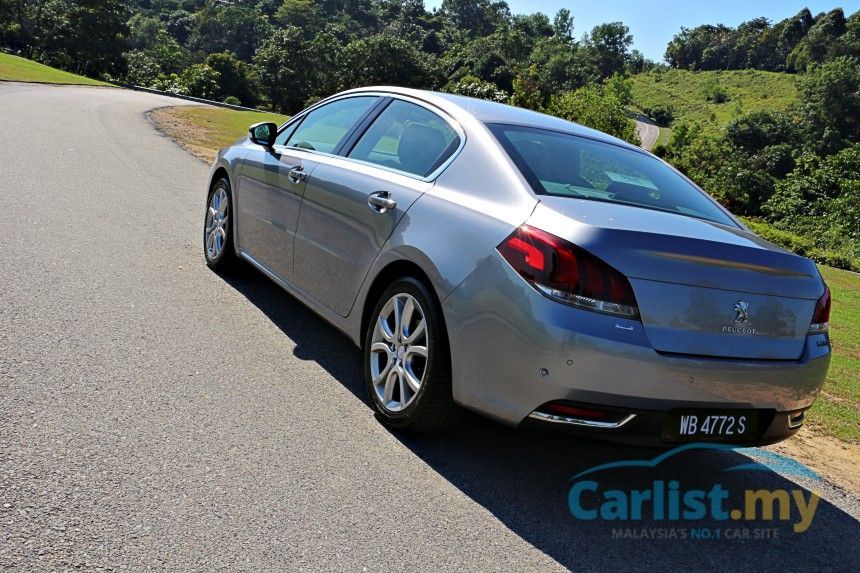 Conclusion
This is the part where I have to summarise the 508, and usually with most cars I'm inclined to give a more polarising view with regards to its place within the market. But with the big Pug, I'm not so quick.
Let me first say that, in all, I like this car. It's does what it sets out to do with poise and refinement, exactly how a larger car like this should go about its business, all while taking the fight ever closer to the Germans. The 508 THP is a good showing from Peugeot to improve upon the 2010 original, and testament to their work, the car has aged well, standing strong even against competition from newer entrants.
This facelifted version only makes the 508 a more compelling alternative, but is it enough to entice buyers to a point where they'd their habit and jump to a 508 THP instead of a Honda Accord or Toyota Camry? Maybe. Peugeot certainly hopes so, and frankly so do I because a good effort deserves reward. And it wouldn't hurt to have a more diverse palette of cars on the road - even better if it's this handsome Frenchman.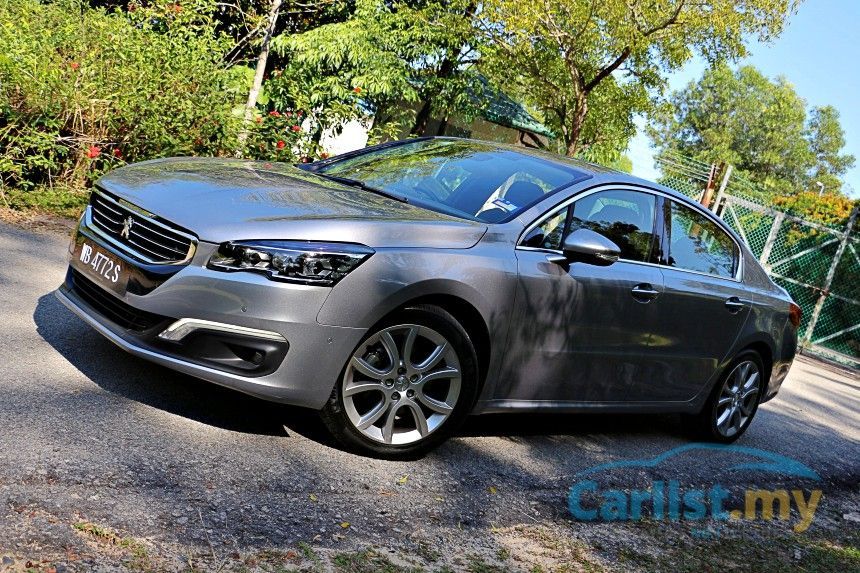 It's a car with real substance to go with style, and while some metrics still prove that Peugeot hasn't quite embraced that balance (as with the storage compartments), they're on the right track. Driving the 508 gives you a feeling that this is a car that's worth the asking price: a plush interior, a strong engine (up to a point), and an impressive sense of poise and comfort that's also quite reassuring.
The lure of going against the grain has always been at the back many a car buyer's mind, and the Peugeot 508 THP is slowly but surely driving the brand to shed its niche appeal and into more a mainstream space, armed with the talents and attributes to make the public pay proper attention. With some caveats, it's a solid effort, and a solid car.
---
---
---
---
Comments