Cars Today Are Now Ready For Our Smartwatches, More To Follow
Auto News The most recent battle in technology is the one being fought over a place on your wrist. For automakers, the functionality and convenience this technology offers, in how it can connect you with your car, seems very enticing indeed.
We find ourselves in a time of ever smaller and lighter and/or more powerful devices that fit into the mould we've already set in our lives. First it was the phone, and now it's the watch. With the advent of the connected car slowly setting in, the ability to remotely monitor or control certain parameters of our automobiles seems like a no brainer – a feature just waiting to be built in.
The frontrunners in this new space are BMW and Porsche, and these two German outfits have already built in support for the Apple Watch within a week of its release. For BMW, it pertains to its i Remote app (shown above) that can be set up to control their i8 hybrid sports car or their i3 electric city car. Functional parity is shared between the iOS or Apple Watch app, which can provide battery status, car location data, control cabin temperature, and lock/unlock the doors.



Similarly on the Porsche side of the fence, its Car Connect (shown above) app offers many if not more features for remotely controlling certain aspects of Porsche's Hybrid vehicles (Panamera Hybrid, Macan Hybrid, Cayenne Hybrid, 918 Spyder): climate control, vehicle tracking, door lock/unlock, real time journey monitoring, among others.
Not wanting to lag behind, Hyundai has made it clear they are going for a big push to equip their new cars with the latest in mobile platform support such as CarPlay and Android Auto as well as making its Blue Link smartphone app compatible with Android Wear and Apple Watch coming soon.
Audi, too, are keen to explore this technologically enabled bridge between driver and car, and has even partnered with LG to develop a special smartwatch (shown below) that run's an slightly altered version of the much missed webOS that has been tailored to work with Audi. The company showed this off during the Consumer Electronics Show (CES) 2015 in January. More widely available solutions through other Android Wear devices and Apple Watch support are surely not far off.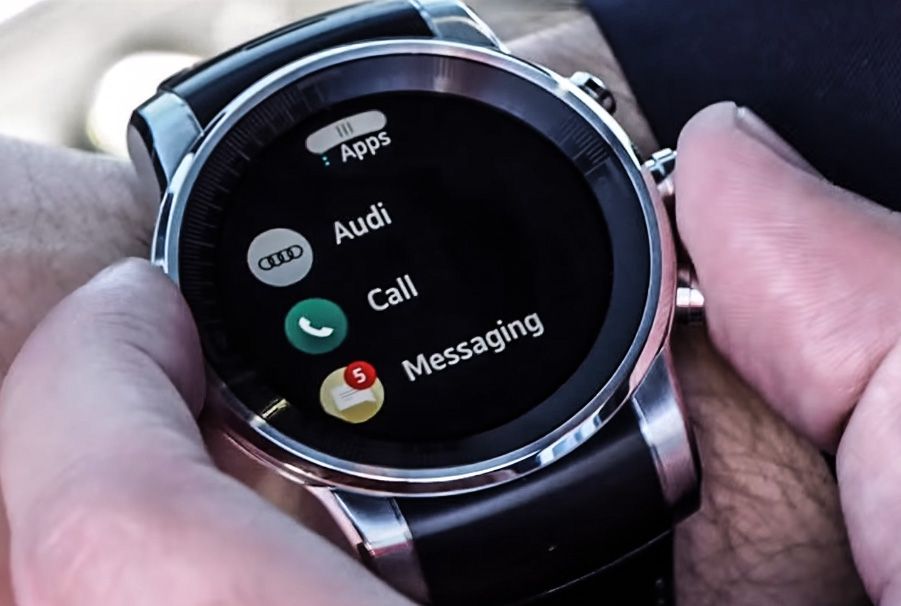 ---
---
---
---
Comments