Did You Know That Tesla Has A Boat Mode?
Auto News Another Tesla wades through a flood, proving that it has an unofficial Boat Mode.
---
For those who think that Elon Musk's Teslas are crap vehicles, you've just been served a slice of humble pie because a Tesla has just been caught on video successfully wading through a flood for the third time in two years.
Wading through floodwaters is certainly not a wise move unless you are driving a 4×4 vehicle that has suitable ground clearance, large size tires and a snorkel so that the engine can breathe.
We guess Tesla owners never got the memo, which is why they are brave enough to wade through a flood in their fully electric vehicle.
The video below shows a white Tesla Model 3 wading through floods without any problems on a Chinese highway.
Dubbed Boat Mode, it seems like a Tesla will more likely get you home when there is a flood rather than an ICE vehicle.
As a disclaimer, there is no such thing as Boat Mode on a Tesla, but recent events have fictitiously created this mode, due to its ability to traverse through the water.
The reason we guess why Tesla owners are brave enough to do this probably stems from a tweet by its creator in 2016.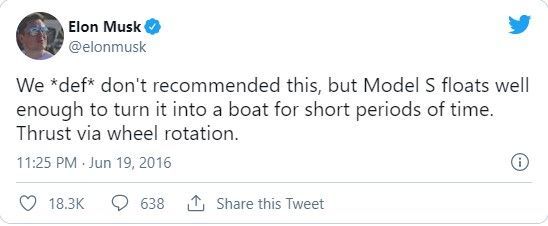 Despite this, we still think that these Chinese Tesla owners are brave because considering that their cars are an all-electric vehicle and is laced with high-tech electronic systems, it would be detrimental to the operation of the vehicle if water got inside the car and wreaked havoc on the electronics.
Perhaps this video down below also gives Tesla owners a lot of confidence in their cars, because after all, it did go through some rigorous testing which shows that the car is airtight to a certain extent
Would you be brave enough to put your electric car through water? Well, with the number of Malaysian cars abandoned in a flood, we think sooner or later we will see a Tesla wading through a highway flood in Malaysia.


For more latest car news, reviews, car buying guides and videos visit us at Carlist.my Auto News.
Check out all the best new & used car deals in Malaysia at Carlist.my.
Sell your car fast with the best offer? Visit us at CarlistBid.my.
Get the latest new car promotions at New Car website now.
---
---
---
---
Comments