King Myvi Kecundang di Selekoh Berhantu – Angkara Longkai Atau Gelabah Nampak Polis?
Insights Sebuah video kemalangan jalan raya yang tular media sosial baru-baru ini menunjukkan sebuah Perodua Myvi terbabas di Lebuh Raya Sultan Iskandar, berhampiran dengan Bangunan Parlimen. Persoalannya, apakah punca sebenar kemalangan tersebut berlaku?
---
Dalam video yang berdurasi 23 saat itu, sebuah Perodua Myvi telah memecut laju di lorong kanan sebelum menggunakan brek kecemasan ketika mengambil selekoh buta pada kelajuan kira-kira 100 km/j lalu melanggar pembahagi jalan di sebelah kanan jalan. Kereta tersebut hilang kawalan setelah menghentam selekoh lalu terbabas ke sebelah kiri jalan. Mujurlah Proton Waja yang berada di lorong tengah jalan tersebut peka dengan keadaan sekeliling dan sempat brek sebelum Myvi itu terbabas masuk ke lorong tengah sebelum ke bahagian kiri jalan.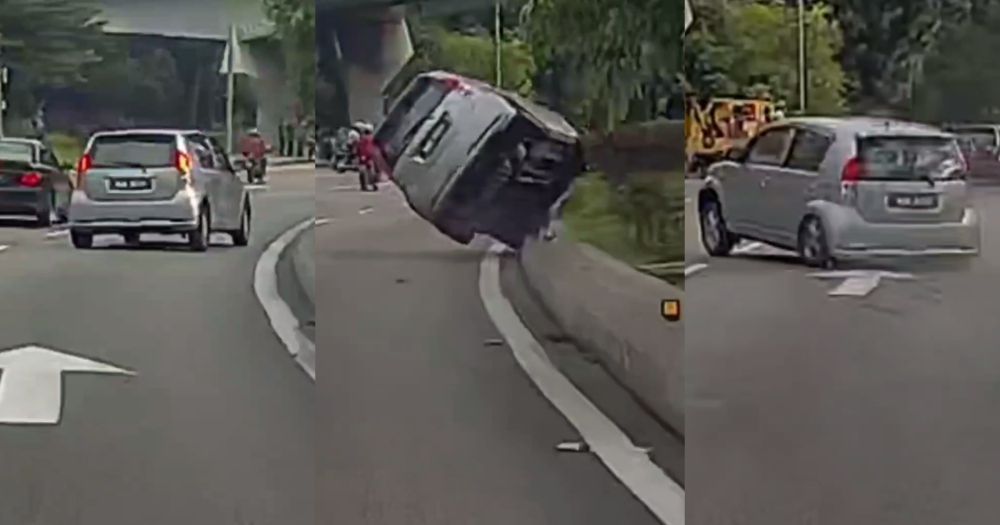 Ketika kejadian direkodkan, kelihatan ada sebuah trak tunda yang sedang dalam proses menunda sebuah kenderaan di tepi jalan sambil dikelilingi orang ramai serta polis trafik. Namun ketika Myvi ini hilang kawalan dan menuju ke sebelah kiri jalan, Myvi tersebut terbabas betul-betul di belakang kereta berserta trak tunda berkenaan, menyebabkan orang ramai yang berada di kawasan tersebut bertempiaran lari. Mujur ia tidak menghentam mana-mana orang awam.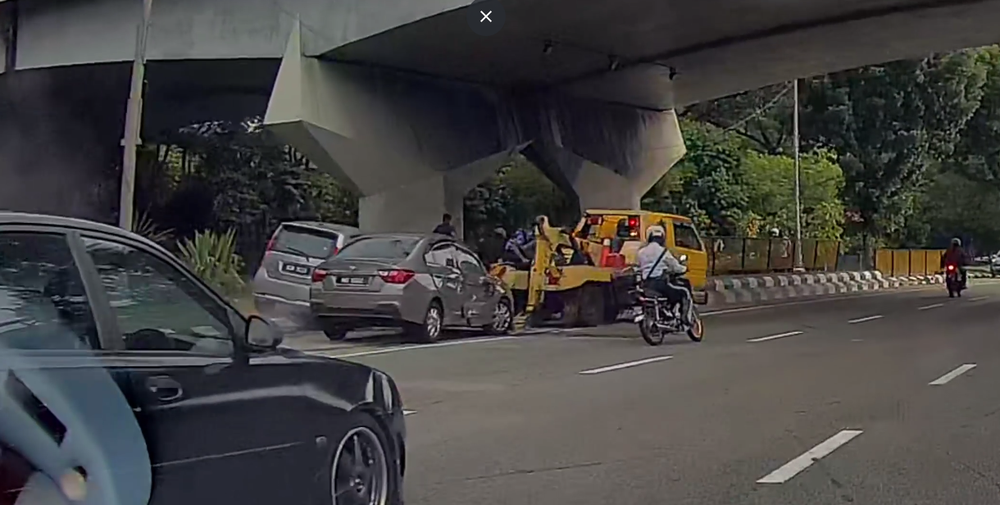 Menerusi video yang tersebar, ada beberapa sebab yang mungkin menjadi punca utama mengapa kereta terbabit terbabas. Antaranya ialah kejadian weight transfer atau pemindahan berat pada Myvi berkenaan setelah brek dilakukan ketika kereta bergerak laju. Perodua Myvi terbabit brek mengejut ketika mengambil selekoh dan ianya menyebabkan tayar keretanya tergelincir sebelum bahagian belakang kereta 'terangkat' setelah melanggar pembahagi jalan. Inilah akibatnya kalau menggunakan brek kecemasan apabila stereng tidak tegak.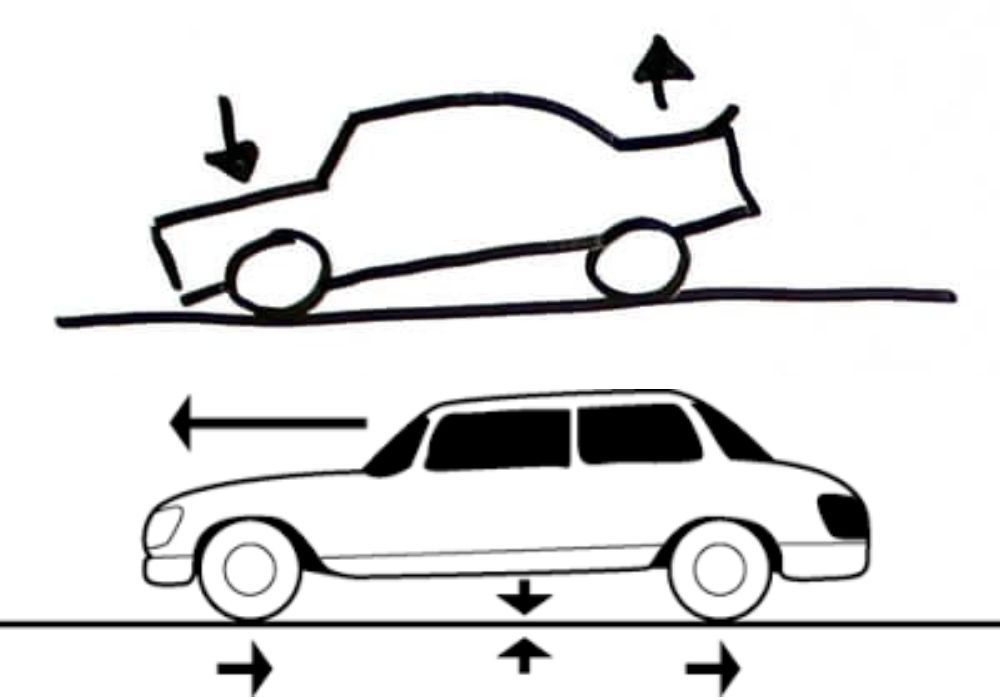 Namun apakah punca Myvi tersebut tiba-tiba menggunakan brek kecemasan ketika membelok? Adakah ia terkejut dengan lampu biru berkelip-kelip yang berada di tepi jalan berserta kehadiran Tuan Polis? Mungkin juga Myvi terbabit mahu perlahankan kenderaan untuk melihat apa yang berlaku di bahagian kiri jalan? Maklumlah ada polis, trak tunda, Proton Saga yang remuk, Axia yang diletakkan secara bertentangan di tepi jalan serta kehadiran orang ramai di situ pula. Orang kita kan prihatin bab-bab kemalangan ni.
Namun oleh kerana selekoh tersebut selekoh buta dimana anda tidak nampak bahagian hadapan sebelum melalui selekoh, ianya masuk akal juga jika pemandu terbabit menekan brek kecemasan setelah menyedari kehadiran polis. Siapa yang tak pernah terkejut bila nampak polis trafik secara tiba-tiba kan? Mesti kelam kabut nak pastikan yang anda tidak melakukan apa-apa kesalahan, contohnya memakai tali pinggang keledar.
Selain itu, selekoh ini memang berhantu dan sering menjadi kawasan kemalangan. Bagi sesiapa yang kerap menggunakan jalan ini, mereka pasti pernah terlihat kemalangan berlaku di kawasan ini. Bahkan saya sendiri pernah nampak sebuah Proton Preve hilang kawalan ketika menyusuri selekoh ini. Mujur pemandu terbabit pro dan mampu mengawal keretanya semula dan mampu mengelakkan sebarang kemalangan. Ini bukan kali pertama kemalangan di kawasan ini berlaku. Ada sesetengah netizen yang merasakan bahawa jalan terbabit telah dituangkan minyak oleh longkai yang tidak bertanggungjawab sehingga menyebabkan kemalangan.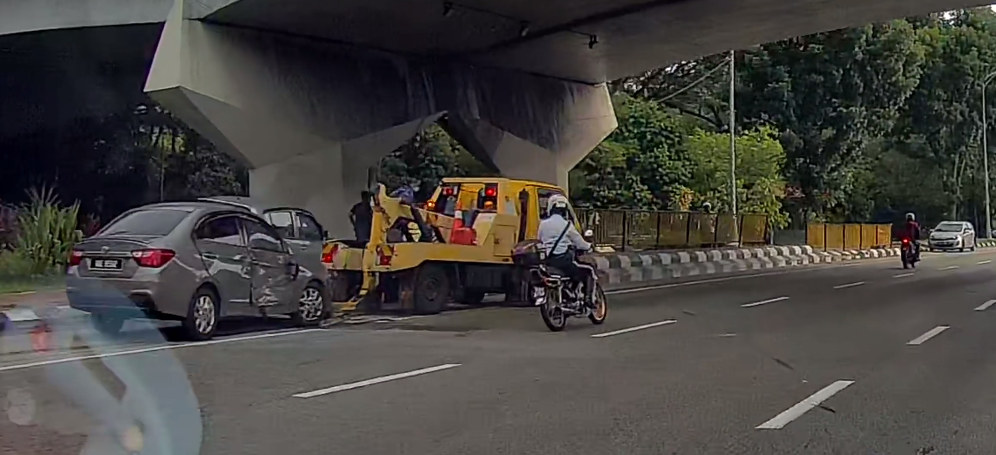 Jika anda lihat pada video, ketika kemalangan ini berlaku, kelihatan Proton Saga yang remuk di bahagian kanan sedang dalam proses untuk ditunda dan sebuah lagi Perodua Ahttps://newcar.carlist.my/perodua/2021/axiaxia yang di letakkan secara arah bertentangan di bahagian kiri jalan. Kehadiran dua kereta tersebut bersama trak tunda, polis trafik dan orang ramai telah menguatkan lagi teori bahawa terdapat kemalangan terdahulu yang berlaku di tempat yang sama. Jadi mungkin betul ianya menjadi lubuk longkai mencari makan? Ianya tidak dapat dipastikan buat masa ini. Jika kenyataan tersebut tidak betul, dah jatuh fitnah pada geng towing pula.
Walau bagaimanapun, sekiranya anda perlu melalui jalan ini, anda dinasihatkan untuk tidak membawa laju ketika melalui selekoh ini. Memandangkan ianya sering menjadi tempat kemalangan, pastikan anda sentiasa berjaga-jaga. Pastikan kereta anda sentiasa dalam keadaan baik. Sekiranya alignment tayar dah lari serta tayar anda sudah botak, baiki dan tukarlah tayar yang baharu secepat mungkin. Jika tiada bajet, janganlah paksa kereta tu melebihi kemampuannya. Kena tahu had atau limit kereta anda. Jangan lenjan ikut suka sahaja.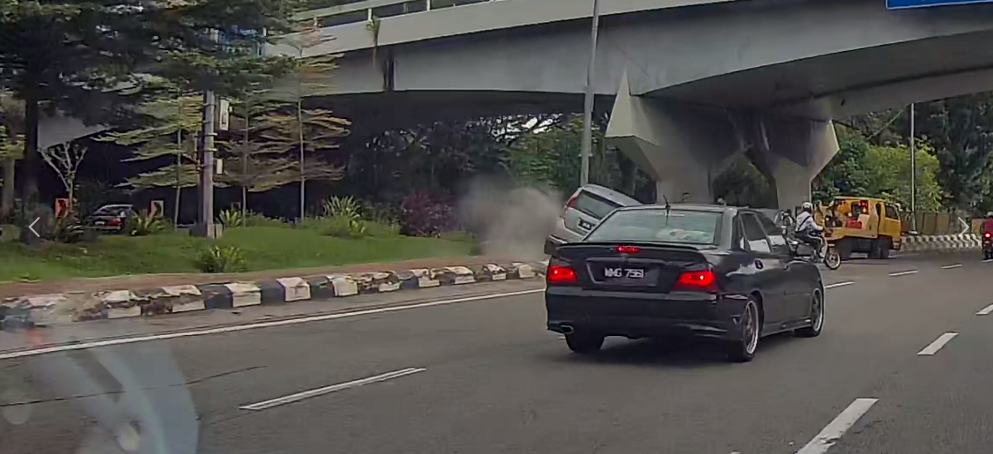 Selain itu, contohilah Proton Waja di dalam video tersebut. Pemandu Waja itu sempat brek tepat pada masanya bagi mengelakkan dirinya terlibat dalam kemalangan. Sebab itu penting bagi setiap pemandu untuk sentiasa peka dengan keadaan sekeliling kerana kemalangan tak semestinya berpunca daripada diri sendiri. Berhati-hati di jalan raya!
*Kredit video: Kwek WaiKent (Facebook)


For more latest car news, reviews, car buying guides and videos visit us at Carlist.my Auto News.
Check out all the best new & used car deals in Malaysia at Carlist.my.
Sell your car fast with the best offer? Visit us at CarlistBid.my.
Get the latest new car promotions at New Car website now.
---
---
---
---
Comments