March 2019 New Vehicle Sales – Market Slowly Gaining Momentum
Auto News After a slight drop in February, new vehicle sales have showed a healthy increase in March, with 54,776 new vehicles, up 37.5% from February, mostly due to resumption of normal business activities after the Chinese New Year festive holidays.
Year-on-year, the total industry volume (TIV) also saw a 5.9% increase from 135,110 units to 143,064 units.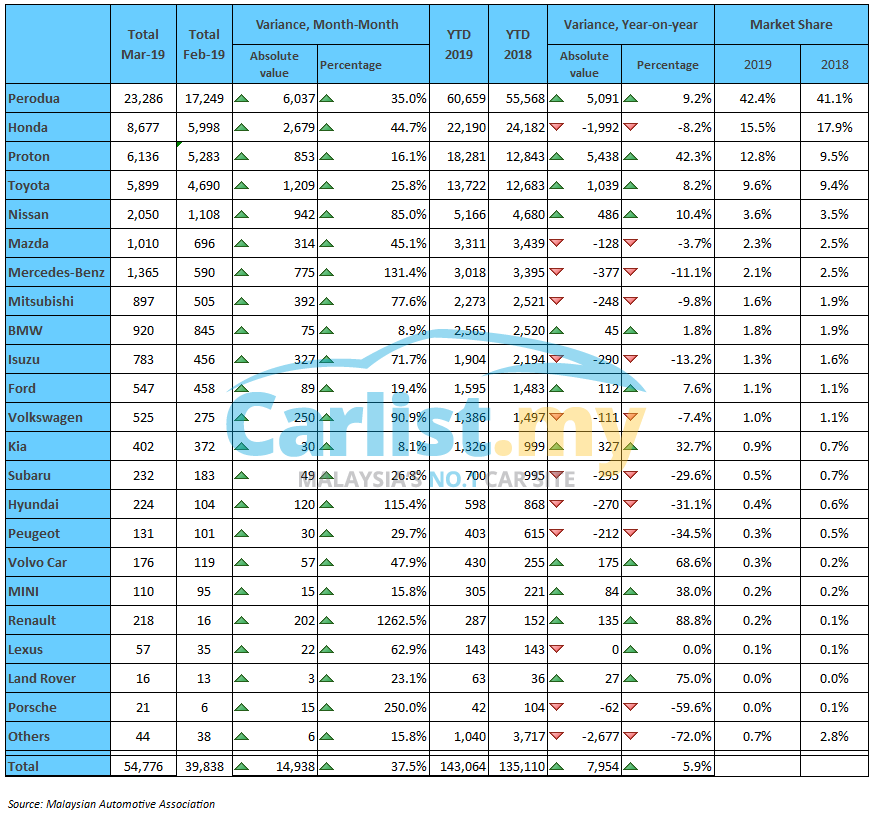 Perodua's momentum continued in March, shifting 23,286 units, up 35.0% increase (6,037 units) compared to the month prior. The Rawang-based car maker continues to exert its dominance over the local car market, with a 42.4% market share.
Honda also saw an increase in sales last month with 8,677 units sold, up 44.7%. Year-to-date however, its cumulative sales this year is down 8.2% from the same three-month period last year. Honda's market share also dropped from 17.9% in 2018 to 15.5% in 2019. This was most likely due to the delay in introducing the new HR-V, as well as temporary disruption in deliveries of the City Hybrid and Jazz Hybrid earlier this year - due to delays in renewing the cars' EEV-incentivised prices for this year. Deliveries of the Civic continue to be hampered due to the same reason.
As for Proton, they sold 6,136 units last month, marking a healthy 16.1% (853 units) increase compared to February. The demand for the Proton X70 also helped the company maintain its strong performance, capturing a 12.8% market share last month, versus 9.5% last year.
The premium segment also witnessed some improvements - Mercedes-Benz sold 1,365 units in March, a 131.4% increase over February's 590 units. Despite that, Mercedes-Benz's year-on-year performance experienced an 11.1% drop (377 units) with just 3,018 units sold to date. This was most likely due to reduced deliveries of its core C- and E-Class models, as well as the A-Class hatchback.
BMW sold 920 units last month, an 8.9% increase over the month prior. Year-on-year, BMW's performance increased 1.8%, although the company lost some market share (1.9% versus 1.8%). This was mostly due to the transition of its core 3 Series model, from the outgoing locally-assembled F30 generation to the all-new, imported G20 generation model, which currently is only available in a single 330i variant.
---
---
---
---
Comments